⚽

Devon Kerr

March 17, 2020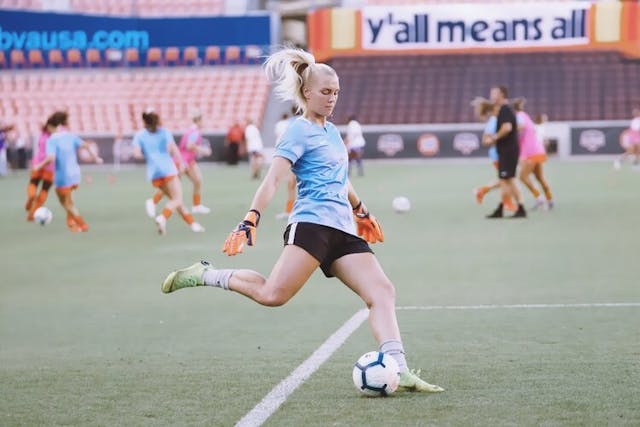 Devon Kerr is, in short, a powerhouse. Devon is a dual-citizen who just wrapped up her rookie season in the National Women's Soccer League (NWSL) with the Houston Dash. When she's not making saves for Houston (oh yeah, she's a goalkeeper!), this 22-year-old is heavily involved in that equal pay fight, and making the sport better for generations to come.
Let's get to our interview with Devon:
Lexie, at The GIST (TG): Okay, were you always a goalkeeper, or did you decide later on that you were just super cool with soccer balls being kicked at your face?
Devon Kerr (DK): *Devon chuckles* I was 10 or 11 and our goalkeeper got hurt and I was the only player who raised my hand willing to go in. I was saying "I'll do it! I'll do it." My mom and coach both realized that most kids would have a sense of fear, and I didn't seem to have that. So it was kind of a lightbulb moment for them thinking, "she doesn't seem to get scared of a cleat or soccer ball coming at her face." I loved it and adapted quickly. My parents got me proper training. And I absolutely loved it from then on.
TG: Oh my gosh. That must have been kind of wild for your mom to have that realization about your lack of fear…
DK: Oh yeah! My mom used to get very stressed out and then she realized it's fine. I wasn't getting hurt. I was good. So, she's supportive.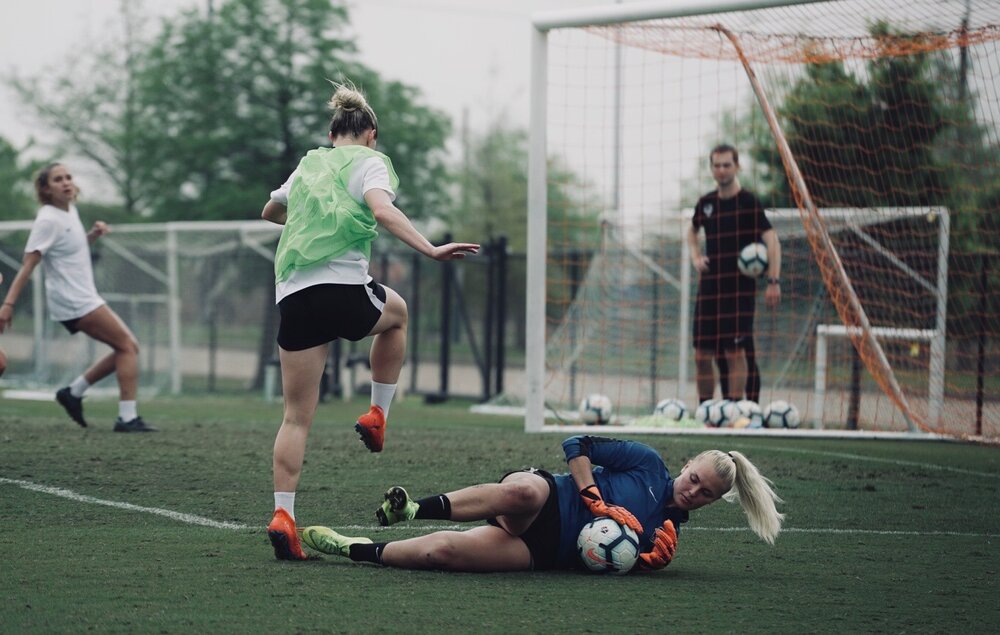 TG: Thank you, mom! This past season was your first in the NWSL with the Houston Dash. What was that transition like going from playing at The Ohio State University to playing professionally?
DK: I think that was one of the biggest changes of my life. The speed of play in the game and how fast it is, that was a huge transition I had to learn to adapt to pretty quickly. Playing professionally, where you're constantly surrounded by the best of the best, it is so fast-paced. And no one is going to give you any room for excuses just because it's your rookie year —it's professional soccer!
But we had a great coach and support staff that really helped me and other players transition. It makes a huge difference. We also had a really positive, competitive environment with a lot of veterans, like Rachel Daly (of the England national team), that welcomed rookies with open arms.
So now, because my rookie year just ended, I feel I've adjusted, and I would definitely tell girls in college to be ready and train in the off-season for a faster pace. The game is very quick, and a lot smarter.
TG: What does the off-season look like for most players? Do most go home, or stay in Houston and train?
DK: With Houston, a lot of our players went home. I'm back in Barrie, Ontario. There are a few that stayed there, but mostly players go back to their hometowns to live and train. After an almost eight month season, just being home around family and friends is what a lot of players need. There are some players that go play in Australia just to continue to play as their season is just about to start and the timing lines up with our off-season perfectly. I'm interested in doing that in the future.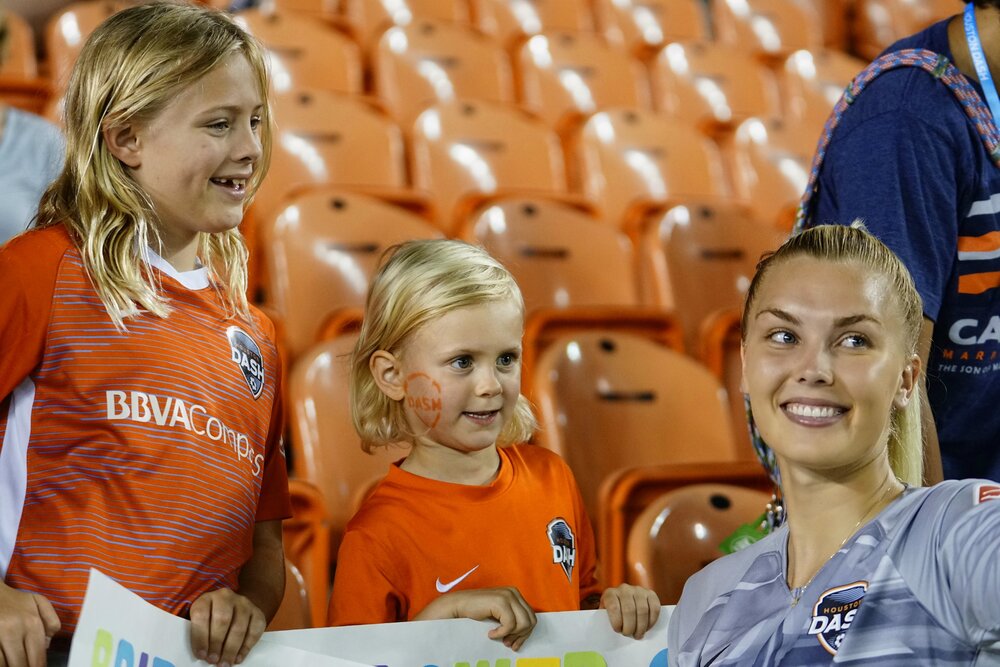 TG: It is an incredible time in women's soccer with all of the momentum and this sort of post-World Cup effect. What's it like to be a part of?
DK: It's pretty cool to be in the middle of this. It's not where it should completely be yet, but seeing how much change has already happened in such a short amount of time is really promising. In college, I had goals to play in the NWSL and, at the time, the salaries were only $5,000 per season. That's incredibly low and no one can live on that.
So, to see how much the salary has increased in just a couple of years is incredible. (Editor's note: As of this most recent season, the minimum player salary was US$16,538 and the maximum was US$46,200). It's not where we want it to be yet, but seeing the changes, and the recognition that's coming, it makes me excited. The U.S. national team is helping a ton.
Plus, FIFA is putting into women's soccer, so that alone is helping to close the pay gap between women and men on an international stage (Editor's note: FIFA's $1 billion commitment is still a bit vague in terms of how it will be distributed to grow the game, but it is still promising nonetheless). And hopefully that will trickle down and affect other professional teams in North America and beyond. It's a really exciting thing to be a part of playing during this time of growth.
TG: SO exciting. Growing up you had a dream of playing professionally, but now you're not just a player, but also part of something so much bigger than the game. What does that mean to you personally?
DK: To me, there's a real sense of pride in knowing that I'm helping and advocating for equality and recognition for generations to come.
I might not directly be affected or reap all the benefits during my playing career, but knowing I'm working for the next generation who wants to play at the top level and should see that pay gap closed is important.
I've wanted to play professional soccer my whole life and it's coming to fruition. Now, my generation has a good chance of making a huge difference for generations of athletes to come. Knowing that women's sport is going to survive and grow for a very long time because of my teammates' actions and so many others…that's the best feeling.
TG: Who's your role model?
DK: I would definitely say both my mom and dad. I know that's two people, but my parents have both sacrificed so many things in order to help me live out my dreams, and they have taught me so many invaluable skills that I am seriously so grateful for. Having two amazingly powerful presences for me growing up, and watching them be successful, has helped me shape my strength as a woman. They have truly helped create this strong woman I feel like I am today.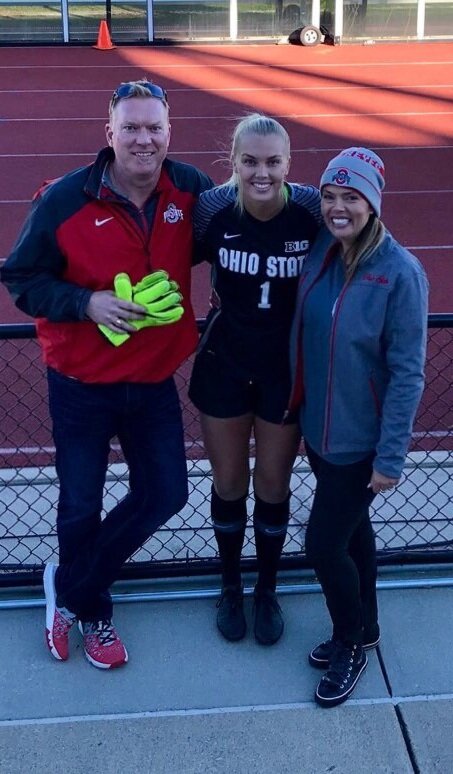 TG: That was great, Devon. Now, let's end on some rapid-fire questions!

TG: Who's your guilty pleasure to follow on social media?
DK: . It's not really a guilty pleasure because she's awesome and a fellow soccer player who gets it. But I just love the funny videos she posts on Instagram.

TG: What are you binge watching right now?
DK: I'm upset about this now, because I can't stream it here (reminder: Devon's in Barrie, ON right now) like I could in the U.S, but American Horror Story. It's super gross. I love gory TV shows. So, now I'm watching Riverdale...again.
TG: What movie can you quote the best? Can you give me a quote?
DK: Bridesmaids, hands down! "There's a colonial woman on the wing! There is something they're not telling us! She was churning butter!"
Also, that scene when she's on the plane and says, "Oh, you doooo?" I always say that to my mom. She loves it. *Devon laughs*
TG: If you could invite any three people to dinner, who would it be?
DK: Serena Williams would be number one for sure. Billie Jean King. And honestly, Leonardo DiCaprio! He's also been really involved with environmental change which would be cool to talk to him about.

TG: If you could have any soccer player in the history of the sport on your team... who would it be?
DK: I would probably say . I got to play against her this year when we played Orlando Pride which was very cool. Seeing her in person was awesome. All of the accolades, respect… and the passion she exerts. And the honesty. We need more of her.
TG: Switching Goals or Bend It Like Beckham?
DK: Ooooh Bend It Like Bendham for sure. I've seen it so many times.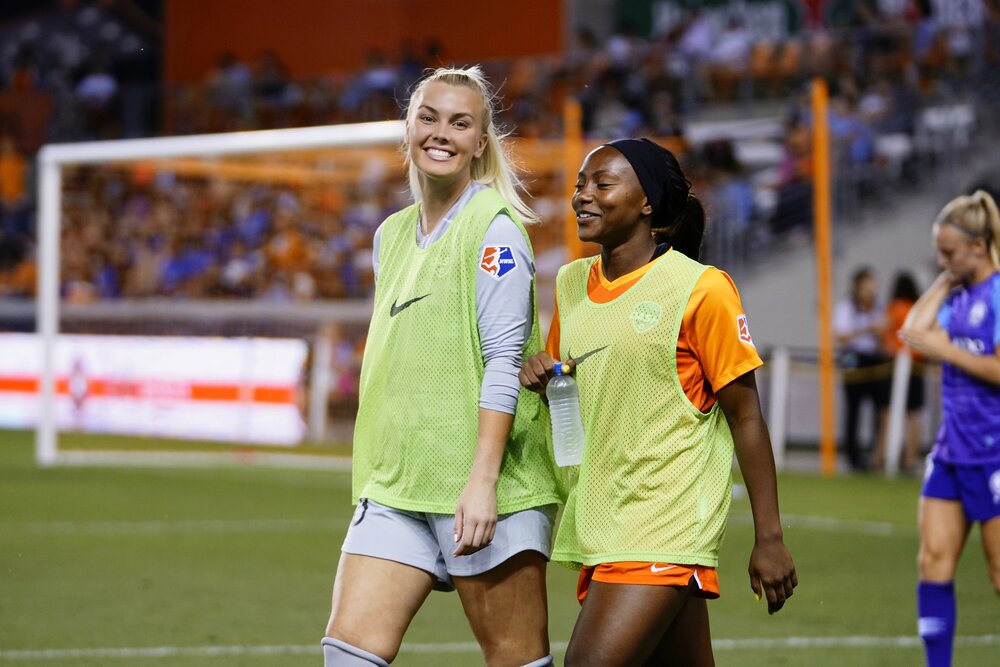 That's #thegistofit
Don't get The GIST's free twice-weekly newsletter yet? Let's
🏅

Melissa Bishop-Nriagu

March 17, 2020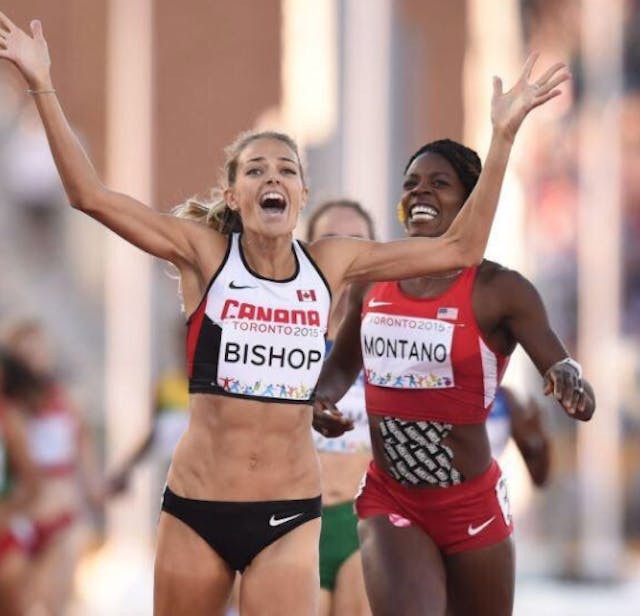 Melissa Bishop-Nriagu (pronounced "in-nree-ah-goo") is a B-O-S-S boss. Melissa is the Canadian national record holder in the 800m and is preparing for her THIRD Olympics at Tokyo 2020. Melissa shut her season down early this year to address post-pregnancy related injuries (she had a baby in July 2018) but when this mama comes back, look out. Read more on what makes Melissa so badass, what motivates her, and what Lizzo song she's getting down to at karaoke below.

Lexie, at The GIST (TG): Okay, so you shut down your season early this year to take care of your body and get ready for the Tokyo 2020 Summer Olympics. How has it been to step away?

Melissa Bishop-Nriagu (MB): I get time off every year but normally that comes after World Championship. The (2019 Doha) World Championship just ended this past weekend, so I really only ended my season a little earlier than usual. Still, it was really hard to watch it sitting at home. But, I've already started my 2020 campaign to get ready for Tokyo, and I'm feeling good, strong, healthy, trying to put weight on and I just have a fresh perspective. It's kind of like a mini-holiday to step away and disconnect from the work world.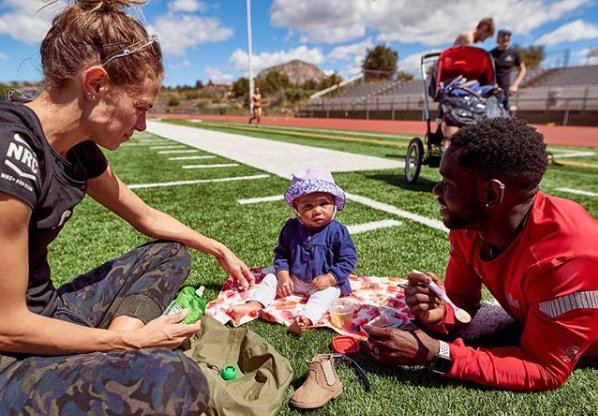 c/o of Melissa's Instagram @melissacorinneb
TG: It must be super tough to watch at home, but your mindset is great! Going back to the beginning, how did you first get into track?
MB: I remember in elementary school, I was always lining up to race the boys, and only one boy could beat me—he was super fast. That was a motivation. And when you're good at something, it's easy to like it, and that's kind of how I found my way into track and field.
I had a talent with running, but I wasn't a track and field athlete exclusively until university. I played competitive hockey, volleyball, basketball, and then it got to the point before going into Grade 12 my parents said, "Okay Melissa, it's time to choose hockey or track and field, we can't afford to keep doing both." I was still able to play hockey during school, but had to give it up outside of that, and I took the track and field route. It definitely wasn't easy and my dreams didn't come true all at once though.
Even entering University (of Windsor) I always had a dream of going to the Olympics but it wasn't until after I graduated university that my coach sat me down and said, "You have a great shot at making Olympic team, let's figure this out."
Up until then it was a dream. Then the last few years of university it turned into, "okay, this could become a reality" and it's all manifested itself. I absolutely love my job.
TG: You obviously made the right choice because you're crushing it, but why the 800m?
MB: So, I was a sprinter in the 200m and 400m in my early high school years. Then, my coach suggested I try the 800m and I hated it for a very long time. I grew to love it as I got better at it, and I've stuck with it ever since. Now, I just love it. It's an event I'm still trying to figure out. It's a challenge. Every race is a challenge obviously regardless of distance. But it's two laps around the track so it's like a sprint but with endurance...kind of the best of both worlds.
TG: Awesome. It must be super important to have a good support system to tackle the ups and downs of being an Olympian.
MB: Having support is huge. Especially for women in sport, too, because our challenges are taken to the next level. We aren't offered the [financial] opportunities that our male counterparts are… You see the fight right now in women's soccer, no equal pay. Women's hockey, no equal pay. Track and field is individualized, so it's different, and you don't know anyone's salaries. But knowing you have a support system makes a huge difference. And for me that includes my husband, coaches, family, trainers, therapists, sports psychologists, a lot of people.
TG: Yeah, great point! So, looking forward to Tokyo 2020...what is your mindset and what are you most looking forward to at your v. impressive third Olympics?
MB: My mindset hasn't changed. My goal is still to be on the podium. The goal was podium in Rio 2016 too, and I just missed it by one place. So my goal is still the same. But, I've been out for two seasons, so I'm looking forward to clawing my way back. I'm really looking forward to trying to keep a healthy body and get through a season and get a P.B. (aka personal best). There will be blips, but having a healthy season leading up that would be so great. I've really missed that.
TG: Amazing. What motivates you?
MB: It's knowing that my competitors are out there and they're training so hard every single day.
I don't want to regret the run that I didn't do.
In the end, the small things I fluff off will make the biggest difference come Tokyo.
TG: That was a really great, pointed answer! What are you most proud of for overcoming in your life or athletic career?
MB: I think I'm in it right now. Coming back to full-time athletics after having Corinne is really something I'm still striving to do and overcome...and proving to the world that women can be moms and athletes at the same time. There are so many examples just in track and field alone where women have come back after having babies and made it to the podium in two years. So that's it.
TG: So SO true! Obviously we're rooting for you. What are the biggest ways your life as a professional athlete has changed since having Corinne?
MB: I'm still finding my way. It's a hard balance that I'm learning. Last year was the test year of balancing full-time athletics and parenting. I'm finding a way to have the best of both worlds. It's okay to take the time you need as an athlete to do what you need to be the best and to recover, but still know that you can come home and be a mom and she'll be waiting for you. That's been the hardest part has been finding that balance.
TG: The challenge of athletes becoming parents and being athletes has been a big lately. Is that something you were affected by?
MB: When we first found out I was pregnant, the top of my "uh-oh" list was, "what will my sponsors say?" The majority were all for it and couldn't wait to see what I would do after pregnancy, but there was still this concern because there's this stigma around having a baby and coming back to sports and that you can't do it. But you can! We'll get there shortly as a country, and with sponsors, to support women through their pregnancies and after. Because imagine taking a mat leave and finding out your job wasn't there, which sadly still happens, but that's kind of what it's like as an athlete. Sponsors are our livelihood. And, having a baby coming into the world and knowing you may or may not have money coming in is scary as heck.
TG: That is super scary! Is it weird getting asked so many questions about being a parent now?
MB: It was weird in the beginning to be asked about it, but now it's part of who I am!
TG: This was so awesome Melissa. Thank you! Now, let's end on some v. fun rapid-fire questions.
TG: If you're celebrating a great race…what are you ordering first at a restaurant OR bar?
MB: A burger with all the toppings and french fries. We have this place in Windsor called Burger with this crazy array of burgers.
TG: What are you binge-watching right now?
MB: I'm actually binge-reading! It's called Where The Crawdads Sing.
TG: Wow. Good for you! You're the first to respond with a book!
MB: Okay, you caught me in a good moment to say that. *Melissa laughs* So, as soon as baby goes down, 90 Day Fiancé comes on!
TG: Do you have one song you listen to before you run?
MB: Nope. I just say "Hey Google, play music" — Oh my gosh. Hang on. Sorry, Google is playing music! *Melissa laughs*. Okay, sorry!
Okay, so, we're not allowed any music in our call room where we get our spikes on and get organized and get our numbers…no headphones or anything. But I'm pretty open to whatever music on the way there.
TG: What's your go-to karaoke song?
MB: Well, it's gotta be Lizzo's "Tempo"
TG: What other sport or athlete are you most looking forward to watching in Tokyo?
MB: Cycling, swimming, diving… oh, gymnast ! I got to know her recently. She is the epitome of down-to-earth. She's just this pint-sized super strong athlete you want to root for!
TG: Okay, and finally, how can someone get your abs?
MB: *Melissa chuckles* Well, a lot of running. And to be serious, I do core work and pilates has become my new core work, just, zipping everything back up. Pilates has been a killer but introducing something new other than sitting on a yoga mat and crunching has been good… and also, well, running!
That's #thegistofit
Want more from Melissa? Check out this episode of The GIST of It.
Don't get The GIST's free twice-weekly newsletter yet? Let's
🏒

Renata Fast

March 17, 2020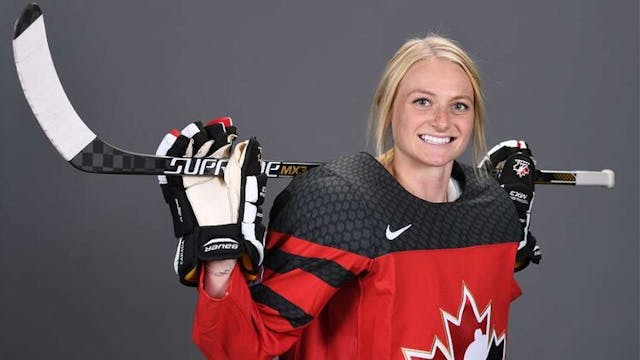 Hands down, Renata Fast is one of Canada's best hockey players: she's an Olympic silver-medallist, an NCAA national champion with Clarkson University, and a two-time Canadian Women's Hockey League (CWHL, which shut down in May 2019) All-Star.
When she isn't being one of the fittest and fastest hockey players in the world, this 25-year-old is catching up on rest, scrolling through Instagram (a classic millennial move), and doing her part to grow women's hockey. Renata will be playing this weekend at the Dream Gap Tour's Chicago stop, and you can watch along live on or through the CBC Gem App.
This week, we're doing something new. We're going to start off our interview with Renata with rapid-fire questions and then go from there. Let's get to it.
Lexie, at The GIST (TG): Okay, first off, who's winning the Stanley Cup this year?
Renata Fast (RF): Toronto Maple Leafs are going to win! And Auston Matthews will win M.V.P. (aka the Conn Smythe Trophy)

TG: The Tokyo 2020 Summer Olympics are coming up…which athletes or teams are you most looking forward to watching?
RF: Oooh...I love watching beach volleyball. You have to be so athletic and it's so fun. Plus our Canadians' Melissa Humana-Paredes () and Sarah Pavan are really good.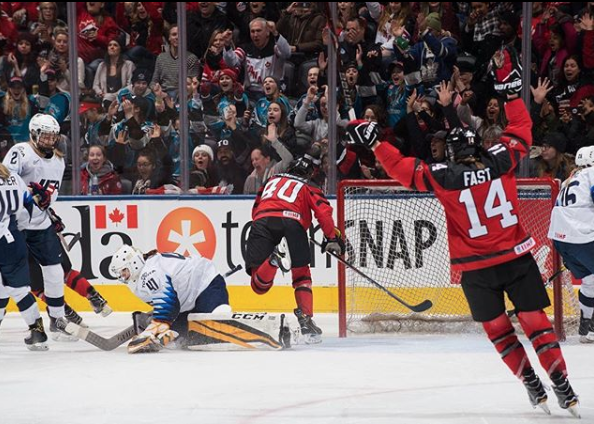 c/o of Renata's Instagram @renatafast
TG: Who's your favourite Team Canada teammate to room with on the road?
RF: Hmm. Geneviève Lacasse is really fun. She always has something to say *Renata laughs.* She might prank you though so you always have to watch out for that.
TG: What's your guilty pleasure?
RF: I'm a chocolate fiend. Plus, just scrolling on Instagram (Editor's note: Honestly same).
TG: What's your favourite workout?
RF: Full body circuit cardio, not too heavy of weights… just something to get the lungs going and a good sweat.
TG: … and your least favourite workout?
RF: Strictly upper body.
TG: Which Harry Potter house are you in?
RF: Hogwarts, for sure…
TG: Wait, what?
RF: OH MY GOSH!!! I meant Gryffindor! That's so embarrassing. I knew something wasn't right as soon as I said it! So embarrassed. Also, my brother tells me I'm in Hufflepuff but he's wrong... (Editor's note: Sounds like something a Hufflepuff would say, but okay!)
TG: How has it been adjusting to a new schedule with the Professional Women's Hockey Players Association (PWHPA), and not having many games on weekends unlike previously with the CWHL? (Editor's note: Except this weekend, as Renata will be playing with the PWHPA in !)
RF: Oh my gosh, yeah, the weirdest part is definitely having free weekends…I haven't had weekends off in forever. With the PWHPA, we practice on Tuesdays and Wednesdays, and we practice with the Canadian national team on Mondays, Wednesdays, and Fridays. And Hockey Canada brings us in for camps or mini-series against the U.S. teams during weekdays, as well. So it's definitely still really busy.
On weekends, I've been doing some appearances and events, but because my weeks are still really busy I mostly just try to take advantage of having time to rest. And I can actually see my (non-hockey) friends for the first time in...ever, which is really awesome and a cool part of being back on a somewhat normal schedule.
(Editor's note: Many female hockey players, and a lot of female athletes, complement their stipend from government funding aka carding with personal sponsorships, appearances, speaking engagements, and running youth camps.)
TG: Okay so, have you always been such a friggin' fast skater and basically one of the world's fittest human beings? (Editor's note: Puns aside, Renata Fast is recognized as one of the fastest skaters in the game!)

RF: *Renata laughs* Okay, skating has always been my strength, yeah. When I was young, I would just skate myself out of trouble instead of working on, say, my stickhandling *Renata chuckles.* Now, obviously, I work on everything because everyone else at this level is a great skater, too. But, I was always a multi-sport athlete, and loved playing soccer growing up. My parents always say they never caught me around the house without a ball or not playing a sport growing up. And my parents were always great and encouraging, they put me in every sport I wanted to play.
I'm a huge advocate for multi-sport athletes. I wouldn't have the success I've had without being involved in multiple sports. So many kids are overdoing it now and burning out from their sport so young. And, for injury prevention, I think it's important to play different sports. I've been fortunate in my career so far that I haven't had any major injuries and I know a lot of that stems from a young age, always doing so many different movements instead of too many of one movement. The position your body is in while playing hockey, just as one example, isn't really natural. So, if you're always just putting your body in one unnatural position, the chances of injury are even higher.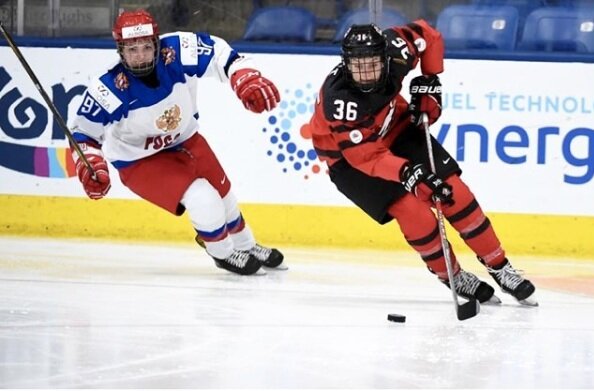 TG: Very very true. Okay, you're a very even-keeled, nice and kind person, but on the ice you tap into a pretty, well, fiery nature, to say it nicely. What gets you fired up?
RF: *Renata laughs* I'd say…hmm… well two things. One, when people play dirty. I know I'm a tough player to play against because I am rough, but I dont think I'm dirty, though I know people might say otherwise, but I just play hard and physical. So, I get fired up when others slash or do sneaky things behind the play. So it just makes me go, "WHAT in the world are you doing?" Oh, and the second is when refs have terrible calls...that's happened a lot over the years. *Renata chuckles*
And, off the ice, I get fired up when people are rude.
TG: Speaking of negativity, have you experienced a lot more of that lately with the ?
RF: It's nothing new, really...
As female athletes, we've had to deal with negativity for a long time. We don't even really pay attention to it anymore. When you're pushing for growth, there will always be people not on board, and trying to pull you down.
But, collectively with #ForTheGame and the PWHPA, there are 200 of us, so we have a good support system. We're all living the day-to-day life of trying to be professional athletes, so people being negative who don't know what we're going through and don't know the barriers we are facing to be professional athletes, they don't matter. We believe in ourselves and know where the game can get to, so we turn a blind eye to those who aren't on board.
TG: There has been a lot of talk about funding for women's national programs (in the last two years, both the and teams separately boycotted their governing bodies). What is the funding and relationship like with your team and Hockey Canada?
RF: I think we're very fortunate to have a solid relationship with the management of Hockey Canada. They're very supportive of the women's game, so any time our players have approached Hockey Canada about our wants, or about what needs to change, they've been super receptive and have tried their hardest to accommodate us. We're fortunate that they've been very reasonable and they treat us well. Similarly with what we're doing with #ForTheGame, we're all behind the U.S. and Swedish women because equality is important. We all hope they can grow their programs as well. It makes us all better.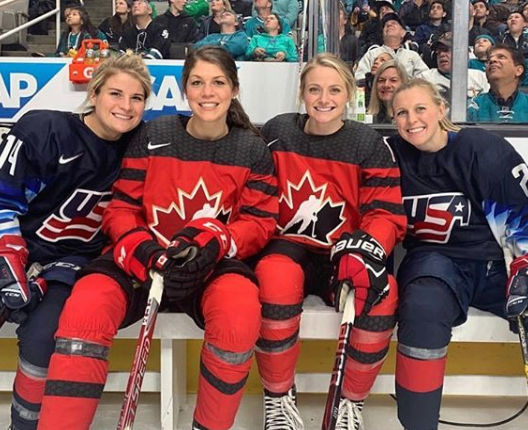 Renata with Brianna Decker (U.S.), Rebecca Johnston (CAN) and Kendall Coyne Schofield (U.S.) at the NHL All-Star Skills Competition
TG: Has this movement, and creation of the PWHPA, changed your relationship with players from other countries, specifically the U.S. women?
RF: It's actually been a really cool experience to be united with some of our biggest rivals. I've always respected my opponents, especially Team USA. I never personally knew many of their players very well, but now through this movement, I've gotten to know them more. We're all trying to push the game in the same direction. There are huge rivalries between us, but coming together is what needed to happen, and is what makes us so powerful. Now when we see each other it's almost like a big family. We're in this together. And also, as players on the Canadian national team, we have different opinions and perspectives as players from U.S.A. or from Finland. Or even those of us who played in the CWHL vs. NWHL. So we have a ton of different experiences in what we've dealt with, and what our background knowledge is in...knowing what's worked, what hasn't, what we need, etc. It's been very cool to hear what or or so many other respected athletes have to say, and to see what everyone brings to the table.
TG: Yeah, that's an awesome, powerful group of people you have together! Okay, now from the inspiring to the embarrassing. What's your most embarrassing moment playing?
RF: At the World Championship this year, we were playing Russia, and it was the very first shift of the game. I got the puck behind our net, and I saw my team was going for a line change. Then, a Russian player pressured me and I hesitated. I was standing still and my ankles just sort of buckled and I dropped to my knees in front of the net. Geneviève Lacasse (goalie) came over and covered the puck and said "okay I got it. It's okay…" (Editor's note: Renata is laughing pretty hard at herself here) But the funniest part...ah...I was so embarrassed coming to the bench thinking, "What's the coach going to say to me? I was supposed to start the game and set the tone for us…" so I was skating to the bench pretty mad at myself, and I looked up and all of the coaches and players were just laughing, so I started laughing, too. Now, it's pretty funny in hindsight.

And that's that on GIST athlete ambassador Renata Fast. Tune in this weekend to catch her and the PWHPA on their Chicago stop of the Dream Gap tour. Then, see her live in Halifax in March 2020 for the Women's World Championship.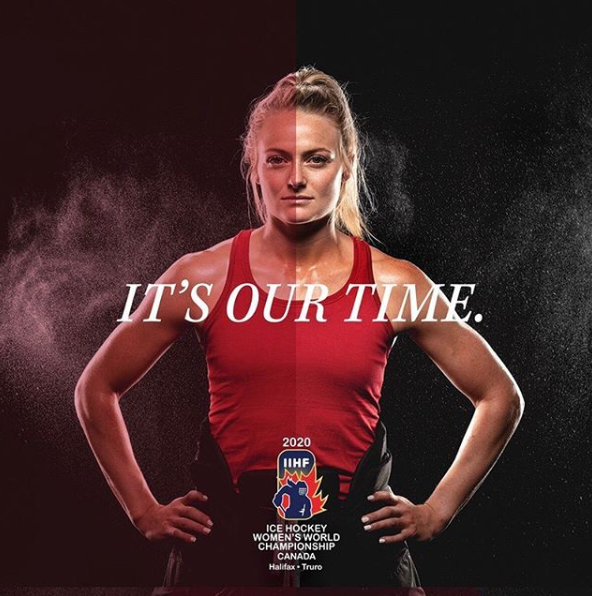 That's #thegistofit
Don't get The GIST's free twice-weekly newsletter yet? Let's .
🏐

Melissa Humana-Paredes

March 17, 2020
Melissa Humana-Paredes is one-half of one of Canada's most successful beach volleyball teams of ALL TIME. Melissa is fresh off a handful of HUGE World Tour wins this season, including winning Canada's first ever Beach Volleyball World Championship Gold. Amazing.
When Melissa isn't advocating for pineapple on pizza (keep reading for more on that), her sights are set solely on doing something Canada's never done before: winning a beach volleyball Olympic gold medal. Bring it on Tokyo 2020.
Let's get into our interview with Melissa:

Lexie at The GIST (TG): Beach volleyball is a pretty unique sport to play in Canada because of our freezing weather. How did you first get into it?
Melissa Humana-Paredes (MHP): I think my entrance to beach volleyball was unorthodox, because I started playing beach volleyball first, whereas most Canadians play indoor first and then transition to beach. For me, I was opposite mostly because of my dad. He was an Olympic men's beach volleyball coach for a few years (Editor's note: Melissa's father Hernán coached Canada to its first, and currently only, beach volleyball medal at the Atlanta 1996 Olympics. So cool.), and coached for the York University women's indoor team. So, growing up, a lot of my childhood was spent going to and from beaches, and to training, with him. Then, I started competing for Team Ontario at 12 years old and worked my way up to representing Canada by age 15.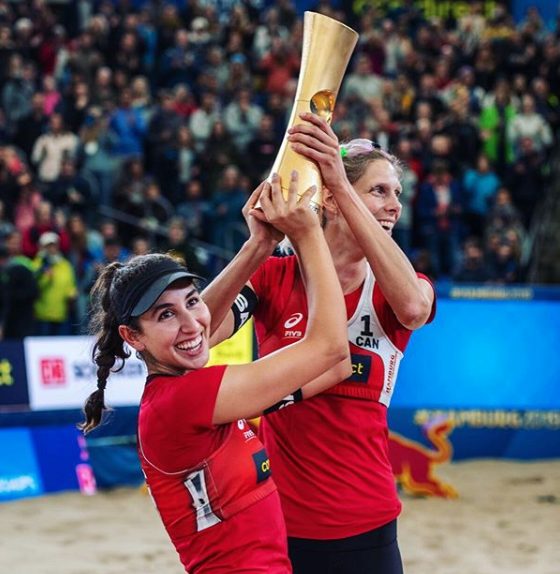 c/o of Melissa's Instagram @melissahumanaparedes
TG: How did you start playing with your partner ? What is that process of finding a partner like?

MHP: In Canada, we're lucky because we can pick our own partner to play with. Our pool of athletes to choose from isn't as deep as it is in other countries, so it's actually kind of incredible that we've done so well. When finding a partner, you're definitely looking for someone to complement your skills, commitment and work ethic.

After the Rio 2016 Olympics, Sarah and her former beach volleyball partner Heather split, so Sarah was looking, and according to her, I was first on her list. She had seen me play, and had really watched me for a few years, so she knew what kind of player and person I was. I didn't know how I was going to step into that big of a role (Editor's note: Sarah was a beach volleyball quarter-finalist at the Rio 2016 Olympics), but it was a no brainer for me to say 'yes' to her…the rest is history, obviously.
Everyone has skills at this level, but the relationship, and managing it, is important and one of the main dictators as to whether partnerships are successful or not. Sarah and I have taught each other a lot, and it's very give and take. It's how we're able to be successful.
TG: Yeah, that's a good point. So do you work together specifically on strengthening your relationship?
MHP: Yes, it's really important. In beach volleyball, your partner is your coach, teammate, and rock. That's all you have. There are no substitutes. If you're having a bad day you have to work it out with just you and your partner. They don't need to be your best friend, but you need to have mutual respect and learn to compromise.
In the last year, Sarah and I have worked a lot on communication. We brought on a sports psychologist to help guide us in having really tough conversations that we otherwise wouldn't want to have. We've been winning and finding success together lately, but even when you're winning, you're constantly learning. Our wins haven't been easy, we've grinded our way through, so having someone to help guide tough conversations has helped bring us closer together to continue to improve. We've also had really tough losses that have led to serious conversations and then mental exercises for us to work on together. We've come out stronger, and I couldn't be more grateful.
TG: That's awesome. And SO important to work on the relationship aspect. You have set a lot of Canadian records with your wins, including first Canadians to win a World Championship, so we assume your next goal is working toward Gold in Tokyo?
MHP: Yes *Melissa chuckles*. It's very surreal. This is something I've dreamt of my entire life, before I was even playing volleyball and I was just a toddler watching my dad with his team. When they brought home the bronze medal from Atlanta, I think I was 4 at the time and it really sparked an Olympic dream in me at a very young age.
Now, to be in a position to get to actually chase this dream and a Gold medal is hard to put into words…I don't want to get ahead of myself though, and there are a lot of tournaments between now and Tokyo. We want to use this time to work on our seeding (aka ranking), which we're fortunate to be able to do (Editor's note: Because they won the World Championships, *nbd*, they get an automatic spot in the Olympics. Therefore, they'll use the next ten months try to lock down the No. 1 ranking to get better matchups at the Olympics. Think of it similar to a tennis tournament).
The fact that Olympic Gold is very tangible, and not just a dream, but a realistic goal we've set up for ourselves to be able to pursue, it just goes to show that our process is actually working.
Chasing your dream is not a lost cause. It's not just this thing you write in a notebook. It's real, and it can be real for anybody.
We've accomplished incredible things this year that haven't even fully hit me yet (Editor's note: at the time of this interview, Melissa was fresh off a red-eye after winning the AVP Hawaii Open). I haven't had time to reflect on everything, but I'm going to be able to look back on that hopefully soon and be so proud of it, and use that as momentum.
Now, I'm going to put all of my energy and effort into Tokyo 2020.
When I get there, I want to be able to walk away knowing that I gave my all and did everything I could, regardless of the outcome. If it results in a gold medal, and hopefully it will, that will be incredible. If it doesn't, I'll know I can still be proud of my journey and what I gave to it.
TG: That's such an awesome mindset. Wow. So, are the resources and funding equal between the men's and women's programs?
MHP: For prize money, through the FIVB (International Volleyball Federation), it's equal for men and women. In Canada, we're carded (aka given the same government funding) equally across genders. Women actually get a bit more support in Canada because we have been more successful with our results and medal potential (Editor's note: the answer to this question is so incredibly refreshing. About time!). Now, leading into the Olympics, and will start to prioritize women's teams more since we have serious Olympic medal potential. And hopefully we'll see success on the men's side too!
TG: With the upcoming Olympic spotlight, you and Sarah will have an even bigger platform to champion beach volleyball in Canada. How does it feel to have that opportunity?
MHP: In terms of the responsibility of being a role model, I don't take that lightly. I used to be someone who would look up to experienced professionals and take in everything they would do, so I know what kind of impact that had on me, and how strong and how powerful that is.
I'm very careful with what kind of messages I portray, and who I want to be for young athletes. If I can have the kind of impact that Sarah has had on me to one young girl, then I'm doing my job right. I just want to help grow the sport and inspire a young generation. In beach volleyball, it's easy for girls to feel left out and honestly a bit sexualized sometimes. It has a bad reputation for female athletes, so that's something I'm trying to stand up for, and show that beach volleyball is inclusive, and there is room for strong women.
I don't censor a lot of my opinions, which doesn't always sit right with others. That doesn't really matter to me.
It's an honour and a privilege to have a voice, whether people agree with it or not.
If I can sleep well at night and step away from this career knowing I stayed true to my values and tried to make a difference, then I can be satisfied.
TG: Really powerful stuff. Hell yeah for strong women. Now, let's finish off with some rapid fire Qs.
TG: After you win a huge tournament, what are you ordering first at a restaurant/bar to celebrate?
MHP: Pizza! Most people would probably say a drink, but my instinct will always be pizza…Hawaiian pizza to be exact. I've made my opinion very publicly known about pineapple on pizza. I'm quite outspoken about this!
TG: This is one of those opinions you mentioned that not everyone agrees with. Okay! Who would you pick as your celebrity partner in a charity match?

MHP: First person in my head is Chrissy Teigen, but on further thought, Michelle Obama.
TG: Who's your guilty pleasure celeb to follow on social media?

MHP: Okay, NOW I'll answer ...but I don't actually feel guilty. She's hilarious, no filter, not afraid to speak her mind. We need more people unafraid to stand up like her!
TG: 100 percent agreed. What show are you binge watching?

MHP: Marvelous Mrs. Maisel.
TG: What one song are you listening to before you play?

MHP: I cringe saying it, but "I Don't Care" by Ed Sheeran and Justin Bieber. We request it and it loosens us up, even Sarah starts dancing… but all-time classic is DMX right before going into the stadium. It puts me in "beach mode" instantly. I'm ready.
Editor's note: Melissa is also actively involved with Sea Going Green, a non-profit environmental group that works with companies to create sustainable tourism development. Learn more on their web site.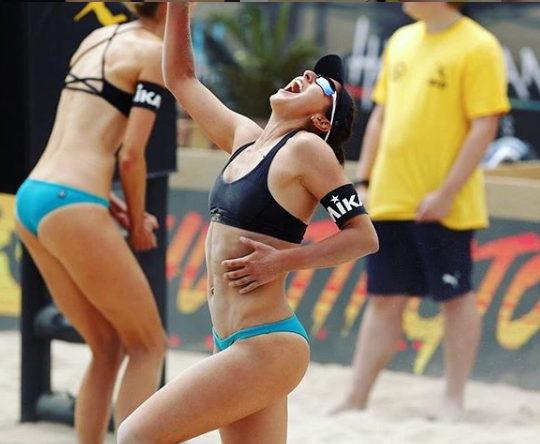 That's #thegistofit
Don't get The GIST's free twice-weekly newsletter yet? Let's .
🏒

Natalie Spooner

March 17, 2020
We're so excited to introduce our newest athlete ambassador *drum roll please* Natalie Spooner!
Natalie truly needs no introduction, but we'll give her one anyway. She's a two-time Olympic medalist, Clarkson Cup (the former Canadian Women's Hockey League Championship trophy) champion, Amazing Race Canada runner-up, and now a competitor on CBC's Battle of The Blades. In Natalie's downtime…just kidding, she doesn't have downtime. Natalie also runs a High Performance Hockey Academy for girls and works to inspire the next generation every damn day.
Let's get to our interview with Natalie:
Lexie at The GIST (TG): You just played in your first showcase games in Toronto. It looked very successful, what was that like to be a part of?
Natalie Spooner (NS): It was awesome! Going into it, I really wasn't too sure what to expect. It came together quickly and there was no precedent for what we were doing. Also, we weren't playing for a trophy, and it wasn't a big playoff game, so I didn't know what the level of intensity was going to be. But all four games were intense, fast, and close. And it was amazing to see all of the fans, and little girls, in the stands in our first showcase.
TG: Was was your favourite or most inspiring interaction from last week's series?

NS: I saw this one little girl who was being interviewed, and she was holding a sign that said, The fact that she was even thinking of that at such a young age was so inspiring, and she wasn't even the only one. There were so many young girls with signs and messages. These young girls have a dream to have a career playing hockey, and we're trying to help pave the path for them to do it.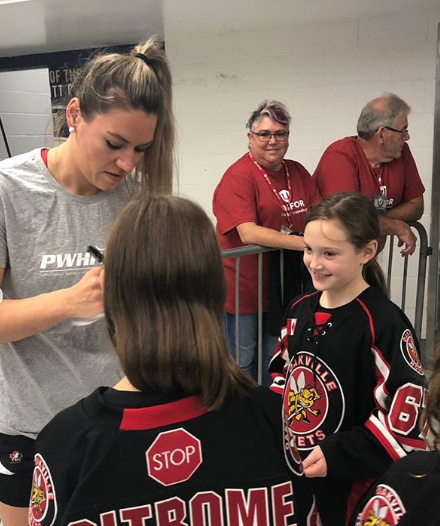 TG: Is anyone getting paid on the Dream Gap Tour?
NS: No. Everyone is volunteering. Players, coaches, game day staff, organizers...everyone. (Editor's note: despite the volunteering, the Professional Women's Hockey Players Association (PWHPA) landed some great sponsors. Although the players aren't paid to play, other aspects of the Dream Gap Tour are covered, including food, transportation, accommodation, ice time and some equipment. Baby steps)
TG: When the Canadian Women's Hockey League (CWHL) officially folded in May, the National Women's Hockey League (NWHL) was a potential option to play in. Instead, you and a group of the best 200 players in the world banned together to not play professional hockey in North America. Why did you opt into the movement?
NS: There's really not one specific answer. When the CWHL folded, we were completely blindsided. Then we collected ourselves and tried to figure out the best way forward. So, as players, we all put our voices together, talked, heard each other out, and collectively made a decision. In women's hockey, being paid a career wage has never been an option. So it was important for us, as people who believe in this sport, to use this opportunity to work toward something that was sustainable, with the resources we would need (Editor's note: meaning work towards having a league that pays more than $2-15k annually and so that women don't have to have another job in addition to playing hockey). We wanted to use this as a step toward building something so that young girls won't have to be in this position we're in now, 10 or 100 years from now. So, we pursued the unknown as one, united voice. Now, we're really optimistic.
TG: As you should be! A lot of hockey players, like yourself, have always used your platforms to be positive, but with the #ForTheGame movement, it's brought in a lot of negativity and, well, trolls. Does that affect you?
NS: No, I try not to let anything like that affect me and bring me down. I believe in the game, how great the players are, and how hard we work.
We work just as hard as any other athlete and deserve to have a league and place to showcase our talents. Everyone is going to have people who don't agree with them when they stand up for something.
And, and at the same time, regardless of how those people are talking about us, they're still talking about us and giving us more exposure, so we'll take that.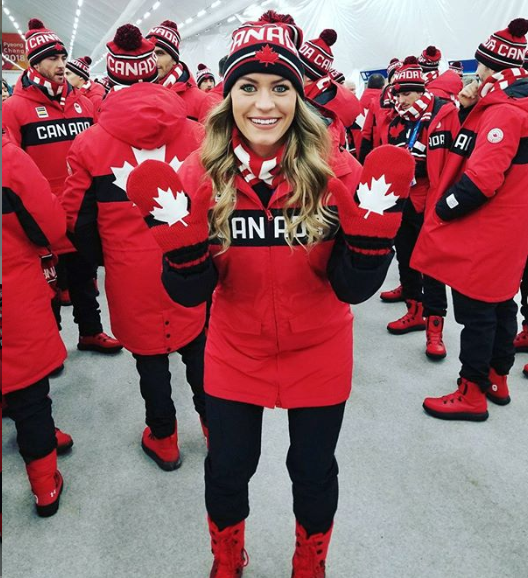 TG: That is a really good perspective to have. Okay, you've accomplished a lot in your career, but what's something you're personally really proud of?
NS: Before the Vancouver 2010 Olympics, I made it to Canada's top 35 players, then was cut before centralization (aka didn't make the team), and that was pretty disappointing. Honestly, it forced me to work harder, and showed me what I needed to do to get to another level to become an Olympian. So I'm proud of learning from that.
But I think, overall, I'm really proud of my efforts to get out and give back in the community, and to start my hockey school. I just try to interact with, and inspire, as many young girls as I can, and give back in that way.
TG: Totally! Speaking of your , what do you usually do or say to inspire young athletes beyond just teaching on-ice skills?
NS: Hockey has the ability to teach you a lot of skills: working hard, overcoming adversity, learning teamwork, communication…but none of that is going to feel rewarding if it's not fun. Hockey is a game, and you're supposed to be enjoying it. So, to keep more young athletes, especially girls, in sports, .
Also, we're now seeing a lot of kids playing only one sport all year long, and they are naturally getting worn out. I think it's important that kids play multiple sports and mix things up, so that when they come back to hockey and it's time to work, they're fully into it. If we teach kids to have fun and enjoy playing sports while working hard, that's when they'll get the most out of it and play their best.
TG: Growing up, you had so many role models of your own, but now you've become a role model for so many. At every game, fans are wearing your jerseys. People are lined up to meet you. What's that like?
NS: Honestly, it's still weird. *Natalie chuckles* I just feel like a regular person and just try to be myself. It's definitely weird, but I just try to do the right thing that sends the right message for kids to look up to. I was fortunate to have some role models growing up who did that for me.
When I was little, I had the opportunity to meet and that was really a turning point for me that sparked my dream, so to think I could be that for another little girl is… well, it's pretty craz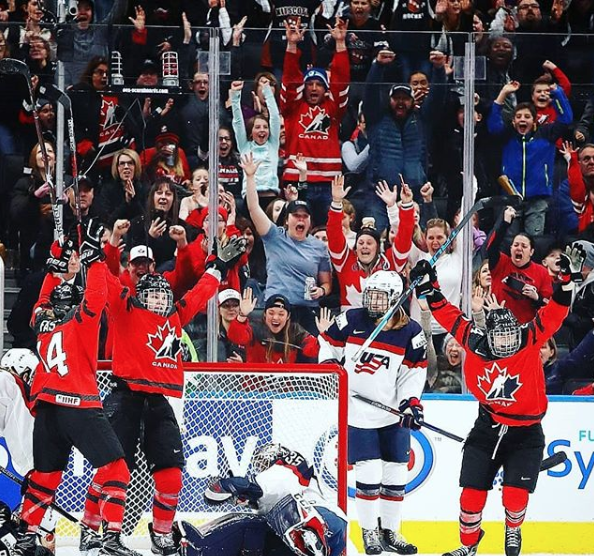 TG: That's really awesome. You're competing on Battle of the Blades as a figure skater, while still training and playing hockey. What has it been like transitioning between the two sports?
NS: It is really tough! At first, with the toe picks, I fell...a lot. My elbows are still bruised from falling. So the transition between the two has been pretty hard. When I go back to playing hockey, I feel like I have no edges. And then I go back to figure skating, I get in trouble because my tendency is to get low, so I'm always being told, "more upright!"
I think figure skaters are amazing skaters, though. The way they carry the weight and feel their edges. As hockey players, we're focused on being fast and powerful and just getting our job done. We never worry about looking pretty or pointing our toes. In figure skating, you have to work to look effortless and graceful.
TG: What is that like as a hockey player to now always be conscientious of how you look while skating?

NS: It's really weird! At first, I wouldn't smile, I wasn't thinking about any of that. Now the more I do it, the more I get used to it. Figure skating is actually a lot of fun, and I have a lot of respect for it.

Editor's note: You can watch Natalie compete on CBC's Battle of the Blades Thursdays at 8pm ET, then vote for her at cbc.ca/battlevote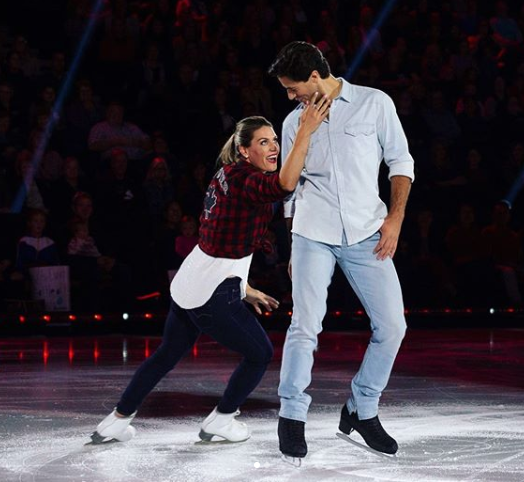 TG: You've been involved with for a few years, can you talk a bit about them and why it's important to you?
NS: Absolutely! I think it was my first year in the CWHL in 2012 when I started helping with HHTH events. It's a really important cause — their goal is to raise awareness and financial support for homelessness. I was really fortunate with the environment and the home I grew up in, but there are many people at-risk or homeless that could use help. So it's great to be part of something important, and the events are just really well-run. Anyone can play, and you get to play with professional female players and ex-NHL players. You're treated like a professional from the moment you walk in the door with the treatment you get. Jerseys, socks, it's all provided.
Anyone can , either as an individual, or as a team, and you just need to fundraise a certain amount of money. There are tournaments all over Canada. It's a really awesome event.
Editor's note: If you're interested in learning more about Hockey Helps The Homeless or getting involved, check out their .
TG: Awesome! Okay, now let's end on some v. fun rapid-fire questions.

TG: What are you binge watching right now?

NS: *Natalie laughs* I honestly don't have time right now! But before I got super busy, I was watching Bachelor In Paradise. I didn't get to finish it, but I watched the spoilers, so I'm good. Oh, and I love 90 Day Fiancé!
TG: Was your love for 90 Day Fiancé inspired by your ?
NS: No! I've really just always loved it!
TG: You love singing! What's your favourite song to sing?

NS: Celine Dion, "My Heart Will Go On"
TG: Audacious, we like it. You can invite any three people to dinner. Who are you inviting, and what are you eating?

NS: Oh, gosh! Okay for sure my grandma. She loved singing, too. The Queen! And I would invite…Ellen (DeGeneres...not The GIST's Ellen lol). We'd eat The Keg's Bleu Cheese Fillet.
TG: What movie can you quote the best?

NS: Pitch Perfect. "I'm doing horizontal running!" *Natalie laughs*
TG: What summer sport are you most looking forward to watching at Tokyo 2020?

NS: I used to swim, so I really like watching swimming. But I'm excited for surfing to be an Olympic sport. That will be cool to watch.
TG: Guilty pleasur-

NS: Chocolate covered almonds. Hands down. (Editor's note: Natalie confidently answered what her guilty pleasure is before the question was fully asked)

TG: Do you have a motto or mantra?

NS: Before I go on the ice I always tell myself to be unstoppable.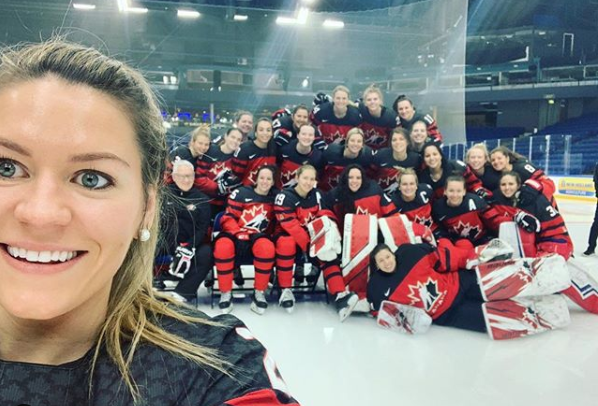 That's #thegistofit
Don't get The GIST's free twice-weekly newsletter yet? Let's make it inbox official.