🏒

⚾

🏀

🏈

Guess who's (maybe) back, (maybe) back again?

May 28, 2020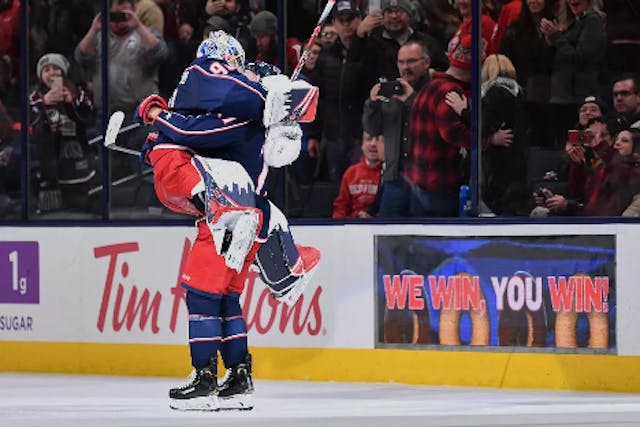 JAMIE SABAU/NHLI VIA GETTY IMAGES
The GIST: The NHL is the first pro league in North America to give us hope a real, detailed plan for returning to play. Meanwhile, the MLB is disrespecting its players, the NFL is wearing rose-colored glasses and the NBA is stringing us along. Does this situation remind you of a rom-com or what?
LOL it does. So, what's the NHL's plan?: Basically exactly what we reported on Monday (we're so ahead of the times!). On Tuesday, NHL commissioner Gary Bettman announced that the regular season is over and 24 teams will play in an unusual Stanley Cup playoff scenario. No word on when (or if) it will start, but the league has promised thorough safety and testing measures when it does.
Bettman also confirmed the league will use two hub cities (one for each conference) with seven US cities and three Canadian cities in contention to host. Due to international travel restrictions, NHL deputy commissioner Bill Daly all but confirmed they'll likely play in the US, but that hasn't stopped the Alberta government from trying to host in Edmonton. Shoot your shot!
Any other NHL news?: With the regular season officially over, the end-of-season awards can be decided! The Art Ross Trophy, which is won by the player with the most points (one point for each goal and assist), will go to Edmonton Oiler Leon Draisaitl (pronounced DRY-SIGH-TULL), after he put up 110 points in just 71 games. Impressive.
New (again) dad Alexander Ovechkin of the Washington Capitals and Boston Bruin David Pastrnak will share the Maurice "Rocket" Richard Trophy for most goals after they each tallied 48.

And the Boston Bruins are the Presidents' Trophy winners after "finishing the season" (quotes because did they really though?) with the most points (two points for a win, one point for an overtime loss).
So what's up with the MLB?: On Tuesday, they submitted their official return-to-play proposal to the MLB Players Association (MLBPA), and the MLBPA is having none of it. The MLB proposed some pretty drastic cost-cutting measures that would dramatically decrease players' salaries.
Sure, these guys already make a ton of money and we get that everyone has to make some sacrifices nowadays, but the league may have taken this one too far. They're suggesting a paycut of anywhere between 47 and 77 percent to players' salaries, depending on their original salary amount.
Where's the NBA at?: Let's pop them under the TBD column. There was talk that the Disney World plan could be finalized during tomorrow's weekly Board of Governors meeting, but it's looking like we might need to wait a little longer for confirmation. And there are new reports that play could start up in late July, but no one's confirming anything.
NBA commissioner Adam Silver said he'd have an answer for us by June 1st, so be sure to check in with us again on Monday.
Any other comeback plans?: The NFL still has time before September kickoff, but they're planning on having fans in the stands by then. Uh, we'll see how that one goes. The WNBA has finalized their rosters, the CFL has given the go-ahead for all teams to open practice facilities, and MLS is letting their players practice again...but only if they want.
🏀

🏒

Get'cha head in the game

May 25, 2020
BRUCE BENNETT/GETTY IMAGES
The GIST: The NBA's and the NHL's plans to return to play are well underway, and with the players' associations now giving the go-ahead, we could be in for a summer of intense action. So much for summertime sadness.
What's the NBA's plan?: On March 11th, the NBA was the first professional league in North America to suspend play, after Utah Jazz Rudy Gobert tested positive for COVID-19. Now the league is looking to resume with a single-site scenario in Orlando, Florida.
The NBA and the National Basketball Players Association are in talks with Disney to host a tournament at the ESPN Wide World of Sports Complex. The huge complex (we're talking 220 acres of sports) has enough facilities for teams to practice and play and plenty of space to house all players and necessary staff. Oh, Mickey, you are so fine.
Would they finish the regular season or jump to playoffs?: No one knows just yet. Most teams had played about 65 regular season games when they suspended play, but many TV broadcasting contracts require teams to play a minimum of 70 games. If the NBA chooses to skip right to the playoffs, teams could be out a lot of money.
And the NHL?: The NHL followed the NBA's lead, suspending their regular season on March 12th, and are now organizing their 24-team back-to-play plan. The proposed format will have the league jump right into the Stanley Cup Playoffs (though they'll be a bit different than the normal playoffs) and teams will be seeded based on their points percentage as of March 12th, excluding the bottom seven teams in the league (sorry, Ottawa fans!).
The top four teams from each conference (eight in total) will get a bye to the second round, leaving the remaining eight teams in each conference to compete in a best-of-five series in the first round of playoffs. The league has discussed the idea of using hub cities to host each conference, so they'll need to decide how and where the final round, which will feature the best team from each conference, will play out.
So how likely are we to see these tournaments?: It's looking pretty good. On Friday, the US government announced a travel ban exemption that would allow any foreign athlete to enter the US for the purpose of competing. And (for better or worse) many American states are relaxing their pandemic restrictions, meaning all foreign players can return to their market cities and most can start practising again.
The Canadian government has yet to issue any similar exemptions, so the likely scenario has all competition playing in safe "bubble" cities south of the border. But since these games will be spectator-less anyway, we're totally fine watching from home with some microwave popcorn.
🏀

And that's the tea

May 14, 2020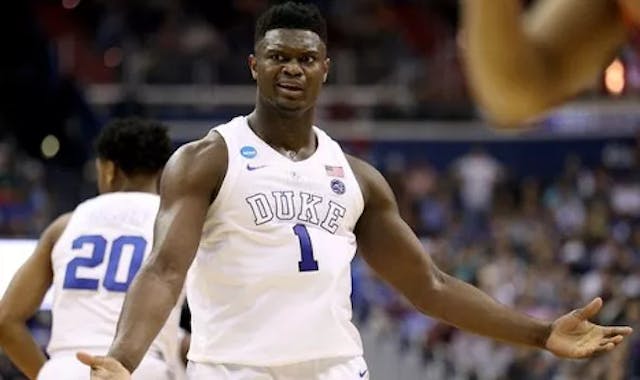 PATRICK SMITH/GETTY IMAGES
The GIST: New Orleans Pelicans star rookie Zion Williamson is in some hot water. And he's taking the NCAA down with him.
Sounds drama. What happened?: Last April, first-overall NBA draft pick Zion signed a five-year contract with sports marketing agent Gina Ford of Prime Sports Marketing. A month later, he was allegedly poached by rival agency CAA (aka the biggest talent agency in the world), and in an effort to void his Prime contract, he sued them.
Ford didn't want anything to do with it, so she countersued Williamson and CAA for $100 million, citing breach of contract, among other things. Ford's team knew they lost a golden goose in Zion, so they planned to do whatever they could to make that money back.
So how is the NCAA involved?: Well, Ford and Prime Sports just submitted a new filing in the lawsuit, and they want all the tea spilled. They're asking Williamson to admit that his parents accepted money and benefits from Duke University (where he played for one year before being drafted), Nike and Adidas. All of which was, at the time, very illegal.
To make matters worse, Ford's legal team is now looking to depose legendary Duke head coach Mike Krzyzewski (the winningest coach in men's NCAA Division I basketball history). With Coach K under oath, a lot of secret info on the dirty money dealings of an NCAA dynasty could be dished. Sounds like a case for Jessica Pearson.
🏀

I like the pick-and-roll

May 14, 2020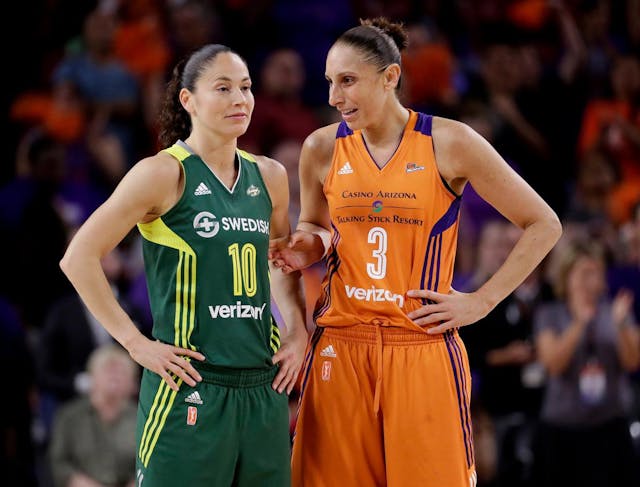 MATT YORK/ASSOCIATED PRESS
The GIST: The 2020 WNBA season was originally slated to start tomorrow. Now, it's anyone's guess as to when the season will actually begin. Sad. So, in honor of the postponed WNBA season, we're counting down the top five WNBA players of all time. Buckle up.
5. Sue Bird: One half of our favorite power couple, Bird's 18-year career with the Seattle Storm has been nothing short of spectacular. The point guard is an 11-time All-Star, three-time WNBA champion and is the WNBA's all-time assist leader. She knows sharing is caring. Bird was sidelined last season with a knee injury but is ready to go for 2020. Look out.
4. Lisa Leslie: You can't have any top players list and not include Hall of Famer Leslie. Widely considered WNBA royalty, Leslie became the first woman to dunk in a WNBA game in July 2002. You could say she's a literal ceiling smasher. Leslie spent her 12-year career with the Los Angeles Sparks, winning two championships and earning three MVP titles. Talk about a stacked resume.
3. Maya Moore: Before taking the 2019 and 2020 season off to fight for (and succeed at) reforming the criminal justice system, Minnesota Lynx Moore won four WNBA titles and was named the Finals MVP in 2013 and league MVP in 2014. We're all for the work Moore is doing off the court, but, selfishly, we'd love to see her hit the hardwood again, like, ASAP.
2. Tamika Catchings: In some circles, Catchings is considered the best WNBA player of all time. Catchings spent her entire 15-year career with the Indiana Fever, winning the championship in 2012 (she won the Finals MVP that year, too). She's the WNBA record holder for steals (sneaky sneaky) and is a 10-time All-Star and five-time Defensive Player of the Year. A true legend.
1. Diana Taurasi: Our top spot goes to the one, the only, Diana Taurasi. Taurasi is the league's all-time leading scorer, a nine-time All-Star and a three-time WNBA champ. After being drafted first overall in 2004, she's had a killer career with the Phoenix Mercury. And though retirement rumors have been swirling recently, Taurasi will play this season. The good news we need!
Okay. It was really, really hard to make that list. We have to give special shout-outs to Sheryl Swoopes, Tina Thompson, Candace Parker, Elena Delle Donne and Breanna Stewart, who would have rounded out our top 10.
🏀

🏒

🏈

⚽

Not so fast

May 07, 2020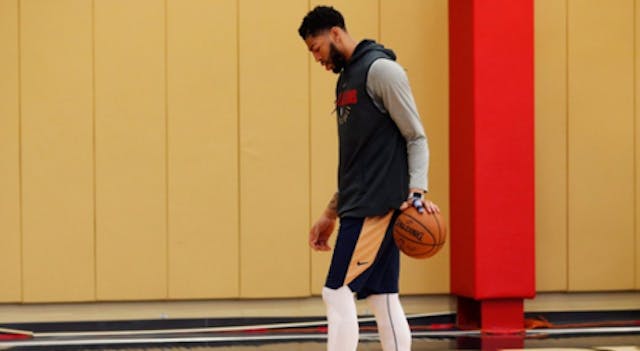 GERALD HERBERT/AP
The GIST: It's a good thing the NWSL is leading the charge, because other major leagues in North America still have a lot of work to do before they can get back on the court/ice/field/our screens.
NBA: Earlier this week, the NBA gave the all-clear for teams to reopen their practice facilities to allow for individual workouts starting tomorrow...which sounded great in theory. But when the rules of the workouts were announced yesterday, it seems very unlikely league-wide practices will begin anytime soon.
Only teams in cities with laxed restrictions can take part, and even then, teams will need to adhere to safety and distancing rules. Based on state guidelines and individual team decisions, as few as three teams plan to open their facilities tomorrow. Like we've mentioned before, this could lead to a v. unfair advantage for some teams once the season eventually restarts.
NHL: The NHL has been pretty tight-lipped lately, but this "bubble city" idea might actually work to restart the season. The plan has four North American cities acting as host cities for (maybe) the rest of the regular season and the playoffs (of which the format has yet to be announced) which would take place over the summer.
Up to 14 cities submitted a bid to host before last Friday's deadline, and each had to show that they had enough empty hotels to safely house between 600 and 1,000 people (you know, to avoid popping the bubble), and a nearby practice facility.
NFL: Although there's still a ton of time before the NFL regular season starts in September, they're not exempt from impacts of the COVID-19 pandemic. The league is currently estimating a possible loss of $3.2 billion if the season has to be played without spectators. And the international series has been canceled, which would have seen one game take place in Mexico City and four games in London. Bloody hell.
Speaking of football in Europe, at least fútbol is on its way back. The German pro league Bundesliga got the official okay from Chancellor Angela Merkel to resume the season on May 15th, and Spain's La Liga has opened training camps, so between these leagues and the NWSL, it looks like we're all going to be big soccer fans this spring.