🏀

WNBA: Banking on digital coin

May 23, 2022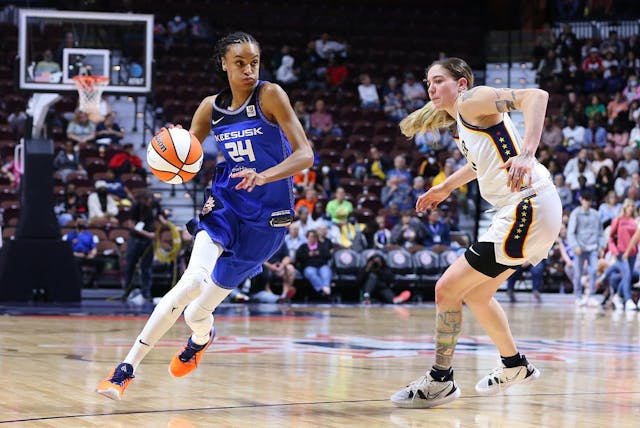 M. ANTHONY NESMITH/ICON SPORTSWIRE VIA GETTY IMAGES
The GIST: Coinbase is doubling down on the WNBA. On Thursday, the crypto exchange platform announced a new wave of partnerships with various league stakeholders, after the brand became a partner with the W in October. The move solidifies Coinbase's bet on basketball and furthers the WNBA's presence in the world of blockchain.
The context: Coinbase initially became the first crypto partner of the WNBA and NBA in the fall. Through that original deal, the platform became the W's exclusive crypto platform, and the first presenting partner of the Commissioner's Cup.
Those weren't the only agreements Coinbase made in Q4. The company also became the presenting partner of USA Basketball's women's and men's national team exhibition tours.
The new deals: The platform will now sponsor the Players Association (WNBPA), the New York Liberty, the Seattle Storm, and Storm troopers players Sue Bird and Jewell Loyd. The WNBPA partnership will provide perks for all players: Coinbase will set up accounts — with free crypto — for all 144 ballers.
Players will also have access to crypto education from Coinbase experts, with the rookies getting a head start — this year's first-round draft picks learned about digital currency and NFTs at orientation.
Zooming out: Along with its NWSL equivalent, the WNBPA is unique among player unions in that it books commercial partners independent of its league. Given that ability, the WNBPA has specifically chosen to be a major player in the blockchain space — especially when it comes to NFTs.
One red flag? Earlier this month, cryptocurrencies lost more than $300 billion in value over the course of a week. Yikes. Only time will tell how, or if, that will impact the women's sports sphere.
🏀

NBA Conference Finals: This is what you came for

May 23, 2022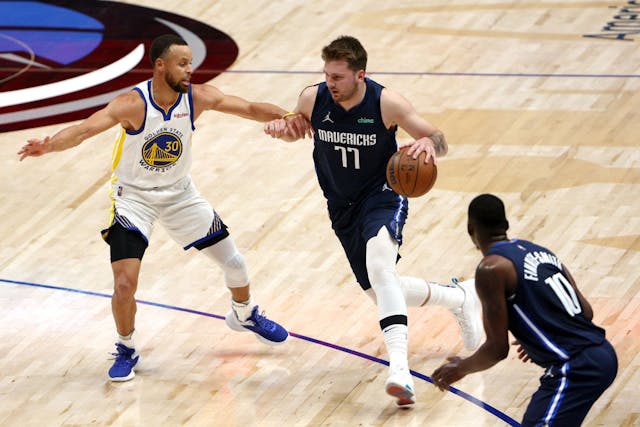 TOM PENNINGTON/GETTY IMAGES
The GIST: Forget Kourtney and Travis' wedding, the NBA Conference Finals pulled out all of the stops with some epic Game 3 clashes over the weekend. Game 4s, incoming.
Western Conference: The No. 3 Golden State Warriors (up 3-0) are just one win away from returning to the Finals for the sixth time in eight years after defeating the No. 4 Dallas Mavericks 109–100 last night. Warriors star Steph Curry had a monster double-double and his teammate Andrew Wiggins threw down a dunk that felt like a series changer.
Keep your brooms nearby — the Warriors will go for the series sweep tomorrow at 9 p.m. ET.
Eastern Conference: The No. 1 Miami Heat (up 2-1) overcame the second half absence of superstar Jimmy Butler (right knee inflammation) to hang on for a 109–103 road victory over the No. 2 Boston Celtics in Saturday's Game 3. Heat center Bam Adebayo stepped up to fill Butler's void, notching a double-double. Bam, indeed.
The story of tonight's 8:30 p.m. ET Game 4 could still be the injury report, though. While Kyle Lowry returned (in a big way) in Game 3 and Butler is expected to play tonight, Miami sharpshooter Tyler Herro is questionable with a groin injury.
As for Boston, starters Marcus Smart (who miraculously returned to Game 3 despite a scary ankle injury) and Robert Williams III (knee) are also questionable for tonight's tilt. No more injuries, please.
🏀

NBA Conference Finals: Celtics even up the series

May 20, 2022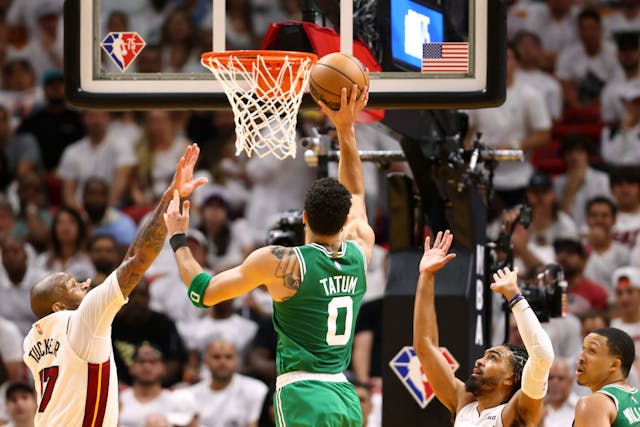 SOURCE: MICHAEL REAVES/GETTY IMAGES
The GIST: With the Eastern Conference through two games and the Western Conference preparing for its second, the NBA Conference Finals are just heating up.
Eastern Conference: After a turnover-heavy performance in Game 1, the No. 2 Boston Celtics channeled their inner Big Sean last night, bouncing back with a stunning 127–102 victory over the No. 1 Miami Heat, their first home loss of the playoffs.
The series next ships up to Boston for tomorrow's 8:30 p.m. ET Game 3, where Celtics role player Derrick White is already waiting after missing Game 2 for the birth of his first child. Talk about a whirlwind.
Western Conference: With seven (!!!) players scoring in double digits in Wednesday's Game 1, the No. 3 Golden State Warriors jumped out to an early and convincing series lead, routing the No. 4 Dallas Mavericks 112–87.
The Warriors also clamped it down on defense, holding Dallas superstar Luka Doncic to just 20 points. Expect blood, sweat and — if Golden State wins again tonight at 9 p.m. ET — tears from Mavs fans.
🏀

NBA Conference Finals: Heat take down Celtics in Game 1

May 18, 2022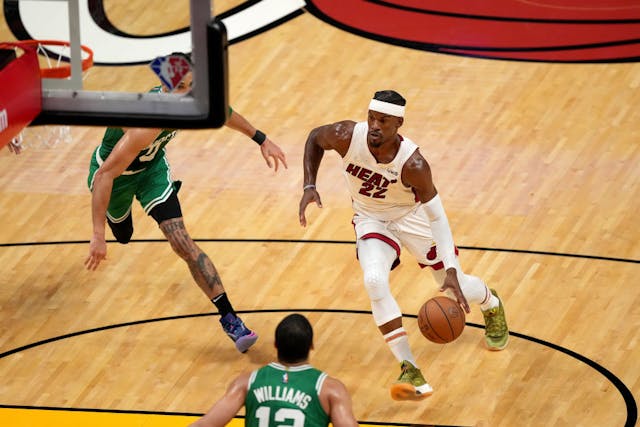 SOURCE: ERIC ESPADA/GETTY IMAGES
The GIST: As celebrated on yesterday's episode of The GIST of It, the NBA Conference Finals tipped off last night. Even better? There's another Game 1 on deck tonight. Party.
Eastern Conference: This highly anticipated rematch of the 2020 Conference Finals did not disappoint, as the top-seeded Miami Heat defeated the No. 2 Boston Celtics 118–107 to claim an early series lead. Miami's leading scorer? Jimmy Butler, of course. They don't call him Jimmy Buckets for nothing.
More bad news for Celtics fans? It's still not clear whether starters Marcus Smart and Al Horford will return for tomorrow's 8:30 p.m. ET Game 2 after missing last night's tilt due to a foot injury and COVID-19 protocols, respectively. Stay tuned.
Western Conference: The No. 3 Golden State Warriors host the No. 4 Dallas Mavericks tonight at 9 p.m. ET, opening what's sure to be a thrilling battle between Dallas demigod Luka Dončić (who's averaging a casual 31.5 points per game these playoffs) and Golden State's second-best in the regular season defense.
As for the Warriors offense, Steph "college graduate" Curry, Draymond Green and Klay Thompson will be looking to resurrect the magic from their 2015 to 2019 run of five straight NBA Finals appearances. A dynasty reborn?
🏀

NBA playoffs: Conference finals matchups locked in

May 16, 2022
SOURCE: ADAM GLANZMAN/GETTY IMAGES
The GIST: Hydrate and take some deep breaths because, after yesterday's Game 7 doubleheader, the NBA Conference Finals matchups are locked in, with the Eastern battle tipping off tomorrow. No time to waste.
Game 7 recaps: Despite Giannis Antetokounmpo's (pronounced YAH-niss ah-det-oh-KOON-boh) best efforts (25 points, 20 rebounds), there'll be a new NBA champion after the Eastern Conference's No. 2 Boston Celtics eliminated the defending champ No. 3 Milwaukee Bucks 109–81, a lopsided ending to an otherwise evenly contested series.
And there'll also be a new Western Conference champion after the No. 4 Dallas Mavericks galloped to a stunning 123–90 victory over the top-seeded Phoenix Suns, who were title favorites after posting the league's best regular-season record. Wow.
Eastern Conference preview: Boston will face the No. 1 Miami Heat, starting tomorrow at 8:30 p.m. ET. Both squads boast superstars in Miami's Jimmy Butler and Boston's Jayson Tatum, and both are also contending with injuries — the Heat's Kyle Lowry (hamstring) is unlikely to play in Game 1 while the Celtics' Robert Williams III (knee) didn't play the last four games.
They're also equally matched when it comes to defense as the Heat have allowed the fewest points per game throughout the playoffs, a feat the Celtics achieved in the regular season. Yeah, this is going to be good.
Western Conference preview: The Mavericks will take on the No. 3 Golden State Warriors, who ousted the No. 2 Memphis Grizzlies on Friday. Luka Doncic–led Dallas won the regular season series 3-1, but that was before Golden State's Big Three — Steph Curry, Klay Thompson and Draymond Green — reunited after various injuries. The intrigue.