⚽
🏈
🏀
🏐
College: So offended that we had to double check
November 29, 2021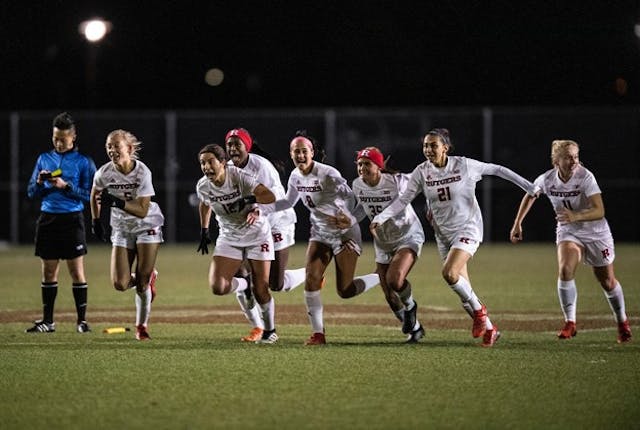 SOURCE: RUTGERS WOMEN'S SOCCER/TWITTER
⚽️Soccer: And then there were four. Behind Friday's upset win over No. 1 Duke, defending women's champs Santa Clara clinched their spot in the College Cup semifinals, with No. 1 Florida State, No. 1 Rutgers and No. 4 BYU rounding out the rest of the pitch field.
🏈Football: Former No. 2 Ohio State saw their College Football Playoff (CFP) hopes dashed after losing 42–27 to then–No. 5 Michigan on Saturday.
🏀Basketball: After last week's rout of No. 2 UCLA, people were wondering if anyone could beat men's No. 1 Gonzaga...until No. 5 Duke defeated them 84–81 on Friday, the Zags' first regular-season loss in 36 games. Damn.
As for the women: after snagging the No. 2 ranking last week, Maryland lost two games in a row, falling to No. 5 NC State on Thursday and No. 7 Stanford on Saturday. We live for the chaos.
🏐Volleyball: Okay, no upsets here (yet), but the 64-team women's volleyball championship bracket is set and, surprise, surprise, undefeated Louisville grabbed the No. 1 seed. Single-elimination play begins on Thursday.
🏀
🏑
🏈
College: We'll keep on fighting till the end
November 22, 2021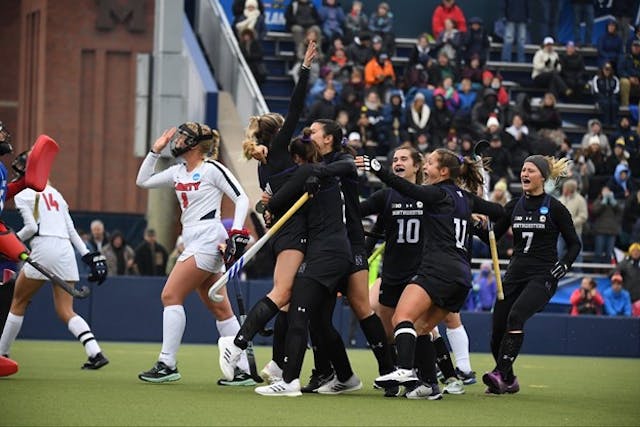 SOURCE: NORTHWESTERN FIELD HOCKEY/TWITTER
⚽
🏀
⚾
Sports Quick Hits: November 17th, 2021
November 17, 2021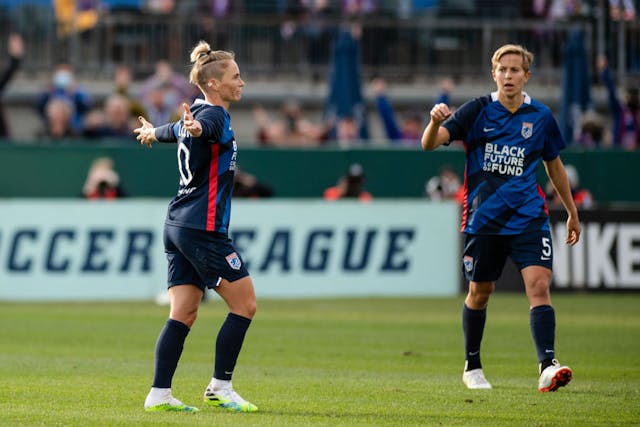 JANE GERSHOVICH/ISI PHOTOS/GETTY IMAGES
⚽️NWSL: Before they hand out the championship trophy on Saturday, there are some other awards to announce. NJ/NY Gotham FC's Caprice Dydasco was named Defender of the Year, while OL Reign pulled in two big awards as Laura Harvey and midfielder Jess Fishlock were named Coach of the Year and league MVP, respectively. Reeling 'em in.
⚾️MLB: Speaking of awards, major hardware is also being dished out in the MLB. We'll learn which pitchers earn the American League (AL) and National League (NL) Cy Young title tonight, before the AL and NL MVPs are named tomorrow.
⚽️USMNT: The USMNT posted a 1–1 draw against Jamaica during yesterday's World Cup qualifier, but they still fell to second in the CONCACAF standings. Quick refresher: the top three teams automatically advance to next year's World Cup in Qatar, and there are only six qualifying games to go. Fingers crossed.
🎓🏀College basketball: Two men's Duke players — Michael Savarino (coach Mike Krzyzewski's grandson) and projected No. 1 2022 NBA Draft pick Paolo Banchero — were charged in connection with a DWI ahead of yesterday's game against Gardner-Webb, but Banchero still played in No. 7 Duke's 92–52 win. Both players are set to appear in court in early December.
🏈
🏀
⚽
🏑
The weekend College sports roundup
November 15, 2021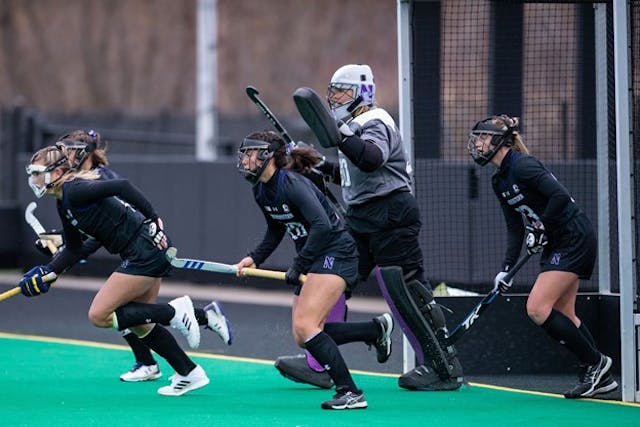 SOURCE: NORTHWESTERN FH/TWITTER
🏑Field hockey: With three-time defending champs North Carolina eliminated in the first round, we'll have a new NCAA champion for the first time since 2018. It's all down to Liberty, Maryland, Northwestern and Harvard, and semifinal action is set for Friday. Reaching a fever pitch.
🏈Football: The season of upsets continued on Saturday. Most notably, previously ranked No. 4 Oklahoma lost for the first time this season, falling 27–14 to previously ranked No. 18 Baylor and subsequently falling to No. 12 in the new AP Top 25 poll. Paging Tom Petty.
⚽️Soccer: Upsets were the name of the game in fútbol too, as perennial women's soccer powerhouses North Carolina and UCLA lost their opening round matchups. Thirty-two teams remain and the single-elimination hunt for the College Cup continues on Friday.
🏀Basketball: Not to be outdone by fall playoff action, Gonzaga men's star Drew Timme netted a career-high 37 points in the No. 1 'Zags 86–74 victory over No. 5 Texas. You mess with the Bull(dogs), you get the 'stache.
But the women held it down for Texas yesterday, as the No. 25 Longhorns upset defending champs No. 3 Stanford 61–56.
⚽
🏀
🏈
Sports Quick Hits: November 11th, 2021
November 10, 2021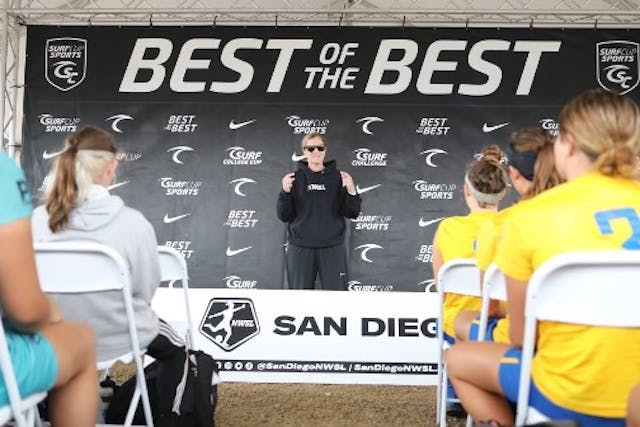 SOURCE: SAN DIEGO NWSL/TWITTER
⚽️NWSL: San Diego's new NWSL squad (one of two 2022 expansion teams) made quite a splash yesterday when they announced their name: San Diego Wave FC. While we think it's pretty gnarly, we can't help but wonder how the recently rebranded Kansas City Current feel about it?
🏀Basketball: College hoops is partially helping to curb our WNBA withdrawal, but there's even more good news to hold us over until May. Athletes Unlimited's inaugural basketball season will begin on January 26th in Las Vegas and 10 new players — including five currently in the WNBA — have signed on. You know this...ballin'.
🏈NFL: With (former) head coach Jon Gruden ousted in October and 2020 first-round pick wide receiver Henry Ruggs III released from the team after killing a 23-year-old woman during a horrific drunk driving accident earlier this month, the Las Vegas Raiders are facing another scandal.
The team cut 2020 first-round pick and cornerback Damon Arnette yesterday, after videos surfaced of Arnette wielding guns and making death threats. Just awful.