🏀

Kevin Durant gives Nets owner an ultimatum

August 10, 2022

The GIST: After requesting a trade in June, Kevin Durant celebrated the anniversary of his contract extension with the Brooklyn Nets on Monday by giving owner Joe Tsai an ultimatum: trade him or fire general manager Sean Marks and head coach Steve Nash. The audacity.

The why: Since Durant joined the squad three years ago, no banners have been raised and the Nets "super team" suffered two disappointing playoff exits following Durant's return from a ruptured Achilles in 2020.

The demands: The ultimatum is just another in a long list of orders from the 12-time All-Star who was instrumental in strong-arming big names like James Harden to come to the Big Apple and who asked former teams Oklahoma City Thunder and Golden State Warriors to retire his jersey. Yes, seriously.
As for his requested trade, the two-time NBA champion (and two-time Finals MVP) apparently has a list of teams he wants to play for in the 2022–23 season.
What's next: With training camp looming, will Durant forfeit a slice of his $44 million salary to follow in the footsteps of teammate Ben Simmons and sit out until he gets what he wants?
One thing's for sure. Nets (and New York Liberty) owner Joe Tsai made it very clear that his team's front office and coaching staff have his support. Turn on those Twitter notifications for KD's response.
🏀

WNBA: six teams in contention for three playoff spots

August 08, 2022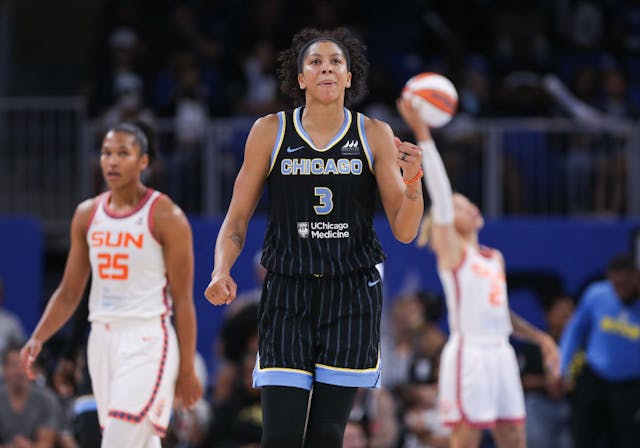 SOURCE: MELISSA TAMEZ/ICON SPORTSWIRE VIA GETTY IMAGES
The GIST: Like an extreme game of musical chairs, six teams are still in contention for three playoff spots, with less than a week to go in the WNBA regular season. Let the games begin.
Who's clinched: The defending champion Chicago Sky, Commissioner's Cup–winning Las Vegas Aces, Connecticut Sun, Seattle Storm and Washington Mystics have already punched their postseason tickets, accounting for five of the eight berths. Show offs.
On the bubble: With the Indiana Fever eliminated, the Dallas Wings, Atlanta Dream, Phoenix Mercury, NY Liberty, Minnesota Lynx (including Napheesa Collier, who returned to the court yesterday, less than three months after giving birth) and LA Sparks are left to battle it out.
And this race is close. The 11th-place Sparks are just 1 game behind the eighth-place Mercury.
Key matchups: Needless to say, there's a lot riding on tonight's 8 p.m. ET tilt between the No. 6 Wings and No. 9 Liberty. Dallas can clinch with a dub, but maybe NY superstar Sabrina Ionescu (pronounced yo-NESS-coo) will make more history?
Meanwhile, the squads who've clinched are still jockeying for crucial playoff seeding. The No. 1 Sky will look to retain their top spot cushion when they host the No. 4 Storm tomorrow at 8 p.m. ET. This one's shaping up to be a true force of nature.
🏀

Brittney Griner sentenced to nine years in Russian prison

August 05, 2022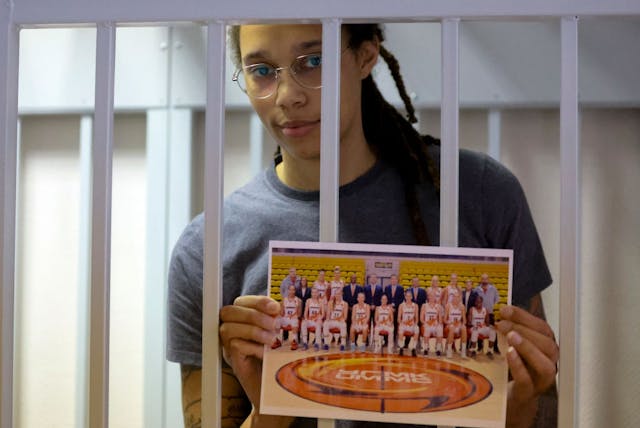 SOURCE: EVGENIA NOVOZHENINA/POOL/AFP VIA GETTY IMAGES
The GIST: Six months after her arrest, wrongfully detained Phoenix Mercury star Brittney Griner (BG) was found guilty of bringing drugs into Russia and sentenced to nine years in a Russian penal colony yesterday. Gutting, but a crucial step in the efforts to bring her home.
The context: BG's sentencing, which also included a fine of $1M rubles (~$16.4K US), was widely expected as Russia wraps up their largely performative legal proceedings. Russia publicly stated that they would not discuss a prisoner swap (such as the one proposed by President Biden last week) until after BG's trial was over.
The response: Biden deemed the sentencing "unacceptable" and called on Russia to release her immediately. Meanwhile, the basketball world continues to rally around BG, with countless athletes tweeting their sympathies and sharing words of support.
Noticeably quiet? Former Baylor and now LSU women's basketball coach Kim Mulkey, who coached Griner for four years. The silence is deafening, but not surprising.
What's next: BG's lawyers plan to appeal the decision, but attention now turns to the aforementioned reported prisoner swap to exchange Griner and American Paul Whelan for Russian arms dealer Viktor Bout. It's a much-needed glimmer of hope in an unimaginable reality. Free BG.
🏀

Gaming Society partners with WNBA on new predictive game

August 03, 2022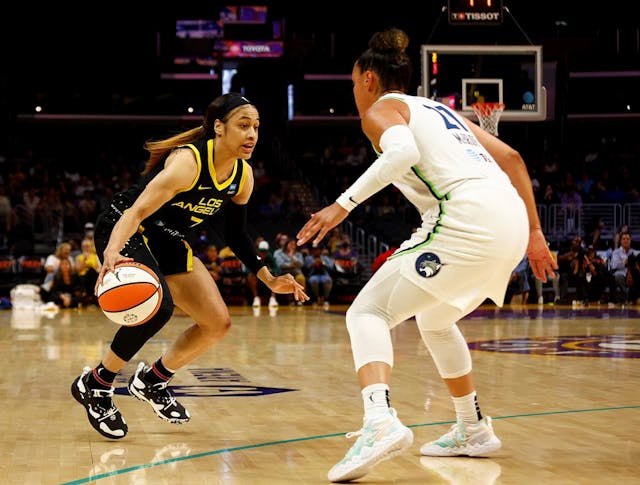 SOURCE: RONALD MARTINEZ/GETTY IMAGES
The GIST: It's time to get'cha head in the game. Content and gamification platform Gaming Society — already a partner of the WNBPA — teamed up with the WNBA yesterday. The pair launched the Bet On Women Predictor Game, a free-to-play (F2P) game where users predict game outcomes and player performances to try and win prizes.
Former W player and Gaming Society's VP of business development Marissa Coleman exclusively told The GIST that the collab is simply another way for both parties to monetize the league's continuing growth. Game on.
Game details: W players will promote the game as part of the partnership. As for the contest itself, participants can answer basketball and W pop culture questions for every remaining game this season, and Coleman said the company plans to expand the product next year.
"We have plans to do content around certain things and just tell the stories of some of these players," she said, "but it's just something we're discussing internally."
The company: Gaming Society raised $3.5 million this spring, of which some was directed toward initiatives that specifically center women, like its WNBPA partnership. The Predictor Game provides natural avenues to both tap into the W's existing fanbase and support the league's upward growth trajectory, per Coleman.
"We have relationships with fans, whether it be on social media or fans that come to a lot of games," Coleman said. "I really just thought this was a huge opportunity to give the fans another way to connect and engage with the league."
"That's kind of a gateway for them into becoming a fan of the league or a particular player," she added. "Somebody might be into playing games or betting games but not necessarily know too much about the W, but still want to play."
The trend: The timing couldn't be better for the betting-inspired game — sportsbooks are expected to rake in $3.6 billion in the U.S. this year and the take could grow to $9.5 billion by 2027. The rising revenue reflects the larger gamification industry, which was valued at $198.4 billion in 2021, and is projected to be worth $339.95 billion in less than five years.
Zooming out: The accessibility-focused F2P strategy has its benefits. The global market revenue for free mobile games has steadily increased in recent years, and is expected to generate $78.74 billion in 2022. Dub incoming?
🏀

Biden proposes prisoner swap to bring Brittney Griner home

July 29, 2022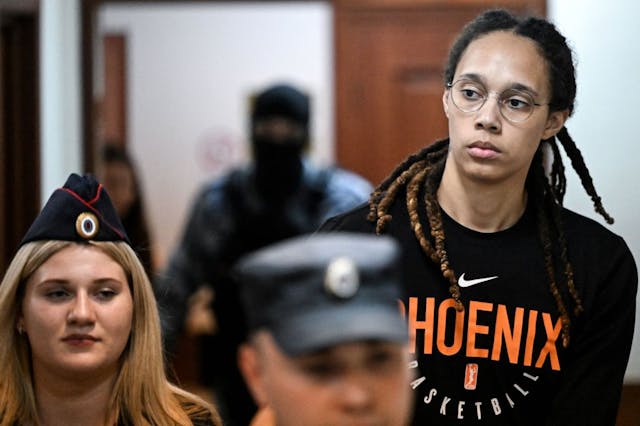 SOURCE: KIRILL KUDRYAVTSEV/AFP VIA GETTY IMAGES
The GIST: After repeated pleas for action, the Biden administration made a major move Wednesday in the effort to free Phoenix Mercury star Brittney Griner (BG) from her wrongful detainment in Russia. Needless to say, the ball's in Russia's court.
The latest: Per CNN, the Biden admin reportedly offered convicted Russian arms dealer Viktor Bout (known as "The Merchant of Death") in exchange for the release of Griner, as well as American Paul Whelan, a security director accused of espionage.
Secretary of State Antony Blinken did not confirm Bout's inclusion in the offer, only conceding that the admin presented a "substantial" proposal to Moscow in exchange for Griner and Whelan.
What's next: Now it's up to Russia to accept or reject the deal. A Kremlin spokesperson said yesterday that prisoner swaps are typically only made public after the deal's been finalized, a noteworthy response in itself given they didn't immediately shoot down the offer.
Looking ahead, Griner's ongoing trial is reportedly scheduled to end next week, with a verdict and sentence expected one week from today.
Even if BG's sentenced, it could be the pivotal next step in securing her release, as Russia has said they won't discuss a deal until her trial is over. More to come.