🏀

Guide to Fantasy Basketball

May 05, 2020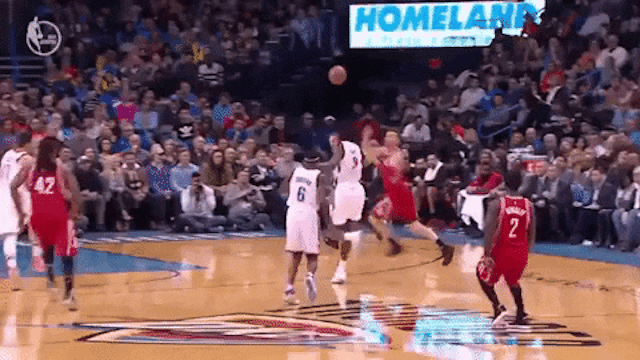 WTF is fantasy basketball?
So glad you asked! Fantasy basketball is all about building the best (imaginary) basketball team with real NBA players and competing against the other teams in your league to prove who's best.
Not entirely clear? Let's compare this to Hollywood then, because we're suckers for pop culture and why the heck not. We want you to picture your favorite actors. Next, imagine if all of your favorite actors were to suddenly team up and join a movie that YOU have full creative control over. The actors are real, their ability to deliver lines is real, but YOU select who's on the cast, what parts they play, and how they will be directed.
For this exercise, replace Ryan Gosling with LeBron James, replace the movie set with a court, and replace line delivery skills with bball skills in your mind. That is fantasy basketball. You have control of your players and your players have control of the game and their ability to produce results.
Sounds fun, how do I play?
To play this fun AF game, you first need to join a league. Your office may already have one in the works, so definitely ask around, but you can also join a league for free online! These websites are some of the best, and most popular out there:
Once you join a league, a "Draft Day" will be set and scheduled by your league's commissioner (fancy phrase for league organizer). You should aim to do all of your prep work and research before your scheduled Draft Day, as this will be the day that you actually select your team. It's a BFD.
Before we dive in, you should know that teams are mostly made up of six forwards (SF, PF, F), five guards (PG, SG, G), and two centers (C), for a total roster of 13 players (ten active players + three inactive bench players each day). There are 301 players in the NBA and you only need to pick 13 on Draft Day, so be sure to make your picks count.
Fantasy basketball is generally structured in a VERY similar way to fantasy hockey – if you have not yet checked out our Fantasy Hockey Guide, then we strongly recommend you take a quick jump over and read all about the wonderful world of fantasy sports and the small nuances that come with it.
Let's return really quickly to Draft Day, as this day is absolutely critical to your success. There are two types of drafts – the snake draft, by far the most common, and the auction draft. Just like hockey, a snake draft is when each team in the league is assigned a predetermined draft number and selects a player (from the remaining available players) to join their roster on their respective turn. If there are ten teams in your league, then you will draft somewhere between first and tenth, with the tenth drafter also selecting the eleventh pick because the order flips after each round. It will look something like this:

The whole point of Draft Day is to build your team using the best players available to you. Whether you pick the known high performers or take a gamble on a potential breakout star (aka sleeper pick), Draft Day is all about what you decide. There's some strategy to this, y'all! But, don't fret, your picks are not set in stone; you'll get the chance to make trades or pick up undrafted players during the season to mix your roster up and chase after a baller you couldn't/didn't nab in the draft. As always though, beware the buyer as a big trade could require you to give something big up in return…
If you haven't a clue what to do, most websites offer ADP (Average Draft Position) for each player to help a sister/mister/GISTer out. The ADP is the average spot that the player was taken across all of the drafts run on that website – the higher the ADP, the more in demand that player is, which is a big clue that they might be pretty friggin' good.
As an owner after the draft, you set up your squad every day and select which players get to play Like Mike and hit the bball court and who gets to sit on the bench. Most often, you'll play against another team in your league each week in a head-to-head format to see who's team does the best in a variety of categories – points, threes, rebounds, assists, and steals are some of the most common categories, but it can vary depending on what your commissioner has decided.
The team who outscores their opponent in each of the league's categories at the end of every week will earn a point; for example, if Team A had 36 total rebounds for the week and Team B had 32, Team A would earn a point. The team with the most points in their "head-to-head" matchup will earn the dub (win because dub is short form for W) for the week and this will go towards their overall standing in the league. Rinse and repeat this process until playoffs and there you have it, a regular-season of fantasy basketball.
Wanna get good? Here are some draft tips to get you started
À la Elle Woods & her iconic orange Mac laptop in the 2001 classic Legally Blonde, you're gonna have to sit down, do some homework, and take some notes in order to slay your fantasy league. So hit the Google and check out these resources:
🏒

🏀

⚽

Bring it all back now

April 27, 2020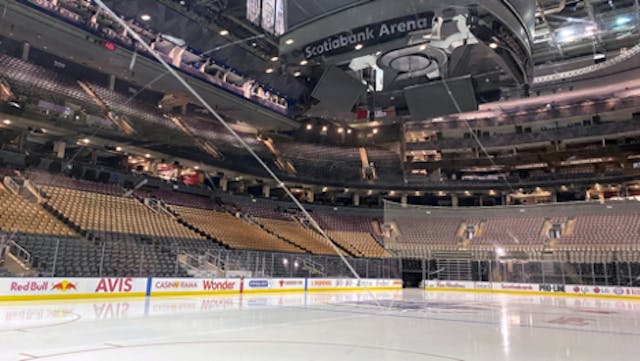 SOURCE: JOSHUA CLIPPERTON/CANADIAN PRESS
The GIST: Remember live sports? Those were the days, huh? But don't fret! While COVID-19 continues to keep us locked up for a little while longer, the major leagues are working to bring our beloved sports back.
What are they working on?: The NHL's latest idea would have each team play games in one of four cities, based on their division. The league, which along with the players' association has developed a Return to Play Committee, is still considering whether they'll play out the rest of the regular season (each team had about 12 games left) or skip ahead to a modified version of the playoffs.
These games will likely be scheduled for the summer, as rumor has it that NHL training camps will open on June 1st. That means that some players who went back to their home countries when the season was suspended (some have already begun practicing), will have to return to North America soon to complete a mandatory two-week quarantine.
Interesting. Who else is coming back?: In a serious plot twist, the NBA is going to allow some players to start practicing Friday. Players that live in cities with loosened restrictions on personal movement will be allowed to take part in voluntary, individual workouts in athletic facilities, starting May 1st. Until now, players were adhering to strict stay-at-home (i.e., workout-at-home) guidelines.
But we're not totally stoked about this. While some cities may be slowly adjusting back to "normal" life, others are still virus hotbeds. Allowing players in states like Oklahoma or Georgia, where lockdowns are being eased, to begin practicing while players in harder-hit places like New York or California are still under strict lockdown seems pretty unfair to us. As Scar would say, "Life's not fair, is it?"
Any other leagues?: The NWSL and MLS have extended their training moratoriums to May 15th, while the LPGA and PGA both have their first post-lockdown tournaments set for June 11th. And considering golf is a sport where you can actually physically distance, we wouldn't be surprised if these dates stick. No updates on potential start dates for the WNBA or MLB seasons.
What about the rest of the world?: Many European countries will begin easing lockdown restrictions next week, and since soccer is basically the lifeblood of Europe, we can look forward to some sports action from across the pond soon. In Italy, Serie A players are set to resume team training on May 18th in hopes of restarting the season in June.
Germany's Bundesliga is set to return Saturday, May 9th. And with that comes some interesting rules for players, including no...ahem, intimate relations if their significant others show coronavirus symptoms. Good luck enforcing that!
🏀

Becky with the good hair

April 20, 2020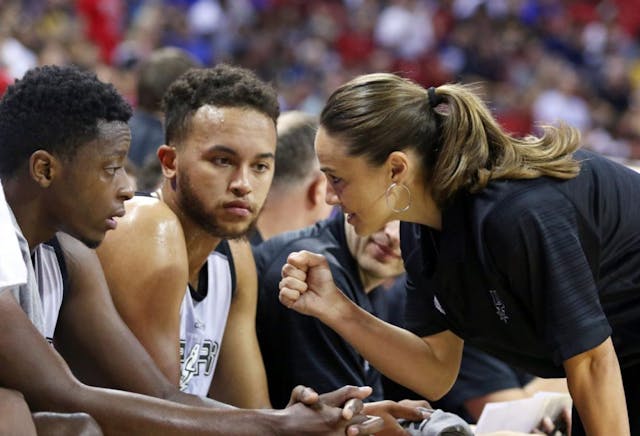 SOURCE: RONDA CHURCHILL/AP
The GIST: April was supposed to be one of the best months for sports: the MLB would have been in full swing, the MLS and NWSL would have been kicking it into high gear, the NHL would have dropped the puck on their first round of playoffs and the NBA postseason would have tipped off on Saturday. So, in honor of the NBA playoffs that would have been, we're giving #thegist on female coaches in the NBA.
The background: Without a doubt, the NBA is the most gender-inclusive pro men's sports league. Thanks to leadership that has always valued building the most diverse environments, the NBA touts: the most female majority team owners, the most women serving as team president/CEO at seven (which, BTW, is more than all other men's pro sports leagues combined) and the highest number of women serving as full-time coaches at 11.
On top of this, they promote and support the WNBA like nobody's business and Commissioner Adam Silver wants 50% of all new NBA ref and coach hires to be female. Yes, we're applauding too.
The first: Our OG ceiling smasher is the one, the only, Becky Hammon. After a 16-year WNBA career, the six-time All-Star became the first full-time assistant coach in NBA history when she was hired by the San Antonio Spurs in 2014. Over the last six years, she's climbed the coaching ladder and, on top of becoming the face of the female coaching movement, is now the lead assistant coach of the team. Heck yes, she is.
On top of that, in 2015 Hammon became the first-ever female head coach in the NBA's Summer League, and in 2016 became the first woman to be part of an All-Star coaching staff. Hey, now.
The girl gang: What might be more important is that Hammon became a role model and paved the way for several other women to become coaches in the NBA. Since Hammon began coaching with the Spurs, 10 women (!!!) have earned full-time NBA coaching jobs:
🏀

Simply the best

April 20, 2020

The GIST: The 2020 WNBA Draft took place on Friday night, and just as we (and basically everyone) predicted, Sabrina Ionescu (pronounced YOH-NESS-COO) went first overall. Get it girl.

Where's she going?: New York Liberty selected Ionescu with the first overall pick in the uniquely virtual version of the draft. The California kid was quickly welcomed by fellow WNBA and NBA New Yorkers via social media, with messages from her new Liberty teammate Kia Nurse, Brooklyn Nets star Kevin Durant and NY Knicks rookie RJ Barrett. *Taylor Swift's "Welcome to New York" plays in the background*
To add to the celebration, Ionescu's Liberty jersey sold out online within an hour (!!!) and by Saturday, she'd signed a multi-year shoe deal with Nike. Unreal.
Who else was drafted?: Ionescu's former Oregon Ducks teammates will now become her arch rivals...okay, sorry, that was dramatic — opponents. Satou Sabally (pronounced SAH-TWO SAH-BUH-LEE) went second overall to the Dallas Wings and Ruthy Hebard went to the Chicago Sky as the eighth pick.
Meanwhile, after being selected by the NY Liberty and then quickly traded to the Minnesota Lynx, Erica Ogwumike (pronounced OH-GWOO-MIH-KAY) became the third Ogwumike sister to be drafted to the WNBA — making the Ogwumikes the first family to EVER have three sisters play in the W. Talk about good genes!
And I hear there were honorary draft picks too?: Commissioner Cathy Engelbert announced three honorary selections: Gianna Bryant, Alyssa Altobelli and Payton Chester. The three teammates, all aspiring WNBA players, were killed in a helicopter crash in January along with Gianna's father and WNBA ally Kobe Bryant.
🏀

Who run the world?

April 16, 2020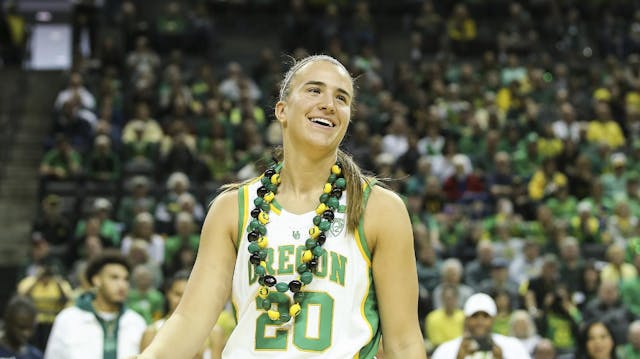 SOURCE: ERIC EVANS/GODUCKS.COM
The GIST: Thank goodness the WNBA is giving us something to look forward to. Just one more sleep 'til the WNBA Draft!
Wait...remind me what a draft is: A player draft allows a professional league's teams to select the best eligible amateur players to add to their rosters. In the WNBA Draft, all twelve teams have one pick in each of the three rounds (unless they traded them), and the eligible player pool is mostly made up of college players (there's pretty detailed criteria to be considered "eligible" though).
Got it. How's it all going to roll out?: Completely virtually. The draft, which was supposed to take place live in New York City, will be hosted remotely, with Commissioner Cathy Engelbert announcing all the draft picks, and the athletes streaming in via video chat or conference call.
And who's going to be the first pick?: That honor will, without a doubt, go to the college basketball legend, Sabrina Ionescu (pronounced YOH-NESS-COO) of the Oregon Ducks. The New York Liberty, who already have superstars like Kia Nurse on the roster, have the first overall draft pick and will definitely use it on Ionescu. She's one of those "once in a generation" players, and all eyes will be on her to lift the league to a new level.
After Ionescu, mock drafts have Lauren Cox from Baylor or Ionescu's Oregon teammate Satou Sabally (pronounced SAH-TWO SAH-BUH-LEE) going next. Many teams and scouts have said that the loss of the NCAA Championship Tournament (aka March Madness) has made their selections extra challenging, so it might be a bit of a free-for-all after that. Fun!
And what's this I hear about a Kobe tribute?: The WNBA is planning to honor not only Kobe Bryant, who was an advocate and big fan of the league, but also his daughter Gianna Bryant, and her teammates, Alyssa Altobelli and Payton Chester, who were all WNBA stars in the making. No word on just how that will look, but we can't wait to see what will surely be a beautiful tribute.
Can't wait! How can I watch?: The action starts at 7 p.m. ET on ESPN in the US (because they finally got their sh!t together) and TSN and Sportsnet in Canada. Get your quarantine snacks rea