🏀
⚽
🏐
College rapid recaps: You're hot then you're cold
December 06, 2021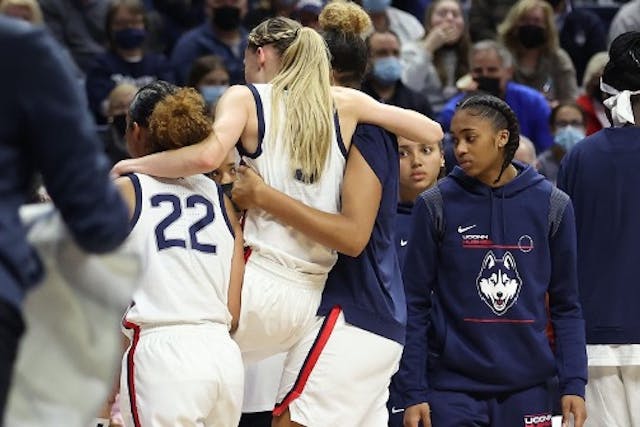 SOURCE: DANIEL CONNOLLY/TWITTER
🏀Women's basketball: In the final minute of yesterday's 73–54 win over No. 24 Notre Dame, No. 2 UConn superstar Paige Bueckers (pronounced BECK-ers) had to be helped off the court after suffering a non-contact knee injury. You truly hate to see it.
While we're wondering why the reigning Player of the Year was still in the game considering the Huskies' large lead, we're crossing our fingers for good news from Bueckers' upcoming MRI.
⚽️Women's soccer: It's championship game day! After nailbiter wins in Friday's semifinals, No. 1 Florida State and No. 4 BYU battle for the College Cup tonight at 8 p.m. ET.
A win would give Florida State their third national title, while BYU is making their championship game debut. Will experience win out or can beginner's luck prevail? Only one way to find out.
🏐Women's volleyball: The NCAA tournament Sweet 16 is set, but things aren't so super for defending champs No. 7 Kentucky, who were eliminated in the second round by unseeded Illinois. The single-elimination party continues on Thursday.
🏐
🏈
College: It's a call we'll never get
December 01, 2021
The GIST: While we wait for the single-elimination women's volleyball championship tournament to begin, the college football coaching carousel is serving up all the drama.
🏐Volleyball: The 64-team hunt for the NCAA volleyball title begins tomorrow at 4:30 p.m. ET, with a handful of first-round matchups on deck. No. 1-seed undefeated Louisville and defending champs No. 7 Kentucky aren't in action until Friday, but we'll be hooked on No. 2 Texas vs. Sacred Heart tomorrow at 8 p.m. ET. Baby let the games begin.
🏈Football: The penultimate College Football Playoff (CFP) poll was released yesterday and No. 1 Georgia, No. 2 Michigan, No. 3 Alabama and No. 4 Cincinnati grabbed the coveted top four CFP spots (the final four who'll advance to the December 31st CFP semifinals will be announced on Sunday), but the biggest news is coming off the field.
Two big-name head coaches took new jobs this week: former Oklahoma coach Lincoln Riley is headed west for USC, while Brian Kelly left Notre Dame for LSU, notably notifying his players via text message. Talk about an Irish Goodbye.


⚽
🏈
🏀
🏐
College: So offended that we had to double check
November 29, 2021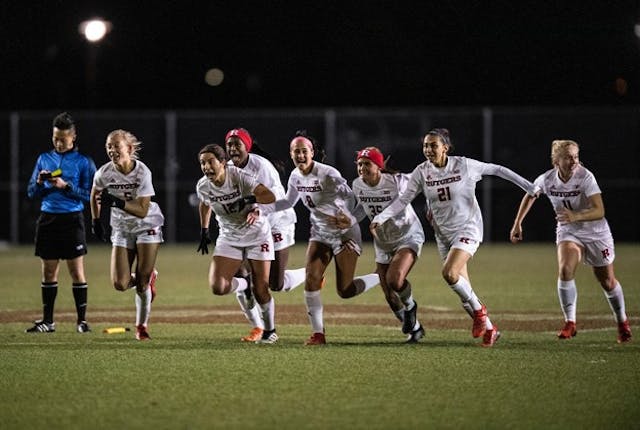 SOURCE: RUTGERS WOMEN'S SOCCER/TWITTER
⚽️Soccer: And then there were four. Behind Friday's upset win over No. 1 Duke, defending women's champs Santa Clara clinched their spot in the College Cup semifinals, with No. 1 Florida State, No. 1 Rutgers and No. 4 BYU rounding out the rest of the pitch field.
🏈Football: Former No. 2 Ohio State saw their College Football Playoff (CFP) hopes dashed after losing 42–27 to then–No. 5 Michigan on Saturday.
🏀Basketball: After last week's rout of No. 2 UCLA, people were wondering if anyone could beat men's No. 1 Gonzaga...until No. 5 Duke defeated them 84–81 on Friday, the Zags' first regular-season loss in 36 games. Damn.
As for the women: after snagging the No. 2 ranking last week, Maryland lost two games in a row, falling to No. 5 NC State on Thursday and No. 7 Stanford on Saturday. We live for the chaos.
🏐Volleyball: Okay, no upsets here (yet), but the 64-team women's volleyball championship bracket is set and, surprise, surprise, undefeated Louisville grabbed the No. 1 seed. Single-elimination play begins on Thursday.
🏑
⚽
🏐
🏈
College Sports Quick Hits: November 19th, 2021
November 19, 2021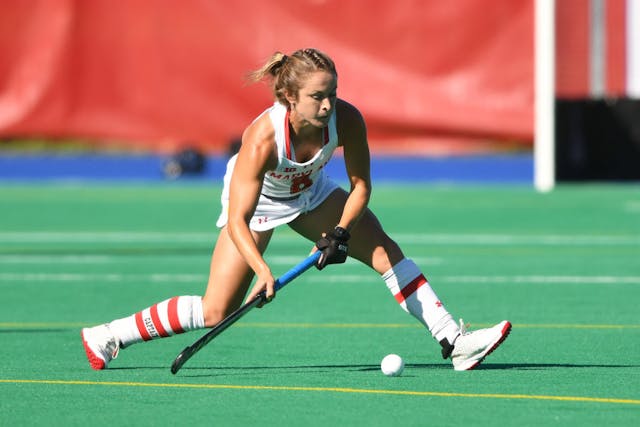 MITCHELL LAYTON/GETTY IMAGES
🏑Field hockey: Four's a party, and we're so ready to celebrate with a Final Four field hockey doubleheader beginning today at 12 p.m. ET. First, No. 5 Maryland and No. 9 Liberty will duke it out in a battle of the DMV, then No. 7 Northwestern faces No. 12 Harvard at 3 p.m. ET. Winners advance to Sunday's 2 p.m. ET championship game. No pressure.
⚽️Soccer: In other single-elimination playoff news, the second round of the women's College Cup tourney is underway, with most second-round games set for later today and trips to my super the Sweet Sixteen on the line. Here's the full bracket.
🏐Volleyball: Meanwhile, the 64-team women's playoff volleyball picture will be much clearer after this weekend's conference championships. Thirty-two squads will automatically qualify over the next two weeks before the selection committee serves up the remaining 32 spots on November 28th.
🏈Football: The regular season may be winding down, but the competition is just heating up, with three pivotal ranked matchups tomorrow: No. 7 Michigan State vs. No. 5 Ohio State at 12 p.m. ET, No. 21 Arkansas vs. No. 2 Alabama at 3:30 p.m. ET and No. 4 Oregon vs. No. 24 Utah at 7:30 p.m. ET.
🏑
🏈
🏐
⚽
College Sports Quick Hits: November 8th, 2021
November 08, 2021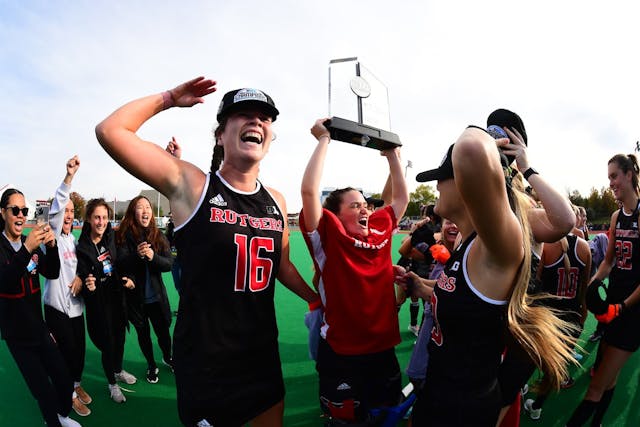 SOURCE: RUTGERS FIELD HOCKEY/TWITTER
🏑Field hockey: The 18-team single-elimination championship bracket is set, with Rutgers grabbing the No. 1 seed. Elsewhere, UNC begins the hunt for an unprecedented fourth consecutive national title. The journey begins Wednesday — fock on.
🏈Football: With seven ranked teams losing in Week 10, there was some movement in the newly released Top 25 poll, but we can't stop thinking about unranked Arizona, who snapped a 20-game, 763-day losing streak on Saturday and celebrated by storming the field. Live it up, Wildcats.
🏐Volleyball: Down goes No. 1! In a spicy intrastate matchup, No. 10 Baylor handed No. 1 Texas their first loss of the season on Saturday. No. 2 Louisville is now the lone undefeated team with just under three weeks until the championship selection show. We're set for a thrilling finish.
⚽️Soccer: With conference championship Sunday behind us, the women's soccer selection show is set for today at 4:30 p.m. ET.
After winning the West Coast Conference title, defending champs Santa Clara are one of 31 automatic qualifiers. Tune in to see which lucky 33 teams earn an at-large bid.