🏆

🎾

Changing of the guard

May 28, 2020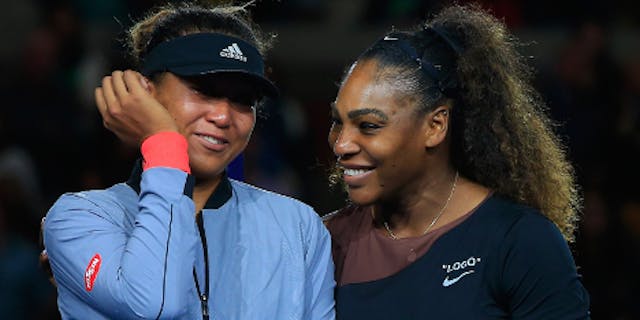 GETTY IMAGES
Making money moves: Forbes released some jaw dropping figures this week, confirming that the queen of tennis, Serena Williams, has been dethroned...on the money list. She's still the GOAT (in our humble opinion), but 22-year-old tennis phenom Naomi Osaka is now the highest paid female athlete in history. Let that one sink in.
Over the past 12 months, Osaka raked in $37.4 million — $1.4 million more than Serena, who has been the highest paid female athlete for the past four years — making most of her hard-earned dough through sponsorships.

When Forbes releases their top 100 highest-paid athletes list next week, it will be the first time since 2016 that two female athletes will make the list. Two out of 100 — let that one sink in.
Like a boss: Vanderbilt University has made herstory, hiring Candice Storey Lee as the school's athletic director (AD). Lee is the first woman and first Black woman to run an athletic department in the SEC (Southeastern Conference, one of the most accomplished sports conferences in the NCAA) and is only one of five female ADs in the NCAA's Power Five (the top five conferences). Enough acronyms for you?
Lee has a good history with Vanderbilt, too, having served as the interim AD since February and as captain of the basketball team in the late '90s.
Dream team: The ESPYs, ESPN's annual multi-sport award show, will have a different look and feel this year, and we couldn't be more excited. The show plans to focus on heroism and humanitarian aid and will be hosted by our favorite power couple, soccer superstar Megan Rapinoe and basketball legend Sue Bird. ESPN must've noticed the pair's stellar hosting skills on A Touch More.
🏆

Back to business

May 21, 2020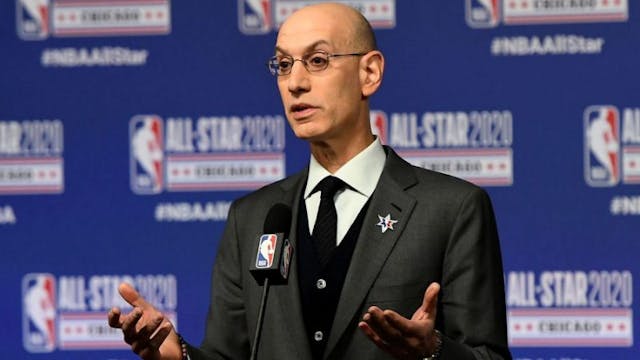 YAHOO! SPORTS
The GIST: Despite the World Health Organization (WHO) reporting that yesterday saw the biggest single-day increase in global COVID-19 cases (seriously, this thing isn't over), sports leagues are still making significant progress in their back to work plans.
Tell me more: The NBA is reportedly close to allowing teams to ask players who were riding out the pandemic away from their team's city to move back. The "recall," which is expected on June 1st, would likely take up to three weeks as players will need to travel and then complete a 14-day quarantine before beginning training.
The league (which, BTW, is also participating in a COVID antibody study with the Mayo Clinic — so cool) is apparently hoping to give the green light to resume games by the end of July. And, in an attempt to limit travel, the league is also looking at completing the season in a hub city, likely Orlando. Disney World, here we come!
Sweet! What else?: The NHL continues to prove they are diehard Seinfeld fans as they work on their bubble plan. League commissioner Gary Bettman said they're currently assessing proposals from up to nine cities — each chosen location would act as a hub for about 12 teams to either play out the regular season or participate in a playoff tournament.
Among the cities in contention are Las Vegas, Toronto, Edmonton, Vancouver, Columbus and somewhere in Minnesota. The league is confident that border issues won't affect the "return to work" plan.
Nice! Keep going!: NCAA student-athletes will be allowed to start training again soon, too. Yesterday, the NCAA Division I Council voted to allow football and basketball players to resume training on June 1st. While many colleges are going completely online for the summer and some for the fall semesters, we're v. interested to see what being the only kids on campus will mean for these student-athletes.
Interesting. Anyone else?: Negotiations over the potential 2020 season continue between the MLB and the players union. The league is expected to submit an official proposal by Friday, which will suggest an 82-game regionalized schedule, an expanded 14-team postseason starting in October and a 50/50 revenue split between players and team owners.
Meanwhile in Canada, the CFL, which was due to start next month, has postponed their season until September at the earliest, with the Grey Cup championship game, normally held in November, likely being pushed to December. Outdoor football during the Canadian winter? We'll be happy to watch this one from home.
🏆

Let's talk about it

May 21, 2020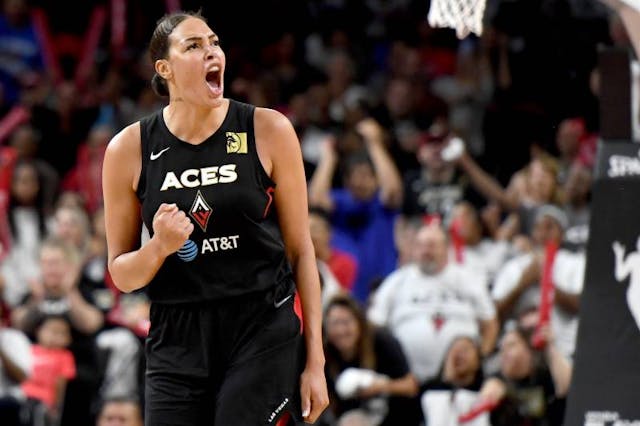 ETHAN MILLER/GETTY IMAGES
The GIST: May is Mental Health Awareness month. And during unprecedented times like these, taking care of your mental health can be a bit of a struggle. So we wanted to highlight some stories of athletes managing their mental health and well-being, because even though they may seem like superheroes to us, at the end of the day, they're human too.
Earlier this week, American swimmer Michael Phelps, the most decorated Olympian of all time (with a total of 28 medals), shared that the COVID-19 quarantine and pandemic has caused him to feel the most overwhelmed he's ever felt — yes, even more overwhelmed than competing in the Olympics.
To help manage things, Phelps has been hitting the gym for at least 90 minutes every morning (audacious task for us non-Olympians, but you get the point), writing motivational quotes on his mirror, using Talkspace (which he is on the board of, so there might be a wee bit of bias there) and journaling.
In February, two-time Olympic gold medalist and dear friend of The GIST, Canadian trampolinist Rosie MacLennan, opened up about her experience with anxiety and how it took away the fun of trampolining.
Some things that help Rosie manage her anxiety are practicing gratitude, doing deep breathing exercises and taking the time to stretch. And, lucky for us, at 12:30 p.m. ET tomorrow, we're hosting an Instagram Live with Rosie on our Canadian Instagram for The GIST's 20 in 20 (where we ask 20 questions in 20 minutes — clever, we know). Grab a sandwich and tune in!
Last year, our favorite Aussie, WNBA superstar Liz Cambage, shared her lifelong battle with anxiety and depression, including how it would impact her game.
Cambage explained how she treated her mental health like any other injury — taking time to rehab, talking to professionals and recognizing that her feelings were, and are, okay.
We're living in some pretty strange times, and the increased stress, changes to routine and lack of physical connection can seriously affect mental health. It's comforting to know that we're not alone. You, these athletes, and us, your friends here at The GIST, are all in this together. If you ever feel the need to talk to someone, you can find some great resources here.
🏆

It's the start of something new

May 18, 2020
BLEACHER REPORT
The GIST: We watched live sports this weekend, and boy oh boy was it glorious. But (Debbie Downer alert!), unless you're into soccer or golf, it looks like it will be a while before we see some variety.
Tell me everything!: Hyun Kyung Park won the Korean LPGA Championship, current men's world No. 1 Rory McIlroy and former world No. 1 Dustin Johnson won $1,850,000 (all for charity!) in the TaylorMade Driving Relief exhibition skins match, and Germany's pro soccer league Bundesliga kicked off the season restart with a weekend full of matches. Oh, and there was a NASCAR race yesterday too. Vroom vroom.
All of these events were, of course, held without spectators in an effort to maintain physical distancing restrictions. But the players didn't seem to mind, and so many fans watched from home that TV viewing records were set.
Any progress from other sports?: The MLB has laid out a bunch of new rules for their players and teams for once the season starts (including no spitting and no mascots...seriously), but they're still pleading with the players union to allow them to plan for a Fourth of July weekend start. They said the league will stand to lose an average of $640k for every game that's played without fans. Ouch.
Any bad news?: Just a bit. The tennis season suspension has been extended, with the WTA and ATP announcing that all tournaments until late July have been canceled. The LPGA moved their target date from June to late July as well; however, the PGA is holding fast to their June 11th start. Weird flex but okay. And the MLS pushed their training moratorium to June 1st.
Can we end on a good note?: Sure thing. Basketball superstar LeBron James hosted his Graduate Together special this weekend to give the class of 2020 a proper send off, and he invited some friends to the party. Fellow superstar athletes Megan Rapinoe and Alex Rodriguez appeared to say a few words, and former president Barack Obama gave the commencement speech. Cue tears.
🏆

What to expect when we're expecting…

May 18, 2020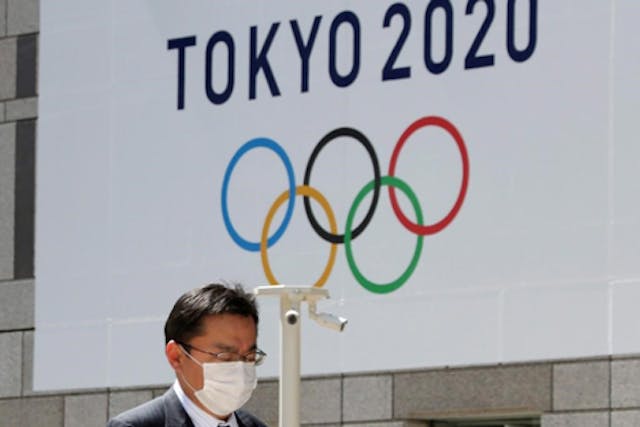 KOJI SASAHARA/AP
The GIST: In a normal world, we'd be just two months away from the Olympics. But this isn't a normal world, is it? Instead, we're looking ahead to summer 2021 and trying to figure out what the heck to expect from the Olympic Games.
What do we know?: On Friday, Olympic organizing committee CEO Toshiro Muto gave an update on the postponed Games and warned us that next summer's Games will be unlike anything we've ever seen...but not in a good way. Muto was vague on details but let us know that the 2020 Games will be unconventional. How ominous.
Muto said the committee is exploring cuts to certain traditional features of the Games, for both cost-saving and health measures. Most cuts have yet to be decided, but he did mention the torch relay as the first victim. They'll need a lot of cuts to cover the loss incurred from postponing, which is estimated to be between $2 to $6 billion. Seems like losing money is v. on trend these days (isn't that right, MLB?).
What don't we know?: A lot. There are still a ton of questions surrounding the Tokyo Olympics, including how many athletes will be able to compete, where they will stay and, most importantly, how everyone will be kept safe and healthy throughout the Games. And let's not forget, the Beijing Winter Olympic Games are still set to start just six months later, in February 2022 — while very exciting for fans, it could be a logistical nightmare for organizers.
The other big question: will the Tokyo Olympics even happen? This global pandemic is full of unknowns, so unfortunately there's still a chance for cancelation. But with a potential loss of tens of billions (yup, that's a "b") if it's canceled, you better believe the organizing committee will do its very best to stick to the plan.