⚽
⚾
Sports Quick Hits: November 29th, 2021
November 29, 2021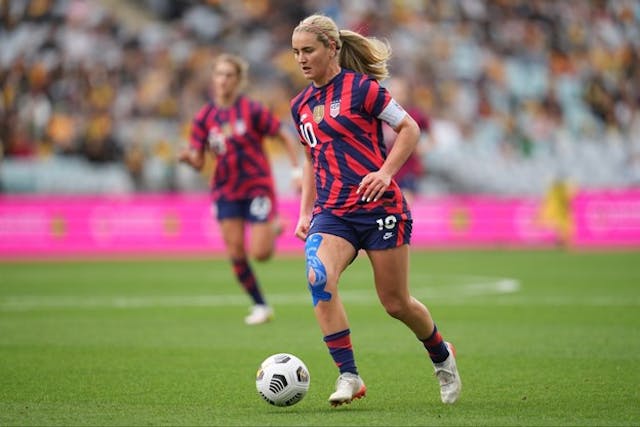 SOURCE: USWNT/TWITTER
⚽️USWNT: The USWNT took their talents down under and came out on top, notching a 3–0 friendly win over Australia on Friday. They'll finish out the year with a rematch tomorrow at 4:05 a.m. ET. Queue up the DVR.
⚽️MLS playoffs: Three conference finals spots clinched, one to go. The No. 2 Philadelphia Union, the No. 4 Portland Timbers and No. 7 Real Salt Lake punched their tickets to the next round over the weekend, while the No. 1 New England Revolution and No. 4 NYCFC will play for the final spot tomorrow at 7:30 p.m. ET. No pressure.
⚾️MLB: With the league's Collective Bargaining Agreement (CBA) set to expire on Wednesday, the MLB could be heading for its ninth work stoppage, meaning all trades, payments, workouts and play will be halted until a new CBA is reached.
⚽
🏈
🏀
🏐
College: So offended that we had to double check
November 29, 2021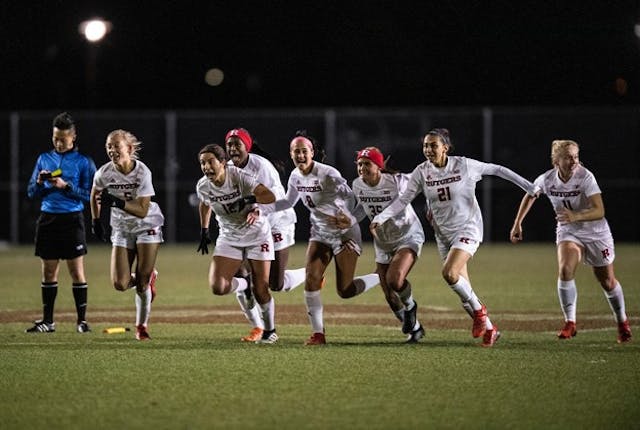 SOURCE: RUTGERS WOMEN'S SOCCER/TWITTER
⚽️Soccer: And then there were four. Behind Friday's upset win over No. 1 Duke, defending women's champs Santa Clara clinched their spot in the College Cup semifinals, with No. 1 Florida State, No. 1 Rutgers and No. 4 BYU rounding out the rest of the pitch field.
🏈Football: Former No. 2 Ohio State saw their College Football Playoff (CFP) hopes dashed after losing 42–27 to then–No. 5 Michigan on Saturday.
🏀Basketball: After last week's rout of No. 2 UCLA, people were wondering if anyone could beat men's No. 1 Gonzaga...until No. 5 Duke defeated them 84–81 on Friday, the Zags' first regular-season loss in 36 games. Damn.
As for the women: after snagging the No. 2 ranking last week, Maryland lost two games in a row, falling to No. 5 NC State on Thursday and No. 7 Stanford on Saturday. We live for the chaos.
🏐Volleyball: Okay, no upsets here (yet), but the 64-team women's volleyball championship bracket is set and, surprise, surprise, undefeated Louisville grabbed the No. 1 seed. Single-elimination play begins on Thursday.
⚽

NWSL: Another one...

November 24, 2021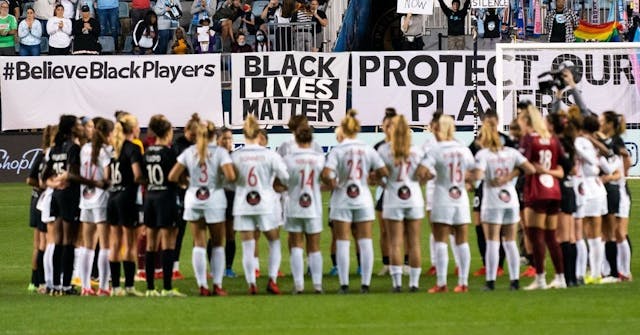 The latest: One day removed from leading the Chicago Red Stars to the NWSL championship game, head coach Rory Dames resigned late Sunday, citing a desire to focus on his family.
But the real reason broke the next day when The Washington Post's Molly Hensley-Clancy reported that former Red Stars players went to U.S. Soccer (who managed the league up until this year) as early as 2014 with complaints of emotional abuse by Dames.
USWNT star Christen Press, who was among the seven players who spoke to The Post for the story, even filed a formal complaint against Dames in 2018, but U.S. Soccer failed to address her accusations. Truly unacceptable.
The response: The NWSL Players Association released a powerful statement in the wake of the allegations, notably writing "nothing short of a complete transformation of our league will suffice."
Mana Shim, the former Portland Thorns player who came forward with sexual coercion allegations against former Thorns coach Paul Riley, said part of the healing process should include free therapy for current and former players.
And many former Red Stars players (including active NWSL players) have come forward with their own stories in response to Monday's report. Needless to say, it's going to be a busy offseason.
⛳
🏒
⚽
🏎
Sports Quick Hits: November 22nd, 2021
November 22, 2021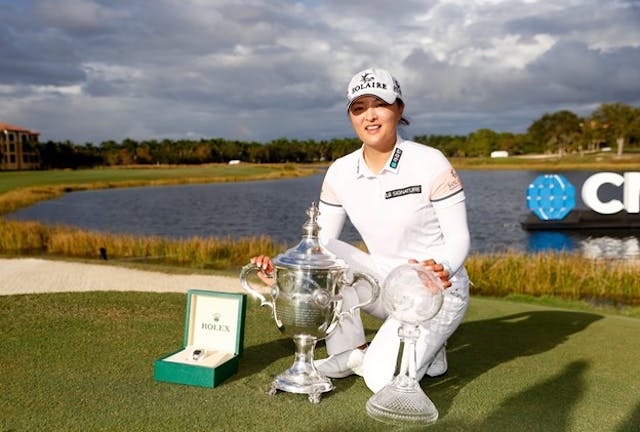 SOURCE: GOLF CHANNEL/TWITTER
⛳️LPGA: While Americans Mina Harigae and world No. 1 Nelly Korda finished third and fifth, respectively, at the CME Group Tour Championship, yesterday was all about South Korea's Jin Young Ko, who won her second straight season finale title, securing the $1.5 million first-place purse and LPGA Player of the Year honors.
🏒Hockey: After two straight rivalry losses to Canada, Team USA bounced back yesterday, winning 3–2 in overtime. Pal of The GIST of It podcast Hilary Knight scored twice, giving the U.S. a chance to even the My Why Tour series, tomorrow at 7 p.m. ET. Nothing we do better than revenge.
⚽️MLS playoffs: Single-elimination postseason play kicked off on Saturday and has been all chalk (aka as expected) so far. Round one continues tomorrow with No. 3 Nashville SC vs. No. 6 Orlando City SC at 8 p.m. ET followed by the No. 2 Seattle Sounders FC vs. No. 7 Real Salt Lake at 10:30 p.m. ET.
🏎F1: The F1 season is going to come down to the wire, with Mercedes' Lewis Hamilton notching another dominant win in Qatar yesterday. Following last week's win in Brazil, Hamilton is now just eight points behind Red Bull's Max Verstappen in the overall standings with two races to go. The drama.
⚽

NWSL: District of champions

November 22, 2021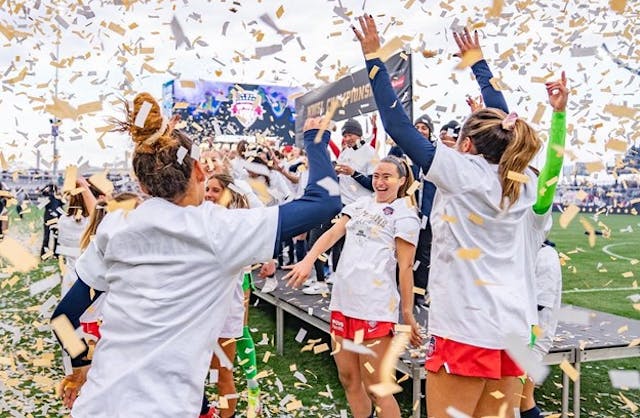 SOURCE: WASHINGTON SPIRIT/TWITTER
How it happened: Saturday's first half was nearly scoreless until Chicago Red Stars forward Rachel Hill found the back of the net in stoppage time to give Chicago a 1–0 lead at the break.
The bigger picture: The victory caps off a rollercoaster second half of the season for the Spirit. In August, (former) head coach Richie Burke was suspended amid verbal abuse allegations.
Then in September, the team was forced to forfeit two games due to breach of COVID-19 protocols. Oh yeah, and there's still an ongoing power struggle in the front office.
But Washington battled through it all, going unbeaten in 12 (!!!) consecutive matches en route to the championship win. Incredible.
What's next: After a tumultuous year, it's set to be a productive and impactful NWSL offseason. There'll be an Expansion Draft on December 16th for new California clubs Angel City FC and San Diego Wave FC, and negotiations are set to continue for the league's first-ever Collective Bargaining Agreement (CBA). Pay and protect the players, please.