🏀
🏒
⛷️
🥎
⛳
The GIST's Quick Hits - US
March 01, 2021
Source: LPGA/Twitter
⛳Golf: Nelly Korda followed up her big sister Jessica's January LPGA win with one of her own. Nelly won the Gainbridge LPGA event yesterday, marking the first since the Sorenstams did it in 2000.
🥎Softball: Speaking of stellar siblings, former college softball superstar AJ Andrews has some competition for best family outfielder because her sister Aliyah, who plays for LSU, did over the weekend. Pick your jaw up off the floor.
🏀Basketball: UConn freshman (!!!) Paige Bueckers (pronounced BECKERS) set yet another record this weekend: most single-game assists (14) in UConn women's basketball history. The No. 1 team in the nation will play their final regular season game tonight against Marquette at 8 p.m. ET.
🤸‍♀️Gymnastics: Guess who's back, back again? For the first time since winning gold at the 2016 Rio Olympics, Laurie Hernandez this weekend at the Winter Cup with a new coach, a and a .
🏒PWHPA: Team New Hampshire beat Team Minnesota in the first-ever pro women's game at Madison Square Garden. But really, didn't we all win? Check out and then mark your calendar for the next one: .
⚽
🏀
⛷️
Bits & Bites: This Week in Sports (US)
January 14, 2021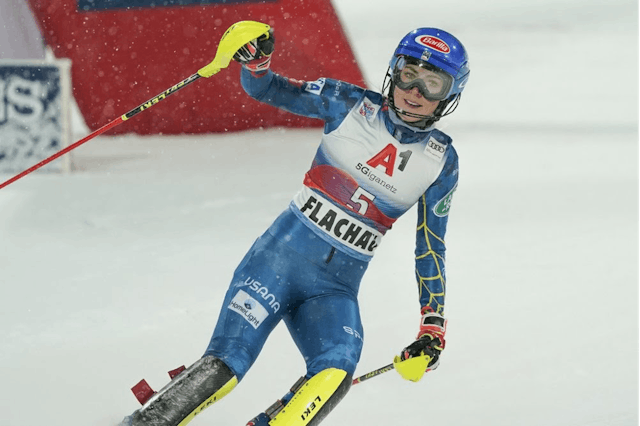 SOURCE: GIOVANNI AULETTA/AP PHOTO
🏒NHL: Regardless of how desperately we missed hockey, it still feels like the new NHL season snuck up on us last night...especially with that 5:30 p.m. ET puck drop between the Pittsburgh Penguins and the Philadelphia Flyers. Sidney Crosby was back to his classic goal-scoring ways, but so were the Flyers, who won 6–3.
The prime matchup of the night was, of course, the Toronto Maple Leafs and the Montreal Canadiens. Renewing their age-old rivalry, the Leafs took the W in overtime. Check out all the scores from night one here.
🎾Tennis: Thanks to three straight qualifying wins, 30-year-old Vancouverite Rebecca Marino qualified for the upcoming Australian Open yesterday, securing her first major appearance since 2013. Age is but a number.
On the flipside, former World No. 4 Eugenie Bouchard was dealt a second qualifying round loss (and a classic sister snapback from her twin), so she'll miss the major, due to start February 8th. Ouch.
⚽️Soccer: Everyone, including Megan Rapinoe, knows that Canadian soccer is the best soccer. And the North Carolina Courage showed they agree, drafting Deanne Rose, Canada's youngest goal scorer in Olympic soccer history, as their 10th overall pick in last night's NWSL Draft. Represent!
⛷️
🏀
🏒
Quick Hits: This week in sports, USA
January 04, 2021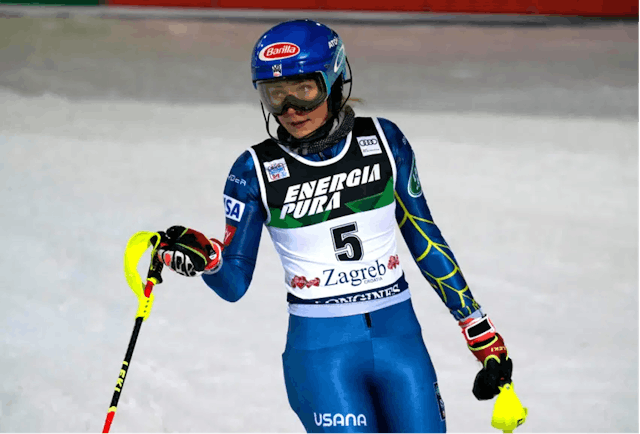 SOURCE: GIOVANNI AULETTA/AP
🎿Skiing: The first women's World Cup slalom event of 2021 took place in Croatia over the weekend, and our fave (we're allowed to have favorites, right?) Mikaela Shiffrin came within 0.27 seconds of her 100th podium. Close but no cigar.
Her fourth place finish was still admirable though, in a rain-soaked slalom that her greatest rival, Petra Vlhová, won instead. Shiffrin has another chance at her 100th podium when the World Cup continues in Austria this weekend.
🏀NBA: Although we're only six games into the regular season, to everyone's shock and awe, the Philadelphia 76ers — who didn't win a playoff game in 2020 — and the Phoenix Suns — who didn't even make the playoffs — are leading their respective conferences. Um, excuse us?
On the flipside, some of last season's best are struggling: the Denver Nuggets, who made it to the Conference Finals just four months ago, are hanging around the bottom of the Western Conference, and the 2019 NBA champions, the Toronto Raptors, have just one win. Yeesh.
🏒Hockey: Team USA is just two wins away from their first World Juniors gold medal since 2017, but the road to hockey supremacy is a bumpy one. First they'll have to take on fearless Finland in today's semifinal game at 9:30 p.m. ET, with whom they share an equal 4-1 record in this tournament.
A win will put our boys into Tuesday's final, where they'll either face Russia or Canada, depending on who wins today's first semifinal at 6 p.m. ET. Russia already dealt us a loss on Christmas Day, so revenge would be nice, but beating Canada at their own game on their home soil? Priceless.
🏆
⚽
⛷️
Ain't no mountain high enough
November 23, 2020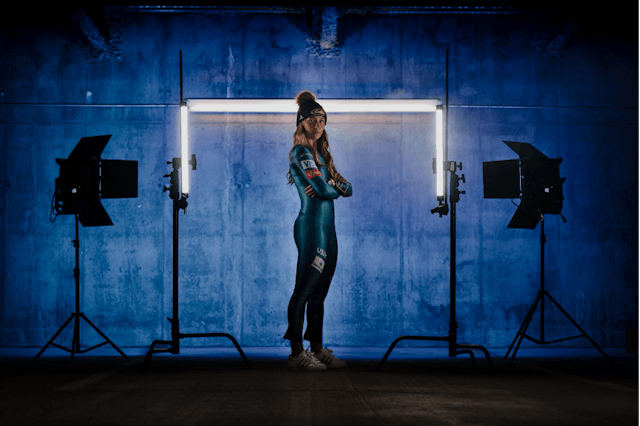 SOURCE:US SKI TEAM/TWITTER
🎿Skiing: American Mikaela Shiffrin is back on the slopes...and the podium. The two-time Olympic gold medalist hadn't competed in 300 days since her father's death in February, marking her longest-ever break from the sport, but she returned to the World Cup circuit this weekend, finishing second place in Saturday's slalom event in Finland, and fifth in yesterday's run.
💪UFC: Talk about a sister act. Valentina and Antonina Shevchenko became the first sisters to compete on the same card (meaning they both had fights in Saturday night's event) at UFC 255. The Russian-Peruvian sisters from Kyrgyzstan each won their fights, too, with younger sister Valentina defending her UFC Women's Flyweight title. Their parents must be so proud!
⚽️MLS: Our favorite soccer news from this weekend wasn't that the New England Revolution and Nashville SC made it through the MLS play-in round, or that Sporting KC beat the San Jose Earthquakes in dramatic penalties, or that the Orlando City SC–NYC FC referee crew was sidelined after some poor (but kind of entertaining) officiating.
Nope, our favorite news was hearing that Kathryn Nesbitt was named the MLS Assistant Referee of the Year, the first woman to ever earn the recognition. Nesbitt also made herstory in the MLS Is Back tournament earlier this year when she became the first woman to officiate an MLS final. It can't be an easy job, but she does it so well.
⛷️

Dara Howell

March 17, 2020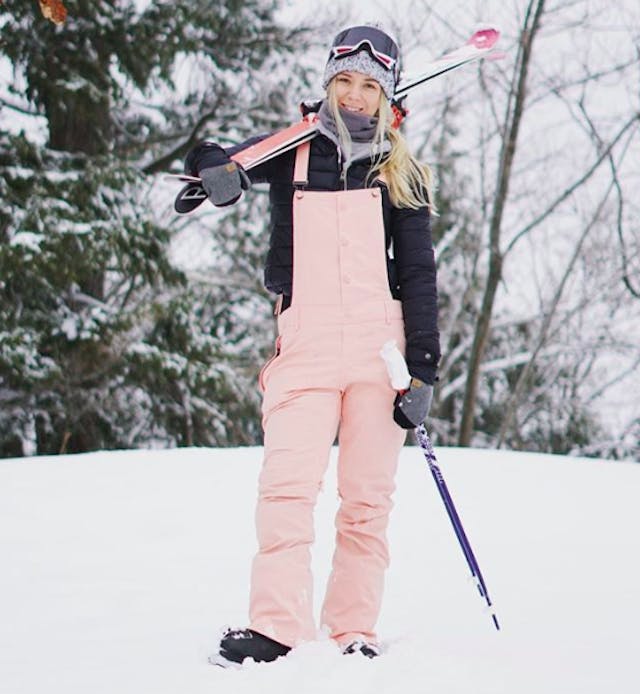 Two-time Olympian Dara Howell is truly amazing. At the ripe age of 19, Dara won a gold medal at the debut of at the Sochi 2014 Winter Olympics. No big deal! Dara competed in the PyeongChang 2018 Winter Olympics before being sidelined in late 2018 with a . Now she's back with a fresh perspective, a fresh podium finish at the most recent World Cup and...Dara wants to become the best freestyle skier in the world.
Lexie at The GIST (TG): Okay slopestyle skiing. You're essentially tossing yourself off of cliffs and doing jumps while on sticks. How did you get into it? Were you a daredevil as a kid?
DH: I was always a daredevil! *Dara chuckles* My mom always thought I would go to the Olympics in something, but she never knew which sport because I was always doing different things.
Growing up, my family owned a small family resort in Huntsville, ON (Pow Wow Point Lodge). My parents had it for 27 years, and my grandparents owned it for 25 years, so skiing was very much a part of my family. My granddad is actually still a skier, and he just turned 96. He still skis at 96!
It was always in my nature to be adventurous. My older brother and I were always outside and active, plus we basically grew up on the water living in Huntsville.

I think my parents just kind of threw me on skis around 18 months old because my brother was already into it *Dara chuckles*.
c/o Dara Howell
LH: That's so amazing. How did you get into slopestyle, especially given it was a new Olympic sport for Sochi 2014?
DH: I grew up ski racing and figure skating from an early age, those were my two biggest sports. I eventually quit those. I thought ski racing was too disciplined. And, it was cold! *Dara laughs* And figure skating I enjoyed, but I really just loved the jumps, and I wasn't as good at the dance component. So when I decided to stop around the age of 15, my dad told me I had to get a job, so I became a Level 1 ski instructor at Hidden Valley in Huntsville and taught little kids. Then, on my off time I would hang out with my ski friends in the park (Editor's note: the "park" is where all the jumps, half-pipes, etc. are), and got connected to doing tricks there.
Slopestyle skiing is basically downhill racing combined with the jumping aspect of figure skating, so it's weird how it's all come full circle and led me to this wild path.
TG: It was meant to be! In 2014, you won Gold at the inaugural Olympic slopestyle skiing event in Sochi, Russia, which is just unreal — what were your feelings going in?
DH: Going into Sochi 2014, I was hungry. I was fighting so hard because I believed in myself so much and just wanted to do the best that I could do...and I knew anything was possible. I was definitely the underdog. I wasn't really on the radar as someone who would win and it wasn't supposed to be my time.
So there was no real pressure, no one really knew who I was, and I was just set on what I was doing.
I wasn't going to let anything stop me from achieving what I knew I was capable of.
And, my family just bought in 100%. They have always supported me and told me I can achieve whatever I put my mind to. So I came in with no expectations, other than just wanting to do my best.
I look back on it now as a blessing. At the time, it was frustrating and hard. Luckily my family was amazing and supported me.
TG: That's unreal, but I know it wasn't easy for you and your feelings towards winning have been complicated. Can you talk about , and where you're at now?
DH: It's definitely better. I've really put in the work in myself, and my skiing. And I have a bit more perspective as I get older. I now appreciate my medal more, and what my family and community did to help me get that medal. I definitely was not bitter towards it, but I had some feelings after the Olympics. I think as you get older, you learn more about yourself, and to appreciate things more. I would never take my medal for granted, it's taught me so much about myself, both good and bad, and it's given me so many opportunities.
TG: How important is working on, and prioritizing, the mental aspect of being an athlete? What does your physical and mental workout regime look like?
DH: The mental side is huge! I think for any athlete it is. For me personally, I'm throwing myself off of massive jumps. So, the mental side is massive because of what you're putting your body through. And I think that's what really makes a good athlete ⁠— having that strong mental game. I really work at allowing myself to process and properly think things through. I try to be a very smart athlete. I listen to my gut a lot and learning to trust yourself is a really important thing. The stronger you are mentally, the better athlete you are. And the more prepared you are for success.
I work with a sports psychologist and I love it. She helps me become more aware of my thought process and what I need to do to bring the tension down. Just being more aware of what's going through your brain and making changes as you go so that you are in a healthy mindset, that will really help you be successful.
TG: So, you're coming off of a at your first World Cup appearance since your season-ending knee injury in October 2018. What was that like?
DH: Honestly it was pretty wild! I tore my ACL last year in my first contest of the year, and that kind of put things on a different path for me. So coming back a couple of weeks ago with a podium finish was pretty special to me.
I think before I left for it, my dad was telling me, "expectations, not too high!" Obviously my expectations were still going to be high, but it actually went better than even I was planning. I surprised myself a little bit. Now it's go time, and I have to find a way to keep building off of that.
TG: That's awesome. Now, what's next for you? What are you working toward?
DH: I'm just focused on coming back strong. I want to be the best athlete that I can be. I don't want to let the injury take over. Going through last year, I had to think about whether or not I was going to come back, and why I was going to come back.
I love skiing, love pushing myself, and now...I want to be the best. And I know that's a pretty bold statement, but I really feel if I continue to work hard and be smart, that's a real possibility for me.
So going into this season I want to be smart with my expectations, but push myself to get on the podium. I really want to push myself in Big Air, that's really where I see a lot of potential for me (Editor's note: Big Air is generally one large jump versus slopestyle which is a series of jumps and tricks on a short course). I love to jump, and it's a new discipline. It's got this fun, intense vibe about it. Do those words even go together? *Dara laughs* But that's where I'm at. I want to go to . I'm going to China for a competition soon. I just want to have fun, and set myself up for success. And it's really important to have fun, because good things happen when you do.
TG: Absolutely. That's what sports are really all about! You've also launched . Can you tell us more about it and why it's important to you?
DH: Yes! My family and I started "Dara's Fund" a few years ago. I grew up in a small community where I had a lot of support. But in a small community, it's especially hard to find the right facilities to excel in sports. You often have to travel for the sport, and there are a lot of extra costs versus in a larger city where the resources are more accessible. So, it was important for us to give back to the Muskoka community and encourage more girls to get into sport, and help them know they can succeed and excel. Coming from a small community shouldn't hinder young athletes, especially young girls, in any way and actually with the right support, you should be even more setup for success.
It's really cool to see the amount of girls that apply to the fund, and all of the different sports they play ⁠— it's really inspiring. There is a fencer that has the potential to go to the 2020 Tokyo Olympics, and it's so amazing to see. If we can help support them in any way possible, even in the smallest way, that's amazing.
It's important for me to give back when so many people have helped, and continue to help, me along my journey. So this fund really stems from that, and now I want to be able to pay it forward and help other female athletes.
TG: That is incredible, Dara! So awesome you're doing that.

TG: Okay, let's end on some rapid-fire questions.
TG: If you could be an athlete at Summer Olympics, what sport would you want to compete in?
DH: Trampoline!
TG: So on brand for you! What are you binge watching right now?
DH: Oh my gosh I watch everything on Netflix. I just watched Supergirl — it was good!
TG: Who is your favourite athlete?
TG: Do you believe in aliens?
DH: No!
TG: Ooh controversial! What stereotypical millennial item do you splurge on the most?
DH: Almond milk cappuccino
TG: What's your all-time favourite concert?
TG: Looking at your , when can we expect your pro career in golf to start?
DH: Hopefully tomorrow! *Dara laughs* I'm going for the longest drive after I'm done skiing. I'm going to get my ski coach to be my golf coach, he actually does both!
That's #thegistofit
Don't get The GIST's free twice-weekly newsletter yet? Let's .