The GIST's Quick Hits - US
March 01, 2021
This Week in Golf, Softball, Basketball, Gymnastics, PWHPA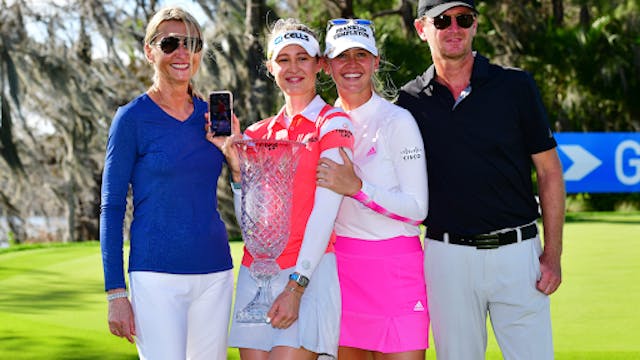 Source: LPGA/Twitter
⛳Golf: Nelly Korda followed up her big sister Jessica's January LPGA win with one of her own. Nelly won the Gainbridge LPGA event yesterday, marking the first since the Sorenstams did it in 2000.
🥎Softball: Speaking of stellar siblings, former college softball superstar AJ Andrews has some competition for best family outfielder because her sister Aliyah, who plays for LSU, did over the weekend. Pick your jaw up off the floor.
🏀Basketball: UConn freshman (!!!) Paige Bueckers (pronounced BECKERS) set yet another record this weekend: most single-game assists (14) in UConn women's basketball history. The No. 1 team in the nation will play their final regular season game tonight against Marquette at 8 p.m. ET.
🤸‍♀️Gymnastics: Guess who's back, back again? For the first time since winning gold at the 2016 Rio Olympics, Laurie Hernandez this weekend at the Winter Cup with a new coach, a and a .
🏒PWHPA: Team New Hampshire beat Team Minnesota in the first-ever pro women's game at Madison Square Garden. But really, didn't we all win? Check out and then mark your calendar for the next one: .