⛳
🏒
⚽
🏎
Sports Quick Hits: November 22nd, 2021
November 22, 2021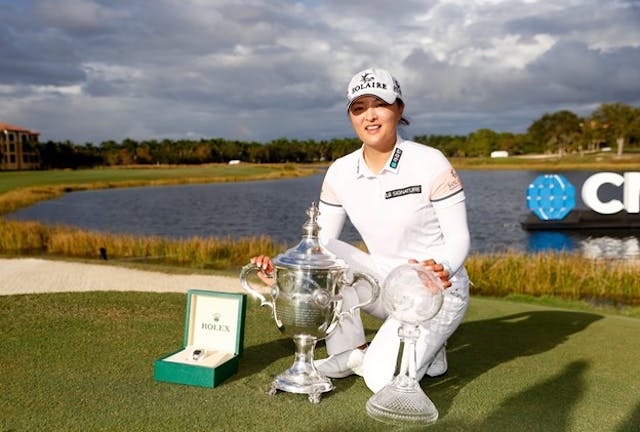 SOURCE: GOLF CHANNEL/TWITTER
⛳️LPGA: While Americans Mina Harigae and world No. 1 Nelly Korda finished third and fifth, respectively, at the CME Group Tour Championship, yesterday was all about South Korea's Jin Young Ko, who won her second straight season finale title, securing the $1.5 million first-place purse and LPGA Player of the Year honors.
🏒Hockey: After two straight rivalry losses to Canada, Team USA bounced back yesterday, winning 3–2 in overtime. Pal of The GIST of It podcast Hilary Knight scored twice, giving the U.S. a chance to even the My Why Tour series, tomorrow at 7 p.m. ET. Nothing we do better than revenge.
⚽️MLS playoffs: Single-elimination postseason play kicked off on Saturday and has been all chalk (aka as expected) so far. Round one continues tomorrow with No. 3 Nashville SC vs. No. 6 Orlando City SC at 8 p.m. ET followed by the No. 2 Seattle Sounders FC vs. No. 7 Real Salt Lake at 10:30 p.m. ET.
🏎F1: The F1 season is going to come down to the wire, with Mercedes' Lewis Hamilton notching another dominant win in Qatar yesterday. Following last week's win in Brazil, Hamilton is now just eight points behind Red Bull's Max Verstappen in the overall standings with two races to go. The drama.
⛳
🏎
⚽
Sports Quick Hits: November 15th, 2021
November 15, 2021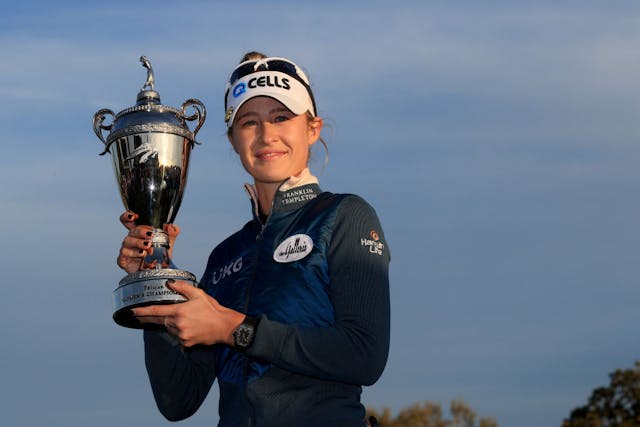 SOURCE: SAM GREENWOOD/GETTY IMAGES
⛳️LPGA: As if Sundays weren't scary enough, yesterday's LPGA Pelican Women's Championship went to a four-player playoff. American and World No. 1 Nelly Korda birdied the first playoff hole to claim her fourth LPGA title win of the season. What a year.
🏎️F1: Mercedes' Lewis Hamilton kept his repeat world champion title hopes alive thanks to a thrilling win during yesterday's São Paulo Grand Prix. Three races remain and Hamilton is trailing his archrival, Red Bull's Max Verstappen, by just 14 points. Couldn't write a better ending.
⚽️Soccer: Paris Saint-Germain (PSG) Féminine forward Aminata Diallo is speaking out following a disturbing attack on her PSG teammate Kheira Hamraoui (pronounced AHM-row-wee) last week. ICYMI: Diallo was arrested in connection with the attack but was later released from police custody without charge.
🏎
🏈
⛳
🏒
Sports Quick Hits: October 25th, 2021
October 25, 2021
Source: Mark Thompson/Getty Images
🏁Racing: Everything's bigger in Texas, including margin of victory. The Brit claimed her second consecutive title with a dominant first-place finish at the Circuit of the Americas this weekend.
⛳️LPGA: , but South Korea's Jin Young Ko held on to win the BMW Ladies Championship yesterday, with a playoff hole victory over compatriot Hee Jeong Lim. With the win, Ko is expected to overtake American Nelly Korda and become the new world No. 1.
🎓🏈College: Five ranked teams lost in Week 8, bringing some movement in the new . The wildest game of the week? Unranked Illinois' nine overtime (not a typo!) over previously ranked No. 7 Penn State. We're tired just thinking about it.
🏒Hockey: In the first of nine USA vs. Canada tuneup games leading up to the Beijing Olympics, Team USA women's hockey lost 3–1 to Canada on Friday. Fortunately, the squad's back in action tonight at 7 p.m. ET. Sounds like redemption to us.
⛳
🏈
🏎
Sports Quick Hits: September 27th, 2021
September 27, 2021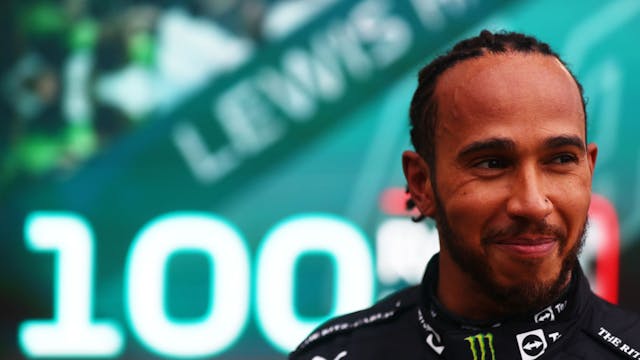 SOURCE: DAN ISTITENE - FORMULA 1/FORMULA 1 VIA GETTY IMAGES
🏎F1: Yesterday, Lewis Hamilton became the first-ever F1 driver to win 100 races, following a dramatic ending to the Russian Grand Prix. After race leader Lando Norris with a few laps to go, Hamilton sailed to his fifth win of the season, nearly a minute ahead of his and runner up, Max Verstappen.
🎓🏈College football: Hey Google, play "I'm Upset" by Drake. Four previously ranked teams lost to formerly unranked opponents during college football Week 4. Most notably, previous No. 9 Clemson lost 27–21 to previously unranked NC State, prompting the Tigers to fall out of the top 10 in the for the first time in 97 (!!!) weeks.
⛳️Golf: Okay Google, now play "Life is Good" by Drake and Future, because Team USA won the . In front of a home crowd in Wisconsin, the Americans cruised to a 19–9 win — the biggest margin of victory since 1979 — over Europe. The win was so special, even Brooks Koepka and Bryson DeChambeau . U–S–A!
⛳

Everything you need to know about the Solheim Cup

September 04, 2021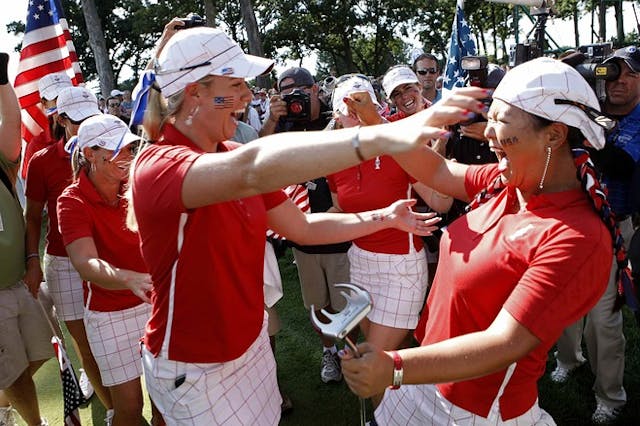 SOURCE: WALL STREET JOURNAL
HAPPY LONG WEEKEND!
The Solheim Cup starts today, so let's take a break from packing away our whites and saying so long to summer to get the scoop on the biggest team event in women's golf. Stay with us here, because this isn't your average golf tournament.
QUOTE OF THE DAY
It's not unlike going to war, minus the bloodshed and violence.
— Golfer and two-time Solheim Cup–winner Christina Kim, on what singles day at Solheim is like. Um, yikes?
⚙️ The set-up

From an LPGA perspective, this tournament means nothing. No points are awarded, no money won, no leaderboards climbed. But that's also what makes it amazing.
Starting today, 24 golfers will come together to play for nothing but pride, bragging rights and a shared trophy. Welcome to the Solheim Cup.
The Solheim Cup began in 1990 as the women's answer to the storied Ryder Cup of men's golf. Unlike most other pro golf events, where golfers play for themselves, the Solheim Cup pits two teams of 12 golfers against each other: Team USA vs. Team Europe.
The event runs every two years, always on the Labor Day weekend, in the opposite years of the Ryder Cup (which always takes place at the end of September), but two major global events have caused changes to their schedules. The 2001 Ryder Cup was postponed by a year due to the events of 9/11, so after 2002, the Solheim was pushed to odd years.
And after COVID-19 postponed last year's Ryder Cup to this September, the Ryder Cup is now back to odd years, and the Solheim will move to even years again starting in 2024.
⛳️ Foursomes and fourballs
The three-day match-play schedule is a bit unusual by golf standards. Day 1 and Day 2 (aka today and tomorrow) start with four foursome matches in the morning and four fourball rounds in the afternoon. Monday's Day 3 features 12 singles matches. Here's how these work:
Foursome: Two pairs of golfers — one pair from each team — will face each other in a foursome to start off each day. Also known as "alternate shot," each pair uses just one ball, and golfers alternate between shots. The pair that takes the fewest shots to finish the hole wins that hole.
For example, if Americans Jessica and Nelly Korda are paired up, Jessica will tee off, Nelly will hit the second shot, Jessica will hit next and so on.
If the Kordas get a birdie and their Euro opponents get a par, then the Kordas have won that hole and will go "one up." If they score equally, they halve the hole, and if they lose, they'll be "one down." The pair up by more holes at the end of 18 wins the match.
Fourball: Also called better ball or best ball, two pairs of golfers — one pair from each team — compete directly against each other. All four golfers play their own balls throughout the round (rather than alternating shots) and each hole is won by the team whose member has the lowest score.
If Nelly Korda gets a birdie, and Jessica and both opponents shoot par, Nelly's score counts and the Americans will go one up.
Singles: This one is a straight head-to-head competition. Each American competes against a European. Win a hole, go up one. Lose a hole, go down.
How to win: Each foursome, fourball and singles match is worth one point. A total of 28 points are up for grabs, and points accumulate over the three days. In the event a match ends in a tie, points are halved (i.e., Europe's winning score in 2019 was 14.5 to USA's 13.5).
And if there is a tie at the end of it all (i.e., both teams finish with 14 points), the reigning champ gets an extra half point and the win. Simple, right?
🇺🇸 Team USA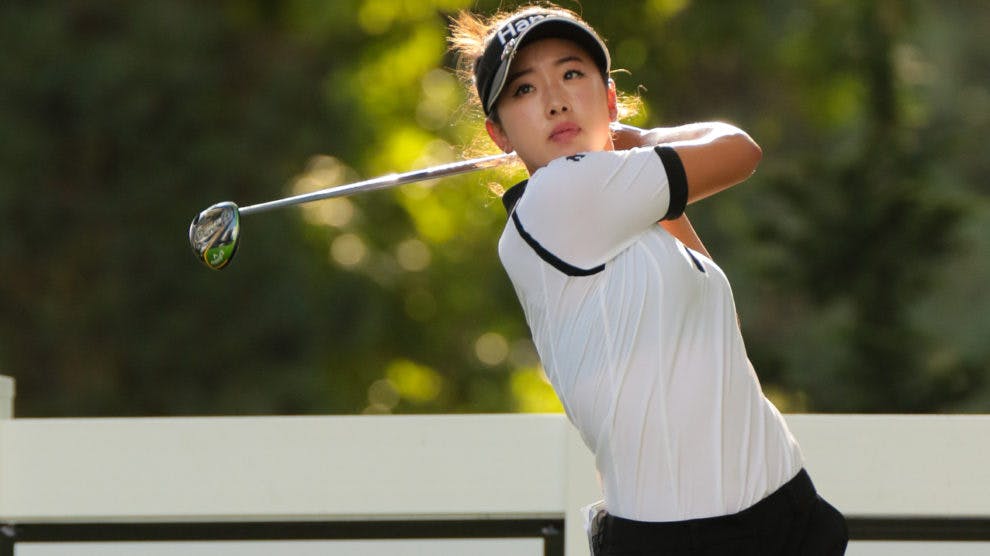 The host team: Led by the Korda sisters — World No. 1 Nelly and No. 18 Jessica — Team USA is looking to return to glory on home soil after losing to Europe in Scotland in 2019. Fortunately, they have a stacked team to help them do it.
Top golfers and members of the 2017 team (aka the last time Team USA won) Danielle Kang, Lexi Thompson and Lizette Salas are making repeat appearances, while Ally Ewing and Brittany Altomare are looking for revenge after losing in their 2019 debuts.
Player to watch: As one of three rookies on this team, captain's pick Yealimi Noh is on a hot streak, finishing third in July's Evian Championship major before tying for 13th in last month's AIG Women's Open (also a major).
Plus, she knows how to be a team player: she won the 2017 Junior Solheim Cup and the 2018 Junior Ryder Cup.
🇪🇺 Team Europe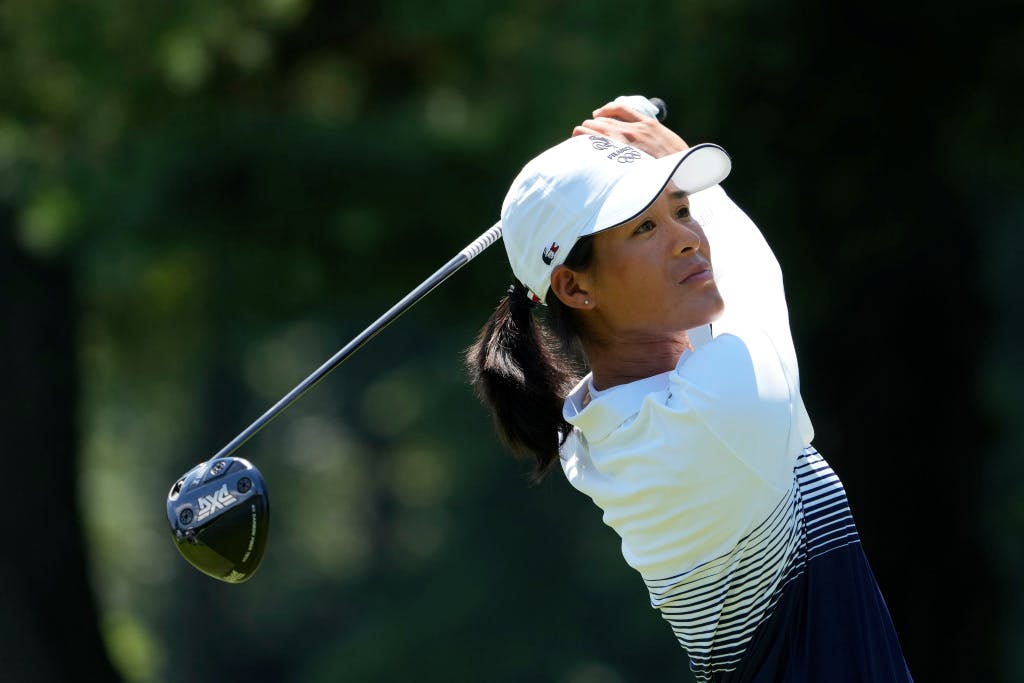 The reigning champs: Team Europe has a perfect mix of experience and youth. Recent AIG Women's Open winner Anna Nordqvist is making her seventh Solheim appearance, and Charley Hull of England and Spain's Carlota Ciganda are each representing the blue and yellow for their fifth time.
But joining them are four rookies: Finland's Matilda Castren, Denmark's Nanna Koerstz Madsen, Ireland's Leona Maguire and 2020 AIG Women's Open champ Sophia Popov.
Player to watch: France's Céline Boutier has the best record in the tournament. She participated in four (of a possible five) events in her 2019 Solheim Cup debut and won every one, giving her the only perfect win percentage in this year's event.
👀 How to watch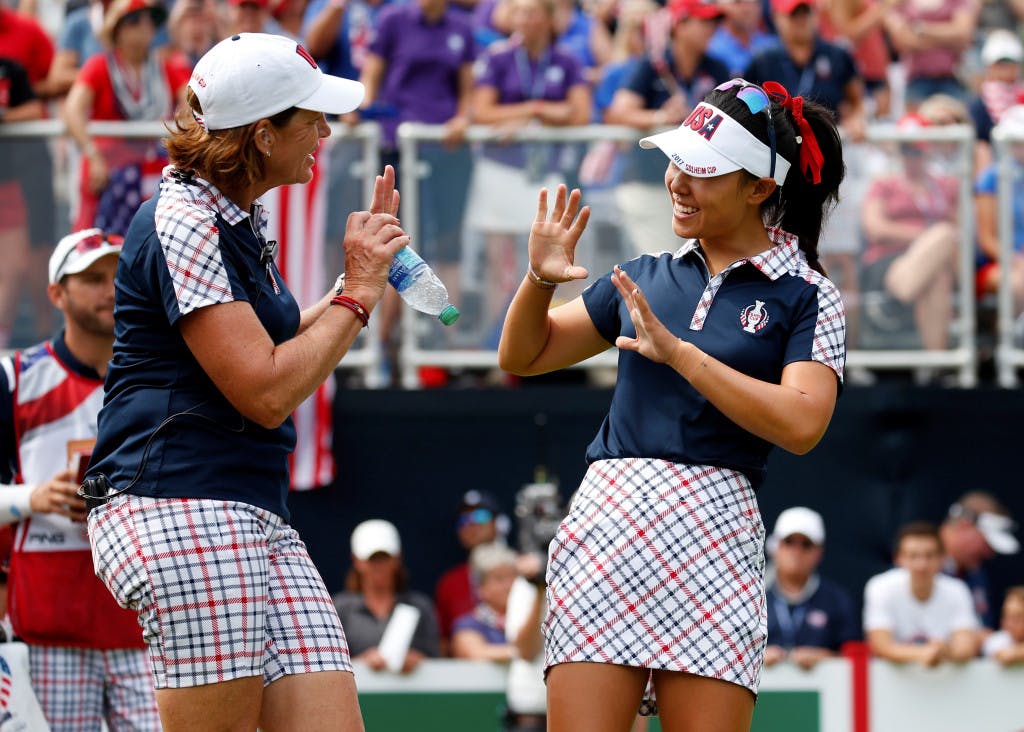 With Toledo, Ohio, as the host city, we're working with North American time zones (thank goodness). Today and tomorrow's foursomes tee off at 7:30 a.m. ET and 7 a.m. ET, respectively, and Monday's singles matches start at noon.
Catch it all on the Golf Channel and follow the schedules and live scoring here