🏀
⛳
The GIST's Quick Hits (April 19, 2021)
April 19, 2021
Source: Marco Garcia/Associated Press
⛳️Golf: Lydia Ko's drought ended this weekend. The former world No. 1 won her first LPGA event since April 2018 — the Lotte Championship in Hawaii — and she did it in style. The New Zealander set a new tournament record with a 28-under par score, seven strokes ahead of the four runners-up.
🏀Basketball: Is it WNBA time yet? The draft is over (and it was!), the , and Seattle Storm superstar Breanna Stewart is . Stewart spent her offseason playing in the Euroleague, and like the star she is, won the championship and the Final Four MVP title. Naturally.
😷COVID-19: This virus isn't going anywhere fast. The MLB last week, the NHL three Colorado Avalanche games, and the LA Lakers to the White House. Meanwhile, more than half of all NFL teams voluntary offseason workouts (set to start today) due to lacking safety protocols. Uh yeah, good call.
⛳

Hideki Matsuyama Wins Masters Tournament

April 12, 2021
Source: The Masters/Twitter
The winner: Right on time for the Tokyo Summer Olympics, Matsuyama became the first Japanese man to win a golf major yesterday with his 10-under par final score. It was his first PGA Tour win since 2017 and sixth of his career.
The historic win came 10 years and a day after Matsuyama , awarded to the lowest-scoring amateur at the Masters. At the time, it was also a bright spot as the win came just a month after the devastating 2011 Tōhoku earthquake and tsunami.
The rest of the pack: Matsuyama won with a one-shot lead after facing a late-round push from American Xander Schauffele (pronounced SHAW-flea), who finished in a tie for third with Jordan Speith. Will Zalatoris (not to be confused with ), finished second, and Justin Rose, who led the tournament until late Saturday, had a rough Sunday and finished seventh.
Canadian Corey Conners made a good run too, finishing tied for eighth with a four-under par, a during his third round, and a ticket to return next year (thanks to his top 12 finish). Not a bad weekend for a kid from Letterkenny Listowel.
⛳

Sunday at the Masters

April 11, 2021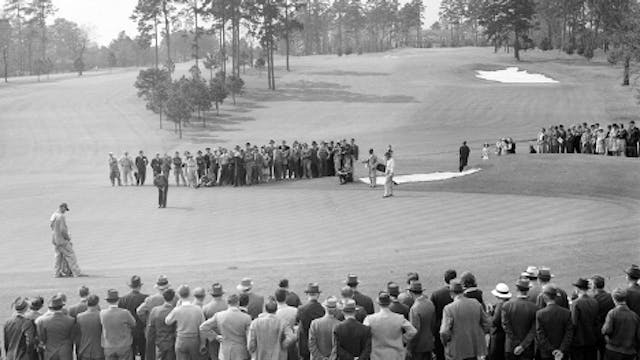 Source: Masters Historical Imagery
QUOTE OF THE DAY
"I must admit the name was born of a touch of immodesty."
—Augusta National Golf Club co-founder and President in Perpetuity Bobby Jones, on why it's called the Masters.
🐅 Eye of the Tiger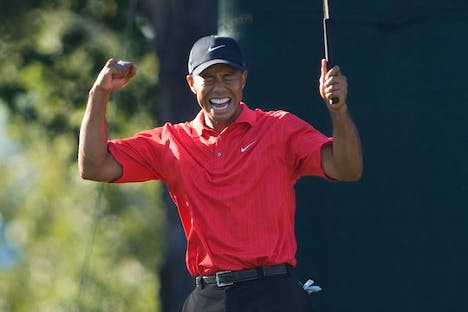 While not the winningest Masters champ in history (that's Jack Nicklaus, who we'll get to in a minute), Tiger Woods is arguably the most notable. Tiger began his reign as golf's top guy in April 1997 with his first Masters win, only eight months after turning pro. At just 21, he was (and remains) the youngest Masters champ ever.
Tiger's next green jacket came in 2001 — capping off four straight major wins for the first time in men's golf history — and he defended his Masters title in 2002, before his fourth win at Augusta in 2005.
That said, Tiger's most spectacular win came two years ago. After knee injuries, back surgeries, rehab, divorce and immense public scrutiny, Tiger "returned to glory" at the 2019 Masters, winning his fifth green jacket. Shivers.
💯 Age is but a number
Tiger is just one win short of tying Jack Nicklaus, who holds the all-time Masters record of six career victories. And much like Tiger, Nicklaus' most recent win was his best: by winning the 1986 Masters at age 46, he set the record for oldest player to ever win.
After a long and fruitful career in which Nicklaus won 17 majors, "The Golden Bear" entered the 1986 Masters 11 years removed from his last tournament victory, with many doubting he'd make the cut.
Instead, Nicklaus proved the haters wrong, making the cut and shooting a shockingly low 65 in Sunday's final round to win his 18th, and last, major. What a way to go out.
🔢 By the numbers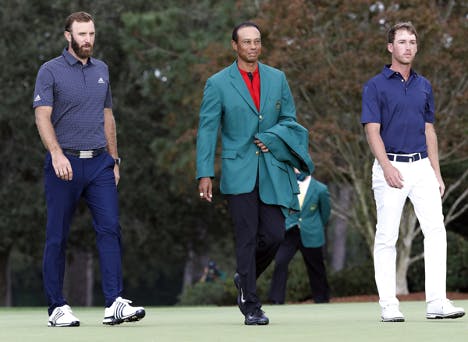 $70,000: The amount Bobby Jones and Clifford Roberts paid for the land upon which they built Augusta National Golf Club in 1931. A steal.
1934: The year the first Masters was held, and won by Tim Horton Smith.
1949: The first year the green jacket was awarded. Three-time winner Sam Snead rocked the look.
1990: The year Fanny Sunesson became the first and only female caddie to win at the Masters, holding the bag for Nick Faldo.
50: The most consecutive Masters appearances, set by the late Arnold Palmer between 1955 and 2004.
33: The number of hole-in-ones made at the Masters (not including this skipper from Jon Rahm's 2020 practice round).
20-under: The lowest 72 hole (aka four-round) score in Masters history, recorded by first-time champ Dustin Johnson (DJ) in 2020.
3: The number of Masters champs — Tiger, Nicklaus and Faldo — who have defended their title. And after DJ missed the cut on Friday, that number will stick for at least another year.
🙋‍♀️ Fanny at the Masters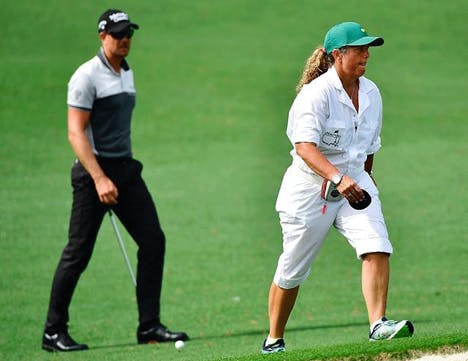 Back to caddie Fanny Sunesson. No woman has ever played in the Masters, and Augusta National only started allowing female members in 2012, which makes Sunesson's appearance at the 1990 Masters all the more amazing.
The Swedish native began golfing as a child, beating the likes of LPGA legend Annika Sörenstam before joining Faldo at the end of 1989 and working with him for a decade throughout his second and third Masters wins in 1990 and 1996.
She also caddied for Sergio García and Adam Scott (though not at the time of their Masters wins) and last worked at Augusta when she filled in as fellow Swede Henrik Stenson's caddie in 2019.
These days, Sunesson is retired from caddying and spends her time coaching pros, but she'll forever be in the Masters' record books as the first woman who could...and did.
💬 What's in a name?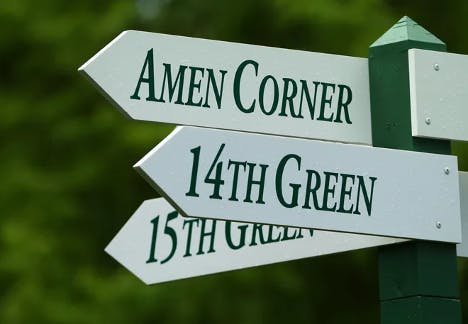 Patrons: Augusta National has very strict rules about what visitors can be called. Announcers are prohibited from saying "fans" and "spectators," instead they're called "patrons" who are part of "the gallery." After CBS commentator Jack Whitaker referred to an excited crowd as a "mob" during the 1966 Masters, he was banned from the tournament until 1972. Harsh.
Flowering Crab Apple: Augusta National is built on a plant nursery site, and each of the 18 holes are named after a flower, tree or shrub found on the course. Flowering Crab Apple, for example, is the name of the fourth hole.
Amen Corner: From the second half of the 11th hole to the first half of the 13th, Amen Corner is a section of the course where tournaments have been won and lost. The area was named by a Sports Illustrated writer after a jazz song called "Shoutin' In That Amen Corner."
⛳️ Talkin' 'bout playoffs?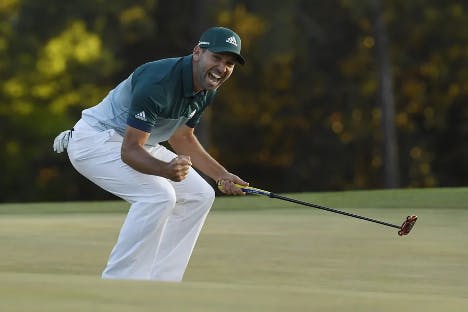 Yes, even golf has playoffs sometimes. If two or more golfers are tied at the end of the fourth round, they move on to a "sudden death" playoff where they go head-to-head in a replay of the 18th hole. If they're still tied, they move to the 10th. No playoff has ever gone to a third playoff hole.
The first Masters to go to a sudden death playoff was in 1979, when Fuzzy Zoeller (pronounced ZEH-ler) won, becoming just the third rookie to win the Masters.

Since then, another 10 Masters were won in a sudden death playoff, most recently Sergio García's in 2017.
👀 Watch and see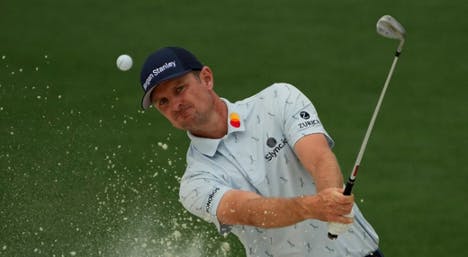 Will we see another hole-in-one today? Another winner decided by a playoff? Will Amen Corner ruin yet another sure thing like Jordan Spieth's 2016 collapse? Will we see a handshake attempt more awkward than two-time winner Bubba Watson with then-Augusta chairman Billy Payne? You'll have to watch and see.
The final round begins on CBS and TSN at 2 p.m. ET today, and you can follow along with the leaderboard here. Happy Gilmore golf-watching!
⛳

The 85th Masters Tournament

April 08, 2021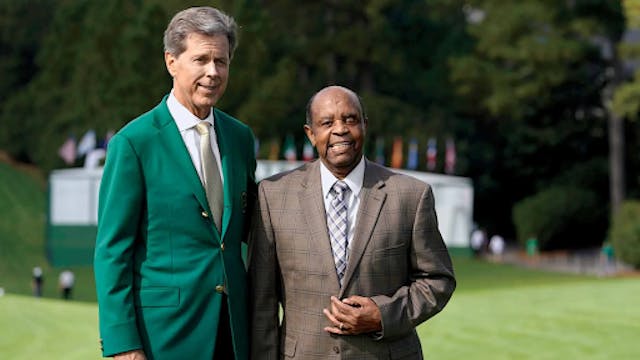 Source: Golf.com
⛳

Masters of none

April 07, 2021
Source: Augusta National
QUOTE OF THE DAY
"If the Masters offered no money at all, I would be here trying just as hard."
—Two-time Masters champion Ben Hogan, summing up the pricelessness of Masters glory.
⛳️ How it works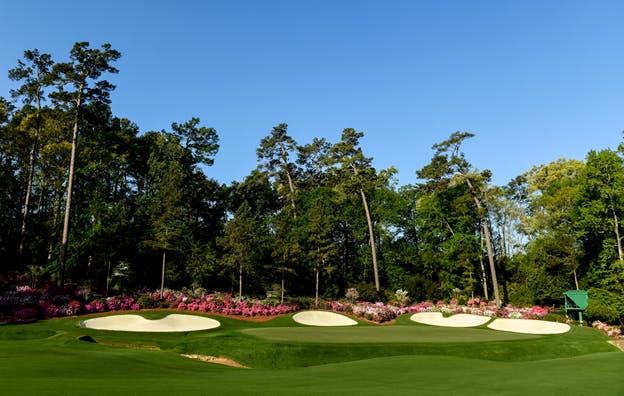 The Masters Tournament is the first of four majors in men's golf, and is held annually during the first full week of April (with the exception of last year when it was held in November because, well, 2020).
Unlike other majors that are held at different courses each year, the Augusta National Golf Club in Augusta, Georgia is the permanent host of the Masters, and has been since its inception in 1934.
Augusta National was born out of a plant nursery and is famous for its lush landscapes and rolling hills. Flowers like magnolias and azaleas are so synonymous with the course that 2017 Masters winner Sergio Garcia named his daughter Azalea after the 13th hole.
There are 19 ways players qualify for the Masters, including winning other majors, being a previous Masters champ, winning Olympic gold and qualifying for the season-ending Tour Championship. This year, 88 golfers are expected to participate.
💚 The traditions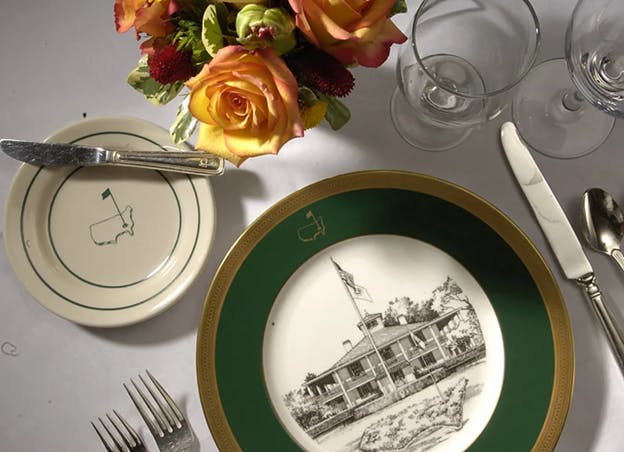 The Masters maintains some of the most steadfast traditions of any global sporting event. For example, Augusta National is so committed to keeping things status quo that they haven't changed concession menu items or prices in ages: an egg salad or pimento cheese sandwich will still only set you back $1.50. 'Bout it.
The green jacket, awarded to the tournament champ (alongside a $2-million check), is a Masters icon. The winner also walks away with a lifetime invitation to play in the event and an honorary membership at the super-exclusive club.
Wednesday's Par-3 contest typically happens before the tournament kicks off, with players participating on Augusta's nine-hole course with kids as caddies, but the fun round was canceled yet again due to COVID-19.
Considering the Masters were created by an amateur, the legendary Bobby Jones, the tournament continues to highlight amateur golf. Typically five amateurs are invited to lodge at the course's Crow's Nest while competing at the Masters, and the lowest scoring amateur is awarded the Silver Cup.
The reigning U.S. Amateur champ also gets to play his first two rounds with the defending Masters champ, meaning the 2020 U.S. Amateur Tyler Strafaci will tee off tomorrow with 2020 Masters winner Dustin Johnson. Lucky!
Finally, the Champions Dinner, which is held on the Tuesday night of Masters week. All past Masters champs — and only past Masters champs — gather at the course for a dinner chosen by the most recent winner.
This year, Johnson chose a feast of pigs in a blanket, lobster, filet mignon and peach cobbler. It's no haggis (served to everyone's chagrin in 1989 by Sandy Lyle), but it'll do.
🏆 Returning champions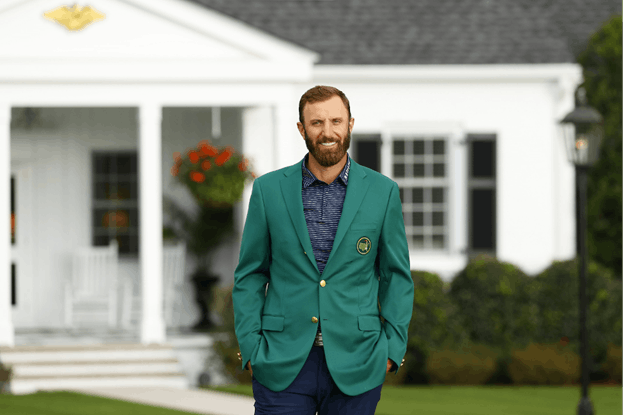 Because Masters winners are invited to play in every future Masters tournament, nearly every living past champion will tee off tomorrow. And while it might just be "a good walk spoiled" for some older players like Lyle or Larry Mize who both won in the '80s, others, like 63-year-old Bernhard Langer, could actually be in contention to win again.
The aforementioned Garcia missed last year's event due to a COVID-19 diagnosis but will be in it to win it again this year, as will defending champ Johnson, and Phil Mickelson, Adam Scott, Bubba Watson, and golf's favorite villainPatrick Reed.
A surprise contender is 2015 champ Jordan Speith, a former wunderkind without a PGA tournament win in four years until Sunday, when he won the Valero Texas Open.
One notable omission from this year's field is Tiger Woods, who last won in 2019. Though the five-time champ had big plans to return to Augusta after back surgery in December, he's still recovering from injuries sustained in February's car accident. We'll miss him.
☝️ The contenders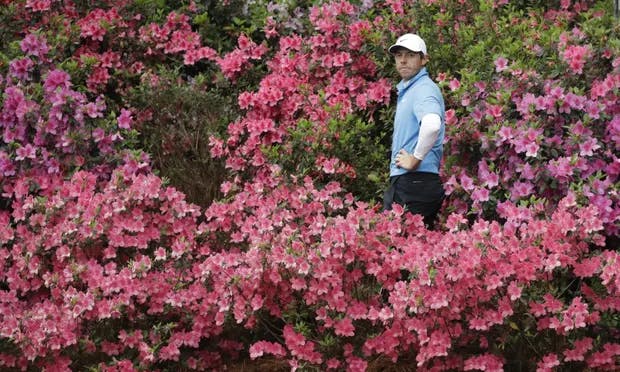 The green jacket has proven elusive for some of golf's greats. Brooks Koepka (pronounced KEPKA) has won both the U.S. Open and PGA Championship twice, but has only ever come in second at the Masters. Despite having knee surgery just three weeks ago, Koepka feels confident this could be his year.
Rory McIlroy has won all three of the other majors, but has never placed better than fourth at the Masters. And there are other major winners — Justin Thomas, Bryson DeChambeau and Collin Morikawa — who are also looking for their first wins at Augusta.
Watch out for the new kids on the block, though. The 2019 low amateur Silver Cup winner Viktor Hovland, last year's runner-up Cameron Smith and new dad Jon Rahm (who said he'd pull out of the tournament immediately if his wife went into labor) are all PGA Tour winners who have solid chances at becoming major winners this weekend.
💪 Canadian contenders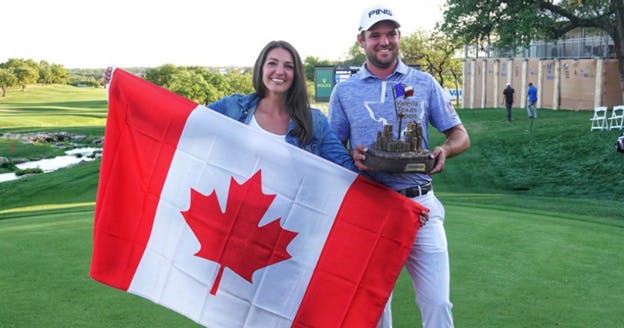 Only one Canadian has ever won the Masters: Mike Weir in 2003. And his win spurred a golf boom. Kids across Canada took up the sport in droves and that catalyst is finally paying off.
Corey Conners and Mackenzie Hughes, who both cite Weir as their childhood idol, will join him at the Masters once again this year. Last year, Conners broke Weir's record by shooting the lowest round ever recorded by a Canadian.
Conners finished seventh at the recent Players Championship and Hughes made it to the round of 16 at the World Golf Championships. Both are heading into this event with strong seasons so far.
😒 The good, the bad and the ugly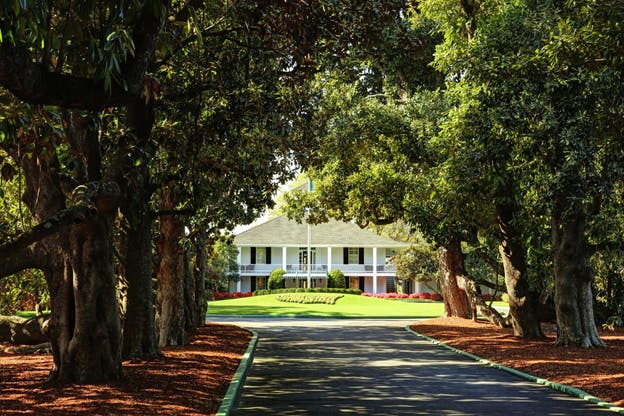 The history of the Masters is steeped in racism, sexism and classism. We actually covered some of Augusta National's major issues in today's episode of our podcast: The GIST of It.Organizers of the Masters plan to use this year's event to address the tournament's racist history and make some important first steps for reconciliation.
Tomorrow's opening ceremony is dedicated to Lee Elder, the first Black man to ever play in the Masters in 1975 (back when caddies still had to be Black) and Augusta National will fund two Lee Elder scholarships.
Augusta National chairman Fred Ridley also announced a fully-funded women's golf program at Paine College, a HBCU in Georgia.
But in light of recent legislative changes to voting rights and processes — reminiscent of Jim Crow era voting laws — in the state of Georgia, the Masters are once again in the hot seat.
In response to the controversial rulings, the MLB announced last week that they would move the upcoming All-Star game and amateur draft out of its planned location in Atlanta, with many expecting golf to take similar action.
But because the tournament is organized by the Augusta National Golf Club and run by three international golf tours, it's not as easy as moving the event to another course out-of-state. Instead, many have called for a complete boycott of the tournament.
The PGA Tour has remained silent so far, and TBH, we don't see the Masters going anywhere but Georgia. And like politician and voting rights activist Stacey Abrams says, boycotts will only do harm. Instead, we hope the world's biggest golfers use the sport's biggest platform to call for change.
🏌️‍♂️ The first tee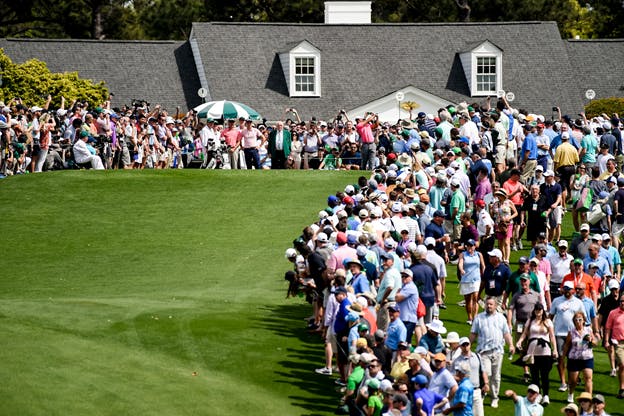 The Masters officially starts tomorrow morning and coverage on CTV in Canada and CBS and ESPN in the US begins at 3 p.m. ET. TSN will also have bonus coverage starting at 11 a.m. ET. Check out all the tee times and groupings here, and follow the full leaderboard here. Get your cushions fluffled.