🏅
⛳
🤸
Tokyo Olympics Update
July 26, 2021
Source: International Gymnastics Federation/Twitter
🤸‍♀️Gymnastics: Uzbek gymnast ​​Oksana Chusovitina made her eighth Olympics appearance on Saturday, and after , the 46-year-old announced her retirement. Chusovitina initially chose not to retire back in 2002 in order to pay , and nearly 20 years later, she plans to spend time with him in Italy in her retirement. Happy trails, Oksana!
⛳Golf: American Bryson DeChambeau and Spaniard Jon Rahm had to withdraw from Thursday's men's tournament due to positive COVID-19 tests, which is , considering he's double vaccinated and already had the virus in June (which he found out about on the ). Get well soon.
👋Early exits: It was goodbye too soon for a few top Canadians this weekend. Boxer , who "" to make it to the Games, was ousted on Saturday, tennis doubles pair Gaby Dabrowski and Sharon Fichman and singles phenom Felix Auger Aliassime lost in the first round, and young star Leylah Annie Fernandez lost in the second. Until next time.
⛳
🏀
🏎
🏆
Sports Quick Hits: Winners Edition - June 19th, 2021
July 19, 2021
Source: Keyur Khamar/PGA TOUR
⛳️Golf: Collin Morikawa made his Open Championship debut on Thursday and won the whole darn thing by Sunday. The oldest of the , and last of the men's golf season, the Open is challenging for North American golfers because of the , but the 24-year-old, who won the 2020 PGA Championship, won handily with a 15-under-par final score.
🏎F1: Less than a lap into yesterday's British Grand Prix, a between eventual race winner Lewis Hamilton (who recorded his 99th grand prix title) and rival Max Verstappen, who crashed into a tire wall and after a brief hospitalization. Hamilton was dealt a penalty and suffered following the race.
🏀NBA: The Milwaukee Bucks are one win away from their first NBA title since 1971. They beat the Phoenix Suns 123–119 on Saturday night to put them up 3-2 in the series. Game 6 is tomorrow at 9 p.m. ET and a possible Game 7 Thursday, just in time for Suns' Devin Booker and Bucks' Jrue Holiday and Khris Middleton to hop on a plane .
🚲Tour de France: The most grueling race in men's cycling is complete, and for the second straight year, 22-year-old Slovenian claimed the . The youngest two-time winner in Tour de France's 118-year history, Pogacar is also headed to Tokyo and is obviously a gold medal favorite in the men's road race.
⛳

Guide to Golf

July 18, 2021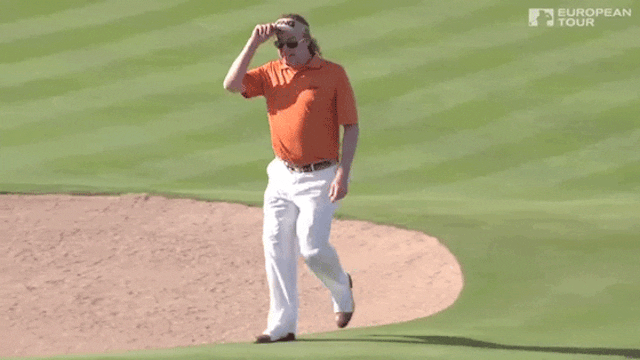 SOURCE: GIPHY.COM
The GIST
A full round of golf is 18 holes. Holes generally range from 100 to 500 yards. Unlike most other sports, the goal is to have the lowest score (counted by ) at the end of the game — meaning take the least amount of swings or putts to get the ball in the hole. Each hole on the course is given a number of strokes that it should take for a person to get the ball in the hole (this is called par) and typical championship courses have a full value of 72.
How is it organized?
Similar to tennis, men's professional golf players play in PGA (Professional Golf Association) Tour and women play in LPGA (Ladies' Professional Golf Association) tournaments. A tournament consists of four rounds of golf (one per day from Thursday until Sunday). The biggest tournaments are called majors. The PGA hosts four majors each year: the Masters, the US Open, the British Open and the PGA Championship. The ladies have one additional major on the LPGA circuit. Their five majors are the ANA Inspiration, U.S. Women's Open, Women's PGA Championship, Women's British Open and the Evian Championship.
Outside of the majors, there are various other tourneys the pros can partake in. A player's world ranking is based on how they do in each tournament. The most well-known tournament is the Masters, played in Augusta, Georgia. In addition to winning copious amounts of cash money, players also receive the green jacket (super cool to win, super impractical to wear). But, while the Masters is known for the coveted jacket and its prestige, the tournament also has a disturbing sexist and racist past. Change is long overdue.
Golfin' greats
This isn't just your grandparents' game anymore! While golf is a sport where experience is incredibly important, the past decade has shown that you can be young and still be at the top of your game. The best golfers today include Dustin Johnson (American who is married to Wayne Gretzky's daughter, ), Rory McIlroy (Irish sweetheart), Brooks Koepka (American who won back-to-back US Open and PGA Championship tourneys) and Jordan Spieth (young American stud).
And then there's Tiger Woods. Tiger dominated the game for over a decade, winning 14 major tournaments. That rapid rise was followed by a sudden fall from grace, when Tiger was caught cheating on his wife and Swedish model Elin in 2009. While the golf legend had been mounting a spectacular comeback, he was injured in a scary single car crash in February 2021. Here's to a speedy recovery.
Gals who golf
It's a myth that 'golf' stands for "Gentlemen Only Ladies Forbidden", but only just barely. For decades, golf has been seen almost exclusively as a man's game, but thankfully ladies have continued to break down those barriers. Professional women play in the LPGA (Ladies PGA) which is organized similarly to the men's. Keep your eye on American sensations Nelly Korda and Danielle Kang, who remain ranked near the top of the LPGA world rankings.
In 2019, the LPGA awarded its largest ever prize ($1.5M USD) to South Korea's Sei Young Kim at the CME Group Tour Championship. That's $500k more than the previous record prize. And, even though the overall prize money handed out in the LPGA pales in comparison to the PGA, there's reason for optimism. After the pandemic disrupted much of the 2020 season, the 2021 LPGA schedule features a record 34 events with over $75 million in prize money on the line. Keep making moves, ladies!
Prep for your next trivia night by making sure you know these facts:
A means you took just one stroke to get the ball all the way into the hole. Tradition says that that golfer must then buy a drink for each person in the clubhouse. But fear not, most courses have hole-in-one insurance so that you actually don't have to pay. Hilarious.
Jack Nicklaus is strongly considered the best golfer of all-time winning 18 majors, which remains the record for most ever.
Have you ever sipped on an Arnold Palmer, that delicious blend of iced tea and lemonade? Well, the drink is named after a very successful pro golfer who was known to request the combination! The late Arnold Palmer won four (!!!) Masters tournaments and seven majors over his career.
Don't get The GIST's free twice-weekly newsletter yet? Let's make it email official.
⚾
⛳
🏎
Sports Quick Hits: June 28th, 2021
June 28, 2021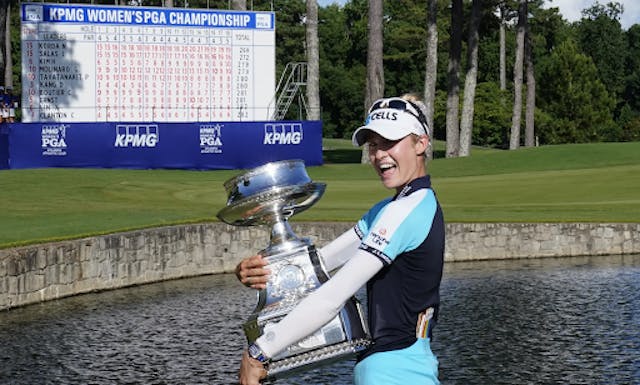 Source: John Bazemore/AP
⛳️Golf: Whoa, Nelly! The 22-year-old American won her first major yesterday, the Women's PGA Championship, with a 19-under-par final score, three strokes ahead of runner-up Lizette Salas. With the win, Korda also claims the World No. 1 spot previously held by Jin Young Ko who won two majors in 2019.
🏎Racing: The W Series kicked off on Saturday at the Red Bull Ring in Austria (check out our for all the details) and Alice Powell of England took the season's first win. A day later, Max Verstappen won F1's Styrian Grand Prix.
The W Series and F1 return to the Red Bull Ring for the second of a double-header this weekend.
⚾️Baseball: A week into MLB's new , Seattle Mariners pitcher Héctor Santiago became the first player to be when the umpires found something suspicious in Santiago's glove after the 5th inning. For his part, Santiago insists it was just sweat and rosin (which is legal). Sticky stuff.
🏒
⛳
⚽
Sports Quick Hits: June 24th, 2021
June 24, 2021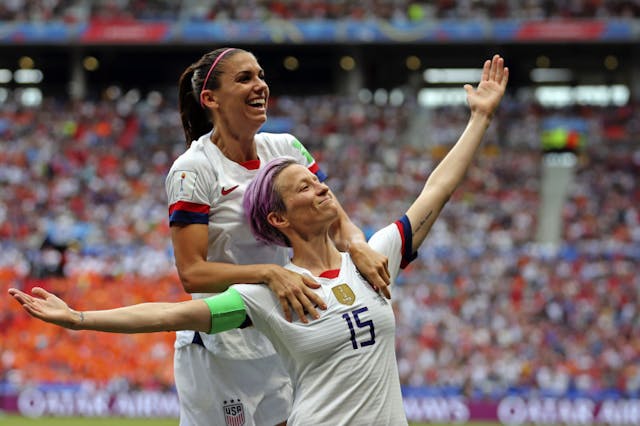 Source: Francisco Seco/AP
⚽️Soccer: While the around Team USA's basketball roster continue, the USWNT roster has been met with a little less controversy. Of course, captain Becky Sauerbrunn will lead the world's top-ranked team, alongside Megan Rapinoe, Alex Morgan, Rose Lavelle, Sam and Kristie Mewis and goalkeeper Alyssa Naeher.
Top stars left off the team include Jane Campbell, Catarina Macario and Lynn Williams, but they were included as alternates. The biggest shocker? Midge Purce was left off entirely. Um, what's up with that?
⛳️Golf: Another weekend, another major. This time, it's the Women's PGA Championship, the fourth of five LPGA majors. Reigning champ Sei Young Kim will be back in contention, alongside past winners Brooke Henderson (Canadian!) and Danielle Kang, and 2021 LPGA tour event winners Nelly and Jessica Korda, who are each looking for their first major. Follow along .
🏒Hockey: The highly anticipated Game 6 between the Montreal Canadiens and Vegas Golden Knights is set for tonight at 8 p.m. ET. The Canadiens lead the series 3-2 as they look to be the first Canadian team to reach the Stanley Cup Finals in a decade.
Meanwhile, the reigning champ Tampa Bay Lightning are prepping for tomorrow's Game 7 vs. the New York Islanders after the Isles won last night's Game 6 3–2 in overtime