🥎

Winner Takes it All Today at Women's College World Series

June 10, 2021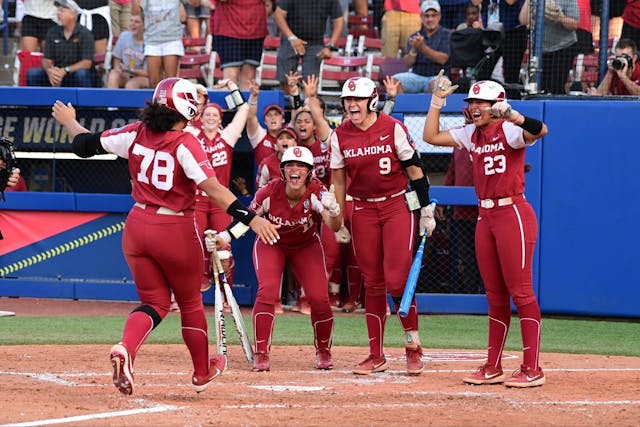 Source: Oklahoma Softball/Twitter
How they got here: Both Florida State and Oklahoma made history as just the fourth and fifth teams in WCWS history to advance to the champ series after losing the first game of the tourney. Behind a stellar offensive and night from freshman Kalei Harding, Florida State claimed Tuesday's Game 1 with an 8–4 win.
The big picture: As cliché as it sounds, we're all winners no matter who hoists the trophy tonight. This year's WCWS , James Madison University (JMU: a ) captured our hearts with a Cinderella run to the semifinals and a thriving pro softball league keeps shining. Just further proof that if you build it, .
🥎

Softball: Women's College World Series Off to a Strong Start

June 08, 2021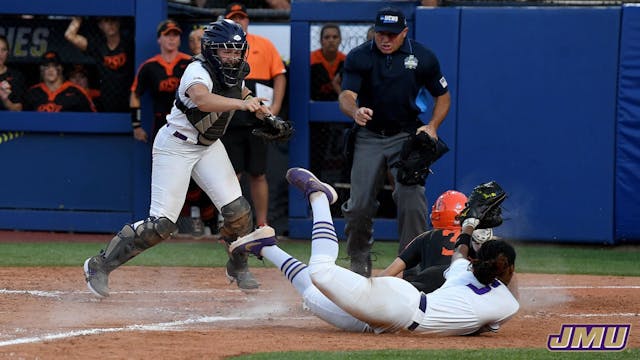 Source: JMU Softball/Twitter
The schedule: The best-of-three championship series was supposed to start tonight, but mother nature had other plans. After a weather delay on Saturday forced one game to start just before midnight, the NCAA and pushed yesterday's weather-delayed semifinals to tonight, and the first game of the champ series to tomorrow.
The teams: Oklahoma and JMU will square off for the third time at the WCWS at 4 p.m. ET today. Unseeded JMU the top-seeded favorites in the tourney's opening game but Oklahoma bounced back with a 6–3 win yesterday to force today's elimination game. It's David vs. Goliath, and it's anyone's ball game.
⚾
🏀
🥎
Los Angeles: Clippers Hope to Shine in Round 2 of NBA Playoffs
June 08, 2021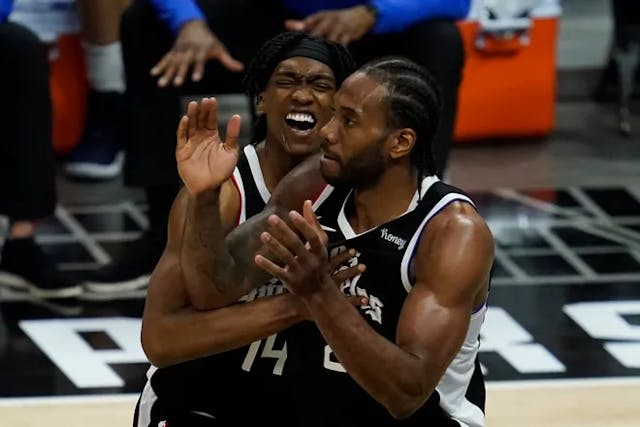 Source: Ashley Landis/AP
🏀NBA: While the Lakers (still crying), the Clippers are keeping the City of Champions' title hopes alive, defeating the Dallas Mavericks in Game 7 yesterday to advance to the second round.
Kawhi Leonard almost collected a , while Reggie Jackson and Marcus Morris late in the fourth quarter. We .
The Clips face the Jazz in Utah for Game 1 tomorrow at 10 p.m. ET/7 p.m. PT. No rest for the wicked.
🏀Sparks: Although both Ogwumike (pronounced oh-gwoo-MIH-kay) sisters are , Erica Wheeler stepped up with a season-high 22 points in the Sparks' 68–63 victory over the Chicago Sky on Saturday. LA's defense was stellar as well, with Amanda Zahui B.'s (pronounced ZAH-wee BEE) four blocks and Nia Coffey's down the stretch. Bam.
🎓🥎UCLA: Despite an early, from pitcher Rachel Garcia, the defending champs UCLA were eliminated from the WCWS by No. 1 Oklahoma on Saturday. Not how we wanted to see one of the end her collegiate career.
⚾️MLB: Both the Dodgers and Angels lost yesterday, with the Dodgers dropping a to the Atlanta Braves and the Halos splitting a with the Seattle Mariners. You win some, you lose some.
⚾
🏀
🥎
⚽
Washington D.C.: Mystics Throw Up Big Team Effort
June 08, 2021
Source: Domenic Allegra/The Next
🎓🥎Softball: Unseeded JMU softball hope to take their historic WCWS run into the championship series with a win in today's elimination game against No. 1 Oklahoma at 4 p.m. ET. The Dukes already upset the Sooners once, what's one more? Time to and there.
🏀Mystics: Although the Mystics lost a close 96–93 battle to the Las Vegas Aces on Saturday, there were some positive takeaways: Myisha Hines-Allen delivered a and Ariel Atkins chipped in a career-high 29 points. Natasha Cloud — who dished out 11 assists — said it best: "We're a team that once this clicks, we're a ..." Energy.
⚾️Nationals: The Nats dropped a three-game series to the Philadelphia Phillies with yesterday's loss, collapsing like the . Womp.
⚽️Spirit: The Spirit sweated it out in a draw with the Orlando Pride yesterday. They'll be back in action on June 19th against the Chicago Red Stars.
🥎

Competition heating up at the Women's College World Series

June 03, 2021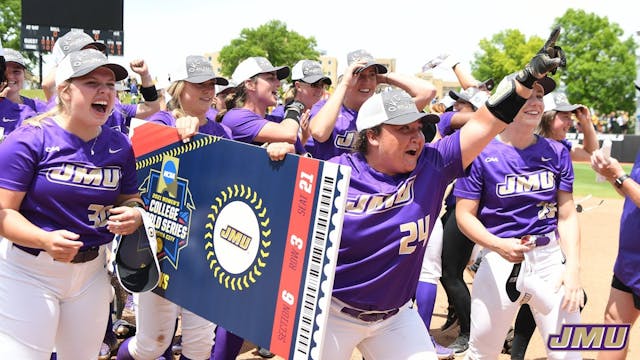 Source: JMU Softball/Twitter
The set-up: After the 2020 season was canceled due to COVID-19, postseason softball made its triumphant return last month when 64 teams began their hunt for a trip to the WCWS. Now, following two weekends of thrilling regional and super regional action, eight teams will battle for the national title in a double-elimination tournament beginning today at 12 p.m. ET.
Top teams: Led by , Rachel Garcia and Bubba Nickles, defending champs No. 2 UCLA are looking for their record-extending 13th national title. Meanwhile, fresh off breakout performances from pitcher Odicci Alexander, the tourney's James Madison University (JMU) will make their first-ever College World Series appearance.
And we can't forget about No. 1 Oklahoma. This squad boasts USA Softball Player of the Year Jocelyn Alo and Freshman of the Year Tiare Jennings.