🏀
🏊‍♀️
🏒
D.C.: Just keep swimming
March 04, 2021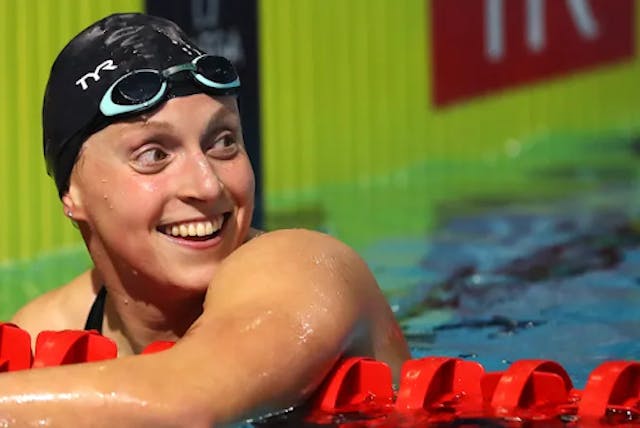 Source: Maddie Meyer/Getty Images
🏊‍♀️Swimming: Guess who's back, back again? Oh, just the most decorated female swimmer of all time, the DMV's own Katie Ledecky. In her first race in a year, the 23-year-old at the Pro Swim Series 1,500m freestyle last night. Her 15:42.92 effort was well off world record, but a good one to get in before the Olympics.
The five-time Olympic gold medalist's not done yet. Ledecky is slated to compete five more events in the next three days, including tonight's 100m and 400m freestyle. Tired just reading about it? Same.
🏒Capitals: While Ledecky wowed us in the pool, pulled off a solid victory as well. In defenseman Zdeno Chára's return to Boston, the Caps prevailed over the Boston Bruins in a hard-fought 2–1 shootout. We're not crying, you're crying.
🏀Wizards: The Wizards hope to enter their week-long break on a high note with a win tonight over the LA Clippers. Well, one Wizard will still be in action during the off-period: Bradley Beal, who will start the All-Star game for the first time ever on Sunday. Speaking of tears...
🏀
🏒
🏈
Boston: Truth hurts
March 04, 2021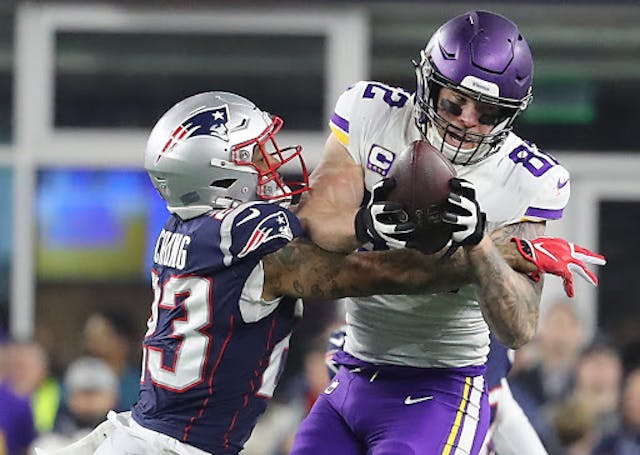 Source: Matthew J. Lee/Globe/Getty Images
🏈Patriots: It's been a quiet offseason for the Pats, but that could change soon. The Minnesota Vikings released Pro Bowl tight end Kyle Rudolph on Tuesday, and he's interested in signing with New England. Hey Lizzo, can we get a if this deal goes down?
🏒Bruins: The only thing worse than seeing Zdeno Chára return to the Garden in another uniform? Watching our former captain beat the Bruins in that uniform. The B's did pick up a point, but fell 2–1 in a shootout loss to the Washington Capitals last night. Pain.
🏀Basketball: The Celtics will go for their fourth straight win when they take on the Toronto Raptors tonight at 7 p.m. ET. Watch for Jaylen Brown and Jayson Tatum to continue dominating together before they battle it out at the All-Star weekend on Sunday.
And if you're looking for some hoops before tonight's C's game, watch No. 13 B.C. women's basketball take on No. 5 Syracuse in the second round of the at 2:30 p.m. ET. We smell an upset.
🏒

New York: Off the ice

March 01, 2021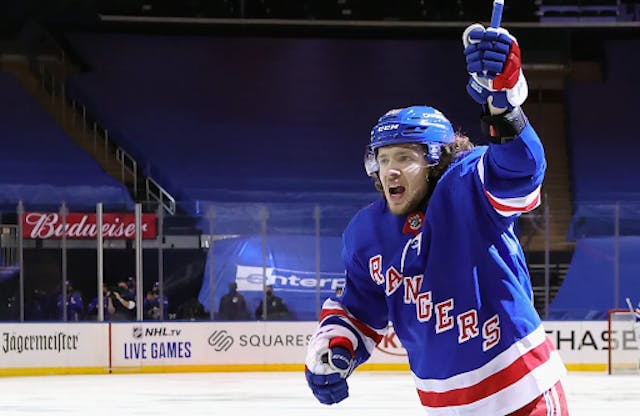 Source: Bruce Bennett/Getty Images
The background: Panarin is originally from Korkino, Russia and began his professional career with the KHL before the star signed with the Chicago Blackhawks in 2015, then the Rangers in 2019. But this story isn't about Panarin's playing history.
Back in January, Panarin, who previously criticized Vladimir Putin and his political regime, shared his support for the yRussian opposition leader, Alexei Navalny — who — on .
While pro athletes supporting a party is par for the course in most democratic countries, it's not common in Russia. A few weeks after Panarin's post, his former KHL coach accused the winger via Russian tabloid of assaulting a woman early in 2011 — and the timing is v. fishy.
The implications: Panarin and the KHL both the allegation, and not one of Panarin's former teammates has corroborated it. When Panarin decided to take his leave of absence, the Rangers addressing it: "This is clearly an intimidation tactic being used against [Panarin] for being outspoken on recent political events."
This whole situation feels reminiscent of Portland Trail Blazer Enes Kanter's struggle with his , and it highlights the personal sacrifices some international players have to make to be professional athletes.
While Panarin is safe in New York, most of his family still lives in Russia. His leave of absence allows him to further investigate the details surrounding the allegations. Our thoughts are with Panarin and his family, and we hope he can safely and comfortably return to the ice soon.
🏀
🏒
⛷️
🥎
⛳
The GIST's Quick Hits - US
March 01, 2021
Source: LPGA/Twitter
⛳Golf: Nelly Korda followed up her big sister Jessica's January LPGA win with one of her own. Nelly won the Gainbridge LPGA event yesterday, marking the first since the Sorenstams did it in 2000.
🥎Softball: Speaking of stellar siblings, former college softball superstar AJ Andrews has some competition for best family outfielder because her sister Aliyah, who plays for LSU, did over the weekend. Pick your jaw up off the floor.
🏀Basketball: UConn freshman (!!!) Paige Bueckers (pronounced BECKERS) set yet another record this weekend: most single-game assists (14) in UConn women's basketball history. The No. 1 team in the nation will play their final regular season game tonight against Marquette at 8 p.m. ET.
🤸‍♀️Gymnastics: Guess who's back, back again? For the first time since winning gold at the 2016 Rio Olympics, Laurie Hernandez this weekend at the Winter Cup with a new coach, a and a .
🏒PWHPA: Team New Hampshire beat Team Minnesota in the first-ever pro women's game at Madison Square Garden. But really, didn't we all win? Check out and then mark your calendar for the next one: .
🏀
🏒
Boston: Sunday funday
March 01, 2021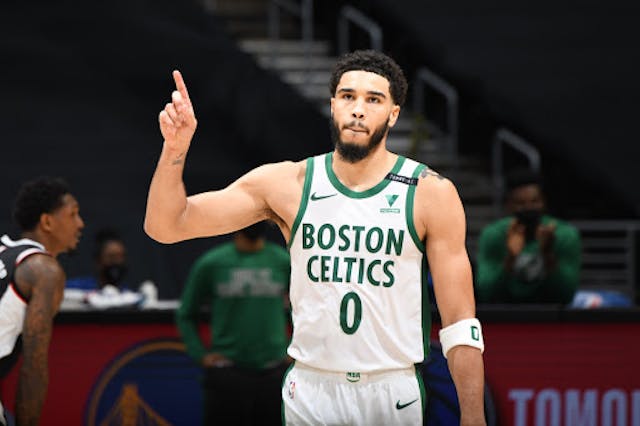 Source: Bleacher Report/Twitter
🏀Celtics: It took some from Jayson Tatum, but the C's clawed their way back to a .500 record with a 111–110 win over the Washington Wizards last night. How are your nails doing?
The Celtics are back in action tomorrow night at 7:30 p.m. ET against a tough LA Clippers squad. Cross your fingers for the return of Jaylen Brown — who missed yesterday's game due to left knee soreness — and another C's win.
🏒Bruins: Thanks to two goals from Charlie Coyle, the Bruins bounced back from their tough 6–2 loss to the New York Rangers on Friday night to earn a 4–1 win over the Rangers yesterday. Don't call it a comeback.
Next up, the Bruins will take on our old friend Zdeno Chára (miss you!) and the Washington Capitals — who just bumped the Bruins from first place in the — on Wednesday at 7 p.m. ET. Get hyped.