🏈

NFL Division Playoffs

January 14, 2021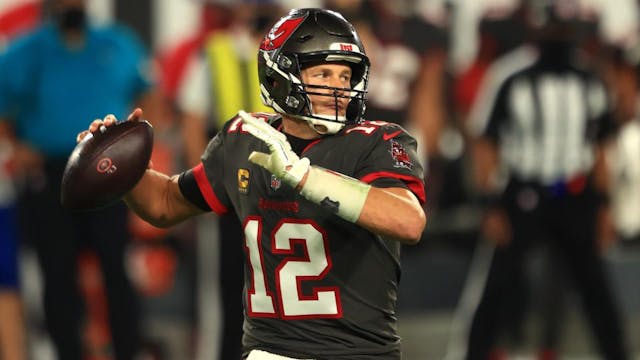 SOURCE: FORBES
LA Rams vs. Green Bay Packers, 4:35 p.m. ET: What happens to the old adage "defense wins championships" when both teams have stacked Ds? That's where the offense comes in, and considering LA's injury woes, Packers quarterback (QB) Aaron Rodgers should be the difference maker in this game.
Baltimore Ravens vs. Buffalo Bills, 8:15 p.m. ET: Here's the deal: it's supposed to snow in Buffalo on Saturday. The issue? Ravens QB Lamar Jackson has never played football in the snow. So while the cold never bothered the Bills anyway, the Ravens will likely have to rely on running back (RB) J.K. Dobbins.
Cleveland Browns vs. Kansas City Chiefs, 3:05 p.m. ET: The Browns are still flying high after embarrassing the Pittsburgh Steelers last week, but they better get focused. Kansas City is coming off a bye, and a well-rested duo of tight end (TE) Travis Kelce and wide receiver (WR) Tyreek Hill is terrifying for any team.
Tampa Bay Buccaneers vs. New Orleans Saints, 6:40 p.m. ET: It's the battle of the boomers (okay, not quite!), with 43-year-old QB Tom Brady's Bucs visiting 41-year-old QB Drew Brees' Saints. The Bucs are 0-2 against the Saints this season...but something tells us the Saints won't earn the sweep.
You vs. other GISTers: As the Wild Card winners prep for the Divisional Round of the playoffs, you can prep for the second week of FanDuel's GISTer-exclusive weekly fantasy contest.
Fortunately, it's pretty easy (and so fun!). All you have to do is select nine players to be part of your ideal NFL playoff team, and info about each player is accessible through FanDuel's platform.

🏒
🏈
Philadelphia: Gritty for president
January 14, 2021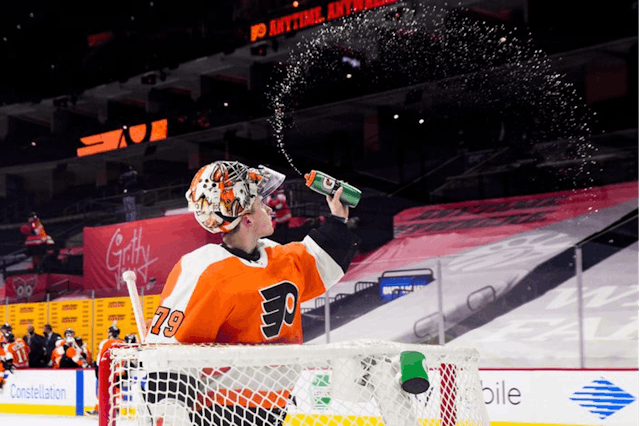 SOURCE: KATE FRESE/PHILLYVOICE
🏒Flyers: It was back-and-forth between the old-school rivals until the third period, when the Flyers scored three straight goals to beat the Pens 6–3. Each of Philly's goals was scored by a different player, including two youngsters: left winger Joel Farabee, who also had three assists, and center Nolan Patrick, who played his first game after missing last season due to a migraine disorder.
On the other end of the ice, Carter Hart was back in net, saving 31 of 34 shots. Can't talk right now, we're doing Flyers sh!t.
🏈Eagles: On Monday, the Eagles fired head coach Doug Pederson. He brought the franchise its first and only Super Bowl, but this year's 4-11-1 record put him in hot water with ownership. His release sparked mixed feelings from fans, many of whom say general manager Howie Roseman set Pederson up for failure with bad draft picks. That's some tea.
The Birds have already started interviewing candidates, including San Francisco 49ers defensive coordinator Robert Saleh, New England Patriots inside linebackers coach Jerod Mayo and Eagles assistant head coach/running backs coach Duce Staley. So far, we like what we see.
🏈
🏀
Seattle: Moving up and moving out
January 14, 2021
SOURCE: WSU ATHLETICS
🏈Seahawks: Um, things are on fire. The Seahawks parted ways with offensive coordinator Brian Schottenheimer on Tuesday, citing philosophical differences. Funny, that's the same excuse we used with our ex.
With the offense declining in the back half of the season coupled with a disappointing playoff exit, we had a feeling Schotty wouldn't be around for much longer.
Head coach Pete Carroll wants to run more frequently and efficiently (although "fans don't want to hear it"), so now he just needs to find someone to make those dreams come true.
🏀College basketball: Like we said earlier, for the first time ever, Washington State women's basketball is ranked in the top 25 nationally. All the media and coaches who picked the Cougs to finish dead last in the Pac-12 can eat their words. Wazzu, we see you.
Star freshman Charlisse Leger-Walker (the younger Leger-Walker sister) and the Cougs will put their No. 25 ranking to the test in this weekend's SoCal road trip. Sunday's 2 p.m. ET/11 a.m. PT matchup against No. 8 UCLA should be a good one.
🏈

NFL Wildcard Weekend Recap

January 11, 2021
SOURCE: NFL/TWITTER
The expected: To no one's surprise, quarterback (QB) Tom Brady led the Tampa Bay Buccaneers to a wild-card win in Saturday's primetime game against the Washington Football Team (WFT).
WFT back-up QB Taylor Heinicke (pronounced HIGH-NUH-KEY) gave them a run for their money, but Brady, who has now beat 17 different teams in the playoffs over his career, was never in doubt.
Just hours earlier, the No. 2 seed Buffalo Bills edged out the Indianapolis Colts for their first playoff win in 25 years, and the New Orleans Saints beat the Chicago Bears in a bit of a snoozefest yesterday.
The unexpected: The LA Rams gave us the first shock, beating the heavily-favored Seattle Seahawks in their own house on Saturday afternoon. Moreover, they won with their QB Jared Goff, who was supposed to still be recovering from thumb surgery, when their backup-turned-starter QB John Wolford was sent to the hospital after a nasty hit.
Then yesterday, Baltimore Ravens QB and 2019 NFL MVP Lamar Jackson was finally vindicated when his Baltimore Ravens beat the Tennessee Titans, securing his first-ever playoff win. It helped that the Ravens' defense held Titans running back "King" Derrick Henry to just 40 yards.
And in the most unexpected turn of events, the Pittsburgh Steelers forgot how to football. Literally. Just. Forgot. The COVID-19-depleted Cleveland Browns were up 28–0 before the first quarter was finished for the most unanswered points scored in any first quarter in NFL postseason history. They went on to win 48–37. OMG.
🏀
🏈
Philadelphia: Out with the old, in with the new
January 11, 2021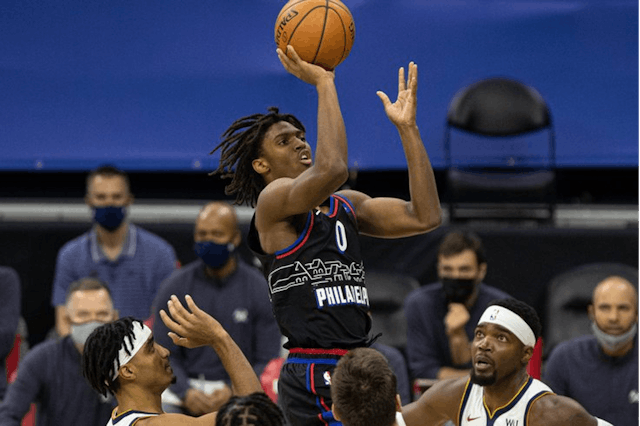 SOURCE: BILL STREICHER/USA TODAY SPORTS
🏀Sixers: Due to injuries and COVID-19-related absences, the Sixers had only seven healthy players suit up for their 115–103 loss against the Nuggets on Saturday. The team had to dress Mike Scott, who is still recovering from a knee injury, to make the league-mandated eight-player minimum. The NBA refused to postpone the game, but the very next day, they did grant a reschedule for the Boston Celtics and the Miami Heat. How bizarre?
The Sixers will still be without stud Ben Simmons and at least seven others when they face the Atlanta Hawks tonight at 7:30 p.m. ET. Even though the situation is frustrating, we're excited to keep watching rookie Tyrese Maxey shine.
🏈Eagles: Despite an underwhelming season, Pederson felt sure this wouldn't be his last year with the Birds. But according to recent developments, he shouldn't feel so confident anymore. Pederson and QB Carson Wentz's relationship is reportedly fractured beyond repair, and the organization has to decide which one gets the final rose.
Besides the Wentz drama, Pederson drew a lot of unflattering attention when he set the Eagles up to lose in their last game, playing backup QB Nate Sudfeld over potential future starter Jalen Hurts. Coach-hiring season has already begun in the NFL, so if the Birds are going to make a move, it'll be soon. Hold our popcorn.