⚽
🏈
🏀
🏐
College: So offended that we had to double check
November 29, 2021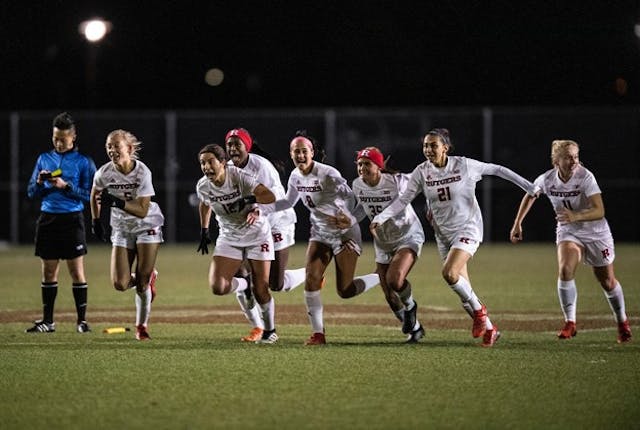 SOURCE: RUTGERS WOMEN'S SOCCER/TWITTER
⚽️Soccer: And then there were four. Behind Friday's upset win over No. 1 Duke, defending women's champs Santa Clara clinched their spot in the College Cup semifinals, with No. 1 Florida State, No. 1 Rutgers and No. 4 BYU rounding out the rest of the pitch field.
🏈Football: Former No. 2 Ohio State saw their College Football Playoff (CFP) hopes dashed after losing 42–27 to then–No. 5 Michigan on Saturday.
🏀Basketball: After last week's rout of No. 2 UCLA, people were wondering if anyone could beat men's No. 1 Gonzaga...until No. 5 Duke defeated them 84–81 on Friday, the Zags' first regular-season loss in 36 games. Damn.
As for the women: after snagging the No. 2 ranking last week, Maryland lost two games in a row, falling to No. 5 NC State on Thursday and No. 7 Stanford on Saturday. We live for the chaos.
🏐Volleyball: Okay, no upsets here (yet), but the 64-team women's volleyball championship bracket is set and, surprise, surprise, undefeated Louisville grabbed the No. 1 seed. Single-elimination play begins on Thursday.
🏈

NFL Week 12: Highlights (and lowlights)

November 29, 2021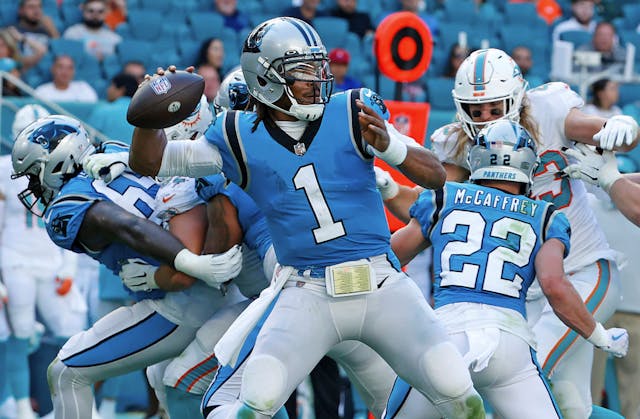 CLIFF HAWKINS/GETTY IMAGES
Do you get déjà vu?: Stop us if you heard this one before, but Tampa Bay Buccaneers quarterback (QB) Tom Brady led his squad to a 38–31 comeback win over the Indianapolis Colts yesterday. Because of course.
Oh no no no no no: We promised lowlights, and this one's a doozy. The New York Jets defeated the Houston Texans 21–14 yesterday, but Jets QB Zach Wilson was part of a brutal interception when he threw the ball off of his teammate's back and into the Texans defender's hands. You have to see it to believe it.
Riding the pine: He's baaack...on the sidelines. After a stellar performance in his first start of the season last week, Carolina Panthers QB Cam Newton was benched yesterday after throwing two interceptions in a rough 33–10 loss to the Miami Dolphins.
Striking gold: The San Francisco 49ers extended their win streak to three, thanks to yesterday's 34–26 win over the Minnesota Vikings. And look away Vikings fans, because there's more bad news: star running back (RB) Dalvin Cook was carted off the field with a shoulder injury. Scary.
Monday Night Football: The fun continues tonight at 8:15 p.m. ET when the desperate-for-a-win Seattle Seahawks face the surging Washington Football Team (WFT). Can Seahawks QB Russell Wilson help his squad level up or will the WFT make the NFC East title race a little more interesting?
🏈

Thanksgiving football: Buffalo Bills (6-4) vs. New Orleans Saints (5-5) — 8:20 p.m. ET

November 25, 2021

The GIST: Although New Orleans Saints QB Jameis Winston is sidelined for the season with a torn ACL, you'll still want to save room for this primetime matchup.

Bills: After a red-hot 4-1 start to the season, Buffalo has struggled of late, losing two of their last three with both losses coming to mediocre teams. Early MVP candidate QB Josh Allen will need a standout performance to squash the surfacing doubts about his squad.

Saints: Winston went down with a torn ACL then backup QB Taysom Hill suffered a concussion, ceding the starting role to third-string QB Trevor Siemian, who's 0-3 in his three starts under center. Not great.
That said, New Orleans will have an elite running game if RBs Alvin Kamara and Mark Ingram are available.
Prediction: With both squads coming off embarrassing losses in Week 11, it's hard to know which version of each team will show up tonight. But with the uncertainty surrounding the Saints' injuries, we have to go with the Bills and their top-ranked defense in this one. Just don't jump through your Thanksgiving table in celebration, Bills Mafia.
🏈

Thanksgiving football: Las Vegas Raiders (5-5) vs. Dallas Cowboys (7-3) — 4:30 p.m. ET

November 25, 2021

Cowboys: Despite boasting one of the NFL's best offenses, Dallas struggled in a disappointing loss to Kansas City last week. That said, QB Dak Prescott has otherwise looked strong all season. America's Team will certainly gobble up some big yardage today.

Raiders: Last Sunday's loss to the Cincinnati Bengals marked the third straight L for this up-and-down Las Vegas squad. But their offense — led by QB Derek Carr, who could surpass 30K career passing yards today — has kept them in games all season. He'll need to carve up a (master)piece to give the Raiders a chance today.

Prediction: The middling Las Vegas defense will stuff the Cowboys early on, but the pairing of Prescott and his best bud, running back (RB) Ezekiel Elliott, will be too much to contain. Expect Dallas to feast.
🏈

Thanksgiving football: Chicago Bears (3-7) vs. Detroit Lions (0-9-1) — 12:30 p.m. ET

November 25, 2021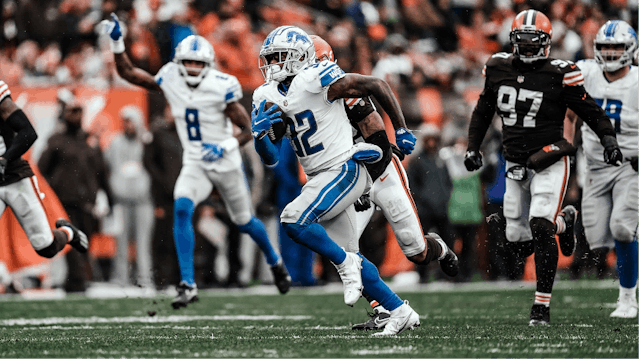 SOURCE: LIONS/TWITTER
Lions: While Detroit's Thanksgiving record is a dismal 37-42-2 (wins, losses, ties), they'll be hoping for some holiday magic today in the hunt for their first win of the year.
Much of their success will depend on the status of starting quarterback (QB) Jared Goff, who missed Sunday's game with an oblique injury that could leave him out of today's game, too.
Bears: Chicago looks like they've had a little too much turkey as of late, entering today on a five-game losing streak. QB Justin Fields suffered a rib injury last week, so veteran QB Andy Dalton is expected to start.
Also of note, this could be head coach Matt Nagy's final game at the helm, with reports swirling that he'll be fired later today. Awkward.
Prediction: Lions, Turkey and Bears...oh my — this NFC North rivalry game will probably be a rough one, but not as rough as listening to your uncle rant about his political opinions. Expect a low-scoring affair in which, we think, Detroit breaks through for their first win of the year.