🤸
🏐
🥎
🏈
Too much rock for one hand
April 19, 2021
Source: Michigan Women's Gymnastics/Twitter
🤸‍♀️Gymnastics: As we mentioned, the Michigan Wolverines flipped their way to the school's first-ever women's gymnastics title on Saturday, posting a team record 198.2500 to dethrone defending champs Oklahoma. Abby Heiskell took clutch to a new level when she with the title on the line, scoring a 9.9250 to .
🏐Volleyball: The has been serving up the fun, with a handful of upsets so far. Beginning today at noon ET, eight teams head to quarterfinal action. We'll be watching unranked Pittsburgh, who pulled off a huge upset over No. 3 Minnesota in yesterday's regional semis, to advance to their first-ever regional finals. Digging it.
🥎Softball: No. 1 Oklahoma picked up their 40th (!!!) consecutive win Saturday with a massive 9–0 victory over No. 7 Texas. The Sooners have been unstoppable this season, blasting an average of three home runs per game. Their next victim? The previous NCAA softball win streak of .
🏈Football: Former Clemson quarterback (QB) and presumptive No. 1 NFL draft pick Trevor Lawrence made headlines when his was published last week. The star QB's comments included: "It's not like I need [football] for my life to be okay I want to do it because I want to be the best I can be."
While that sentiment read as refreshingly healthy and self-aware to us, some football fans were not happy with what they perceived as a lack of commitment.
But Lawrence saying: "I have a lot of confidence in my work ethic….That being said, I am secure in who I am….I don't need football to make me feel worthy as a person." Pretty mature for a 21-year-old.
⚽
🏎
🏐
🤸
The GIST's Quick Hits - US (April 15, 2021)
April 15, 2021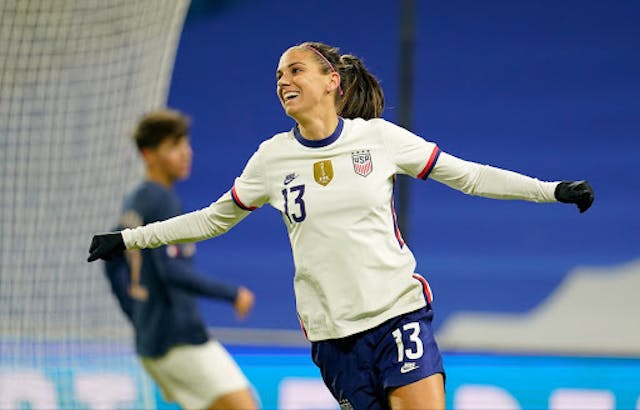 Source: USWNT/Twitter
⚽️USWNT: Ahead of Tuesday's impressive 2–0 victory over No. 3 France, the USWNT picked up a big win off the pitch Monday when a a partial settlement over working conditions, paving the way for players to and keep up the fight for equal pay. .
🎓🏐🤸‍♀️College: The NCAA volleyball championships continue today, highlighted by 2019 runner-up and No. 1 seed Wisconsin taking on Webster State at 7 p.m. ET. And with all games, we're finally set for the rest of the tourney. About damn time.
⚽️NWSL: Chicago Red Stars owner/ESPN host Sarah Spain and NJ/NY Gotham FC general manager Alyse LaHue were fined yesterday for their tweets in support of Red Stars defender Sarah Gorden, who, along with her boyfriend, was after last week's season opener.
🏎NASCAR: Watch out Ricky Bobby, Jennifer Jo Cobb is coming for you. The 47-year-old announced that she'll make at Talladega Speedway's GEICO 500 on April 25th. As long as she figures out , she'll do great.
🤸
🏀
🏈
LA: Stick the landing
April 15, 2021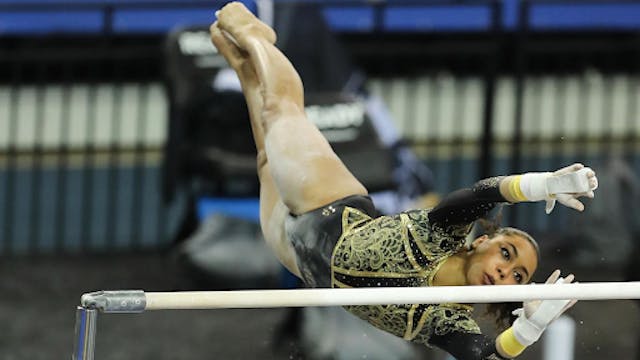 Source: Rand Bleimeister via UCLA Gymnastics
🎓🤸‍♀️Gymnastics: For the first time since 2006, UCLA didn't qualify to NCAA Championships, but three gymnasts will represent the Bruins at nationals. Nia Dennis, Margzetta Frazier and Chae Campbell will compete for individual titles in tomorrow's 6 p.m. ET/3 p.m. PT semifinal.
Dennis and Frazier are competing on vault and uneven bars, respectively, so we won't see either of their floor routines. Bummer.
🏀Basketball: Limited fans are back for tonight's edition of the Lakers' historic rivalry with the Boston Celtics. However, the talk of the town isn't about seeing the defending champs in person, but instead Staples Center's . Who approved this?
🏈NFL: The Rams aren't in season, but defensive tackle Aaron Donald is in the news. A criminal complaint was filed against him yesterday for . Stay tuned.
⚾
🏀
🤸
Chicago: Yeah, it was a good day
April 05, 2021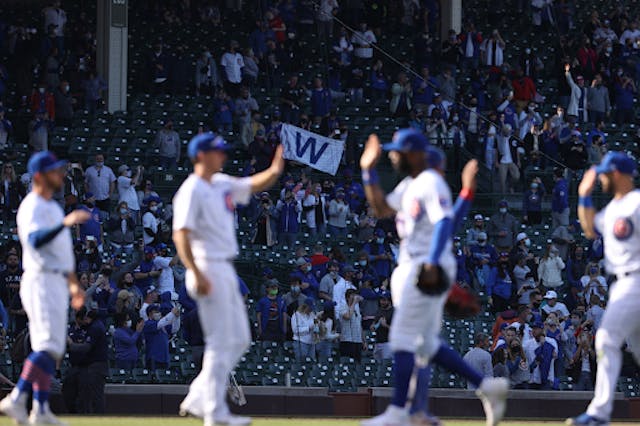 Source: Cubs/Twitter.com
⚾️Cubs: After a Opening Day loss, the Cubs got hot for the rest of the weekend, taking two of three in their series against the Pittsburgh Pirates. Between the homers from and and the of Cy Young winner Jake Arrieta, fans are for the next 159 games. Fly the W!
Sox: The White Sox won one of four in their opening series with the LA Angels this weekend. Besides the aforementioned Mercedes, fans were fired up over the Sox's on Friday and 21 year-old pitcher Garrett Crochet's on Saturday. . While it was at times, for the first series on the road, we'll take it.
🏀Bulls: The Bulls snapped their six-game losing streak yesterday when they beat the Brooklyn Nets . It was an off day for the Nets and a great day for the Bulls, who looked like they were with new addition Nikola Vučević. 'Bout time!
🤸‍♀️Illini: The U of I women's gymnastics team ended their season when they in their regional meet this weekend. Even though regionals wasn't their best performance, the Illini, who earlier this season scored the , should still be v. proud.
🏀
🏐
🤸
Chicago: I see it, I like it, I want it, I got it
March 15, 2021
Source: Illinois Basketball/Twitter.com
🏀 MBB: For the first time since 2005 and third time in school history, the U of I Fighting Illini , and in dramatic fashion, no less, by beating the Ohio State Buckeyes 91–88 in overtime yesterday. Can we get an I-L-L?
🏐 Notre Dame volleyball: Bouncing back from their to the Florida State Seminoles on Friday, the No. 14-ranked Fighting Irish women's volleyball team beat the Virginia Tech Hokies in on Saturday. The luck of the Irish is so back.
🤸‍♀️ Women's college gymnastics: The No. 22-ranked U of I's women's gymnastics team closed out their regular season on Saturday by with a total score of 197.575, breaking the school record for the best all-around score. ' rad.
Next, the Illini will compete in the Big Ten Conference Championship meet this Saturday. Time to follow the men's basketball team and bring another piece of hardware back to Urbana-Champaign.