🤸

NCAA gymnastics: Sticking the landing

April 20, 2022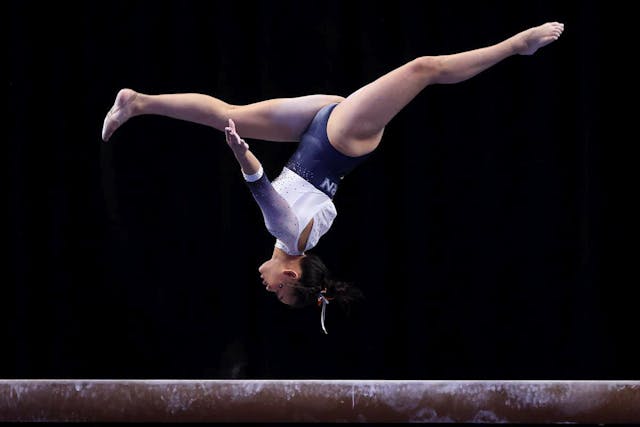 C. MORGAN ENGEL/NCAA PHOTOS VIA GETTY IMAGES
The GIST: Saturday's NCAA women's gymnastics championship wasn't just a win for Oklahoma — ABC had 922K tune in, making it the most-watched college gymnastics meet ever on ESPN networks. Talk about sticking it.
The details: This year's championship achieved a peak audience of 1.1 million, growing 11% overall from last year's event. Most notably, ESPN tapped further into a powerful target audience in the process — women aged 18-49, whose viewership grew 58%.
The context: Women's gymnastics was already flying high heading into Saturday's championship, with over 95 million impressions this year alone across ESPN's social platforms — the most of any women's sport. Unlike many other NCAA sports, gymnastics also benefits from having recent Olympians on the rosters.
Auburn's Suni Lee nabbed gold and silver medals at this year's NCAA championships, just eight months after becoming one of the breakout stars — and the women's all-around champion — of the Tokyo Games. Proof of her celebrity? Her 1.7 million Instagram followers.
Zooming out: Shockingly, women's gymnastics has earned just 1.1% of name, image and likeness (NIL) compensation thus far, demonstrating that brands might be sleeping on the sport's business potential.
🤸

Gymnastics: Do you get déjà vu?

March 30, 2022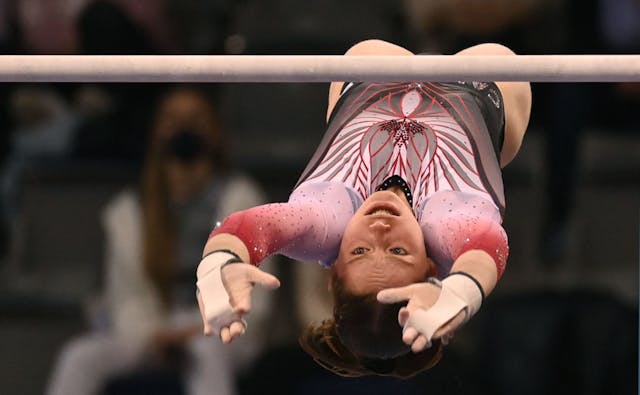 MARIJAN MURAT/PICTURE ALLIANCE VIA GETTY IMAGES
The GIST: Stop us if you've heard this one before but another abuse scandal is rocking the gymnastics world, with over 70 current and former Canadian gymnasts calling for an independent, third-party investigation into their sporting body.
The latest: As discussed in yesterday's episode of The GIST of It, the gymnasts published an open letter on Monday, alleging "ongoing toxic and abusive practices" within Gymnastics Canada (GymCan).
Athletes claim that GymCan failed to address numerous complaints made over the last five years and even note that arrests were made in relation to abuse allegations against Canadian coaches. Alarming.
GymCan published a response yesterday, saying they were "saddened" to learn of athletes' experiences and committing to an independent cultural review. We'll see how that goes…
Zooming out: GymCan is the fourth Canadian organization to recently come under scrutiny, with athletes from Rowing Canada, Rugby Canada and Bobsleigh Canada Skeleton (who Canadian gymnasts shout-out in their letter) all bravely sharing similar allegations within the last 12 months.
And the story is stunningly familiar across the global gymnastics landscape, with ubiquitous stories of abuse within USA Gymnastics. Changes in leadership structure are a start, but it's far past time for systemic, cultural change on an international scale.
🏆
🏀
⚽
🎾
🤸
Biggest Sports Moments of 2021
January 01, 2022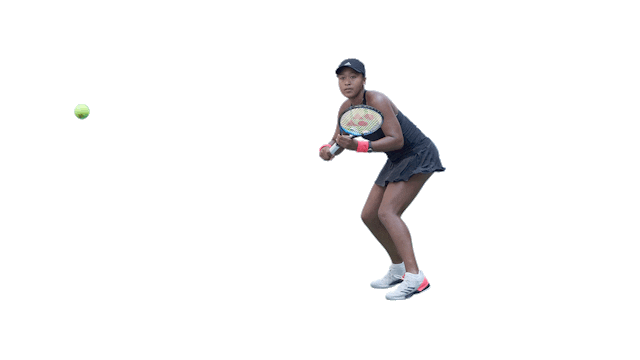 SOURCE: NEW YORK TIMES
QUOTE OF THE DAY
Seeing everything that's going on in the world, I feel like if I wake up in the morning that's a win. That's how I'm coming.
— Tennis star Naomi Osaka on handling others' expectations and celebrating herself. Yes yes and yes — that's how we're coming.
💪 Stronger than ever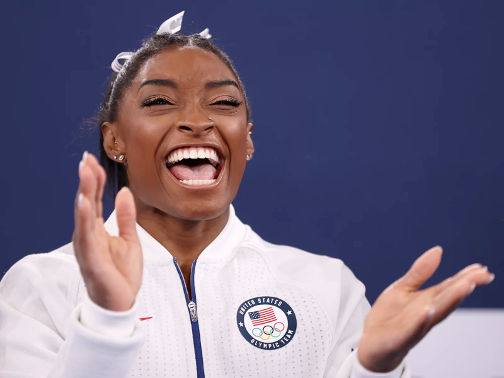 The GIST: Our top story of 2021? Athletes putting themselves first and prioritizing their mental health on the global stage.
Naomi Osaka: Back in May, tennis star Naomi Osaka announced via social media that she would not participate in press conferences during the French Open in order to care for her mental health. She was fined $15,000 and threatened with disqualification.
Following intense media scrutiny, Osaka subsequently dropped out of the French Open, saying it was the best decision for other players and herself. And with the announcement, she bravely opened up about her struggles with depression and anxiety.
In June, she also withdrew from Wimbledon in order to take some "personal time." Osaka faced international ire for her decision to care for herself, but when Michelle Obama has your back, you know you're becoming someone great.
Simone Biles: During the Tokyo Olympics, Simone Biles — the most decorated gymnast of all time — withdrew from multiple events due to a case of the "twisties." Biles eventually returned to win bronze in the balance beam, but it was clear she came back when she was ready, on her own terms.
As the whole world waited to watch the GOAT in action, Biles choosing herselfwas truly her best performance yet.
All gratitude: Athletes — especially young women — are too often pressured into sacrificing their mental and physical health for others. So Osaka and Biles (notably, two Black women) saying "no" in the face of global pressure and expectation felt unprecedented and shocking and…right.
By standing up for themselves and by emboldening others to do the same — they truly changed the game.
🚀 To the moon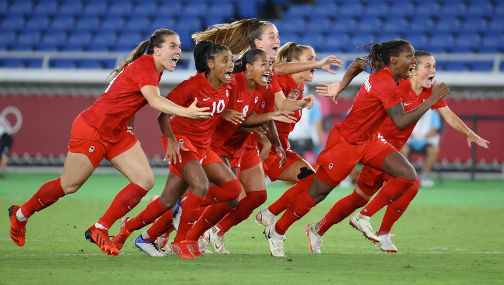 The GIST: Jeff Bezos, who? Women's sports reached galactic heights this year, and we have the numbers to prove it.
Hoop nation: Starting on the court, the WNBA recorded its most-watched regular season since 2008. So the next time a lil' Twitter troll writes that "no one watches women's sports," tell them that 755,000 pairs of eyeballs watched a regular-season matchup between the Seattle Storm and the Chicago Sky.
More fuel for your clapback: during the WNBA Finals, the average viewership was 548,000 viewers per game — a 23% and 42% increase from 2020 and 2019, respectively.
Pitch invasion: Soccer also turned in staggering numbers, as an average of 525,000 viewers tuned into the NWSL Championship game between the Washington Spirit and the Chicago Red Stars. That's a 216% (!!!) increase from the 2019 Championship.
Podium sweep: Taking it back to Tokyo, women's sports accounted for nearly three-fifths of NBC's primetime Olympics coverage.
In Canada, women earned 18 of the country's 24 medals — so it makes sense that four out of the five most viewed Olympics moments were women's events. #SheTheNorth, baby.
No. 1 on that list? 4.4 million Canadians (more than 10% of the entire country!) witnessed the women's soccer team beat Sweden in the gold medal match.
The story: Excel might not win football games, but this data is indisputable — women's sports is the moment. It always has been TBH, and it's high time broadcasters and sponsors and media outlets give them the shine they deserve. If they stream it, we will come.
😷 COVID-19: A rollercoaster ride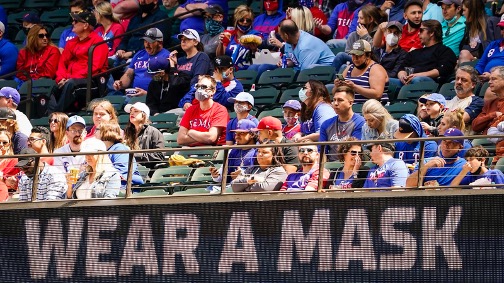 The GIST: After the dumpster fire that was 2020, this year brought hope with vaccines and testing being more readily available and a return to live sports. But, as we (and Taylor Swift) know all too well, COVID-19's not done with us yet.
The highs: In February, the NFL invited 7,500 (vaccinated) healthcare workers to take in Super Bowl LV in person. It was a welcome sign of what was to come in the next few months, with cardboard cutouts making way for limited- and then full-capacity stands.
The roar of the crowd, the unparalleled atmosphere, an overpriced beer at the game — (most of) 2021 offered a much-needed sense of normalcy in sports.
The controversy: But that sense of normalcy didn't come without caveats. The once-delayed Tokyo Olympics took place inside a bubble-like environment (remember those cardboard beds?), sans fans.
The latest: As we enter year three of the pandemic (damn), COVID-19 is back wreaking havoc on the sports world. December brought lengthy health and safety protocol lists, postponed games and even more uncertainty.
While we don't know what comes next, we do know sports can help bring us together (whether that's virtually or in-person) and guide us through these challenging times.
🏆 No time for losers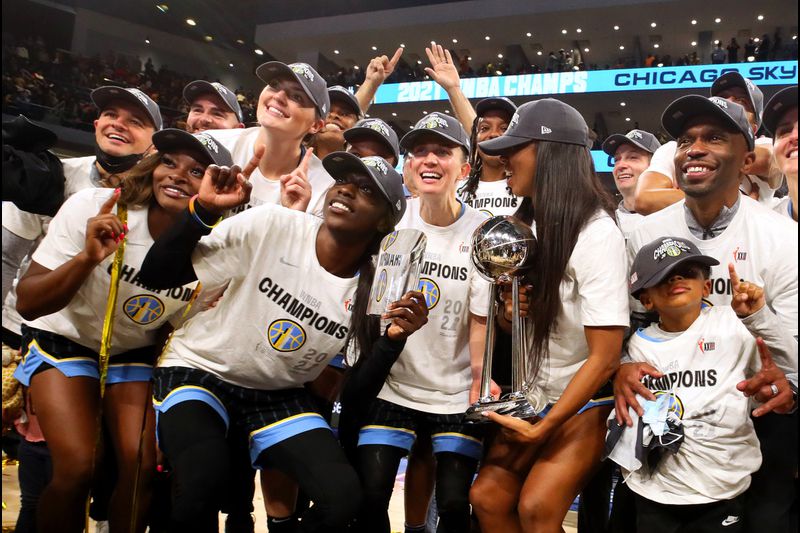 The GIST: First-ever championship titles, awe-inspiring performances and trophies with a side of Polynesian sauce — let's celebrate the squads and players who reached the pinnacle of their sports this year.
Team champions: Tampa Bay Buccaneers quarterback Tom Brady took a page out of Ariana Grande's book, winning his record seventh Super Bowl ring in February, then the Tampa Bay Lightning made it a Champa Bay double, hoisting the Stanley Cup for a second straight year.
Milwaukee Buck Giannis Antetokounmpo (pronounced YAH-niss ah-det-oh-KOON-boh) won the NBA title, Finals MVP and our hearts, then hometown hero Candace Parker led the Chicago Sky to their first WNBA title. Hello, windy city.
Rounding out the year, Atlanta first baseman Freddie Freeman finally earned his World Series trophy, and the Washington Spirit pushed through a mountain of adversity to win their first NWSL title. Incredible.
Individual shoutouts: The Seattle Storm's Sue Bird reached the (very exclusive) 3K assists club, Golden State Warrior Steph Curry officially became the greatest shooter of all time and, while golfer Phil Mickelson let us know age is but a number, tennis stars Emma Raducanu and Leylah Fernandez proved the kids are alrightduring their thrilling U.S. Open finals battle.
O Canada: Thanks to a golden goal, Canada's women's hockey team were crowned world champions for the first time since 2012, and Team Canada aptly renamed its official Twitter a "Marie-Philip Poulin stan account."
❤️ On a personal note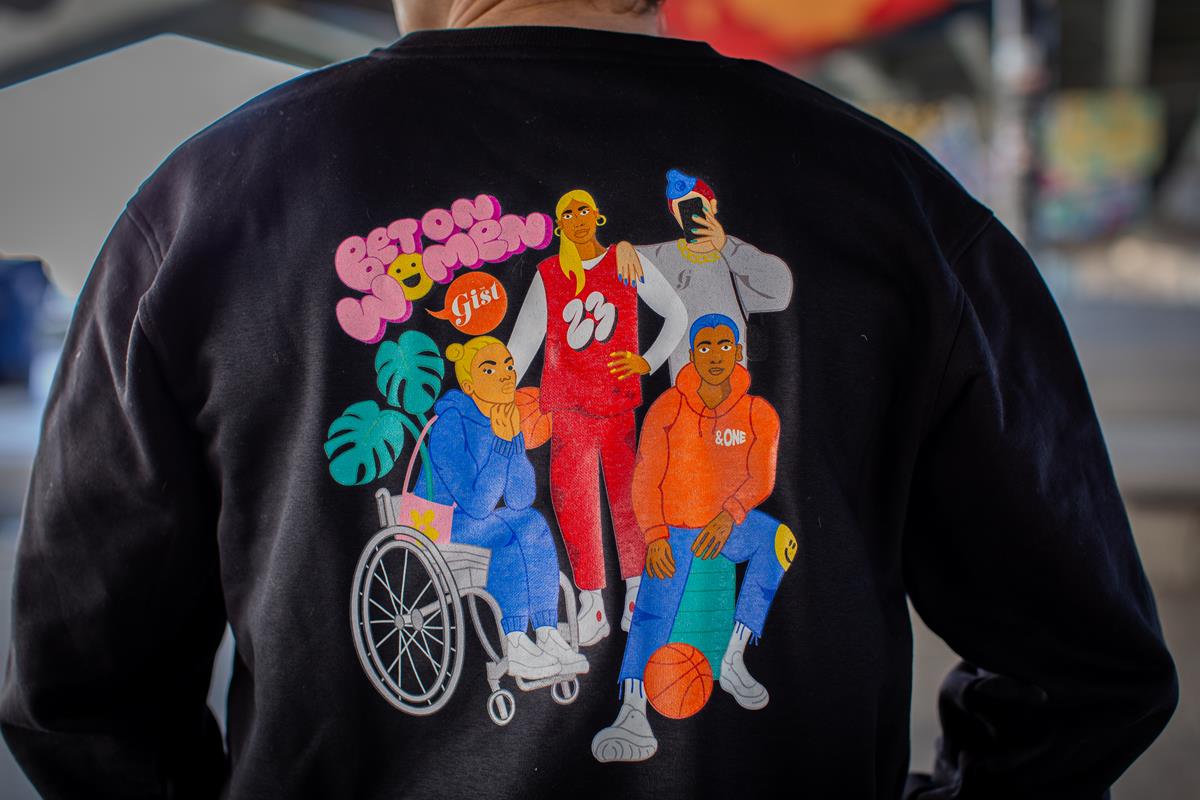 Forgive us for tooting our own horn, but 2021 was a memorable year for The GIST. We covered our first Olympics (see you again for daily 2022 Winter Games newsletters), we grew our community to 500K+ GISTers, we expanded our team to 20+ women and we earned over $1M in revenue (thanks for supporting our partners!).
And most importantly, you, and this incredible community we're building together, helped to level the playing field in sports. We're so excited for what's to come in 2022 and can't wait to continue to grow with our GISTers. Thanks for everything.
🤸
🏅
Simone Biles returns to the Olympic competition floor
August 03, 2021
Source: TODAY/Twitter
The win: Following an early exit from the team event and withdrawals from the all-around competition and three other individual events to take care of her mental health, Biles competed in the women's balance beam event early this morning. Her decision paid off in the form of a bronze medal.
Zoom out: It goes without saying that Biles prioritizing her mental health has been the story of the Olympics so far. — despite the backlash they knew they would face — a Black, female athlete has forever changed the way we view the mental aspects of sports.
Team Canada: Unfortunately, Biles' win edged Canadian and Ellie Black off the podium. Black finished fourth on the beam, a personal best.
🏅
🤸
🎾
History making moves for Simone Biles and Naomi Osaka
July 27, 2021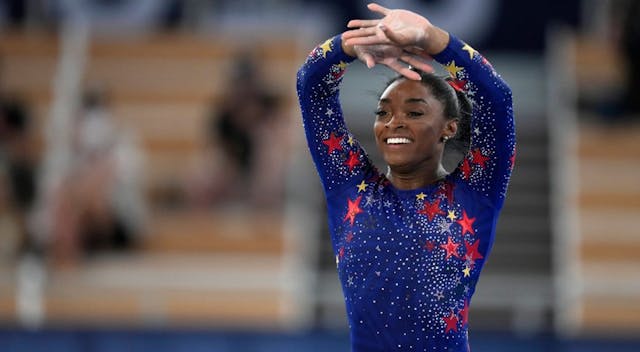 Source: Natacha Pisarenko/AP
🤸‍♀️Simone Biles: The gymnastic GOAT had a shaky start to the women's team final today, lowering her difficulty on the vault before leaving the arena with a trainer.
Biles withdrew from the team event moments later "," but she eventually returned to cheer on her team to silver from the sidelines, while the won gold.
But Biles' Olympics are not over. She'll hopefully be back Thursday for the women's all-around final before the individual events begin on Sunday. Cross your fingers.
🎾Naomi Osaka: The Olympic cauldron lighter will leave her home Games without a medal. World No. 2 Osaka was eliminated overnight by No. 42 Markéta Vondroušová (pronounced von-DROH-soh-vah) in the third round. ...not for a long time?
And with No. 1 Ash Barty and No. 3 Aryna Sabalenka having lost in the first and second rounds, respectively, it's anyone's guess who will own the podium.