🏀
🤸
LA: Shine bright like a diamond
March 01, 2021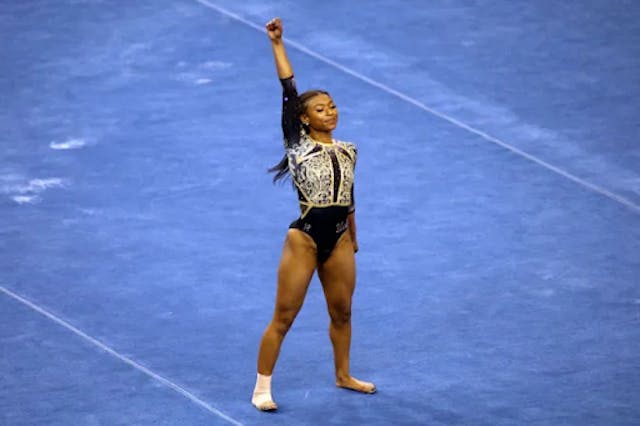 Source: Katharine Lotze/Getty Images
🏀NBA: Yesterday, both of our NBA teams had highly anticipated matchups featuring superstar duels. LeBron and the Lakers did not disappoint, besting Steph Curry and the Golden State Warriors 117–91 in dominating fashion. LeBron even cheekily sank a shot from (literally in ). What can we say, LA's just better than the Bay.
Unfortunately, the Clippers didn't fare as well. They got by Giannis Antetokounmpo (pronounced YONNIS ANDEDO-KOONPO) in a tight 105–100 loss to the Milwaukee Bucks.
The Clips didn't score in the game's final four minutes, including Kawhi Leonard missing the potential game-tying shot. Let's hope they bounce back tomorrow at 7:30 p.m. ET/4:30 p.m. PT against the Boston Celtics.
🤸‍♀️Gymnastics: No. 13 UCLA gymnastics hosted, and won, their first-ever Black Excellence meet on Saturday, debuting powerful leotards, which the team's four Black gymnasts . The Bruins continued the message of the meet on the floor exercise, where all six gymnasts in the lineup added a to their routines. Trailblazers.
⚽
🤸
Chicago: Feelin' good as hell
February 22, 2021
Source: USWNT/Twitter.com
⚽️USWNT: Chicago Red Stars midfielder Julie Ertz and goalkeeper Alyssa Naeher both had killer performances in the USWNT's first two matches of the SheBelieves Cup. With her two shutouts, Naeher made herstory as the only USWNT goalkeeper to ever post a shutout in 10 straight international games.
🤸‍♀️Illini: Despite narrowly losing to the No. 8-ranked Wolverines, the No. 20-ranked Fighting Illini of the U of I women's gymnastics earned a season-best score of 196.650 yesterday. We love losses that somehow still feel like a win.
Junior Mallory Mizuki, who'd been battling injuries all season, also captured a personal win yesterday, competing for the first time and securing the bar title with a . Now that's the Fighting Illini spirit.
🏀
🤸
LA: Curtain's up, it's showtime
February 18, 2021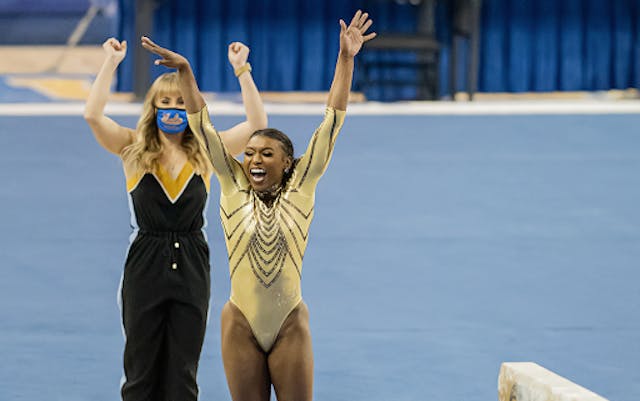 Source: Kanishka Mehra/Daily Bruin
🏀NBA: The Clippers, without Kawhi Leonard, Paul George and Nicolas Batum, took an L in last night's top-tier Western Conference battle against the red-hot Utah Jazz. No shame though: the Jazz won a ridiculous 20 of their last 21 games. The Clips will get a shot to avenge themselves in tomorrow's 10 p.m. ET/7 p.m. PT rematch.
🤸‍♀️Gymnastics: No. 14 UCLA squares off against rival No. 3 Utah tomorrow at 9 p.m. ET/6 p.m. PT. The Bruins are led by not one, but two Internet-breaking floor exercise icons in and . On Sunday, UCLA put up its , so the Bruins will be counting on Dennis and Frazier to lead a more consistent effort against Utah.
🏀
🏒
🤸
Chicago: Cutting it close
January 28, 2021
Source: John Russell/Getty Images
🏒Hockey: The Blackhawks lost a close one to the Nashville Predators in an overtime shootout last night. Sigh. Chi-town Goalie Kevin Lankinen shone, saving 41 of 42 shots in regulation. He's is still trying to solidify his starting spot, and last night's performance certainly didn't hurt.
Puck drops again tomorrow night when Chicago takes on the Columbus Blue Jackets at 8 p.m. ET/7 p.m. CT.
🤸‍♀️College gymnastics: The Fighting Illini have some serious moves on the floor...and the beam and the bars. The U of I women's gymnastics team is 3-0 thanks to the prowess of sophomore and junior , who both scored more than 9.8 in their events last weekend. They have us flippin'.
Heading into their first home meet of the season against the Iowa Hawkeyes on Sunday at 12 p.m. ET/1 p.m. CT, the Illini are ranked No. 22 nationally. Time to stick some landings.
🏀The Bulls: Bulls center Wendell Carter Jr. recently suffered a quad contusion that'll take him off the court for for the third season in a row. Tragic. Carter has started in 14 of the Bulls' 17 games so far, so this news is not what we wanted to hear.
🏀
🤸
LA: Tumbling into Monday like...
January 25, 2021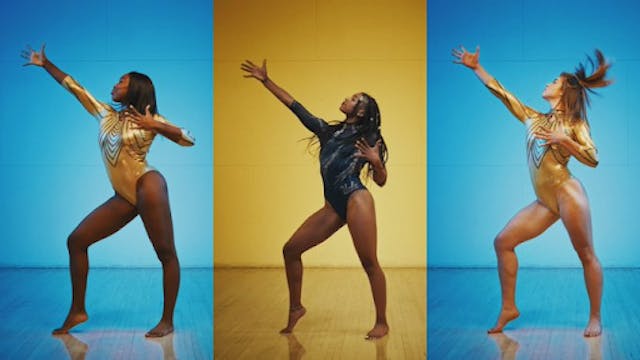 Source: UCLA Gymnastics/Twitter
🤸‍♀️Gymnastics: You know it's college gymnastics season when UCLA floor exercise routines start breaking the Internet. The Bruins put on a floor party in their season-opening 196.150–195.950 win over Arizona State. Senior Nia Dennis anchored the rotation with a , aweing celebrities , and .
Dennis isn't new to the spotlight: she in 2020 with her junior year floor routine and was well-known in her pre-college days for her among gymnastics circles.
🏀NBA: Our NBA teams might not be dazzling us with their dancing or tumbling, but they are still impressing us with their winning ways. Kawhi Leonard and the Clippers to their seventh-straight win with yesterday's 108–100 victory over the Oklahoma City Thunder. Flying.
As for the Lakers, the Purple and Gold look to continue their tonight against LeBron's old squad, the Cleveland Cavaliers, at 8 p.m. ET/5 p.m. PT.