🏀
⚾
⚽
Philadelphia: Sixers Head into the Offseason After Disappointing Game 7
June 21, 2021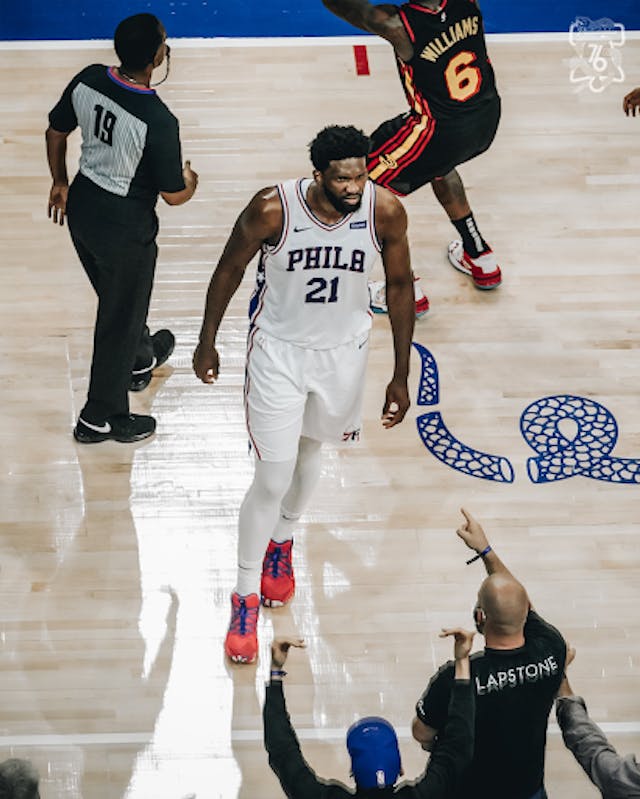 Source: Twitter.com/Philadelphia 76ers
🏀Sixers: From Joel Embiid and Tobias Harris' to Hawks star Trae Young's shooting struggles, the Wells Fargo Center was crackling with confidence last night. Though the teams were neck-and-neck through the whole game, we thought that No. 1-seed swag would help pull our Sixers through and seal them a spot in the Eastern Conference finals.
But sloppy play, 17 turnovers (yeesh), an unexpectedly good game from Hawks guard and a disappointingly ineffective Ben Simmons let the Hawks steal this one .
🔢 Box Scores: ⚽️The Union drew with Atlanta United FC yesterday thanks to defender Jakob Glesnes' ; ⚾️The Phillies fell 11–2 to the league-leading San Francisco Giants yesterday.
🏀
⚾
Boston: Offseason Moves Begin for Celtics with a Trade
June 21, 2021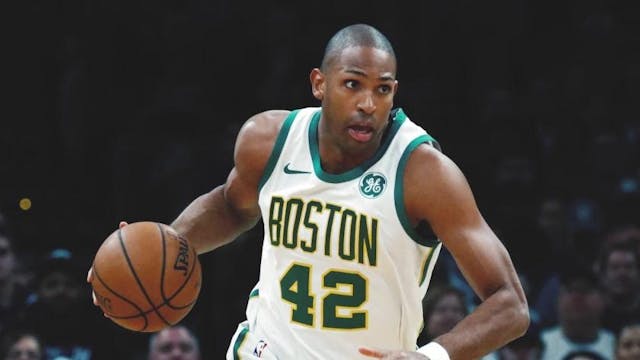 Source: NBC Sports
🏀Celtics: We knew it was coming, but we didn't know it was coming this quickly. On Friday, former head coach and new team president Brad Stevens made his first front office move, sending Kemba Walker and two draft picks to the Oklahoma City Thunder in exchange for a 2023 draft pick, center Moses Brown and former Celtic Al Horford.
⚾️Red Sox: Rafael Devers' late inning home run was a little too late, as the Sox fell 7–3 to the Kansas City Royals yesterday. Boston's off today before heading to Tampa Bay for a key three-game series with the Rays, who are currently a half game behind the Sox in the AL East. Time to widen that gap.
And although they couldn't get it done on the field, there was some great news off of it. Fan favorite Jerry Remy yesterday after leaving in the middle of a game earlier this month due to shortness of breath. Welcome back, Rem Dawg!
🏀
⚾
Dallas: Head Coach Change Latest Offseason Move for Mavs
June 21, 2021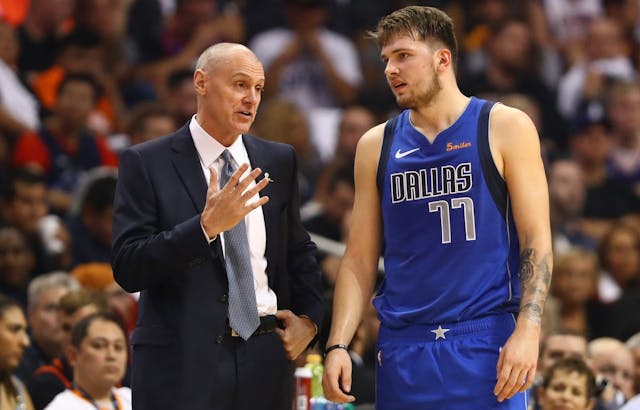 Source: Mark J. Rebilas/USA TODAY Sports
🏀Mavericks: Despite being eliminated from the playoffs, the Mavs are still shaking up the NBA. On Thursday, just one day after announcing of longtime general manager Donnie Nelson, the Mavs the unexpected resignation of head coach Rick Carlisle, who led Dallas for 13 seasons. Damn.
While there's not too much info as to who will replace Carlisle, there will be a familiar face guiding the Mavericks through the hiring process: Dirk Nowitzki, who signed on as a special adviser on Friday. In Dirk we trust.
🏀Wings: After Thursday's loss to the Minnesota Lynx, the Wings bounced back on Saturday, snapping their two-game losing streak with a 95–77 win over Minnesota thanks to a career-high 28 points from Marina Mabrey. Girl, you have done it again. Tomorrow's 7 p.m. ET/6 p.m. CT tilt with the league's second-place Connecticut Sun will be a tough test for Dallas. Bring it.
⚾️Rangers: We're hoping you had a better weekend than the Rangers, who were swept by the Minnesota Twins after losing their sixth straight game yesterday. Yikes. Hopefully they can turn things around tonight at 8:05 p.m. ET/7:05 p.m. CT vs. the *checks notes* AL West first-place Oakland Athletics...double yikes.
⚾
⚽
Seattle: Mariners Complete Four Game Series Sweep
June 21, 2021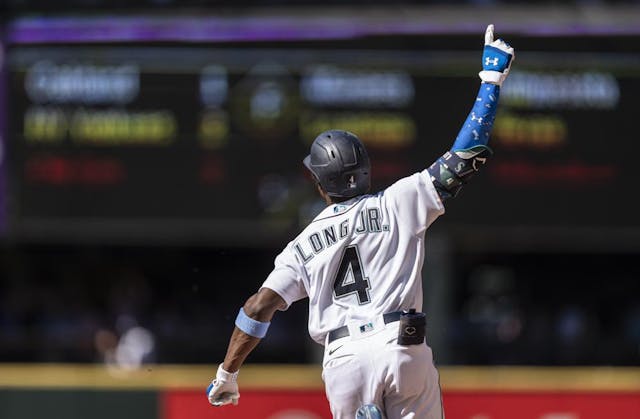 Source: Stephen Brashear/AP Photo
⚾️Mariners: Break out the brooms! The Mariners completed an unbelievable four-game series sweep of the Tampa Bay Rays yesterday. The M's kept us on the edge of our seats, with three wins over last year's American League (AL) champions coming in . Relive the .
⚽️Sounders: The Sounders showed no rust after MLS' international break. They picked up right where they left off, beating the LA Galaxy on Saturday to stay undefeated through nine games. Unstoppable.
⚽️OL Reign: Unfortunately, OL Reign didn't fare as well after their international break, falling 2–1 to the North Carolina Courage Saturday. Goalkeeper Sarah Bouhaddi and midfielder Dzsenifer Marozsán made their Reign debuts, but let's just say it .
The Reign have a quick turnaround and will face the Chicago Red Stars tomorrow at 10 p.m. ET/7 p.m. PT.
⚾
🏀
Los Angeles: Disappointing Result for Clippers in Game One
June 21, 2021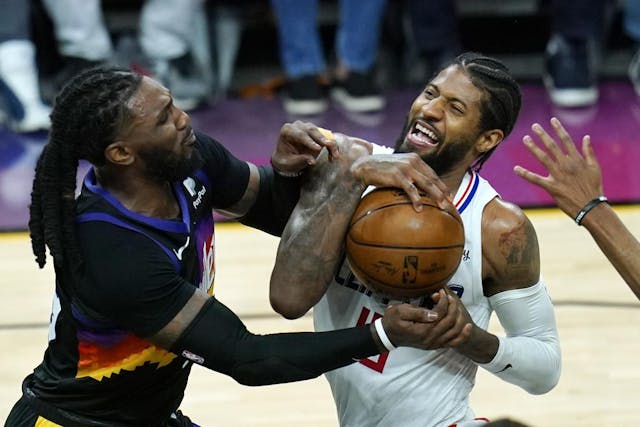 Source: Ross D. Franklin/AP Photo
🏀Clippers: Yesterday, less than 48 hours after dispatching the Utah Jazz in an emotional Game 6, the Clippers faltered at the finish of Game 1 in the Western Conference finals. Terance Mann cut the Clips' deficit to two with , but the Phoenix Suns rallied, taking it 120–114.
With stars Kawhi Leonard (sprained knee) and Clipper-turned-Sun Chris Paul (health and safety protocols) out, it was Paul George dueling Phoenix's Devin Booker. George scored 34 points, but Booker couldn't be tamed with a massive 40-point .
🏀Sparks: The Sparks couldn't close out either, falling to the NY Liberty 76–73 in yesterday's . LA was denied the opportunity to win not just , but , by Liberty Rebecca Allen in the waning seconds. Sigh.
⚾️MLB: Angel two-way sensation Shohei Ohtani keeps showing out. He announced Friday that he will participate in the on July 12th...before promptly smashing that night, on Saturday and then yesterday to tie for the MLB home run lead with 23. Somethin' special.
Meanwhile, the Dodgers almost embarrassed themselves, but with a series sweep, handing the Arizona Diamondbacks their 17th straight loss yesterday. Phew.