⚾
🏈
Dodgers Headed to World Series
October 20, 2020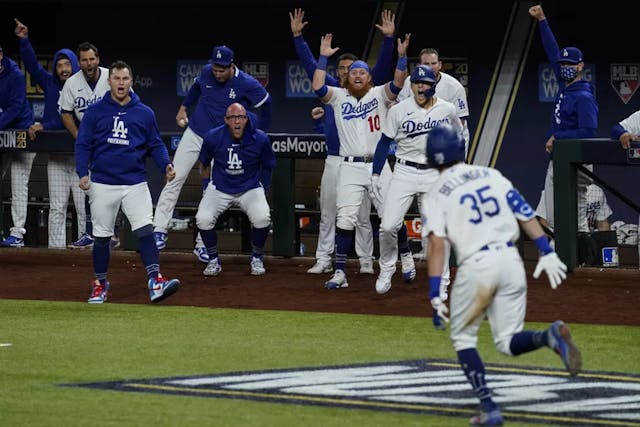 SOURCE: COOPER NEILL/MLB PHOTOS VIA GETTY IMAGES
The GIST: Big day in LA yesterday! The Dodgers brought the fireworks and advanced to the World Series for the third time in four years. Happy Monday!
⚾️How was Game 7?: It was nerve-wracking as hell. The Dodgers' pitchers gave us heartache to start Game 7 of the NLCS, but managed to hold the Atlanta Braves to just two runs in the first two innings.
World Series bound! Who're they playing?: The Tampa Bay Rays. The Rays are built differently than the Dodgers, with less star power but still a lot of depth. Maybe, just maybe, this will finally be the year the Dodgers overcome their postseason woes and win their first World Series in over 30 years.
Game 1 starts tomorrow at 8:09 p.m. ET/5:09 p.m. PT. Ride that momentum!
🏈Anything else?: Yes, but you were better off celebrating the Dodgers' win. On the gridiron, the Rams' sloppy play led to a 24–16 loss to the San Francisco 49ers. The Rams need to clean that up before facing the 5-1 Chicago Bears next Monday.
⚾

Dodgers and Rays to Face Off in World Series

October 20, 2020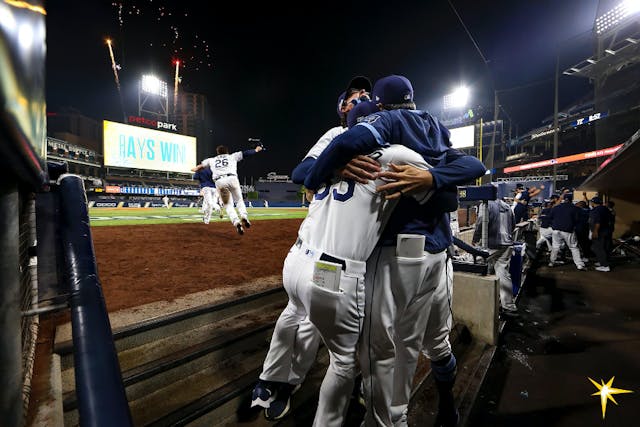 SOURCE: TAMPA BAY RAYS/TWITTER
The GIST: The World Series matchup is officially set! Both league championship series took all seven games and a whole lot of drama to be decided, building to a star-studded Fall Classic between the Tampa Bay Rays and the LA Dodgers.
Tampa Bay Rays: The Rays gave everyone something to celebrate by defeating the Houston Asterisks Astros with a nail-biting Game 7 victory on Saturday. With the win, the Rays punched their ticket to the World Series for the second time in franchise history and are now just four wins away from their first-ever title.
A key player to watch is rookie outfielder Randy Arozarena, who has seven (!!!) postseason home runs, a rookie record. On the defensive side, keep an eye on starting pitcher Charlie Morton. Morton boasts an incredible 0.57 earned run average (ERA) this postseason. Domination station.
LA Dodgers: The Dodgers defied the odds, coming back from a 3-1 series deficit to force Game 7 and win an epic 4–3 duel with the Atlanta Braves, thanks to outfielder Cody Bellinger's clutch go-ahead home run. Entering the season as the favorites to win it all, the Dodgers now look to avenge their World Series losses in 2017 and 2018 and claim their seventh franchise title.
This stacked team features a laundry list of talent, including shortstop Corey Seager, who has six home runs and a team-leading 15 RBIs this postseason. For pitching, the Dodgers will lean on starting pitcher Walker Buehler and his 29 strikeouts through four postseason starts.
Who's going to win it all?: This World Series matchup is sure to be one for the history books, with the winningest teams from each league squaring off. Riding their come-from-behind NLCS energy, we expect the star-powered Dodgers to keep that momentum rolling against the Rays and ultimately live up to their preseason favorite status.
First pitch of Game 1 is set for 8:09 p.m. ET tomorrow. Grab your favorite blanket and get cozy for the October baseball finale!
⚾

Dodgers Win NLCS Game 3

October 15, 2020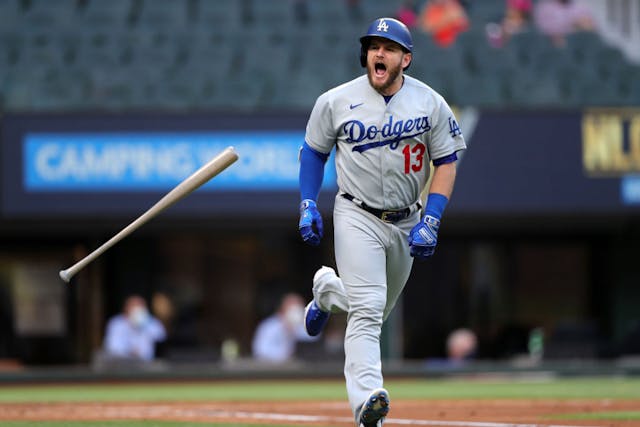 SOURCE: ESPN STATS & INFO/TWITTER
The GIST: The Dodgers dodged a bullet last night, winning Game 3 of the NLCS in emphatic fashion. Oh heck yeah!
Tell me about it: The Dodgers, who were down 2-0 in the series to the Atlanta Braves, said not so fast. If you didn't turn on your TV fast enough, you missed the Dodgers scoring a historic 11 runs (!!!) in the first inning. That big start buoyed them to an 15–3 Game 3 victory. The bats finally woke TF up!
Didn't the Dodgers finish first in the regular season?: They did. But you never know what's going to happen in playoff baseball. Unfortunately, the Dodgers MLB-best offense went strangely quiet in Games 1 and 2 and they still have an uphill battle to climb. But at least they didn't go down 3-0 — history wouldn't have been on their side.
Who's starting Game 4?: Clayton Kershaw is on the mound tonight at 8:08 p.m. ET/5:08 p.m. PT. He was expected to start Game 2, but was a late scratch due to back spasms. Let's tie this baby up!
🏈
⚾
🏒
Will the Bears Land Le'Veon Bell?
October 15, 2020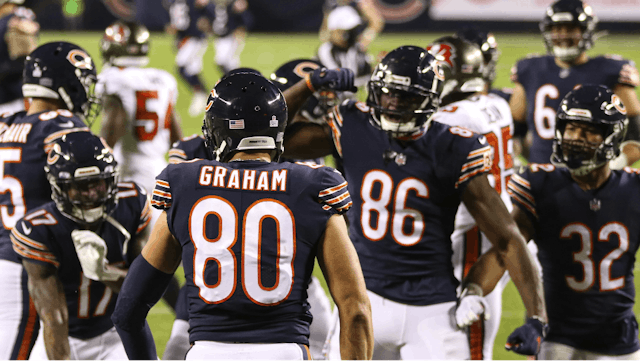 SOURCE: TE BATES/AP
The GIST: The Bears are considered a top landing spot for recently released NY Jets running back (RB) Le'Veon Bell. The White Sox are making front office moves. And the Blackhawks are shaking up their roster.
🏈It just keeps getting better: Apparently da Bears are interested in picking up RB Le'Veon Bell, who dramatically parted ways with the New York Jets on Tuesday. The Bears have money to blow with $10 million in cap space, and they desperately need a solid RB after Pro Bowler Tarik Cohen tore his ACL in Week 3. It seems like Bell might just be the perfect fit for the Monsters of the Midway.
⚾️Moving on and getting over: After four seasons with the team, the White Sox let manager Rick Renteria go on Monday. This move was a bit surprising, as the Sox were actually good this year, making the playoffs for the first time since 2008.
This isn't the first time a Chicago team has unexpectedly said goodbye to Renteria despite an improved record. The Cubs let him go after their 2014 season, just two years before winning the World Series. Hopefully for the Sox, that trend holds.
🏒Young blood: The Blackhawks recently bid adieu to two Stanley Cup champs — left winger Brandon Saad was traded to the Colorado Avalanche, and goaltender Corey Crawford signed with the New Jersey Devils after being released last week.
🏈
🏒
⚾
Patriots Healthy, Some Bruins to Miss Start of Season After Surgeries
October 15, 2020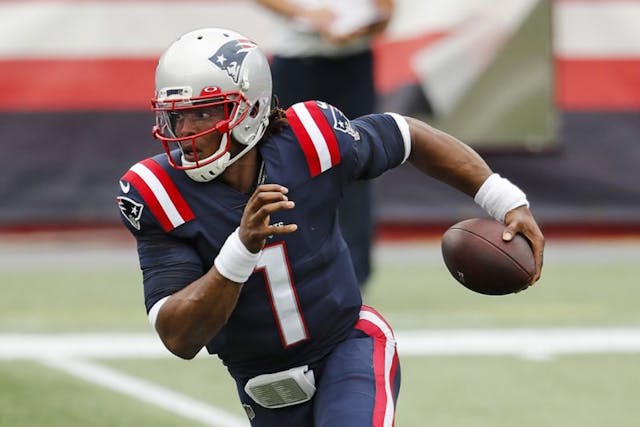 SOURCE: WINSLOW TOWNSON/AP PHOTO
The GIST: The Patriots are looking healthy again while recent surgeries could force key Bruins' players to miss the start of next season. As they say, health is wealth.
🏈He's baaack: Good news! Yesterday, quarterback (QB) Cam Newton was taken off the COVID-19 reserve list and put back on track to play against the Denver Broncos on Sunday at 1 p.m. ET. First off, it's great to see Newton healthy again. Secondly, it's amazing to hear that he'll likely return to orchestrate the offense on Sunday, because watching our backup QBs in action was an...experience.
Cornerback Stephon Gilmore is still on the COVID-19 reserve list, but he also could be back in time for Sunday's game. Fingers crossed!
🏒Stick taps: Uh oh, we may not see the Bruins' top line play together for a while. On Tuesday, the B's announced that stars Brad Marchand and David Pastrnak underwent successful off-season surgeries. The bad news? Both are expected to miss the start of the next NHL season, tentatively scheduled to start in January. *bites nails*
⚾️Hello, Green Monster: Our Red Sox might not be playing in October (still crying), but their ballpark will still be put to good use. This weekend, on October 17th and 18th, Fenway Park will serve as an early voting site. Get your vote on!