🏀
🏒
⚾
Boston: On the up and up again
January 14, 2021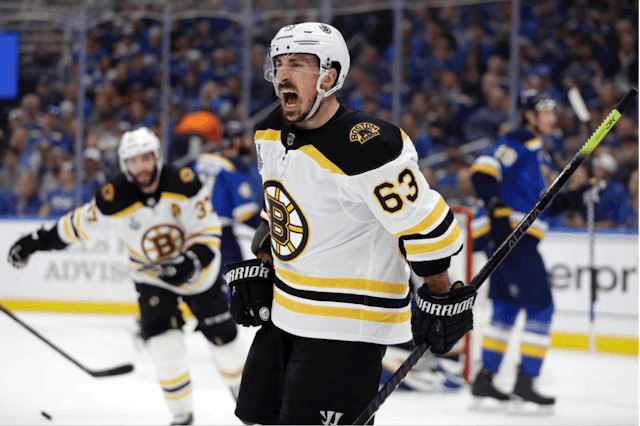 SOURCE: JEFF ROBERSON/AP PHOTO
🏒Bruins: After an early exit from the NHL postseason bubble, we'll finally see the black and gold back in action for their season opener tonight against the New Jersey Devils. Puck drop is slated for 7 p.m. ET.
The Devils missed the postseason, so tonight will be their first competitive action in 10 months. And the B's (namely Brad Marchand) have plenty of history with Devils defender (and Lindsey Vonn's ex) P.K. Subban. Expect things to get heated during the first of eight regular season matchups.
🏀Celtics: The C's traded their four-game win streak for a three-game postponed streak, seeing their last few contests fall victim to COVID-19 delays. While they're slated to play against the Orlando Magic tomorrow (for now), they'll still be without a handful of key players, including Jayson Tatum and Jaylen Brown.
Tatum, who tested positive for COVID-19 last Friday, will be out through at least next Wednesday. And Brown, who is out as a result of contact tracing, could return to action by Saturday. Cross all your fingers and toes.
⚾️Red Sox: Don't look now, but there's some good news coming out of the Red Sox camp. Not only is ace pitcher Chris Sale — currently recovering from Tommy John surgery — scheduled to throw from a mound at the end of the month, but reports indicate that the Sox front office is preparing for a "series of moves" to upgrade the roster before spring training starts next month. Fire up that hot stove!
🏀
⚾
Philadelphia: Gotta take a shot
December 25, 2020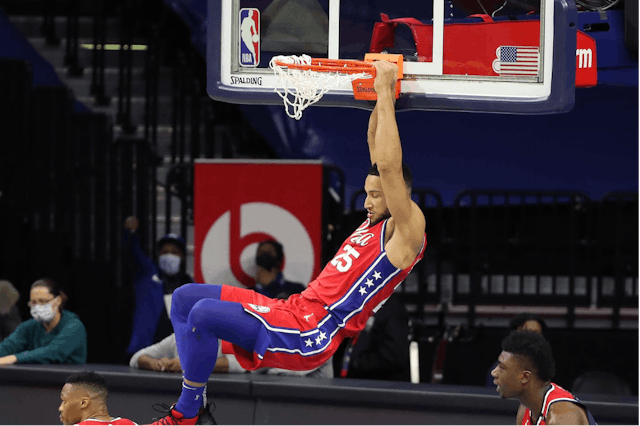 SOURCE: CHARLES FOX/THE PHILADELPHIA INQUIRER
🏀Sixers: The Sixers beat the Washington Wizards in their season opener last night, pulling ahead in the fourth quarter to win 113–107. The game went back-and-forth all night until Joel Embiid turned up the heat in the fourth quarter, carrying the Sixers to victory.
Embiid finished with 29 points and 14 rebounds, making yesterday his fourth straight season-opening double-double. Also exciting? Rising star Shake Milton scored 19, and rookie Tyrese Maxey brought six points and lots of energy. Once the growing pains of a new coach are worked out, this squad is going to be fun to watch.
⚾️Phillies: On Tuesday, the Phillies announced the promotion of Sam Fuld to general manager (GM). Fuld was first hired by the Phillies in 2017 to help the team optimize their data usage (the statistics kind, not their cell phone plans) and will now be one of only three GMs in the MLB who is a former big-league player. While Fuld is generally well-regarded, fans haven't fully bought in.
Fuld was an active participant in building the current Phillies squad. And this team's failures (ahem, like missing the postseason for nine straight seasons) created the need for a new GM in the first place, so we're a little suspicious that Fuld won't be the difference-maker we hoped for...only time will tell.
🏈
🏀
⚾
This Week in Sports: New York City
December 14, 2020
SOURCE: ROBERT DEUTSCH/USA TODAY SPORTS
🏈NFL: It was a tough day for quarterback (QB) Daniel Jones as he and his offense were only able to execute one touchdown in their 26–7 loss against the Arizona Cardinals yesterday. Backup QB Colt McCoy took the field in the fourth quarter, but the real question is, was it too early to let Jones play again?
Either way, this loss has major implications for the G-men, as their lead in the NFC East dissolved as suddenly as it arrived. Sigh.
The Jets also struggled yesterday, losing 40–3 to the Seattle Seahawks and extending their winless record to 0-13. As if Gang Green couldn't be any more of a joke, there's also this. *facepalm*
🏀NBA: It finally happened: Kevin Durant is back on the hardwood. After an 18-month Achilles recovery, he looked really good, scoring 15 points in the Nets' nail-biting preseason win against the Washington Wizards last night. Durant worked in tandem with Kyrie Irving, who recorded 18 points.
The Knicks also began their preseason lineup this weekend with two games against the Detroit Pistons. Although the teams split games, Knicks rookie Obi Toppin is already making a splash: maybe there's hope for New York basketball after all.
⚾️MLB: Over in Queens, the Mets announced Jared Porter as their new general manager (GM) yesterday. This is Porter's first opportunity to be a GM after three years as an assistant GM with the Arizona Diamondbacks.
Porter is an exceptional judge of talent and has won four World Series throughout his career in the front office. Here's hoping he can do the same in New York.
🏀
⚾
🏈
Fitting the bill
November 20, 2020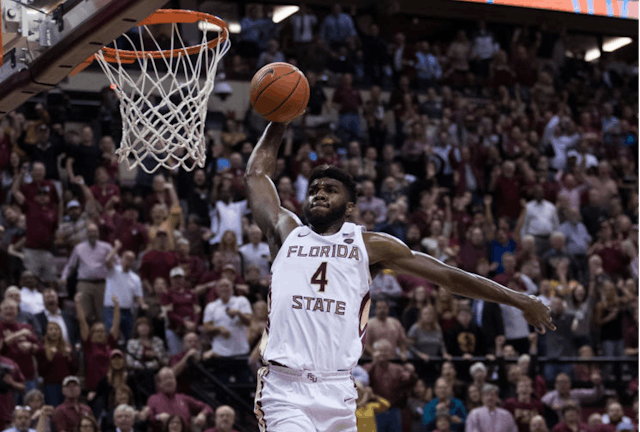 SOURCE: ESPN / TWITTER.COM
The GIST: This week, Chicago is welcoming their newest Bulls and saying goodbye to Cubs legend Theo Epstein.
🏀The pick is in: The Bulls selected Patrick Williams No. 4 overall in the NBA Draft last night, adding a strong defender and highly versatile player to the roster. The second-youngest player in the draft, Williams averaged 9.2 points, four rebounds and one assist in his first and only season at Florida State University.
⚾Parting is such sweet sorrow: Earlier this week, Theo Epstein announced that he is stepping down from his position as the Cubs' president after nine seasons with the organization. Epstein is largely credited for assembling the 2016 World Series Championship team and is very well-liked by Cubs fans.
Epstein has a personal belief that people need to change positions every 10 years (interesting), and as this year will be an inflection point for the struggling Cubs, he felt it was best to pass it off to general manager Jed Hoyer, who can better plan for the future.
🏈College rundown: It's a huge week for the No. 19 Northwestern Wildcats as they take on the No. 10 Wisconsin Badgers in the showdown that will most likely determine the winner of the Big Ten West division. It's make-or-break for the 'Cats on Saturday at 3:30 p.m ET/2:30 p.m. CT.
🏀
🏈
⚾
It's gettin' hot in here
November 20, 2020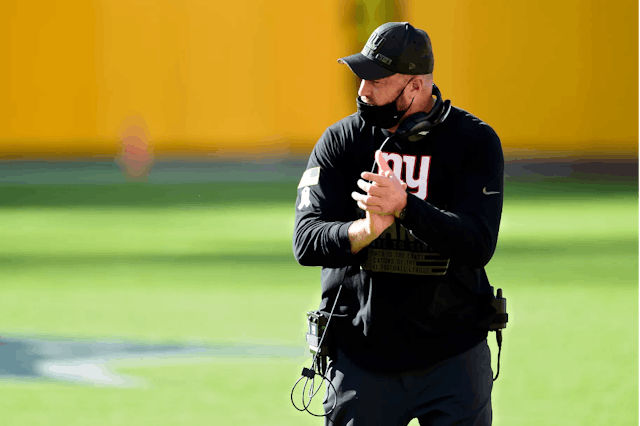 SOURCE: PATRICK MCDERMOTT/GETTY IMAGES
The GIST: It might be getting chilly in the city, but things are heating up for our teams. Drugs, fights and future superstars? We have it all.
🏀The pick is in: With the No. 8 pick in last night's NBA Draft, the Knicks got a steal with Obi Toppin. Toppin, a Dayton Flyers forward who went unnoticed in high school, ended up as an All-American and the AP National Player of the Year in 2020. As they say, there ain't no stoppin' Obi Toppin.
The Knicks had themselves a night, trading their second first-round pick to get Nos. 25 and 33 overall. The team ended up with Immanuel Quickley from Kentucky and Daniel Oturu from Minnesota (who was then traded to the LA Clippers).
The Nets used their first-round pick to trade with the LA Clippers and Detroit Pistons for Landry Shamet. Shamet is known to be a great three-point shooter who should play well with returning stars Kyrie Irving and Kevin Durant. We ship it.
🏈Come again?: Following back-to-back wins, you'd think the Giants would be pretty happy right now, right? Wrong. Head coach Joe Judge fired offensive line coach Marc Colombo yesterday after rumors of a fist fight — umm, what? To add to the drama, Colombo will be replaced by Dave DeGuglielmo, who was brought on as a "consultant" last week. Juicy.
Judge will have some time to cool off as the Giants have a bye this week, but with such a random midseason shakeup, fans are left wondering what's next.
⚾Bye bye bye: After testing positive for a performance-enhancing drug (PED), stanozolol, NY Mets second baseman Robinson Canó has been suspended without pay for an entire year. This marks the second time in his 16-year career that Canó has been suspended for using a PED (he tested positive for a diuretic in 2018). Say goodbye to that Hall of Fame seat, buddy: cheaters never prosper.
The positive? Since Canó's suspension is without pay, it frees up a cool $20 million for the Mets, meaning they have some cash to grab a free agent (or two).