⚾
🥎
🏐
Seattle: All we do is win
April 19, 2021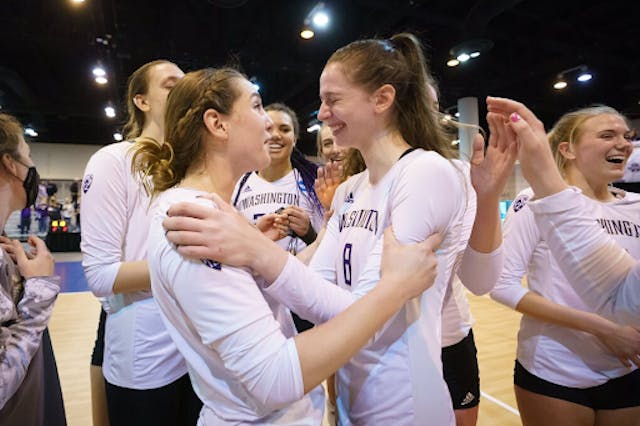 Source: Mark Kuhlmann/NCAA Photos
⚾️Mariners: The American League (AL) West-leading Mariners won two of three games against the Houston Astros this weekend. We feared the worst when pitcher Nick Margevicius (pronounced mar-GAV-ih-chiss) — the starting rotation replacement — exited yesterday's game early. But manager Scott Servais indicated it was just . No more injuries, please.
🎓🏐Volleyball: The No. 6 UW Huskies survived their second straight five-setter, edging out the No. 11 Louisville Cardinals yesterday to advance to the Elite Eight. Led by Maria Bogomolova's clutch serving, the Huskies to come back from a six point deficit in the final set. Never count 'em out.
There's no rest for the weary: the Huskies' next match is bright and early today at 12 p.m. ET/9 a.m. PT against Pittsburgh (who, as we mentioned, upset No. 3 Minnesota yesterday.) Dubs up.
🎓🥎Softball: No. 6 UW softball followed up with a huge 6–1 win of their own yesterday to take all three conference games against No. 4 Oregon. The star of the show? Outfielder Sami Reynolds, who hit over the weekend. See ya!
⚾
🏀
🏒
⚽
Boston: Let's do brunch
April 19, 2021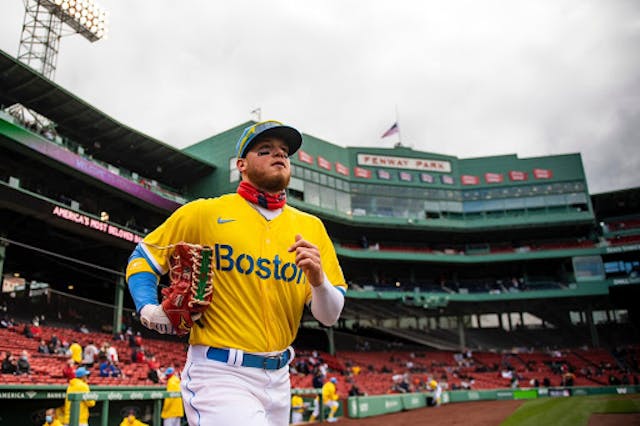 Source: Red Sox/Twitter
⚾️Red Sox: While the Red Sox looked stylish in their during Saturday's win, they couldn't keep the good times rolling, dropping both games to the Chicago White Sox in their doubleheader yesterday. Womp.
🏀Celtics: Jayson Tatum continues to dazzle, capturing the 119–114 win and on Saturday with a 44-point performance against the Golden State Warriors. Now the C's will go for their seventh straight win, taking on former Celtic Daniel Theis and the Chicago Bulls tonight at 7:30 p.m. ET.
🏒Bruins: The B's picked up their fourth consecutive win with a 6–3 victory over the Washington Capitals yesterday. Next up, the Bruins will hit the road and take on the Buffalo Sabres tomorrow at 6:30 p.m. ET, the first of three games against Taylor Hall's former squad. Here's to a successful homecoming for , Hallsy.
⚽️Revolution: Behind goals from Adam Buksa and Gustavo Bou, the Revs grabbed a point in Saturday's season opener, playing to a 2–2 draw with Chicago Fire FC. We're counting down the days 'til New England's home opener — this Saturday at 8 p.m. ET against conference rival D.C. United. See you in Foxborough!
⚾
🏀
Dallas: You're hot then you're cold
April 19, 2021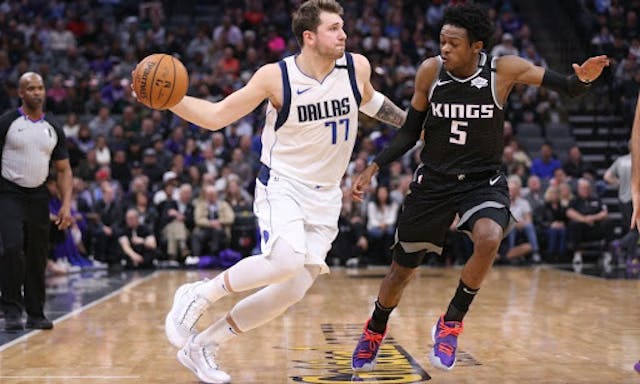 Source: USATSI
🏀Mavericks: The up-and-down Mavs couldn't bounce back from Friday's 117–109 loss to the NY Knicks, falling 121–107 to the Sacramento Kings last night. Luka Doncic came alive in the second half, leading all scorers with 37 points, but it wasn't enough to secure the W.
The Mavs will have two rest days before they look to right the ship Wednesday at 8:30 p.m. ET/7:30 p.m. CT against the Eastern Conference's last-place Detroit Pistons. Time for some more Luka magic.
🏀Wings: The Wings () welcomed some new and exciting faces to Dallas during last week's WNBA draft. But former Texas star Charli Collier and Finnish phenom Awak Kuier won't be repping the Wings' "Rebel Edition" jersey, one designed to honor the women who served in the Women Airforce Service Pilots (WASP) program during World War II.
⚾️Rangers: Pitcher Kyle Gibson threw eight scoreless innings and first baseman Nate Lowe hit a single in the bottom of the 10th, lifting the Rangers to a 1–0 win over the Baltimore Orioles yesterday. HYFR. Next up, the Rangers face a tough LA Angels team tonight at 9:38 p.m. ET/8:38 p.m. CT, their first AL West game of the season.
🏀
🏐
⚾
Chicago: Build me up, buttercup
April 15, 2021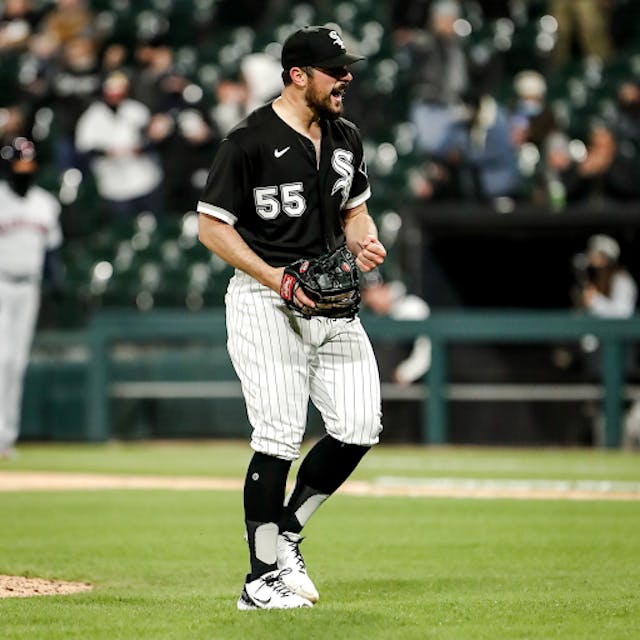 Source: White Sox/Twitter.com
⚾️Sox: After the White Sox scored six runs on the Cleveland Indians in the first inning, Chicago pitcher Carlos Rodón — who barely made the starting rotation this season — decided to have himself a day and went on to throw a no-hitter and . The South Siders beat Cleveland 8–0, and left us all wondering...?
Cubs: Being a Cubs fan is like being in a toxic relationship: they get your hopes up just to tear them down. On Tuesday, the Cubs beat their rival Milwaukee Brewers when Chi-town catcher Willson Contreras — who was hit by Brewer pitches in seven of the teams' last 14 meetings — in the eighth inning, . Drama.
🏐Notre Dame: The Fighting Irish women's volleyball team beat the Army Black Knights in the NCAA Tournament's Round of 64 yesterday. The Irish defense stole the show, racking up 17 blocks and keeping the Knights to a .006 . Straight up embarrassing.
The No. 22 Irish face the No. 10 Oregon Ducks in the Round of 32 at 12 p.m. ET/11 a.m. CT today. Survive and advance, baby!
🏀Sky: With the No. 8 overall pick in tonight's draft, we're expecting the Sky to who can back up star Courtney Vandersloot and avoid turnovers — one of the team's biggest pain points last season.
Top contenders for the spot include Arizona's , Louisville's and Stanford's , any of which we'd be pumped to see swap their red college jerseys for Sky blue.
⚾
⚽
D.C.: East, west, home's best
April 15, 2021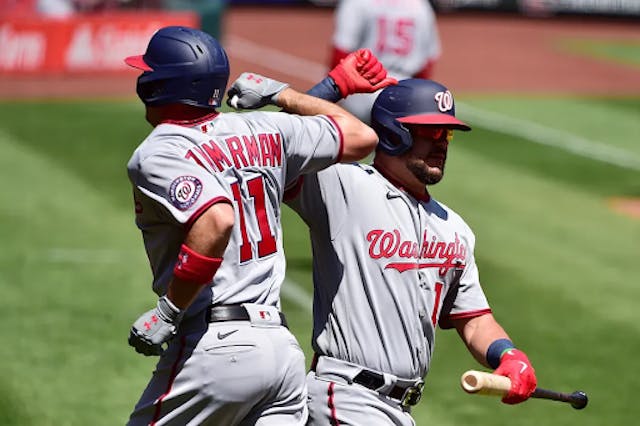 Source: Jeff Curry/USA TODAY Sports
⚾️Baseball: The Nationals won a series for the first time this season, taking two of three games from the St. Louis Cardinals. Yesterday's 6–0 shutout featured pitcher Joe Ross throwing six scoreless innings and himself, Ryan Zimmerman, hitting a .
⚽️Soccer: and the Spirit are back home at Audi Field for tonight's 7 p.m. ET Challenge Cup match against expansion team Racing Louisville FC. After forward Trinity Rodman's last week, we can't wait to see what else she has up her sleeve cleat.
On Saturday night, it's United's turn to show off in their MLS season opener against NYC FC. And hopefully will leverage her analytics background to fast track United's rebuild.