⚾

Guide to Baseball

March 17, 2020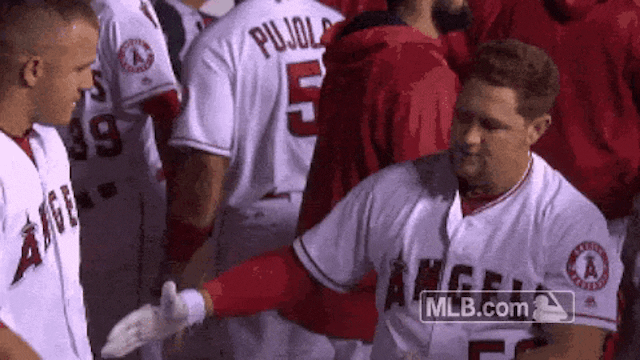 The GIST
Baseball is America's national pastime. Why? Well, it quite literally passes time. The average length of a baseball game is just over three hours of continuous fun.
Baseball is played on a field shaped like a diamond (its other name) with a base on each corner. A team scores a point (referred to as runs) when one of their players is able to make it all the way around the diamond and back to home plate. The team with the most runs at the end of the game, wins!
Rather than periods or quarters, baseball is divided into nine innings, each with a top and a bottom half. At the beginning of an inning, the visiting team goes up to bat while the home team sends nine players into the field to play defense. Then the teams switch to play the bottom of that inning. It's an advantage to be the last team up to bat because you have the last chance for a comeback win!
An inning is over after three outs (e.g., when a player strikes out on pitches, is thrown out at a base or their ball is caught in the air). And if the game is tied after nine innings, the game goes into extra innings until a winner can be decided.
But our fave part of baseball? It's got to be the .
How is baseball organized?
Baseball is played all over the world; however, the most popular league in the world is Major League Baseball (MLB) located in North America. There are 30 teams in the MLB and the league is divided into the National (NL) League and the American League (AL) which are further divided into three divisions: Central, East and West.
Here's where things get a little confusing (but that's what you've got us for!). The AL and NL each have a slightly different set of rules they follow. For instance, in the NL, pitchers also come up to the plate to bat, but they don't in the AL. Instead, the AL has a "designated hitter", or DH, that comes up to bat in that place.
There are 162 regular season games (that's not a typo… the MLB by far has the longest season in major league sports), followed by the playoffs. Ten teams, five from the NL and five from the AL, make it into the postseason where all of the players' blood, sweat, tears and go into winning the World Series (the MLB championship). More on the playoff structure .
Who's the current champ?
The Washington Nationals won the World Series in 2019, defeating the Houston Astros in a wild seven-game series where the home team didn't win a single game! That's right, the Nats took the championship by winning all four of their games in Houston. This was Washington's first World Series win in franchise history and they were big underdogs going into the final. Talk about a Cinderella story.
Looking at 2019…
This season, keep your eye on Bryce Harper (Philadelphia Phillies right field), Mike Trout (LA Angels centrefield and ), Mookie Betts (Boston Red Sox batting superstar) and Jacob deGrom (New York Mets pitcher and back-to-back Cy Young winner for best pitcher in the AL).
And expect big things from the defending champion Washington Nationals, the 'continues to be great' Houston Astros, the New York Yankees and the LA Dodgers.
Women who bat
For whatever reason, women do not have a pro league for "hardball" (another name for baseball). Instead, women play softball professionally — a similar game but with a bigger ball where pitchers throw underhand.
Women DO play baseball at the amateur level. It's an Olympic sport (including at Tokyo 2020!) and is played at the Pan Am Games (for North, South and Central America).
Channel your inner fan!
Here's some fun stats to break out at your next office ball game outing:
The lifespan of a MLB baseball is only five-to-seven pitches, meaning about 70 baseballs are used during a game. Just wild.
The New York Yankees have the most World Series titles, winning 27 in their 116 (!!!) year history. And they're not even the .
Unfortunately, no woman has ever played in an MLB game. BUT sports executive Effa Louise Manley (1897–1981) is the first and only woman inducted into the Baseball Hall of Fame. 'Atta be, Effa!
Don't get The GIST's free twice-weekly newsletter yet? Let's make it email official.
⚾

It's (not) handled

February 20, 2020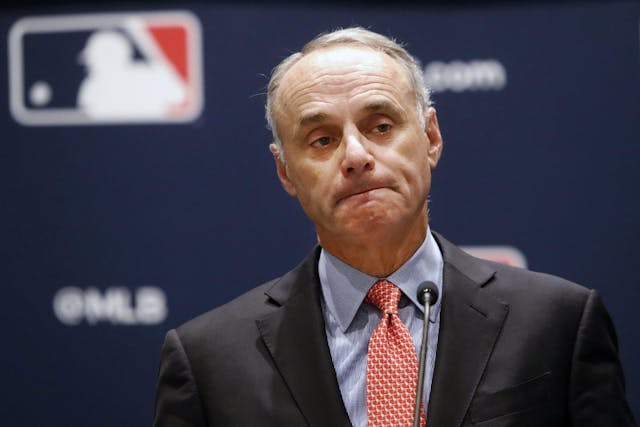 The GIST: The MLB's sign-stealing scandal looked like it was over, but now there are more plot twists than Betty and Jughead's cases on Riverdale.
Quick, remind me how this started: In January, the Houston Astros were found guilty of illegal sign-stealing — using technology to decipher signals from the opposing team's catcher, pitcher and coaches to predict the next pitch — during their 2017 championship-winning season. The MLB fined Houston $5 million (which, although it is the largest allowable fine in baseball, it seems like chump change to us), gave one-year bans to the now-fired manager and general manager and revoked a few important draft picks.
Got it. Then what?: Last week, an exposé revealed that the scheme began with one of the MLB's most famous and now-retired players, Carlos Beltrán — the so-called "Godfather" of sign-stealing — when he joined the Astros in 2017. We also learned that the Astros' executives not only knew about the sign-stealing, but also had an intern (c'mon guys) create an Excel spreadsheet called "Codebreaker" (double c'mon guys) to help keep track of everything.
Woah. So, what's the latest?: League commissioner Rob Manfred has, of course, come under intense scrutiny for how he chose to handle (or not handle) the crisis. Manfred didn't penalize any players involved, didn't revoke Houston's 2017 World Series title and didn't take away second baseman José Altuve's 2017 American League (AL) MVP Award.
On top of all that, things got worse on Monday when Manfred referred to the World Series trophy as "a piece of metal"...yeah that actually happened.
Jeez. What are people saying about this mess?: You better believe that athletes (even those in other sports) and fans are not happy about it. And, boy, have people let Manfred know how they feel.
Even the usually soft-spoken New York Yankee outfielder Aaron Judge made it known that he felt "sick to his stomach" about the Astros' actions and specifically Altuve, who narrowly edged him out for the AL MVP Award that year. NBA star LeBron James also sounded off, taking to Twitter to express his disgust. Yeah, you and us both.
What's The GIST's take?: Like a lot of people, we feel cheated. It's not just scandals that create trust issues with baseball, it's also the messy, and arguably unfair, way they're handled that ruins the integrity of the sport — a sport that's been so widely loved for more than a century. If this off-season is any indication of what this regular season will be like, hang on to your hats, because it will definitely be a rollercoaster.
⚾

Save the drama for your mama

February 13, 2020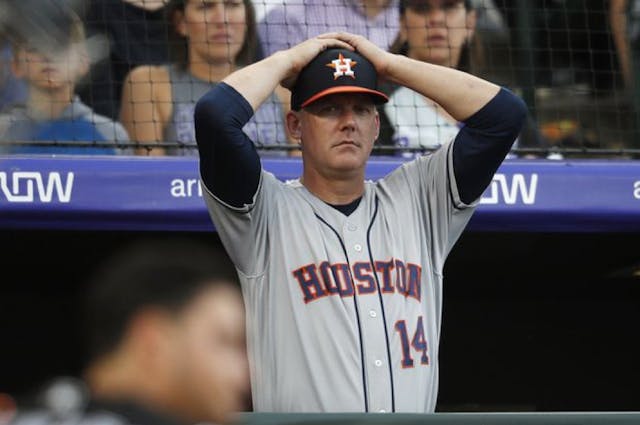 The GIST: Just when you thought you'd seen the end of Major League Baseball's (MLB) sign-stealing saga, they come out and hit you with more. After originally placing most of the blame on their coach A.J. Hinch and general manager Jeff Luhnow, it turns out the Houston Astros front office has some 'splainin to do.
Wait. Remind me how it started?: In January, the Astros were found guilty of illegal sign-stealing — using technology to record and decipher the hand and body signals of the opposing team's catcher, pitcher and coaches to predict the next pitch — during their championship winning season in 2017.
As a result, the MLB fined the 'Stros a measly $5 million, gave one-year bans to Jeff Luhnow and A.J. Hinch (who were subsequently fired) and revoked a few important draft picks.
So now what's happened?: A couple of new details have emerged. First, apparently the sign-stealing scheme started with one of the MLB's most famous players: the now-retired Carlos Beltrán. According to anonymous teammates, when Beltrán signed with the Astros for the 2017 season, he came with a plan and was the so-called "Godfather" of sign-stealing. We guess he made them an offer they couldn't refuse. He'd previously been with the New York Yankees, who were also accused of sign-stealing in 2015. Coincidence? We think not.
Second, it's also come out that the Astros' front office executives not only knew about the sign-stealing but also had an intern create an Excel algorithm they called "Codebreaker" (real subtle, guys) to help decipher signs more efficiently. This is a big deal because the MLB previously told the public that the sign-stealing scheme was not planned or directed by the front office. SMDH.
And what will the MLB do about it?: That remains to be seen. Spring training (aka preseason) starts in less than two weeks so the pressure is on for the MLB to discipline the 'Stros before then. In the meantime, some players who previously played against the Astros are taking it upon themselves to right the wrongs...
Yankees pitching legend CC Sabathia is calling for the Astros' World Series to be revoked, while former relief pitcher Mike Bolsinger is suing the team for $31 million, alleging the Astros interfered with and harmed his career. Following a bad game in 2017 in which he gave up four runs against the Astros, the Toronto Blue Jays terminated Bolsinger's contract and he hasn't played in the MLB since. Not good.
What's The GIST's take?: We said it once and we'll say it again: as fans, we feel cheated. Between steroid use, sign-stealing and everything in between, we have serious trust issues with baseball.