🏅

Olympics: Spotlight on censorship

November 19, 2021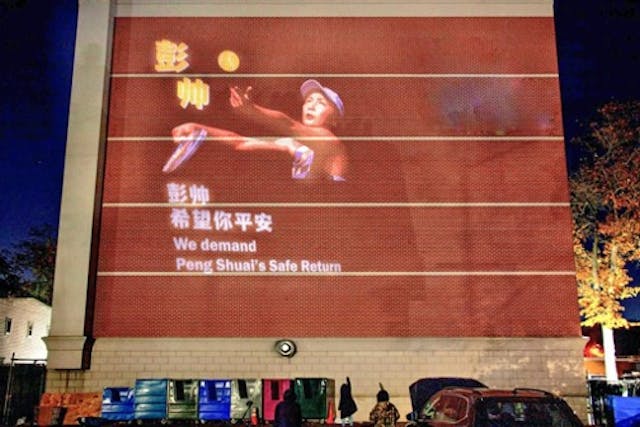 The latest: President Joe Biden said yesterday that the U.S. is "considering" a diplomatic boycott of the Beijing Olympics, due to China's long history of human rights abuses — namely their treatment of the Uyghur people and restrictions on freedom in Hong Kong.
Though some advocacy groups and members of U.S. Congress are calling for a total boycott of the Games, the boycott in consideration would not affect athlete participation and would only apply to dignitaries.
The context: Biden's comments come amid troubling censorship news out of China, as Chinese tennis player Peng Shuai (pronounced PUNG sh-WHY) hasn't been seen publicly since making allegations of sexual assault against a former top official in the Chinese Communist Party (which we discussed in depth on Tuesday's episode of The GIST of It).
Late Wednesday, Chinese state media released a statement "from" Shuai, claiming that she was safe.
But WTA senior executive Steve Simon cast doubt on the statement's veracity, reiterating his concerns about her safety and whereabouts. Frightening.
Elsewhere: But it's not all bad news as far as the Olympics go. On Tuesday, the International Olympic Committee (IOC) announced new guidelines for transgender and intersex athletes, eliminating controversial policies that forced participants to have medical procedures or hormone treatments to be eligible.
🏅
🏆
New updates from the Paralympics
August 30, 2021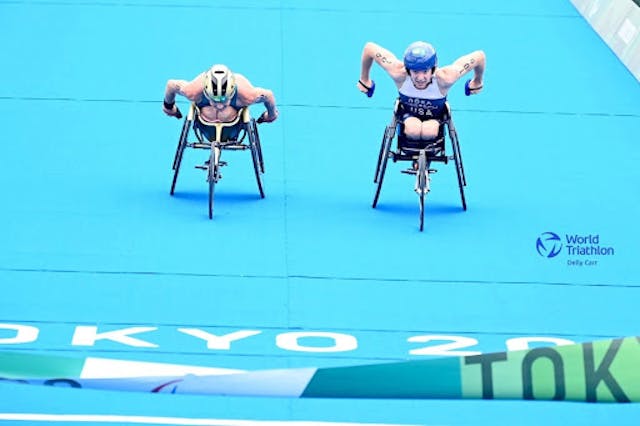 Source: World Triathlon/Twitter
🇺🇸Team USA: On Saturday, Kendall Gretsch became the fifth American to win gold at both the summer and winter Paralympics when she raced to a in the women's paratriathlon. Gretsch came from behind to beat the reigning world champion, Australian Lauren Parker, by just one second. Down to the wire.
🇦🇫Big story: Despite fears that Afgan athletes Zakia Khudadadi (taekwondo) and Hossain Rasouli (track) would not be able to leave Afghanistan , the pair thanks to a "major global operation" and arrived in Tokyo on Saturday.
With this news confirmed, Khudadadi will now become the first female Paralympian from Afghanistan ever. History is happening.
🏀Key event: Since 1998, Team USA or Canada has won all but one women's wheelchair basketball Paralympic gold medal, and now, these two powerhouse squads will meet in tonight's 11:30 p.m. ET quarter-finals. Can the U.S. keep the back-to-back dream alive?
🏅

More than gold medals for these deserving Team USA stars

August 09, 2021
Source: Sports Section/Twitter
In competition: Over the weekend, three athletes further cemented their GOAT status: Allyson Felix won her record-breaking 11th medal — a gold in the 4x400m relay — the most in U.S. track & field Olympic history.
And Team USA women's basketball defeated Japan 90–75 to win their seventh straight (!!!) gold medal, marking five golds for WNBA stars Sue Bird and Diana Taurasi.
The wins were the perfect end to a Games that also saw Katie Ledecky become the first female swimmer with six individual golds. Who knew GOATs could swim?
The bigger picture: In addition to their incredible on-the-field accomplishments, these athletes' actions go beyond stats and records. This was Felix's first Olympics since with Nike over their maternity policies and advocating for moms in and out of sport.
And Simone Biles' decision to pull out of (most) competition (and of course ) will forever shape the global discussion surrounding mental health. Now that's truly legendary.
🏅
🏐
🏀
Team USA Updates
August 09, 2021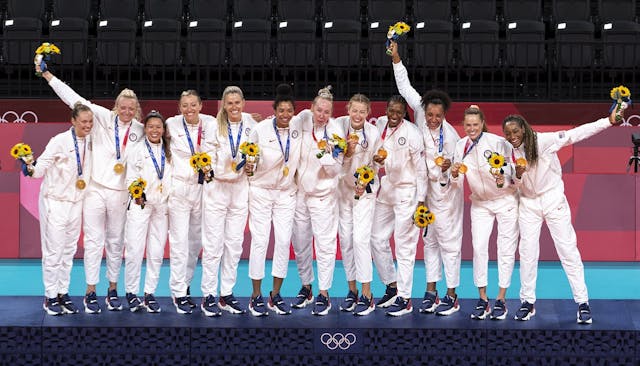 Source: Team USA Volleyball/Twitter
🏐Volleyball: Our women's indoor team beat Brazil in straight sets to claim their first-ever Olympic gold medal on Sunday. After winning silver in 2008 and 2012, this golden moment, and , was even more special.
🏀Basketball: The U.S. men also won hoops gold, avenging their group play loss to France with an 87–82 win in the big game. After surpassing Carmelo Anthony earlier in the tournament to become Team USA's men's all-time leading scorer, Kevin Durant is now tied with 'Melo for most men's Olympic golds with three. See you in Paris, KD?
🤽‍♀️Water Polo: It's a three-peat! Team USA women's water polo won their third straight Olympic gold with a dominant 14–5 victory over Spain. Goalie Ashleigh Johnson led the way, , while all-time leading scorer Maggie Steffens added three goals to her total. Dynasty.
🏃‍♀️Track & Field: When Molly Seidel ran her first marathon in February 2020, she qualified for the Olympics. When Seidel ran her third marathon on Friday, . Time to dust off those running shoes.
🏅

USA stars earn multiple medals in Track & Field during Tokyo Olympics

August 04, 2021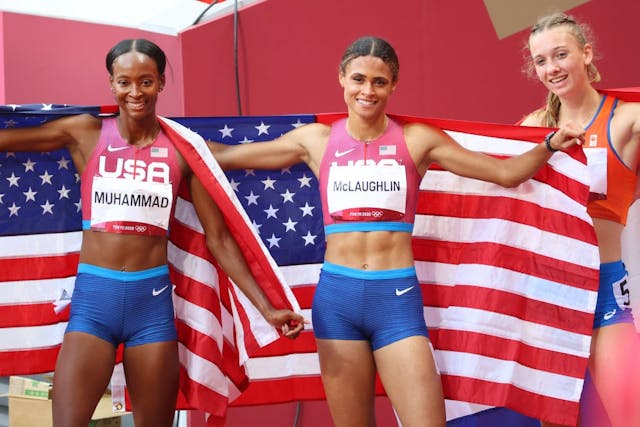 Source: ESPN Stats & Info/Twitter
Women's 400m hurdles: The last three times Sydney McLaughlin and Dalilah Muhammad raced against each other, they broke the 400m hurdles world record (WR)…and they did it again in Tokyo.
With McLaughlin's previous WR record set at 51.9 seconds, McLaughlin came from behind last night to finish in 51.46 seconds and claim the gold, while Muhammad won the silver, finishing in 51.58 seconds. Damn.
Men's 200m: In another race featuring three U.S. runners, Kenny Bednarek claimed silver in the 200m final, sprinting ahead of the favorite Noah Lyles, who earned the bronze. And 17-year-old Erriyon Knighton finished just off the podium in fourth. Now we can't wait to see what Team USA does together in the .