🏅

This isn't a game

March 19, 2020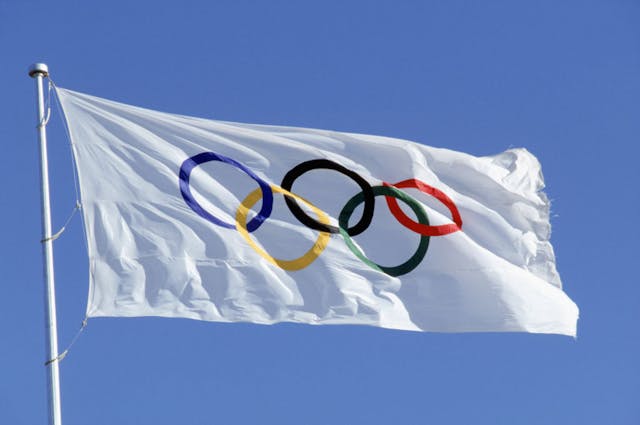 The GIST: Despite the global pandemic, the 2020 Summer Olympics in Tokyo are somehow still a go. That is, unless the athletes have anything to do with it.
But aren't they still so far away?: Sure, the Olympics aren't set to begin until July 24th, and who knows what state we'll be in then. But qualification for the Olympic Games is underway right now, with 43% of Olympic spots still undetermined.
The International Olympic Committee (IOC) finally admitted yesterday that Olympic qualifiers will likely have to be modified (uh, ya think?). The problem is without outright postponing the Games, Olympic athletes are still forced to keep up with their intense daily training regimens, which is becoming increasingly difficult and dangerous in this new COVID-19 era.
So what are the athletes saying?: Nothing good about the IOC, that's for sure. After the IOC told athletes that this isn't the time to make a "drastic decision," Olympic hockey icon, Hockey Hall of Famer and IOC member Hayley Wickenheiser went OFF on Twitter, calling the IOC "insensitive and irresponsible," and saying, "This crisis is bigger than even the Olympics."
Other Olympic athletes joined in, including Britain's world-champion heptathlete Katarina Johnson-Thompson, who pointed out that it's impossible for athletes to properly prepare when "the IOC and the local government are at odds with one another," and Greek pole vaulter Katerina Stefanidi, who told the IOC, "You are putting us in danger right now, today, not in four months." Tell 'em, sisters.
🏅

Melissa Bishop-Nriagu

March 17, 2020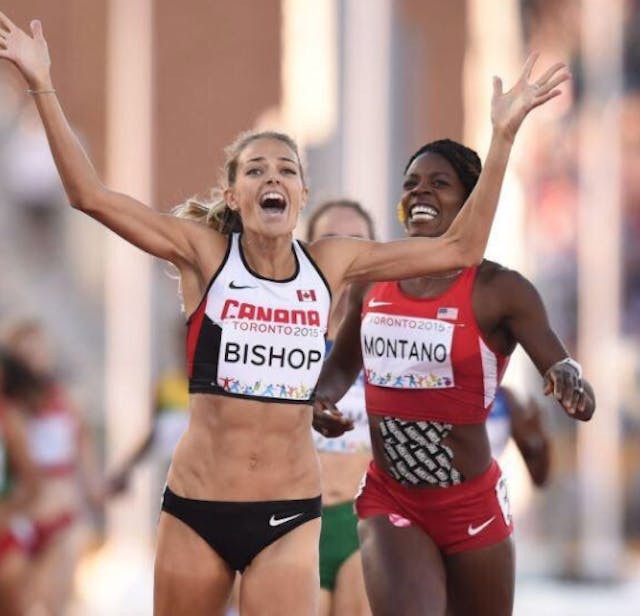 Melissa Bishop-Nriagu (pronounced "in-nree-ah-goo") is a B-O-S-S boss. Melissa is the Canadian national record holder in the 800m and is preparing for her THIRD Olympics at Tokyo 2020. Melissa shut her season down early this year to address post-pregnancy related injuries (she had a baby in July 2018) but when this mama comes back, look out. Read more on what makes Melissa so badass, what motivates her, and what Lizzo song she's getting down to at karaoke below.

Lexie, at The GIST (TG): Okay, so you shut down your season early this year to take care of your body and get ready for the Tokyo 2020 Summer Olympics. How has it been to step away?

Melissa Bishop-Nriagu (MB): I get time off every year but normally that comes after World Championship. The (2019 Doha) World Championship just ended this past weekend, so I really only ended my season a little earlier than usual. Still, it was really hard to watch it sitting at home. But, I've already started my 2020 campaign to get ready for Tokyo, and I'm feeling good, strong, healthy, trying to put weight on and I just have a fresh perspective. It's kind of like a mini-holiday to step away and disconnect from the work world.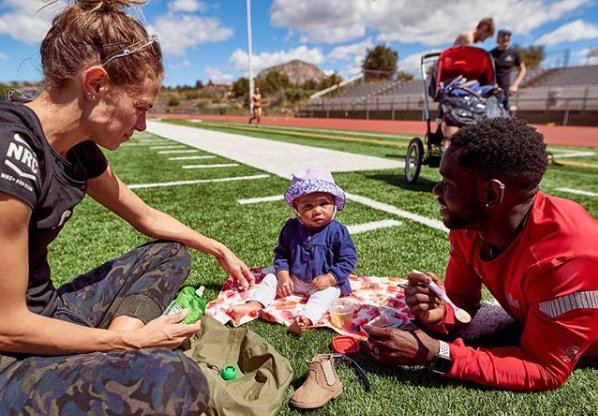 c/o of Melissa's Instagram @melissacorinneb
TG: It must be super tough to watch at home, but your mindset is great! Going back to the beginning, how did you first get into track?
MB: I remember in elementary school, I was always lining up to race the boys, and only one boy could beat me—he was super fast. That was a motivation. And when you're good at something, it's easy to like it, and that's kind of how I found my way into track and field.
I had a talent with running, but I wasn't a track and field athlete exclusively until university. I played competitive hockey, volleyball, basketball, and then it got to the point before going into Grade 12 my parents said, "Okay Melissa, it's time to choose hockey or track and field, we can't afford to keep doing both." I was still able to play hockey during school, but had to give it up outside of that, and I took the track and field route. It definitely wasn't easy and my dreams didn't come true all at once though.
Even entering University (of Windsor) I always had a dream of going to the Olympics but it wasn't until after I graduated university that my coach sat me down and said, "You have a great shot at making Olympic team, let's figure this out."
Up until then it was a dream. Then the last few years of university it turned into, "okay, this could become a reality" and it's all manifested itself. I absolutely love my job.
TG: You obviously made the right choice because you're crushing it, but why the 800m?
MB: So, I was a sprinter in the 200m and 400m in my early high school years. Then, my coach suggested I try the 800m and I hated it for a very long time. I grew to love it as I got better at it, and I've stuck with it ever since. Now, I just love it. It's an event I'm still trying to figure out. It's a challenge. Every race is a challenge obviously regardless of distance. But it's two laps around the track so it's like a sprint but with endurance...kind of the best of both worlds.
TG: Awesome. It must be super important to have a good support system to tackle the ups and downs of being an Olympian.
MB: Having support is huge. Especially for women in sport, too, because our challenges are taken to the next level. We aren't offered the [financial] opportunities that our male counterparts are… You see the fight right now in women's soccer, no equal pay. Women's hockey, no equal pay. Track and field is individualized, so it's different, and you don't know anyone's salaries. But knowing you have a support system makes a huge difference. And for me that includes my husband, coaches, family, trainers, therapists, sports psychologists, a lot of people.
TG: Yeah, great point! So, looking forward to Tokyo 2020...what is your mindset and what are you most looking forward to at your v. impressive third Olympics?
MB: My mindset hasn't changed. My goal is still to be on the podium. The goal was podium in Rio 2016 too, and I just missed it by one place. So my goal is still the same. But, I've been out for two seasons, so I'm looking forward to clawing my way back. I'm really looking forward to trying to keep a healthy body and get through a season and get a P.B. (aka personal best). There will be blips, but having a healthy season leading up that would be so great. I've really missed that.
TG: Amazing. What motivates you?
MB: It's knowing that my competitors are out there and they're training so hard every single day.
I don't want to regret the run that I didn't do.
In the end, the small things I fluff off will make the biggest difference come Tokyo.
TG: That was a really great, pointed answer! What are you most proud of for overcoming in your life or athletic career?
MB: I think I'm in it right now. Coming back to full-time athletics after having Corinne is really something I'm still striving to do and overcome...and proving to the world that women can be moms and athletes at the same time. There are so many examples just in track and field alone where women have come back after having babies and made it to the podium in two years. So that's it.
TG: So SO true! Obviously we're rooting for you. What are the biggest ways your life as a professional athlete has changed since having Corinne?
MB: I'm still finding my way. It's a hard balance that I'm learning. Last year was the test year of balancing full-time athletics and parenting. I'm finding a way to have the best of both worlds. It's okay to take the time you need as an athlete to do what you need to be the best and to recover, but still know that you can come home and be a mom and she'll be waiting for you. That's been the hardest part has been finding that balance.
TG: The challenge of athletes becoming parents and being athletes has been a big lately. Is that something you were affected by?
MB: When we first found out I was pregnant, the top of my "uh-oh" list was, "what will my sponsors say?" The majority were all for it and couldn't wait to see what I would do after pregnancy, but there was still this concern because there's this stigma around having a baby and coming back to sports and that you can't do it. But you can! We'll get there shortly as a country, and with sponsors, to support women through their pregnancies and after. Because imagine taking a mat leave and finding out your job wasn't there, which sadly still happens, but that's kind of what it's like as an athlete. Sponsors are our livelihood. And, having a baby coming into the world and knowing you may or may not have money coming in is scary as heck.
TG: That is super scary! Is it weird getting asked so many questions about being a parent now?
MB: It was weird in the beginning to be asked about it, but now it's part of who I am!
TG: This was so awesome Melissa. Thank you! Now, let's end on some v. fun rapid-fire questions.
TG: If you're celebrating a great race…what are you ordering first at a restaurant OR bar?
MB: A burger with all the toppings and french fries. We have this place in Windsor called Burger with this crazy array of burgers.
TG: What are you binge-watching right now?
MB: I'm actually binge-reading! It's called Where The Crawdads Sing.
TG: Wow. Good for you! You're the first to respond with a book!
MB: Okay, you caught me in a good moment to say that. *Melissa laughs* So, as soon as baby goes down, 90 Day Fiancé comes on!
TG: Do you have one song you listen to before you run?
MB: Nope. I just say "Hey Google, play music" — Oh my gosh. Hang on. Sorry, Google is playing music! *Melissa laughs*. Okay, sorry!
Okay, so, we're not allowed any music in our call room where we get our spikes on and get organized and get our numbers…no headphones or anything. But I'm pretty open to whatever music on the way there.
TG: What's your go-to karaoke song?
MB: Well, it's gotta be Lizzo's "Tempo"
TG: What other sport or athlete are you most looking forward to watching in Tokyo?
MB: Cycling, swimming, diving… oh, gymnast ! I got to know her recently. She is the epitome of down-to-earth. She's just this pint-sized super strong athlete you want to root for!
TG: Okay, and finally, how can someone get your abs?
MB: *Melissa chuckles* Well, a lot of running. And to be serious, I do core work and pilates has become my new core work, just, zipping everything back up. Pilates has been a killer but introducing something new other than sitting on a yoga mat and crunching has been good… and also, well, running!
That's #thegistofit
Want more from Melissa? Check out this episode of The GIST of It.
Don't get The GIST's free twice-weekly newsletter yet? Let's
🏅
⛷️
Georgia Simmerling
March 13, 2020
International Women's Day is Friday March 8th. To celebrate, we're featuring one bad @$$ female athlete for each of the four newsletters leading up to the special day. Why? Because female athletes only receive 4% of sports media coverage which we think (and we're sure you do too) is absolutely ridiculous. So, as a women-led sports company, we want to help change that stat.
On top of their respective interview features, each athlete will be taking over our Instagram story () on the day their interview is released. So be sure to toss us a follow to get behind the scenes footage of the day-to-day lives of these amazing athletes.
We are SO excited to start things off with . Simmerling is the first Canadian to compete in three different sports across three different Olympic Games - alpine skiing, ski cross and track cycling. No big deal right? Let's get into it with Georgia.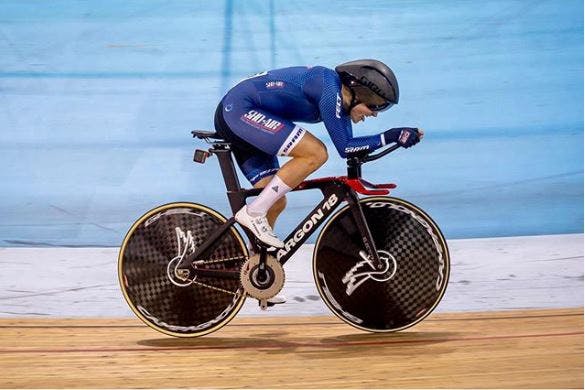 Ellen from The GIST (TG): How the heck do you manage being an athlete in three different sports?! How does the training differ between them? That's amazing!
Georgia Simmerling (GS): Well to start, I need to say I definitely do not compete in all three sports all at the same time. Right now I'm competing in track cycling (Editor's Note: Her team is actually in Poland right now getting ready to kick @$$ and take names at the Track Cycling World Championships).
How I compete at an elite level I think goes back to my personality. I grew up alpine skiing, but then I got to a point in my career as a young alpine skier where I didn't see myself progressing to where I wanted to for the next couple years. Then, I heard of ski cross and that looked like a HELLUVA lot of fun so I wanted to give it a shot. I'm a pretty dedicated athlete with a crazy willpower to continue to succeed and find success. Really, it comes down to doing what you love and that's exactly what I'm doing. I have an overpowering sense of pursuing my passion and that has always trumped the hardships and the struggles.
In terms of training for skiing vs. cycling, my body just kind of changes itself. In skicross you need to have a really strong upper and lower body, and agility is also super important. On the other hand, cycling is very linear. I end up biking away some of the weight in my upper body and lose my butt… which I'm never happy about. *cue laughter* The weight change altogether is about 10 ish pounds.
The big difference with skiing vs. track cycling is the team aspect. It's very different training and competing as an individual vs. as part of a team. Crossing the finish line in Rio with my team was one of the best moments in my life. One month later I was in Switzerland back on my skis training. And after a training run I had a completely different sense of accomplishment. I could go on forever about the differences, but I truly do love them both.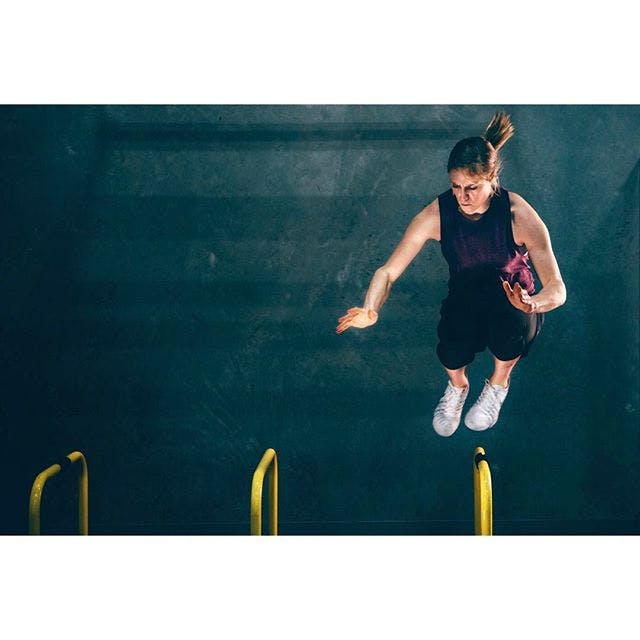 TG: With these sports come a lot of injuries and you've had your fair share of serious ones (in January 2018 she broke BOTH of her legs and had six tunnels drilled through her leg to repair every ligament in her knee at the last Ski Cross World Cup before the PyeongChang Winter Olympic Games). How do you keep yourself motivated and your head in the game?
GS: Being an athlete, you have to love what you do every day. It's not just about stepping on the podium. Last year was one of the most challenging years of my life. Injuries really gave me perspective on what I do, and why I do it. They test you as an athlete and as a human being, but also help to highlight why you do what you love.
TG: We just learned that you and Stephanie Labbe (the goalkeeper from the Canadian Women's Soccer team) are dating through . First, you guys are a power couple and we're big fans of both of you. Second, on the topic of #BellLetsTalk day, we wanted to dive into mental health more. What do you do to keep yourself mentally fit?
GS: First, thank you! On mental health, yoga has been a very big part of my life for well over a decade. Since I was 13 years old my mom would drag me to yoga and at that age I was always like "I don't get a workout in, I don't sweat enough" (Editor's Note: also guilty). But now, my relationship with yoga has evolved into so much more than a workout. As you can probably tell, I have a very go-go personality, so it's very important for me to take an hour and do yoga daily. I find it truly meditative and that it helps keep my mind healthy. It also helps me stay away from distractions like my phone and computer. After I do yoga, I feel a profound sense of revitalization and recharge.
TG: Although you've been competing for a while, you're still young at only 29 years old. How do you handle the weight/pressure of representing your country? Or how, conversely, does it motivate you?
GS: I don't see it as pressure; I see it as an honour. I'm extremely grateful to have worn the Canadian flag on my back multiple times. As an Olympian I feel like I have a duty to give back and share my story to help inspire others. At one point in my career, I realized that not everyone is an Olympian and started to see the positive impact of sharing my story. I think that all Olympians - stars or not - should be diligently giving back to their communities. Whether I am speaking to a group of CEOs or speaking to a group of children, if I can inspire two people in the groups I'm talking to, I feel like I've got a gold medal around my neck.
TG: Alright Georgia. Now it's time to have some fun with some rapid-fire questions.
What's something that you can't live without? Phone
What's your go-to work out? A super intense 45-minute circuit
Who's your favourite athlete? Clara Hughes
Oprah or Ellen? Ellen obviously
Peanut Butter or Jam? Peanut Butter - but actually I prefer almond butter.
What is your favourite between alpine skiing, ski cross and track cycling? Ugh. I hate that question. I don't have a favourite - they all are so different and opposite to each other.
Words/mantra you live by: Give it your all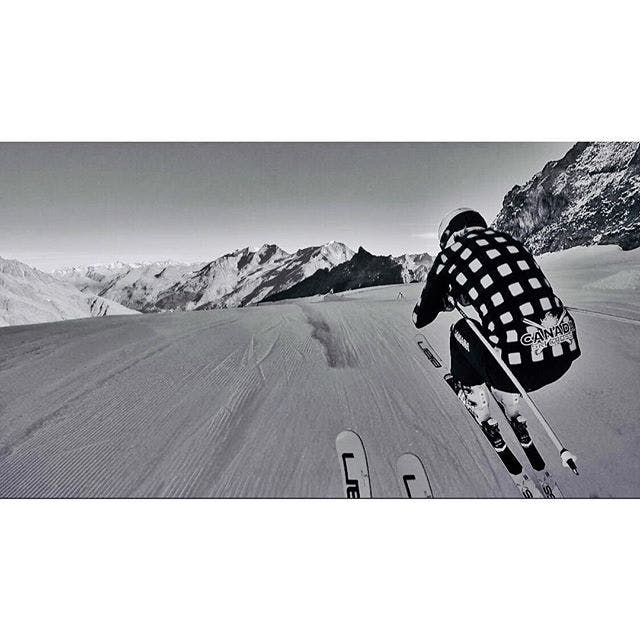 That's #thegistofit
Don't get The GIST's free twice-weekly newsletter yet? Let's
🏅

Say it ain't so

February 27, 2020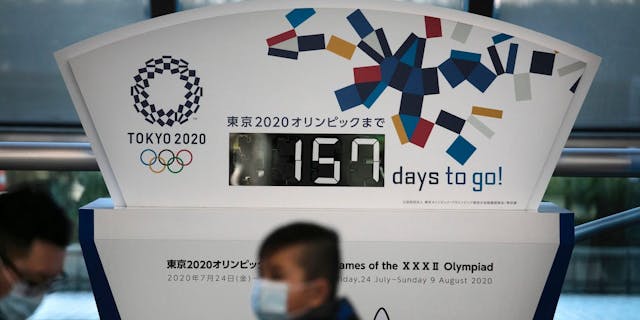 The GIST: Former International Olympic Committee (IOC) vice-president Dick Pound (seriously, that's his name) gave us a scare earlier this week when he suggested that the Tokyo 2020 Summer Olympics, set to start in late July, may be cancelled if the coronavirus becomes a true global pandemic.
The IOC and Tokyo organizers have kiboshed the rumors though, saying, "Our basic thoughts are that we will go ahead with the Olympic and Paralympic Games as scheduled," and that they'll take every precaution to ensure the Games are safe. Phew!
But…: It's not all good news. Dozens of sporting events have been cancelled or postponed, and others have banned fans in an effort to prevent the virus from spreading. Over in Italy, five Serie A (that's the Italian premier soccer league) matches will be played in empty stadiums this weekend, while the PWHPA is postponing a three-game showcase that was set to take place in Japan next week.
🏅

Next thing you know, I'm big in Japan

February 10, 2020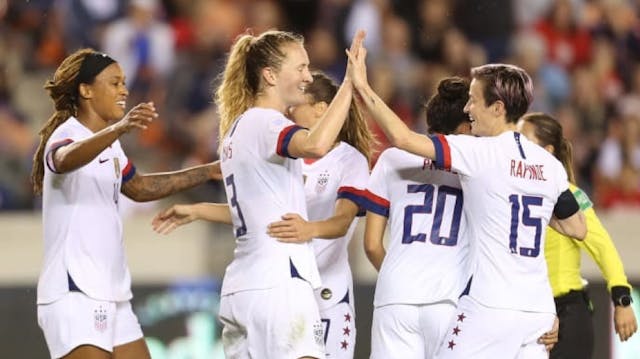 The GIST: Over the weekend, our US women's national soccer team (USWNT) became the second women's team to qualify for the 2020 Tokyo Olympics and TBH, we can't say we're surprised.
Explain, please!: You got it. First, our USWNT clinched a spot in the 2020 Summer Olympics by winning their semifinal match 4–0 over Mexico, in the CONCACAF Olympic Qualifying tournament (reminder: the top two teams in the tournament qualify for Tokyo 2020).
That set the stage for the CONCACAF final yesterday, and we were treated to our favorite thing ever: a Canada-USA final. We haven't lost to Canada since 2001 (!!!) and kept our streak going, beating Canada 3–0...because of course we did. And to put the cherry on top, our star striker, Christen Press, took home the Golden Ball for the best player in the tournament.
And what other team earned a ticket?: Our women's basketball team. Team USA clinched their Tokyo 2020 Olympics spot by winning the 2018 FIBA Basketball World Cup. That said, they still played in Serbia in one of the four FIBA Women's Olympic Qualifying tournaments this weekend.
Our women won all three games, but we were a little bit shaken that they had to come from behind to win 76–71 over a strong Nigerian team. Too close for comfort.