⛸️
🥌
⛷️
🏅
Olympics Day 15 Recap: Team USA
February 18, 2022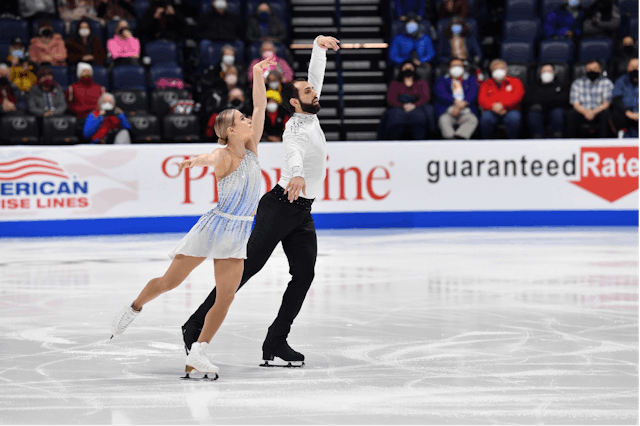 US FIGURE SKATING/TWITTER
⛸ Figure skating: History was made on the ice this morning when Timothy LeDuc became the first openly nonbinary athlete to compete at the Winter Olympics, performing a wonderful pairs short program with their partner, Ashley Cain-Gribble. What a moment.
Even better, the duo qualified for tomorrow's free skate, along with fellow U.S. pair Alexa Knierim and Brandon Frazier.
🥌 Curling: Team Shuster just missed the podium, losing 8–5 to Canada in this morning's bronze medal match. While the 2018 gold medalists didn't capture a medal in Beijing, they did capture the hearts of a nation, including "Mr. The Rock" and Mr. T. We pity the fool who tries to mess with this squad.
⛷️ Alpine skiing: After a challenging stretch marked by three disappointing DNFs, two-time Olympic gold medalist Mikaela Shiffrin will race in tonight's mixed team competition, her final event in Beijing.
And she has a message for the haters. "Why do I keep coming back?" she wrote on Twitter. "That's where I'm meant to be and I'm stubborn as s**t." Can't wait to watch you fly, Mikaela.
⛸️
🏅
Olympics: What these games showed us about figure skating in Russia
February 18, 2022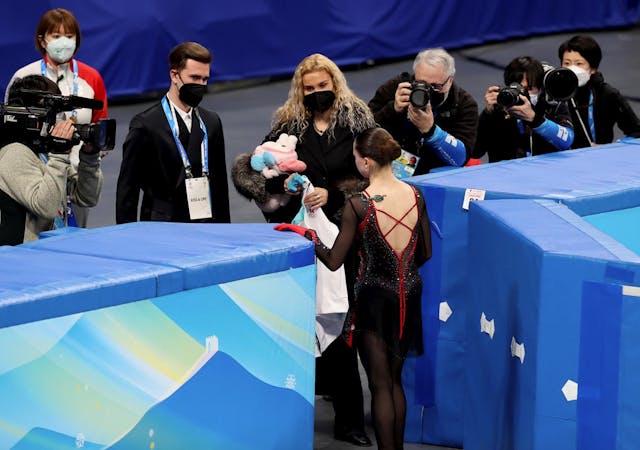 JEAN CATUFFE/GETTY IMAGES
The GIST: As we continue to process the emotional scenes from yesterday's women's singles free skate, we're still reflecting on the ongoing figure skating doping scandal.
On the ice: Overshadowed by the drama surrounding 15-year-old Kamila Valieva (the skater who tested positive for a banned medication) and her unexpected fourth-place finish, two of her ROC teammates — 17-year-olds Anna Shcherbakova and Alexandra Trusova — finished first and second, respectively.
Japan's Kaori Sakamoto put down a beautiful skate to win bronze and brought some much-needed joy to the party. That's what it's all about.
The fallout: Rather than supporting Valieva after a disappointing skate (nevermind being embroiled in a doping scandal), her infamously strict coach Eteri Tutberidze said, "Why did you let it go? Why did you stop fighting?" Immediately no.
Meanwhile, silver medalist Trusova was heard saying, "I hate this sport," after her skate, while top-finisher Shcherbakova said, "On the one hand I feel happy, on the other I feel this emptiness inside," about the tension surrounding her. Sad.
The context: Tutberidze is known for grooming young figure skaters who typically go on to retire as teenagers, often suffering serious injuries along the way.
And due to skating's complicated scoring system, their training emphasizes physically demanding jumps, earning the ROC trio the nickname of "Quad Squad," named after the jump other women won't even attempt.
What's next: The Games may be winding down, but this story's far from over. We're still waiting for a decision on the ROC's team gold, but bigger questions lie ahead.
How could this happen to a teenager? Should the minimum age in figure skating be raised? Will the adults be held accountable? We'll be watching.
⛸️
⛷️
💨
🥌
🏅
Olympics Day 14 Recap: Team USA
February 17, 2022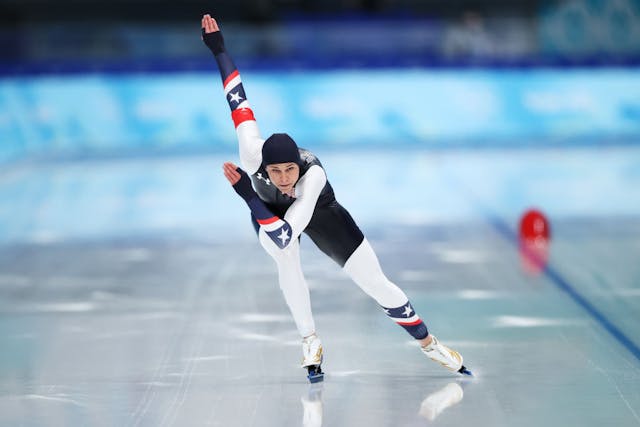 DEAN MOUHTAROPOULOS/GETTY IMAGES
⛸ Figure skating: In a shocking turn of events, 15-year-old ROC figure skater Kamila Valieva placed fourth in this morning's women's singles free skate, meaning medals were awarded while the ongoing doping investigation surrounding Valieva continues.
As for our Americans, Alysa Liu, Mariah Bell and Karen Chen turned in admirable performances to finish seventh, 10th and 16th, respectively. Proud.
🎿 Skiing: Mikaela Shiffrin's unexpectedly challenging Olympics continued overnight, as the two-time gold medalist posted her third did not finish (DNF) of the Games, this time in the alpine combined.
💨 Speed skating: Brittany Bowe — who gave up her 1,500m spot to teammate and eventual gold medalist Erin Jackson — won bronze in this morning's 1,000m final. Good karma, great vibes.
🥌 Curling: They brought the drip, but Team Shuster came up just short in this morning's semis, falling 8–4 to Great Britain and ending their hopes of repeat gold. That said, a podium finish is still within throwing distance. They'll take on Canada in tomorrow's 1:05 a.m. ET bronze medal match.
🏒
🏅
Olympics: The silver lining
February 17, 2022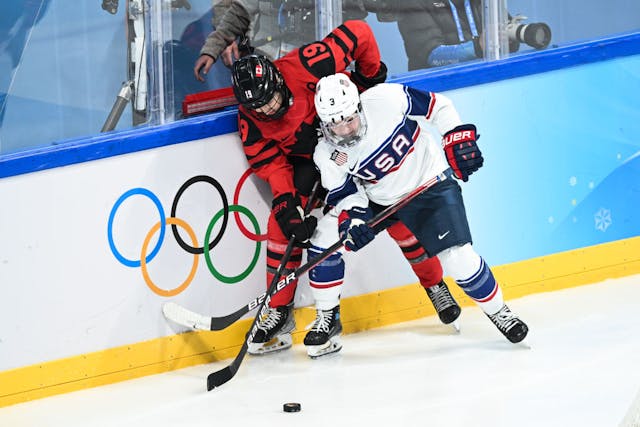 VCG/VCG VIA GETTY IMAGES
The GIST: Team USA women's hockey came up just short in their quest for repeat gold, losing 3–2 to our Northern neighbors early this morning. This one stings.
The game: Thanks to a pair of record-breaking goals from Canada's captain Marie-Philip Poulin, Canada gained an early 3–0 lead. Hilary Knight — who's played in the most Winter Olympics in U.S. hockey history — quieted any shutout rumblings, notching Team USA's first goal of the night. She's not too shabby on her knife shoes.
The intensity leveled up in the dying minutes of the third, where a power play and pulled goalie led to an Amanda Kessel beauty, closing the gap to one goal with 12.5 seconds remaining.
Despite the late pressure, you know how this one ends — Canada held on, handing the U.S. the silver. Heartbreaker.
How Team USA got here: The tough loss (and their closer-than-anticipated games throughout the tournament) underscores bigger issues this team needs to tackle, chief among them being depth. Coach Joel Johnson relied heavily on just a handful of players, rarely calling on his bench.
And with the Women's Ice Hockey World Championships set for August, the clock is ticking to figure it out.
What's next: There is a silver lining in the silver medal: the incredible enthusiasm for women's hockey throughout the Games. The excitement for this team was palpable, and it's time to keep that same energy 365 days a year. The next stateside PWHPA showcase, set for March in Arlington, is the perfect place to start.
🏅
🎿
🥌
🏒
Olympics Day 13 Recap: Team USA
February 16, 2022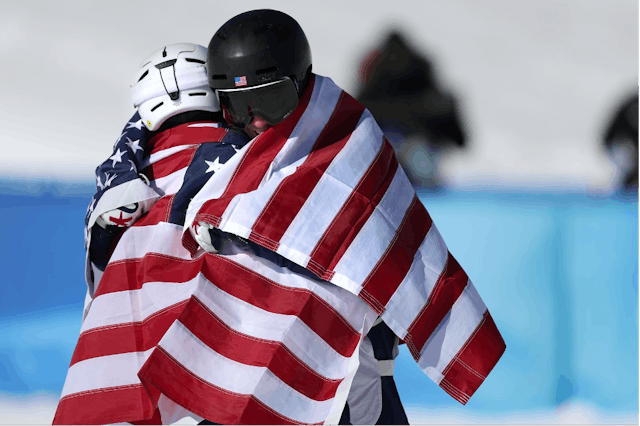 U.S. SKI & SNOWBOARD/TWITTER
🎿 Freestyle skiing: Team USA came through with the ultimate one-two punch last night, with Alex Hall winning gold and his teammate Nick Goepper taking the silver in the men's freeski slopestyle final.
🏒 Men's hockey: With current NHL players not competing in Beijing, a ragtag, young U.S. squad fell 3–2 to Slovakia in a quarter-final shootout last night. Good thing we can always count on the women.
🥌 Curling: Following a tough loss to Canada last night, Team Peterson was knocked out of playoff contention with this morning's 10–7 loss to Japan. Not the result we wanted, but we loved rockin' with them along the way.
As for the men, they'll face Denmark tonight at 8:05 p.m. ET. A win punches their ticket to the semis, keeping the quest to defend their gold medal alive. A loss…we don't talk about Bruno losing.