🏒
⚾
🏀
⚽
Philadelphia: 76ers win over Pistons
May 10, 2021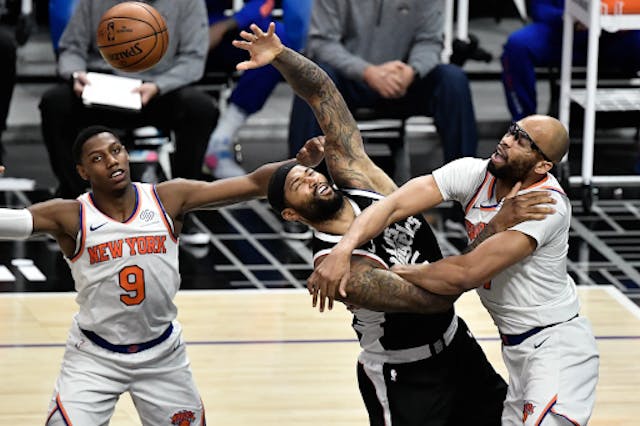 Source: 76ers.com
🏀76ers: The 76ers made it look all too easy this weekend in their over the Detroit Pistons. As expected, Joel Embiid led the squad with 29 points and six rebounds. Pleasantly surprising? Outstanding play from rookie Tyrese Maxey, who usually rides the bench but to start for Ben Simmons, who was out with back tightness.
Maxey had 22 points, five rebounds, two steals and one block on the evening, earning from Embiid and Dwight Howard (who also ).
⚾️Phillies: The Phillies closed out their three-game series in Atlanta tonight, falling to the Braves 6–1. Between Friday's 12–2 blowout win and Saturday's humiliating loss with , we feel like we have .
Hopefully the Phils can get back on the horse in their upcoming series with the Washington Nationals this week, starting tomorrow at 7:05 p.m. ET.
Hanging it up:
🏒The Flyers missed the playoffs for the fifth time in the last nine years. Womp. Catch them one last time before they hit the golf course when they host the New Jersey Devils tonight at 7 p.m. ET.
🎓⚽️ The Penn State men's soccer team couldn't overcome Georgetown's early lead in the third round of the NCAA tournament on Thursday, losing 3–2. Bummed, but proud.

⚾
🏈
⚽
Seattle: Chaos in Cascadia
May 10, 2021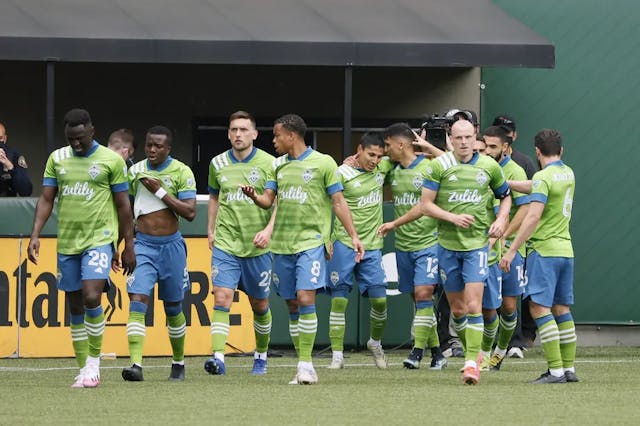 Source: Soobum Im/USA TODAY Sports
⚽️Soccer: The Sounders remain undefeated this season after beating their archrival Portland Timbers 2–1 yesterday. The wildest part of yesterday's win? This in the 56th minute. Goalkeeper Stefan Frei saved Portland captain Diego Valeri's initial PK, but video review ruled that Frei had come off his line early and Valeri was granted a retry.
You'd think he'd score the second time, but no, Valeri missed again. Of course, it was a momentum shifter, and the Sounders took the lead with a 63rd minute . !
Want more soccer? You're in luck: the No. 7 UW men face off against No. 2 Pitt in the Elite Eight today at 1 p.m. ET/10 a.m. PT.
🏈👟Seahawks Track: Seahawk wide receiver DK Metcalf held his own in his brief foray into pro track & field. At yesterday's USATF Golden Games and Distance Open, he clocked in at in his preliminary heat of the 100-meter dash. Huge props.
Although he ran faster than many expected, he still finished dead last in his heat. Stick to football, DK.
⚾️Mariners: The Mariners beat the Texas Rangers on Friday...then lost two straight and dropped the series. Womp. To make matters worse, the injuries keep piling up: Ljay Newsome is the added to the injured list after exiting Saturday's game with elbow inflammation.
And while the M's offense has picked up a bit lately, it could use a boost. With top prospect Jarred Kelenic (pronounced KELL-nick) in the minor leagues, maybe it's time for him to finally make his major league debut?
⚾
🏐
🏀
LA: USC win NCAA volleyball title
May 10, 2021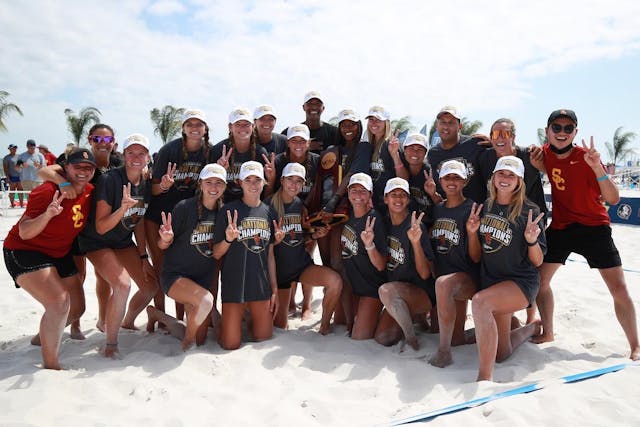 Source: USC Beach Volleyball/Twitter
🎓🏐Beach volleyball: Death, taxes and USC battling UCLA for the NCAA beach volleyball championship. The Trojans won their third NCAA title yesterday, dethroning their crosstown rivals in the process. How sweet it is.
🏀Lakers: The extremely dinged-up Lakers managed to beat the second-in-the-West Phoenix Suns 123–110 last night. But the win didn't change the standings: with four games remaining, the Lakers are still stuck in seventh and for the play-in tournament. Ugh.
Sparks: The Sparks made moves ahead of Friday's season opener, acquiring Gabby Williams from the Chicago Sky yesterday. However, Williams won't suit up for LA this season, even after she likely plays for France at the Tokyo Olympics.
⚾️MLB: The Angels claimed the first Freeway Series of the season with yesterday's 2–1 win over the Dodgers. From moments of to the Dodgers almost on Saturday, this series had it all (well, though).
🏀
⚾
🏒
Boston: Celtics struggle
May 10, 2021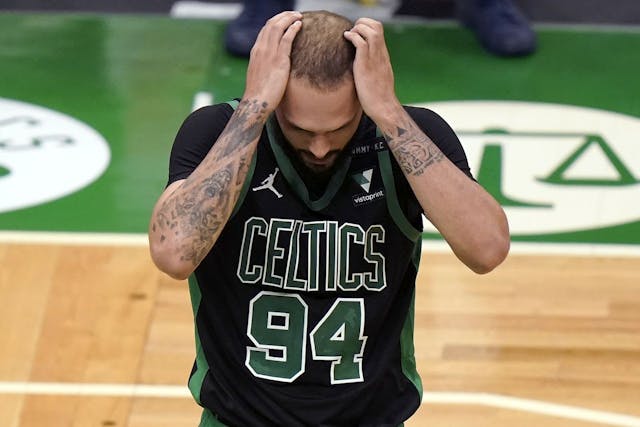 Source: Steven Senne/AP Photo
🏀Celtics: , and a late season Celtics' collapse... there's nothing like May in Boston. Despite a breakout 30-point performance from Evan Fournier, the C's fell 130–124 to the Miami Heat yesterday, slipping to in the process. Ugh.
Luckily, the C's will have another crack at sixth-place Miami tomorrow at 7:30 p.m. ET. With only four games remaining in the regular season, it's time to blossom, boys.
🏒Bruins: The already clinched a playoff spot and now it's just a matter of where they'll be seeded. A win or OT loss in tonight's 7 p.m. ET tilt with the NY Islanders would lock up the third seed. If that happens, Tuesday's 7 p.m. ET matchup with the Washington Capitals would be a preview of the B's first-round series. Spicy.
⚾️Red Sox: The best team in baseball? . The Pink Sox continued to roll this weekend, securing the series win with a 4–3 victory over the Baltimore Orioles yesterday. Pitcher Martín Pérez will try to lead Boston to the sweep tonight at 7:05 p.m. ET. Getcha brooms ready.
🏒
🏀
⚾
Dallas: Mavericks win streak
May 10, 2021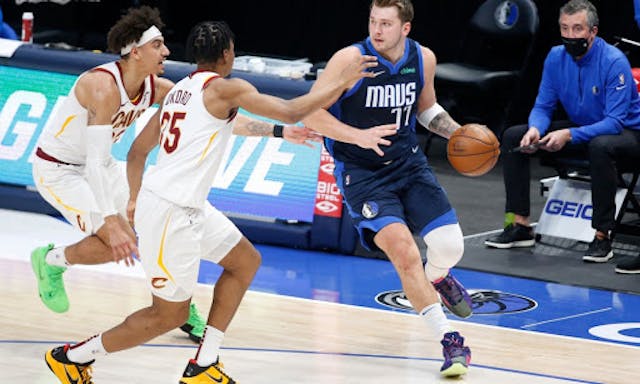 Source: USATSI
🏀Mavericks: After clinching their first in 10 years on Friday, the Mavs picked up their fourth straight win yesterday with a 124–97 dub over the Cleveland Cavaliers. What a weekend. And, while from yesterday's game, Luka Doncic gifted us with this on Friday. He has our hearts.
⚾️Rangers: After sustaining a quad strain during spring training, designated hitter Khris Davis made his regular season Rangers debut on Saturday, and since then, the Rangers are 2-0 including a 10–2 win yesterday over the Seattle Mariners. Coincidence? We think not.
🏒Stars: Well, it was fun while it lasted. After last year's Stanley Cup finals run, the Stars were officially eliminated from playoff contention over the weekend. You'll have one last chance to see the 2021 Stars in action when they take on Chicago tonight at 8 p.m. ET/7 p.m. CT. After that, we'll be drowning our sorrows in wine replays from the 2020 title run. No shame.