🏈

NFL: First down on women's sports

April 06, 2022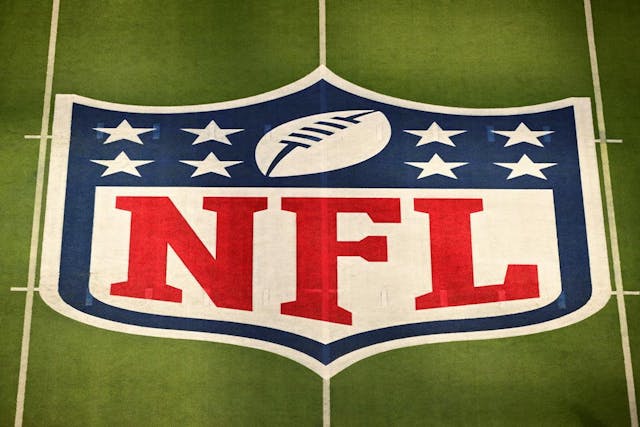 KOHJIRO KINNO/SPORTS ILLUSTRATED VIA GETTY IMAGES
The GIST: The NFL went public with its international expansion plans on Sunday, and bringing women's and men's flag football to the Olympics — as early as 2028 — is key. The plan marks a major move into women's sports by the NFL, which has a very complicated relationship with its female audience.
The details: The league set out its global goals for the next decade — to hit $1 billion in annual revenue and add 50 million fans to its current international audience of over 150 million. The NFL is betting that increasing both participation and interest in flag football overseas will help it get there.
The NFL successfully campaigned to add women's and men's flag football to the 2022 World Games (a multi-sport event hosted every four years for mostly non-Olympic disciplines) and also hosted women's and men's flag football games ahead of Super Bowl weekend.
The International Olympic Committee (which does, BTW, require that all new sports include women's and men's competitions) won't make a call on flag football until after the Paris 2024 Summer Games.
Zooming out: The NFL is the largest North American men's league without an established professional women's counterpart, but it still boasts a significant female audience. Women make up 47% of the NFL's fan base and are constantly seeking inclusive ways to engage with the sport.
🏈

NFL: We've seen this film before

March 21, 2022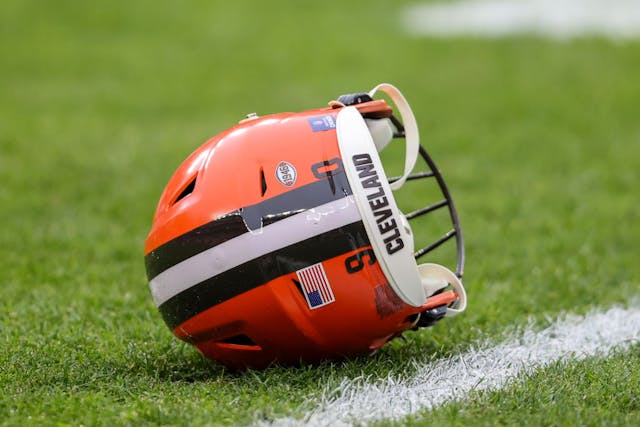 FRANK JANSKY/ICON SPORTSWIRE VIA GETTY IMAGES
The GIST: Late Friday — conveniently after most people on the East Coast had logged off for the weekend — the Cleveland Browns announced that they'd traded for former Houston Texans quarterback (QB) Deshaun Watson — who is still facing 22 civil cases of sexual assault.
The context: After missing the entirety of last season amid the ongoing suits, a grand jury declined to indict Watson on nine criminal complaints earlier this month, somehow clearing the way for teams in the NFL to make a move for the QB.
Despite claiming they wanted an "adult" at QB, the Browns overlooked the accusations against Watson, and they've already lost many fans as a result.
Perhaps that's why the organization tried to save face by releasing a statement claiming to have done a "tremendous amount of background" on Watson. Maybe actually speaking to the women who accused him would've been a good place to start.
On-field impact: Focusing on the football implications for a minute, QB Baker Mayfield (whose request to be traded was denied before the Watson deal was finalized) is expected to be on his way out of Cleveland and will be one of the most highly coveted QBs this offseason, especially in a limited talent pool.
Off-field impact: This story is of course about more than Xs and Os, it's yet another example of how the NFL and its teams turn a blind eye to star players' inexcusable off-field behavior, especially violence against women.
In a world where QB Colin Kaepernick is still informally outlawed for *checks notes* protesting racism and wide receiver Calvin Ridley received a year-long suspension for betting on games, the league's message to women is abundantly clear.
🏈

NFL: Disappointed, but not surprised

March 16, 2022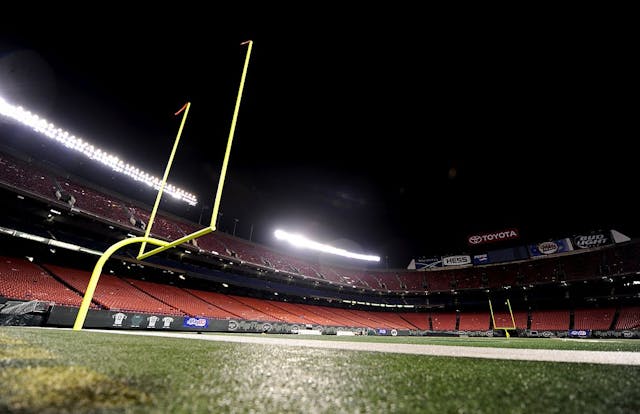 ROB TRINGALI/SPORTSCHROME/GETTY IMAGES
The GIST: NFL free agency is typically one of the most exciting times of the year, but, as we discussed on yesterday's episode of The GIST of It podcast, some troubling trade rumors have us feeling more anger than eager towards the impending flurry of news.*
*Content warning: This section contains mentions of sexual assault.
The details: Last Friday, a grand jury declined to indict Houston Texans quarterback (QB) Deshaun Watson on nine criminal complaints of sexual assault against him. The news came after the three-time Pro Bowler was sidelined for the entirety of last season after 22 women filed civil suits against him.
Now, with the legal system (which has a history of failure when it comes to sexual assault cases) "clearing" his name, Watson's trade market is heating up, with as many as eight teams interested in trading for the QB. Cue exasperation.
What's next: The NFL is "closely monitoring" the situation and could still suspend Watson for violating the league's personal conduct policy. But given their history of ignoring violence against women, we're not holding our breath.
Elsewhere: Watson aside, a number of huge deals have already gone down ahead of today's 4 p.m. ET official start to free agency. Notably, the Pittsburgh Steelers signed former Chicago Bears/Buffalo Bills QB Mitch Trubisky, while the Jacksonville Jaguars did some major retail therapy.
Some big stars still available? Two-time Super Bowl champ Von Miller, recently released former Seattle Seahawk Bobby Wagner and 2022 Super Bowl champ, the always entertaining Odell Beckham Jr. That's right, here we go again.
🏈

NFL blockbuster trades

March 09, 2022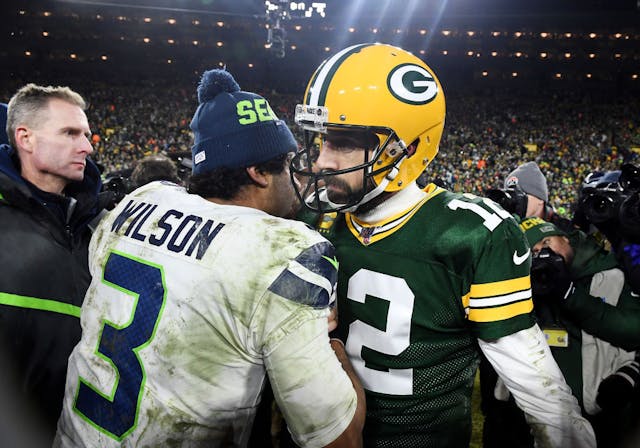 STACY REVERE/GETTY IMAGES
The GIST: It may be the offseason, but there's no rest for NFL fans, with the future of not one, but two superstar quarterbacks (QBs) coming into focus yesterday.
Russell Wilson: Ciara's husband is on the move. The Seattle Seahawks and Denver Broncos have reportedly agreed to a blockbuster trade that will send Super Bowl–winning QB Wilson to Denver in exchange for QB Drew Lock, tight end Noah Fant, defensive lineman Shelby Harris and multiple draft picks.
While the deal can't officially be finalized until the new season begins next week, Russ has reportedly signed his no-trade clause, ending his 10-year tenure in Seattle. There's a new sheriff chef in town, Broncos Nation.
Aaron Rodgers: Meanwhile, the longtime Green Bay Packers QB won't be, ahem, shooting his shot on the trade market. The reigning league MVP announced yesterday that he's staying with the franchise that drafted him for at least another year.
From publicly criticizing the front office to boycotting training camp and stoking retirement rumors, this news is another surprising twist in the years-long rift between Rodgers and the Pack. A "beautiful mystery" indeed.
What's next: This QB news kicks off what could be a flurry of NFL action in the weeks ahead. Dates to circle: free agency begins March 16th and the NFL draft kicks off on April 28th. Can't wait.
🏈

Super Bowl LVI

February 14, 2022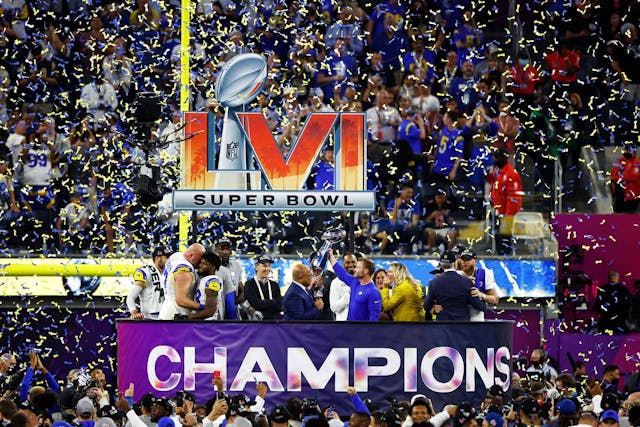 RONALD MARTINEZ/GETTY IMAGES
The GIST: Before we get into the latest from Beijing, how could we not talk about last night's Super Bowl halftime show of millennial dreams?
The game: Thanks to a clutch fourth quarter touchdown (TD) drive led by quarterback (QB) Matthew Stafford, the LA Rams defeated the Cincinnati Bengals 23–20 to win their second Super Bowl championship. Wide receiver (WR) Cooper Kupp — who hauled in two TDs, including the game-winner — was named Super Bowl MVP. His Kupp runneth over.
The Rams are now the second consecutive team to win a Super Bowl title on their home field, following in the Tampa Bay Buccaneers' footsteps.
And California really knows how to party — the Rams' victory marks the city of LA's third major sports championship in the last three years.
What's next: Although Cincy couldn't hold on for the win, expect to see a lot more of Bengals QB Joe Burrow in the future, especially as a new era of young stars continue to find their footing in the league.
Off the field, the NFL will (hopefully) take a hard look in the mirror as recently fired Miami Dolphins coach Brian Flores' racial discrimination lawsuit continues to evolve. Here's to an offseason of change.