🏈
🏀
Dallas: Bears are ballin'
March 25, 2021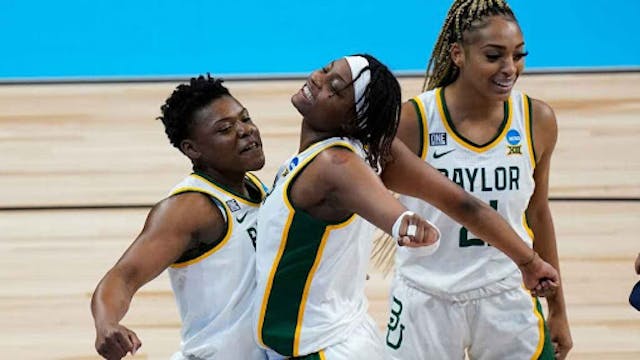 Source: Eric Gay/AP Photo
🎓🏀WBB: Our Texas teams continue to dominate the women's tourney in San Antonio, with three schools heading to the Sweet Sixteen. No. 2 seeds Baylor and Texas A&M, along with No. 6 Texas advanced through the first two rounds, with Baylor notably winning their first two games by 49 and 42 points. The defending champs came to play.
The Bears will face a scrappy No. 6 Michigan squad on Saturday at 3 p.m. ET/2 p.m. CT, while Texas A&M — fresh off their second round finish — will take on No. 3 Arizona this Saturday at 8 p.m. ET/7 p.m. CT.
And, after defeating No. 3 UCLA to earn their 16th round of 16 appearance (how sweet!), Texas will face No. 2 Maryland on Sunday at 9 p.m. ET/8 p.m. CT. Keep the upsets coming.
MBB: On the men's side, No. 1 Baylor is the only local favorite remaining, but the Bears are looking sharp. After two commanding wins, highlighted by Texan scoring 17 points off the bench, they'll face No. 5 Villanova on Saturday at 5:15 p.m. ET/4:15 p.m. CT. Elite Eight, we're coming for you.
🏈Cowboys: The 'Boys made some more defense-focused free agency moves yesterday, signing former Detroit Lions safety Jayron Kearse hours after they informed defensive end Aldon Smith they wouldn't be re-signing him. Smith says goodbye and .
While his Twitter fingers sparked wild speculation, there's no deal finalized just yet and Hooker later shared that he'll have "" soon. Keep an eye out for some more ink flowing in the coming days.
🏀
🏈
Chicago: Bop to the top
March 25, 2021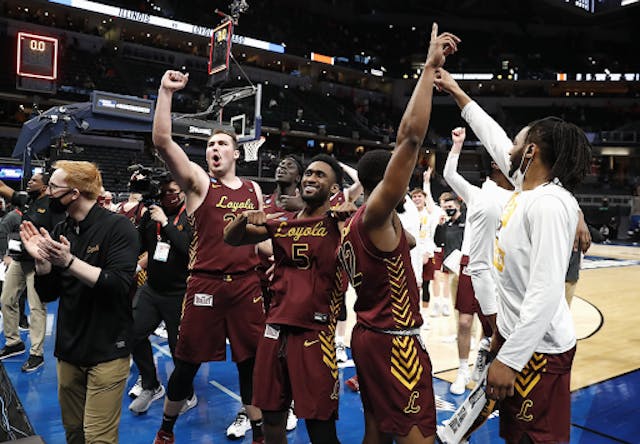 Source: Loyola MBB/Twitter.com
🎓🏀WBB: The No. 7 Northwestern Wildcats lost in the second round of the NCAA Tournament yesterday, to the No. 2 Lousiville Cardinals. Despite leading at the half and staying close in the third quarter, the 'Cats couldn't keep up with the Cards' fourth-quarter push. Sigh.
MBB: After overtaking No. 9 Georgia Tech and No. 1 Illinois, Loyola will face an unlikely opponent in the Sweet 16: the No. 12 Oregon State Beavers. To get to this game, the Beavs first beat No. 5 Tennessee before on Sunday. But the question remains: which bracket-buster is better?
So far, Oregon State has succeeded by spreading the wealth: they don't have one star to rely on. The Ramblers, however, have leaned heavily on senior center (and ) Cameron Krutwig.
🏈Bears: The Bears signed former Kansas City running back (RB) Damien Williams to a after he opted out of the 2020-21 season and was released by the team. Williams last took the field in the Chiefs' Super Bowl LIV victory, when he became the first RB to ever run for 100+ yards while scoring both rushing and receiving touchdowns in a Super Bowl. Offense? Must be nice!
🏈
🏒
Boston: Rumor has it
March 22, 2021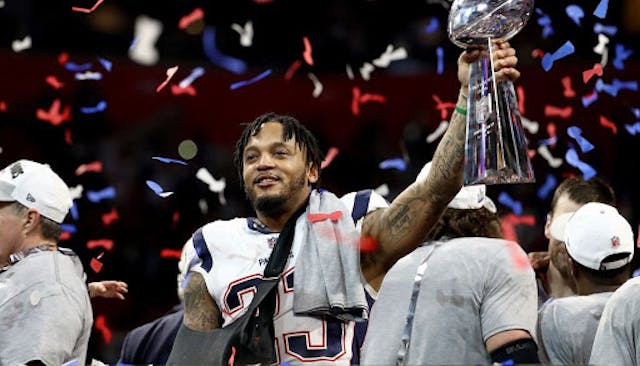 Source: Getty Images
MBB: As expected, the top-seeded Gonzaga men steamrolled 16-seed Norfolk State 98–55 in the first round on Saturday. What wasn't expected? Anton Watson, not Gonzaga's , stealing the show. Watson scored 17 points and was 7-for-7 from the field. Sheesh.
Catch Gonzaga's second round matchup against 8-seed Oklahoma today at 2:40 p.m. ET/11:40 a.m. PT. We'll be cheering for Jalen Suggs, who called the inequitable treatment of the women's teams compared to the men's "." Respect.
WBB: Ninth-seeded Washington State made their first trip to the Big Dance in 30 years, but lost a tight first round game against 8-seed South Florida last night. Still, what a magical season for the Cougs, who earned their . Heads held high.
Hopefully and 5-seed Gonzaga can notch a win for the Evergreen State against 12-seed Belmont today at 4 p.m. ET/1 p.m. PT. LFG.
🏈

Moving and shaking: NFL free agency

March 18, 2021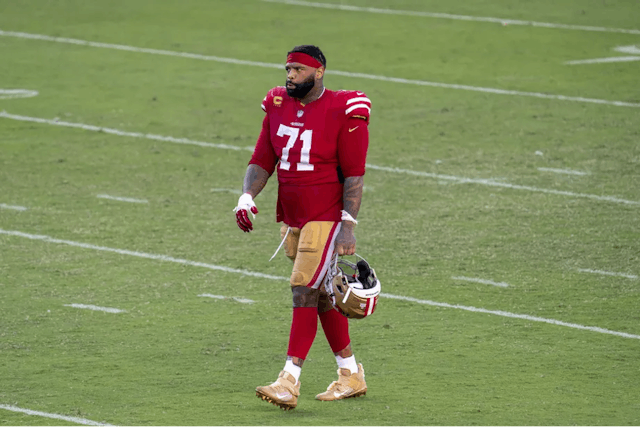 Source: Kyle Terada/USA Today Sports
The GIST: With half a year to go 'til the opening kickoff, it's primetime for off-season wheelings and dealings. And while there's no way we can go through them all, here are a few standouts.
Big spenders: The San Francisco 49ers made a Cardi B-inspired giant money move this week, signing offensive tackle (OT) Trent Williams to a six-year, $138.06-million deal that makes him the highest-paid OT in NFL history. Should just about cover rent for a two-bedroom in SF.
Quantity over quality: The Jacksonville Jaguars did not have a great 2020 (and really, who did?), so they're bringing in a lot of new personnel to make 2021 better. The issue? Not enough game changers.
The Jags signed over 15 new players, mostly adding defensive players like cornerback (CB) Shaquill Griffin and safety (S) Rayshawn Jenkins. Assuming they draft quarterback (QB) Trevor Lawrence No. 1 overall, they might want to beef up the offense, too.
Quantity and quality: Okay, New England Patriots, we see you. The Pats have already signed or re-signed over a dozen players, making them one of the busiest teams this offseason, and their pick-ups, so far, have been pretty solid.
General manager/head coach/Mr. Personality Bill Belichick is completely revamping his roster, which now includes a pair of tight ends (TEs) in Jonnu Smith and Hunter Henry, a new linebacker (LB) in Matt Judon and S Jalen Mills. All that's left is a good QB?
The other news: As Houston Texans QB Deshaun Watson continues to look for a trade, he's also dealing with some serious off-field allegations. Over the past two days, two massage therapists filed sexual assault lawsuits against Watson, and the details are pretty disgusting.
Watson's accusers aren't pressing criminal charges so it's unlikely he'll face jail time, but if he's found guilty in civil court, he'll also be in violation of the NFL's personal conduct policy. Friendly reminder to the Texans: Colin Kaepernick is still a free agent.
🏀
🏈
🏒
D.C.: Out with the old, in with the older
March 18, 2021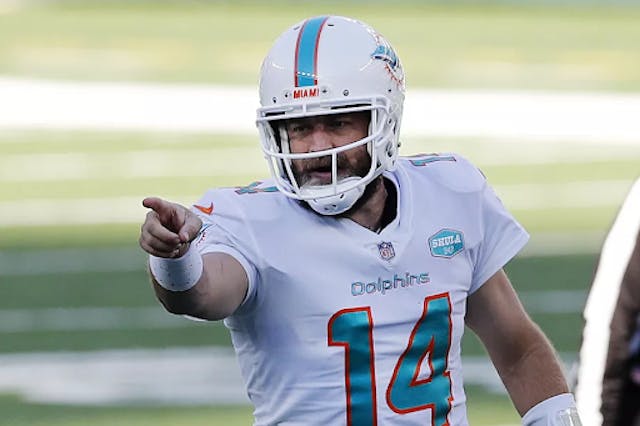 Source: Jim McIsaac/Getty Images
🏈WFT: It wasn't the most exciting of moves, but the WFT's starting QB looks set: 38-year-old Ryan Fitzpatrick, last with the Miami Dolphins, is replacing 36-year-old Alex Smith. Not the long-term solution we were looking for, but hopefully he provides stability after last season's QB merry-go-round. , welcome to the District.
🏒Capitals: The Caps beat the NY Islanders in Tuesday's highly anticipated showdown, taking over the East Division lead with a 19-6-4 record (wins, losses, overtime losses). Back on top, baby!
But the best part was captain Alex Ovechkin netting a classic Ovi for his 718th career goal, moving into sixth in all-time scoring. The Great 8 strikes again.
The Caps face lowly opposition for their next six games...so circle your calendar for that April Fools' Day rematch against the Islanders. Joke's on them.
🏀Basketball: The Wizards continued their downward spiral yesterday, posting their fifth-straight loss. Oof. If you're hoping to see some winning basketball, may we suggest checking out our guide on the representing the DMV in March Madness instead?