🏀
🏈
Chicago: Thank you, next
March 18, 2021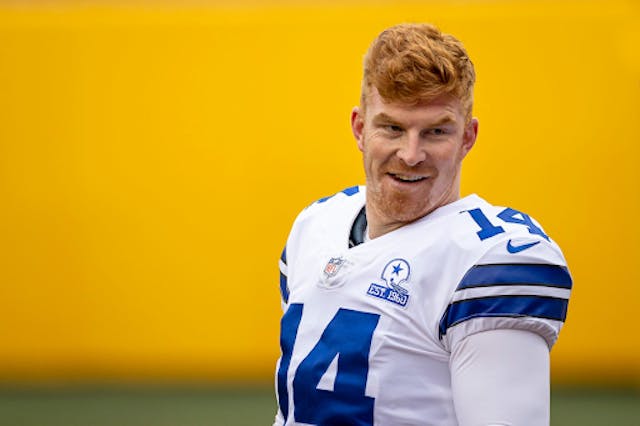 Source: Scott Taetsch/Getty Images
🏈Bears: As soon as free agency hit, the Bears went after a new QB. Their first choice? Seattle Seahawk Russel Wilson. But , da Bears came up empty. Next on the shortlist? Dallas Cowboy Andy Dalton, who agreed to a with the Monsters of the Midway on Tuesday.
After nine years as the Cincinnati Bengals' starting QB, Dalton went 4-5 last season as the Cowboys' starter after Dak Prescott suffered a serious injury. Hello darkness, my old friend...
🏀MBB: The Loyola Ramblers are making their first NCAA Tournament appearance since 2018, which was the year they, along with Sister Jean, were America's (besides the ).
Sister Jean, who is now 101 years old, is back, vaccinated and ready to the No. 8 seed Ramblers' first-round game vs. the No. 9 seed Georgia Tech Yellow Jackets tomorrow at 4 p.m. ET / 3 p.m. CT.
🏀
🏈
LA: Trading places
March 18, 2021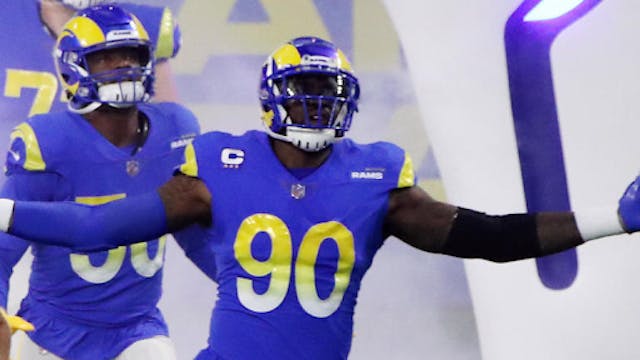 Source: Getty Images
🏈Football: The Rams agreed to with the Detroit Lions back in January, and it turns out they weren't done dealing with Motor City. The Rams sent defensive tackle Michael Brockers to the Lions yesterday in exchange for a 2023 seventh-round pick. We'll miss the defensive co-captain, but the team was determined to .
🏀Basketball: Kawhi Leonard called the Clippers' inconsistency "," and last night's 105–89 loss to the Dallas Mavericks was definite proof of that. The Clips literally have not strung together consecutive wins since mid-February. Welp.
As for the Lakers, they take on LaMelo Ball (yep, ) and the Charlotte Hornets tonight at 10:30 p.m. ET/7:30 p.m. PT. LaMelo is apparently to play his oldest brother's former teammate, LeBron James. Kids these days.
🏀
🏈
🥎
Seattle: Everyday we're shuffling
March 18, 2021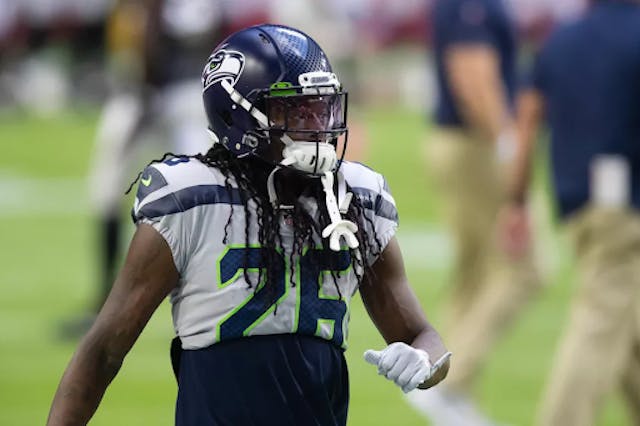 Source: Billy Hardiman/USA TODAY Sports
🏈Seahawks: While the Seahawks never seriously entertained the idea of trading QB Russell Wilson, we still breathed a sigh of relief to see shut the door. Better news? The 'Hawks traded a 2021 fifth-round draft pick to the Las Vegas Raiders for offensive lineman , picking up some protection that Wilson so desperately craves.
But the Griffin twins might both be gone. Although the 'Hawks were reportedly close to re-signing him, top CB Shaquill Griffin to Seattle for Jacksonville. No official word yet on Shaquem, but he's to leave too. Sad.
🥎🏀College: No. 6 UW softball swing into Pac-12 action with a against No. 7 Arizona starting tomorrow at 9 p.m. ET/6 p.m. PT. The Huskies lost the last time the teams met, but there's nothing the Huskies do …
...especially if pitcher Gabbie Plain is in the circle. In her 16 appearances this season, she recorded 139 strikeouts and allowed just six runs. Superstar.
P.S. The tip off March Madness on Saturday. It's championship season, baby.
🏈
🏀
Dallas: I got the horses in the back
March 18, 2021
Source: Roger Steinman/AP Photo
🏈Cowboys: With the Dak Prescott saga behind them, the Cowboys have been able to focus on building around their QB1. There haven't been any blockbuster deals yet, but the 'Boys did re-sign cornerbacks C.J. Goodwin and Jourdan Lewis, two key members of the defense. Welcome back.
🎓🏀MBB: North Texas teams will be balling out on the big stage in Indianapolis. Odds are on hometown favorites like No. 1 Baylor and No. 3 Texas to make deep runs. But No. 14 Abilene Christian could spoil the Longhorns' fun, while No. 13 North Texas looks poised for a first-round upset of their own. Check out our before the action tips off tomorrow.
🏀Mavericks: Thanks to a team-leading 42 (!!) points from Luka Doncic, the Mavs rebounded from Monday's loss, defeating the LA Clippers 105–89 last night. We love to see it. The Mavericks return to the court tomorrow for a 10 p.m. ET/9 p.m. CT battle with the Portland Trail Blazers. Time to .
In off-court news, our thoughts are with former Maverick Shawn Bradley, who that he was paralyzed following a bicycle accident in January. Maverick for life.
🏈
🏒
Boston: Singin' dollar dollar bill y'all
March 18, 2021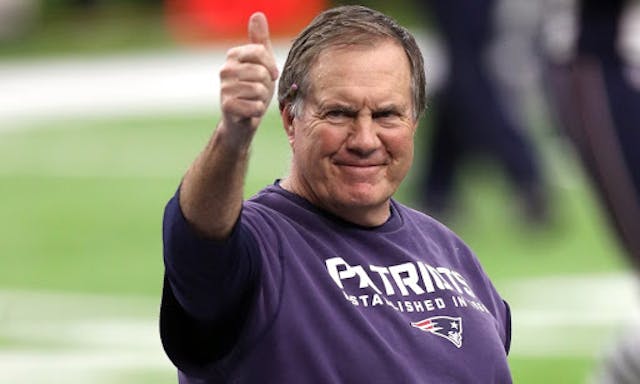 Source: Patriots Wire/USA TODAY Sports
🏈Patriots: If you ever feel guilty after an online shopping splurge, just remember the time Bill Belichick (!!!) in one day. The Pats have made , including signing star tight ends and . Taking to a whole new level.
🏒College hockey: We might not have any schools in this year's March Madness, but the Hub sure knows how to hockey. The No. 1 Northeastern Huskies women easily won their quarterfinal matchup on Monday to make their first Frozen Four in school history. They'll face No. 6 Minnesota Duluth today at 2 p.m. ET. Herstory in the making.
❤️RIP: Boston Marathon icon and Holland, Massachusetts-native passed away yesterday at age 80. Hoyt finished 32 Boston Marathons while pushing his son Rick, who has cerebral palsy. A true inspiration.