⚽

Women's FA Cup Final Preview

December 05, 2021
QUOTE OF THE DAY
The closest I've come to being at Wembley was when I bought tickets for Adele a few years ago but then my wife and I couldn't go. I'm definitely going this time.
— Arsenal manager Jonas Eidevall, on making it to the FA Cup final and playing at legendary Wembley Stadium. One thing's for sure, no one's going easy on his squad today.
⚽️ The background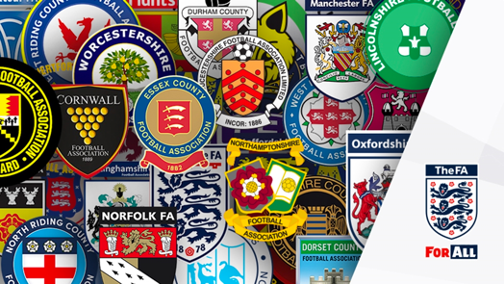 Established in 1863, the Football Association (FA) is the oldest football association in the world and serves as the governing body in England. The FA oversees all aspects of the game, both at the amateur and pro levels, including the Barclays FA Women's Super League (WSL), England's top women's league.
Each year, the FA holds a season-long tournament called the FA Challenge Cup, known today as the FA Cup. The men's FA Cup began in 1871 and is the oldest national football competition in the world.
In 1921, the FA banned all women's teams from playing on its grounds. Their reasoning? Because "the game of football is quite unsuitable for females and ought not to be encouraged." Give us a break.
The ban stalled the women's FA Cup establishment until 1970, and now, 100 years later two WSL squads, Chelsea and Arsenal, will battle for the coveted Cup in the tournament's 51st installment.
🏆 The format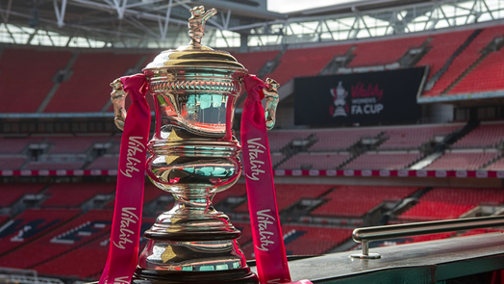 The FA Cup is a unique knockout competition due to the diverse mix of hundreds of professional and amateur teams involved. Typically beginning in August, non-WSL and amateur squads enter a "draw" to decide the matchups and their locations.
Those teams then compete in three qualifying rounds that are followed by five "proper" preliminary rounds where the large, pro squads from different tiers join the tournament.
The quarter-final and semifinal rounds typically take place in the spring before the final competition in mid-May. However, due to the pandemic, the 2020–21 competition was delayed multiple times, hence today's December final.
The restructure in schedule made for an interesting start to the 2021–22 FA Cup too, as this year's edition is already underway, with the second round proper being held last week, all before a 2020–21 champ has been crowned. Weird times!
🏟 The location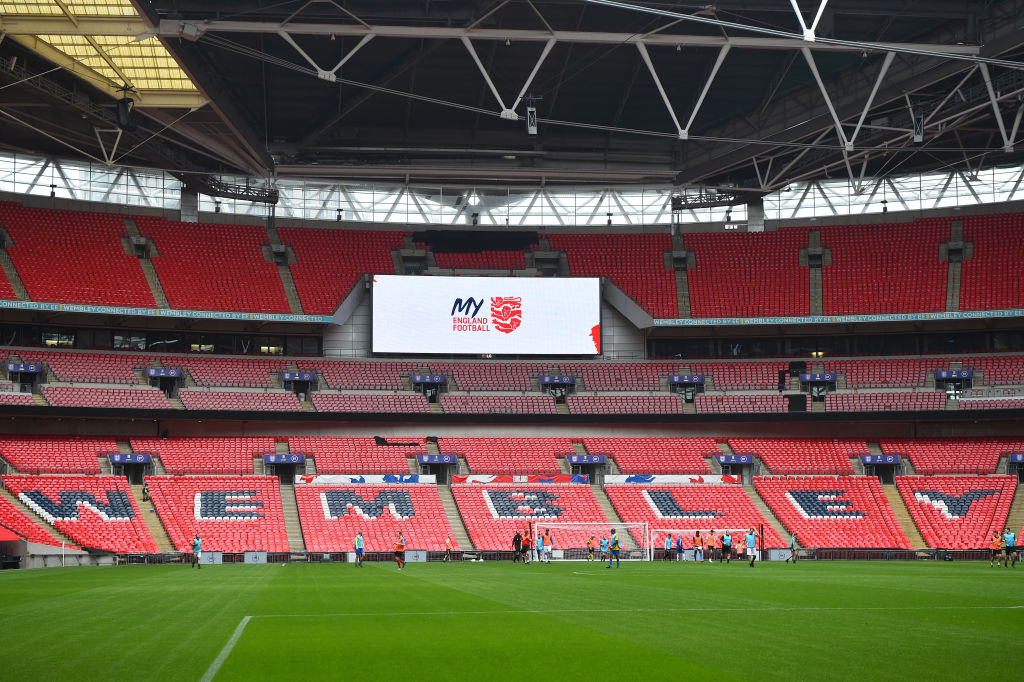 The women's final was played in London's iconic Wembley Stadium for the first time in 2015, and the big showdown has been held there ever since. Often referred to as the "Home of Football," Wembley is steeped in tradition (and Adele concerts).
While the original Wembley was demolished in 2002, the updated venue, which opened in 2007, boasts a capacity of 90,000, making it the second-largest soccer stadium in Europe.
The highest Women's FA final attendance recorded at Wembley was also between Arsenal and Chelsea when the teams played in front of 45,423 fans in 2018. This year's competition was poised to beat that record, but with a new waveof COVID-19 concerns, we're not so certain it will.
That said, with the FA announcing its three-year Women's Professional Game Strategy, which aims to turn the WSL into the best women's sports league in the world by 2024, we expect the record to be broken soon. Bet.
🔴 The Gunners (Arsenal)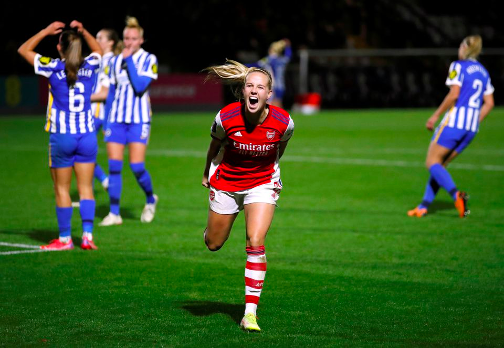 Now, to today's game. Arsenal are the most successful club in women's FA Cup history, holding the record for wins (14); however, they haven't held the trophy since 2016.
In October's semifinal match, Arsenal topped Brighton & Hove Albion 3–0, punching their ticket to Wembley once again. With goals from star players Beth Mead, Leah Williamson and Kim Little, the squad had an impressive showing throughout all 90 minutes.
More good news for Arsenal fans? They've beaten Chelsea recently, securing a 3–2 opening weekend win over the Blues at their home stadium.
Since joining the squad in June, aforementioned new manager Eidevall has seen nothing but success with this Arsenal team. The Swede is known for his high-pressing, enthusiastic style, which paid off with the Gunners scoring 26 goals this season (only one goal behind Chelsea, who leads the league).
Arsenal has an impressive roster, with 2021 BBC Women's Footballer of the Year and Dutch star Vivianne Miedema leading the way. Miedema already has six goals this season and is both the WSL's and the Netherlands' all-time leading scorer with more than 100 goals for Arsenal alone. Yeesh.
But with Williamson out and USWNT star Tobin Heath questionable due to injury, Miedema, Mead and teammate Lia Wälti will have to pull out all the stops to lead the Gunners to their 15th FA Cup win.
🔵 The Blues (Chelsea)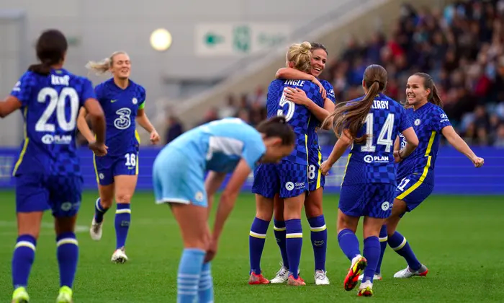 In their semifinal, Chelsea toppled reigning back-to-back champ Manchester City 3–0 on goals from Erin Cuthbert, Melanie Leupolz and Bethany England.
While the squad only has two FA Cup wins, their most recent came in the 2017–18 season beating — you guessed it — Arsenal 3–1. And this season, the Blues' only WSL loss came at the hands of the Gunners. Bad blood, anyone?
Chelsea's manager Emma Hayes is sure to give Arsenal's Eidevall a run for his money when it comes to sideline enthusiasm. A seasoned leader on the pitch, Hayes has been at the helm since 2012 and is known for her "psychological methods," like having the team watch videos of other top female athletes as motivation before matches. Here for it.
With five 2021 Ballon d'Or nominees — Canadian Olympic gold medalist Jessie Fleming, 2021 WSL Golden Boot winner Sam Kerr, Fran Kirby, Magdalena Eriksson and Pernille Harder — Chelsea's roster is, in a word, stacked.
The trio of Harder, Kirby and Kerr combined for 69 goals last season and we expect the front three to lead the way today.
📺 Tune in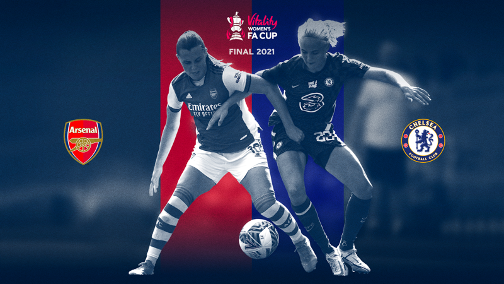 While we wish we could be watching from the stands at Wembley, us North Americans can stream today's 9 a.m. ET match on ESPN+ in the U.S. or the FA Player no matter where you're located. Get that tea brewing!
⚽
🏀
🏈
Sports Quick Hits: December 3rd 2021
December 03, 2021
⚽️NWSL: Please enjoy this live footage of us processing yesterday's flurry of NWSL trade news. The biggest names on the move? USWNT star Julie Ertz and top defender Sarah Gorden, who were traded from the Chicago Red Stars to expansion team Angel City FC.
And there could be more news where that came from, with reports that the Orlando Pride's Ashlyn Harris and Ali Krieger (one of soccer's power couples) are being traded to NJ/NY Gotham FC. Chaos.
🏀NBA: Here comes the (Phoenix) Sun(s). With last night's 114–103 win over the lowly Detroit Pistons, the Suns have now won a franchise record-setting 18 (!!!) straight games, extending their "no loss November" streak into December. Do we hear 19?
🏈NFL: Despite head coach Mike McCarthy being out due to COVID-19 protocols, the Dallas Cowboys still defeated the injury-plagued New Orleans Saints 27–17 in last night's Thursday Night Football battle.
Speaking of COVID-19, three players (including Tampa Bay Buccaneers wide receiver Antonio Brown) have been suspended three games for misrepresenting their vaccination statuses. Make it stop — we can't take anymore toes.
⚽

Soccer Quick Hits: December 1st, 2021

December 01, 2021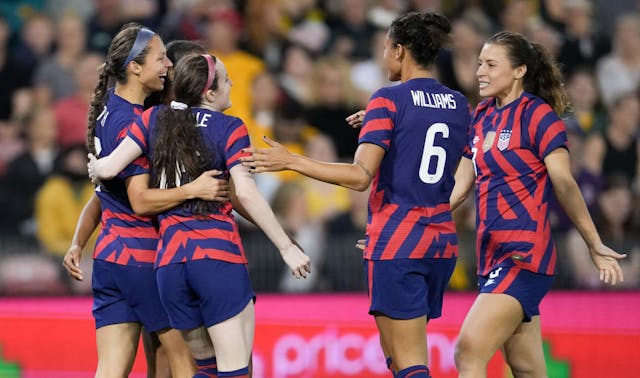 SOURCE: BRAD SMITH/ISI PHOTOS/GETTY IMAGES
🇺🇸USWNT: The USWNT's 2021 campaign came to a close early yesterday morning when the team played to a 1–1 draw in a friendly against Australia. While it was an anticlimactic end to the year, forward Ashley Hatch netted her second goal in as many games, making us even more excited for 2022. Future's looking real bright.
⭐NWSL: In other USWNT news, a star player is on the move. 2020 U.S. Soccer Female Player of the Year Sam Mewis was traded from the North Carolina Courage to the newly rebranded Kansas City Current yesterday, a blockbuster deal to start the offseason. Getcha popcorn ready.
😅MLS playoffs: No. 4 NYCFC stunned the top-seeded New England Revolution yesterday, advancing to the Eastern Conference Finals by winning a penalty kick shootout. Down to the wire.
They'll look for another upset in their Sunday matchup against the No. 2 Philadelphia Union, while either the No. 4 Portland Timbers or No. 7 Real (pronounced REY-al) Salt Lake will claim the Western Conference title on Saturday.
⚽
⚾
Sports Quick Hits: November 29th, 2021
November 29, 2021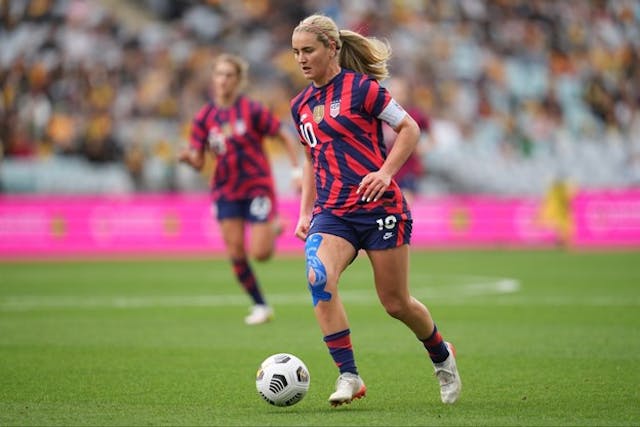 SOURCE: USWNT/TWITTER
⚽️USWNT: The USWNT took their talents down under and came out on top, notching a 3–0 friendly win over Australia on Friday. They'll finish out the year with a rematch tomorrow at 4:05 a.m. ET. Queue up the DVR.
⚽️MLS playoffs: Three conference finals spots clinched, one to go. The No. 2 Philadelphia Union, the No. 4 Portland Timbers and No. 7 Real Salt Lake punched their tickets to the next round over the weekend, while the No. 1 New England Revolution and No. 4 NYCFC will play for the final spot tomorrow at 7:30 p.m. ET. No pressure.
⚾️MLB: With the league's Collective Bargaining Agreement (CBA) set to expire on Wednesday, the MLB could be heading for its ninth work stoppage, meaning all trades, payments, workouts and play will be halted until a new CBA is reached.
⚽
🏈
🏀
🏐
College: So offended that we had to double check
November 29, 2021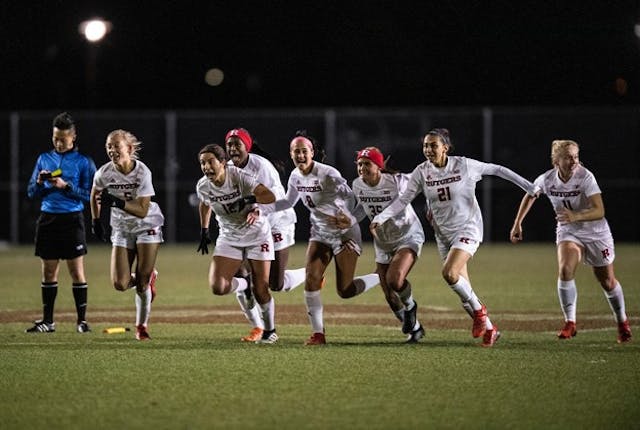 SOURCE: RUTGERS WOMEN'S SOCCER/TWITTER
⚽️Soccer: And then there were four. Behind Friday's upset win over No. 1 Duke, defending women's champs Santa Clara clinched their spot in the College Cup semifinals, with No. 1 Florida State, No. 1 Rutgers and No. 4 BYU rounding out the rest of the pitch field.
🏈Football: Former No. 2 Ohio State saw their College Football Playoff (CFP) hopes dashed after losing 42–27 to then–No. 5 Michigan on Saturday.
🏀Basketball: After last week's rout of No. 2 UCLA, people were wondering if anyone could beat men's No. 1 Gonzaga...until No. 5 Duke defeated them 84–81 on Friday, the Zags' first regular-season loss in 36 games. Damn.
As for the women: after snagging the No. 2 ranking last week, Maryland lost two games in a row, falling to No. 5 NC State on Thursday and No. 7 Stanford on Saturday. We live for the chaos.
🏐Volleyball: Okay, no upsets here (yet), but the 64-team women's volleyball championship bracket is set and, surprise, surprise, undefeated Louisville grabbed the No. 1 seed. Single-elimination play begins on Thursday.