⚽

USWNT Opens SheBelieves Cup Today

February 18, 2021
Source: Jerome Miron/USA TODAY Sports
The set-up: The annual invitational soccer tournament starts today and is a four-team event hosted by the USWNT. Usually held between three U.S. cities, this year's tournament will take place entirely in Orlando, Florida, and the Canadian, Brazilian and Argentinian national teams have all been invited.
Every team plays three matches — one against each opponent — and the top team based on points (three for a win, one for a draw) after the round-robin is declared the winner. Unsurprisingly, the USWNT are the defending champions and favorites.
The squad: The band is back together. The world's top team will be led by stars Megan Rapinoe, Carli Lloyd, Alex Morgan and last year's top scorer, Christen Press, who haven't all played together since the 2019 FIFA Women's World Cup — and we all know how that ended. Check out the full squad and schedule .
⚽

Chicago: The Red Stars' stars

February 18, 2021
Source: Mike Ehrmann/Getty Images
The GIST: Although the NWSL isn't back until April's Challenge Cup, four of our Red Stars will be sporting USWNT kits this week as they kick off the 2021 SheBelieves Cup.
Our girls: Defender Tierna Davidson, midfielder Julie Ertz, goalkeeper Alyssa Naeher and, as of , defender Casey Krueger will join the USWNT for tonight's match. All of these Red Stars are veterans of the tournament, including 22-year-old Davidson, who joined the USWNT during her collegiate career at Stanford. NBD.
Davidson is optimistic this opportunity could lead to her Olympic debut, where she'd hopefully join her Chicago teammates Naeher and Ertz in their quest for gold.
Better than before: Naeher and Ertz were members of the 2016 Olympic team, and both are expected to return and avenge their quarterfinal loss. A first? Now that Hope Solo is no longer on the squad, Naeher is likely to earn the starting goalkeeper spot. We always knew she was a keeper.
Ertz, who has been a Red Star since she was drafted in 2014, is as iconic as her blue . Besides being a great Instagram follow, she is a fútbol force, winning twice: in 2017 and 2019.
We're obsessed with these Chicagoland studs and can't wait to see them kick some Canadian ass tonight at 7 p.m. ET/6 p.m. CT.
🏒
🏀
⚽
Philadelphia: Here we go again
February 18, 2021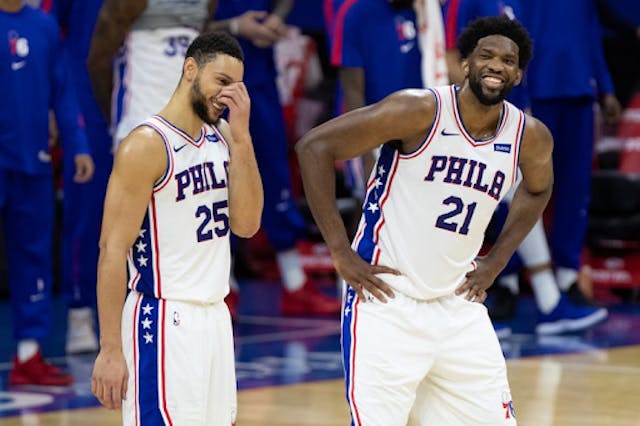 Source: Bill Streicher/USA Today
⚽️USWNT: As if two FIFA World Cups and two Olympic gold medals weren't enough, Philly's beloved Carli Lloyd returned to the pitch earlier this year — for what might be her last run with the USWNT — after a knee surgery and 10-month break, and doing it.
🏀Sixers: The Sixers snapped their three-game losing streak last night when they beat the Houston Rockets 118–113. missed the game due to the stomach flu, but Joel "" Embiid, point guard Seth Curry and forward Tobias Harris all stepped up and drained over 20 points each to lead the team to victory. It's called depth, look it up.
🏒Flyers: Missing the Flyers but more? Same, same. Thankfully, after nearly two weeks missed due to positive COVID-19 cases, Philadelphia hockey is and facing off against the New York Rangers tonight at 7 p.m. ET.
⚽
🏀
D.C.: Winning? Is that you?
February 18, 2021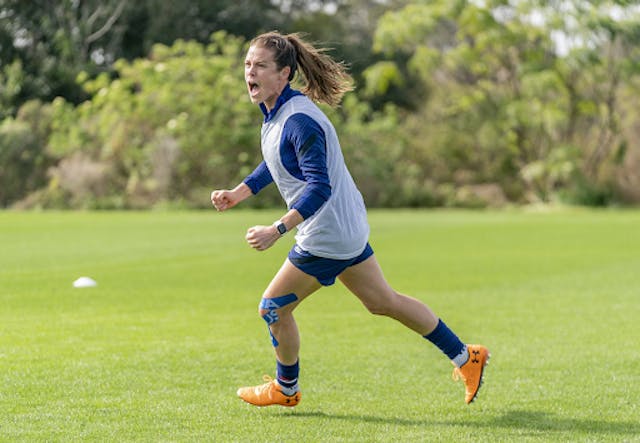 Source: USWNT/Twitter
⚽️Spirit: Move over , there's another star-studded investor group in the NWSL. Yesterday, the Spirit announced the addition of a whopping 43 new investors. They include legendary 1999 World Cup goalkeeper , "Magnificent Seven" gold medalist gymnast and two former . What a squad.
The Spirit aren't back in business just yet. But two of the team's newest players — defenders Kelley O'Hara and Emily Sonnett — return to the pitch tonight when the USWNT plays Canada in the SheBelieves Cup. Can't wait.
🏀Wizards: The Wizards surprisingly won three straight games with last night's victory over Nikola Jokić and the Denver Nuggets. League-leading scorer Bradley Beal poured in 25 points, including the free throws. Yet Dāvis Bertāns stole the show by shooting a career-high 35 points, including nine of 11 three-pointers. This man is on fire.
⚽
🥎
Seattle: Hit it out of the park
February 18, 2021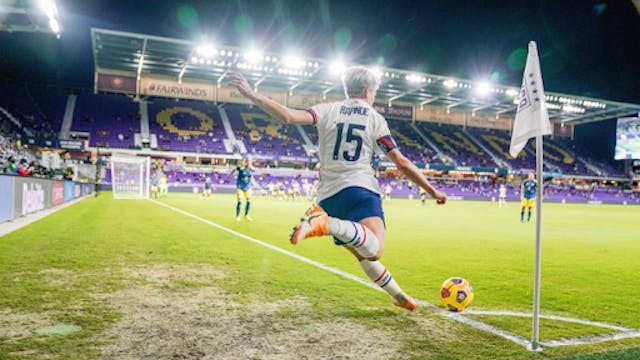 Source: USWNT/Twitter
⚽️Soccer: Though the NWSL isn't back in action until April's Challenge Cup, two OL Reign players — Megan Rapinoe and — are taking the pitch in the SheBelieves Cup tonight...just for opposing teams.
Defender Quinn, representing Canada, will square off against forward Rapinoe and the Americans at 7 p.m. ET/4 p.m. PT. Sorry Quinn, but good luck against the USWNT.
🥎Softball: But before the US-Canada soccer showdown, we'll be watching No. 2 UW softball against BYU today at 4 p.m. ET/1 p.m. PT. The Huskies opened their season with a bang last week, winning all five games of the UNLV Tournament.