⚽

Money, money, money

May 04, 2020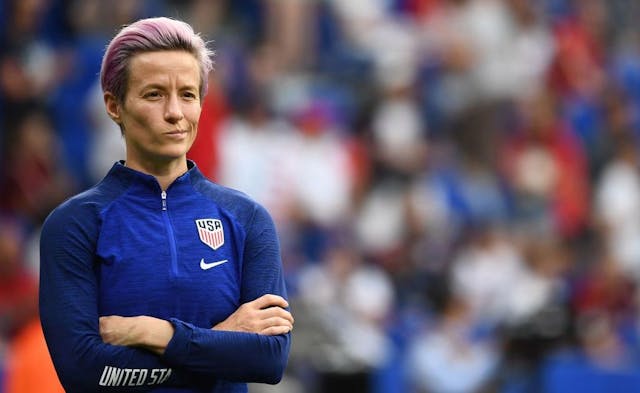 FRANCK FIFE/GETTY IMAGES
The GIST: In case you needed another reason to call 2020 a dumpster fire, the US women's national soccer team (USWNT) was dealt a major blow on Friday when part of their gender equality lawsuit was dismissed. Ugh.
Remind me, what's the backstory?: Last year, the USWNT filed a lawsuit against the US Soccer Federation (USSF), the sport's national governing body, on the grounds of gender discrimination. The lawsuit argues that the women's team was (and continues to be) paid significantly less than the men's national team (USMNT), despite the women generating more revenue.
The USWNT also argues that they've been given unequal resources, including worse training and travel conditions, and less promotion, support and development of their games and players.
Got it. So what happened on Friday?: A federal judge ruled against the USWNT equal pay suit, dismissing the claim on the grounds that they were actually paid more than the men's team during the period of 2015 to 2019 (in which the women's team won two FIFA World Cups while the men failed to qualify for one).
The women's team was so good, they earned a bunch of performance bonuses from winning so much. And because the men's team was, well, not good during this period, the USSF did end up paying the women more. That said, had the men simply qualified for the 2018 FIFA World Cup, they would've been paid much more than the women who won. *rolls eyes*
What happens now?: The USWNT will file an appeal against this latest ruling and will still work through the other part (i.e., unequal resources, etc.) of the lawsuit. A court date is set for June 16th (moved from May 5th because of COVID-19), but there's a good chance they'll settle out of court before then. In the meantime, Uncle Joe wants them to keep fighting for equality. And we do too.
🏒

🏀

⚽

Bring it all back now

April 27, 2020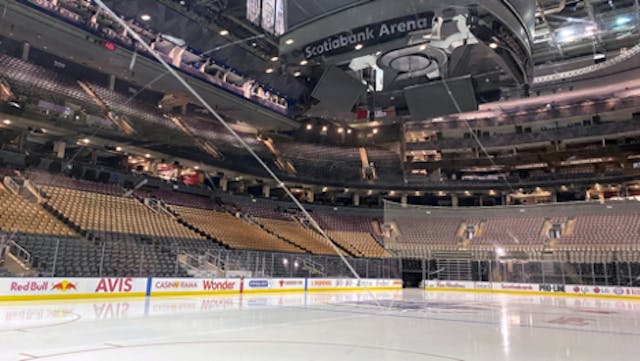 SOURCE: JOSHUA CLIPPERTON/CANADIAN PRESS
The GIST: Remember live sports? Those were the days, huh? But don't fret! While COVID-19 continues to keep us locked up for a little while longer, the major leagues are working to bring our beloved sports back.
What are they working on?: The NHL's latest idea would have each team play games in one of four cities, based on their division. The league, which along with the players' association has developed a Return to Play Committee, is still considering whether they'll play out the rest of the regular season (each team had about 12 games left) or skip ahead to a modified version of the playoffs.
These games will likely be scheduled for the summer, as rumor has it that NHL training camps will open on June 1st. That means that some players who went back to their home countries when the season was suspended (some have already begun practicing), will have to return to North America soon to complete a mandatory two-week quarantine.
Interesting. Who else is coming back?: In a serious plot twist, the NBA is going to allow some players to start practicing Friday. Players that live in cities with loosened restrictions on personal movement will be allowed to take part in voluntary, individual workouts in athletic facilities, starting May 1st. Until now, players were adhering to strict stay-at-home (i.e., workout-at-home) guidelines.
But we're not totally stoked about this. While some cities may be slowly adjusting back to "normal" life, others are still virus hotbeds. Allowing players in states like Oklahoma or Georgia, where lockdowns are being eased, to begin practicing while players in harder-hit places like New York or California are still under strict lockdown seems pretty unfair to us. As Scar would say, "Life's not fair, is it?"
Any other leagues?: The NWSL and MLS have extended their training moratoriums to May 15th, while the LPGA and PGA both have their first post-lockdown tournaments set for June 11th. And considering golf is a sport where you can actually physically distance, we wouldn't be surprised if these dates stick. No updates on potential start dates for the WNBA or MLB seasons.
What about the rest of the world?: Many European countries will begin easing lockdown restrictions next week, and since soccer is basically the lifeblood of Europe, we can look forward to some sports action from across the pond soon. In Italy, Serie A players are set to resume team training on May 18th in hopes of restarting the season in June.
Germany's Bundesliga is set to return Saturday, May 9th. And with that comes some interesting rules for players, including no...ahem, intimate relations if their significant others show coronavirus symptoms. Good luck enforcing that!
⚽

Third time's the charm

April 16, 2020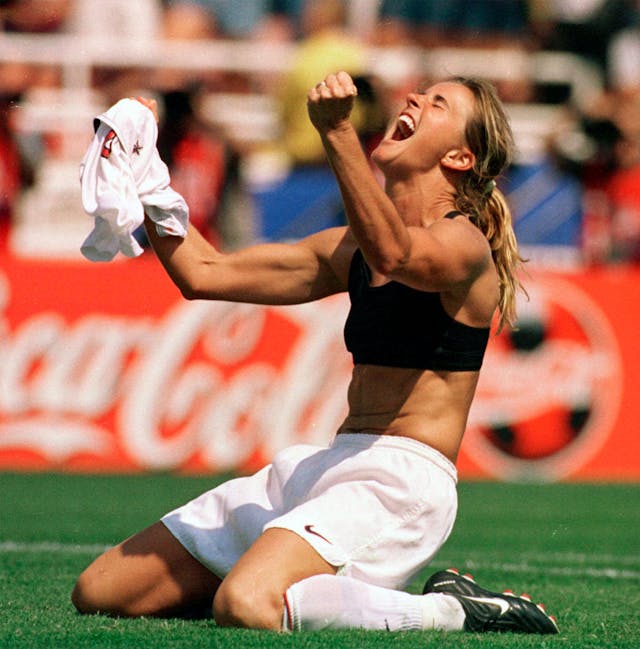 SOURCE: AP PHOTO/THE SAN FRANCISCO EXAMINER, LACY ATKINS, FILE
The GIST: The National Women's Soccer League (NWSL) was supposed to kick off (literally) this Saturday, but due to the COVID-19 pandemic, has extended their training moratorium (sounds bleak, no?) until May 5th. So to give you the soccer fix you so desperately need, we're giving you a herstory lesson — and we promise it's not the boring kind — on women's pro soccer in North America.
The 1900s: Before diving into women's pro leagues in North America, we first have to take a step back and look at what was happening internationally. While men's soccer made its Olympic debut in 1900 and had its first FIFA World Cup in 1930, the first FIFA Women's World Cup was in 1991 and women's soccer only became an Olympic sport in 1996. Let that sink in for a minute.
It was only after the US won the FIFA Women's World Cup in 1999, in front of 90,185 spectators — the largest crowd at a women's sporting event to-date — that women's soccer really began to kick (get it?) into high gear.
Early 2000s: Feeding off the momentum of the epic World Cup win, the first women's professional soccer league in the United States — the Women's United Soccer Association (WUSA) — began play in April 2001. Unfortunately, in September 2003, the league folded due to financial problems and a "lack of public interest." Translation: insufficient media coverage and endorsement support from corporations.
In 2009, the next pro league started, named the Women's Professional Soccer League (WPS). And despite a strong showing in 2009, following the 2008 US Olympic gold medal win, the league started having problems in 2010. There were internal team struggles, legal battles and, again, financial issues, which led to the league closing its doors in May 2012. Ugh.
The 2010s: At this point, the soccer world was incredibly frustrated at the tumultuous state of women's pro soccer (like, no duh) and the North American soccer federations finally recognized that to produce high-quality national players, you need to have a local pro league. So the US Soccer Federation (USSF), Canadian Soccer Association (CSA) and Mexican Football Federation (FMF) announced there would be eight teams in a new professional women's soccer league — the NWSL — that would be funded by the USSF. Ironic.
⚽

Last man standing

March 30, 2020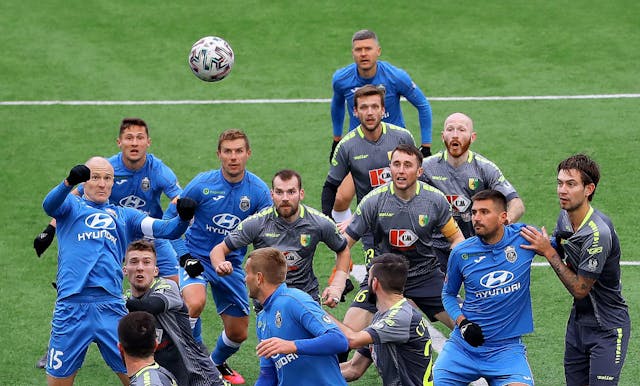 The GIST: Looks like there's only one country in the world that is completely ignoring social distancing suggestions, and like the true soccer, or shall we say, football-obsessed Europeans they are, have still allowed their professional soccer league to operate.
You're kidding. What country?: Belarus, a small eastern European country of 9.5 million people. They currently have 94 confirmed cases of COVID-19, but that doesn't seem to bother their president Alexander Lukashenko, who said last week that vodka, farmwork and saunas are the best pandemic prevention. Science.
Without a mandate from their leader, the country is continuing with business as usual, which includes filling up soccer stadiums for Vysheyshaya Liga, the Belarusian Premier League.
Isn't that dangerous?: Yes, incredibly. All other soccer leagues in Europe have suspended their seasons due to the pandemic, leaving the Belarusian league as the only professional sports league on the continent that is still actively playing matches.
The teams are taking some precautions though. Before entering the stadiums, which hold anywhere from 1,500 to 22,000 attendees, fans are screened for symptoms including fever, and some wear masks. Still seems super sketchy to us.
Surely they can't keep playing...: We wouldn't be so sure. The president staunchly believes "there are no viruses here" (uh, but there are though) and in the few weeks since literally all other sports were put on hold, the Belarusian league has signed TV rights in at least 10 different countries to broadcast their weekly games. Oh, capitalism.
With all that TV money flowing in and a pandemic-denier in charge, it looks like sports fans desperate for a fix will be FC Dinamo Minsk supporters before we know it.
⚽

Guide to Soccer

March 18, 2020
The GIST
Soccer is played on a field called a pitch with nets on both ends. Each team has 11 players (including a goalkeeper). A game is made up of two 45 minute halves. The object of the game is to score goals by kicking or heading the ball into the other teams' net. The soccer ball cannot be touched with hands or arms unless you're the goalkeeper or completing a throw in. Consequently, the game is known as "football" pretty much everywhere except North America. This name, of course, makes much more sense in comparison to NFL or CFL football, a sport played primarily using your hands. SMH at whoever came up with that name.
How is it organized?
Soccer is a wildly popular global sport mostly due to its accessibility — you literally just need a ball to play it. As a result, almost every single continent has its own professional soccer league (which can get a little confusing). The most popular men's leagues are the English Premier League (EPL), Spanish La Liga and Major League Soccer (MLS). MLS is played in North America.
Unlike other sports with a regular season and playoffs, teams collect points for wins at home or away, and goals home or away, so that at the end of the season a champion can be named. Playoffs start after the season champ is determined. On top of that, because soccer is a worldwide sport, there are huge tournaments where players represent their countries rather than the professional teams they're signed to. These are the World Cup (played every four years) and the Euro Cup (also every four years but in the even-numbered year between World Cups).
Women in Soccer
Unlike men's soccer, which is well established in Europe, women's soccer is most popular in North America. The best league in the world is the National Women's Soccer League (NWSL) with all teams based in the US. Some other leagues include the FA Women's Super League in England and D1F which stands for Division 1 Feminine in France. The North Carolina Courage won the NWHL championship in both 2018 and 2019.
Women's soccer is even more important on the international stage in tournaments like the Olympics and the World Cup. Here at The GIST, we are obsessed with our American women's national team. Most recently they made epic headlines for winning back-to-back World Cups in 2015 and 2019. In fact, dating back to the first women's World Cup, our American squad has never placed worse than third place. Unreal.
Though she is retired, Abby Wambach is the team's all-time top scorer and the leader in the world for international goals scored. More recently, Megan Rapinoe dominated headlines in 2019 for her and vocal fight for , earning her Sports Illustrated honors (an article that is worth every second of your time). Literally unstoppable.
Stuff to Know About Soccer
Soccer is the most popular sport in the world, being played in over 200 countries!
No one knows exactly when soccer was created, but the earliest versions of the game can be traced back 3,000 years. Woah.
Don't get The GIST's free twice-weekly newsletter yet? Let's make it email official.