⚽

Fever pitch

May 28, 2020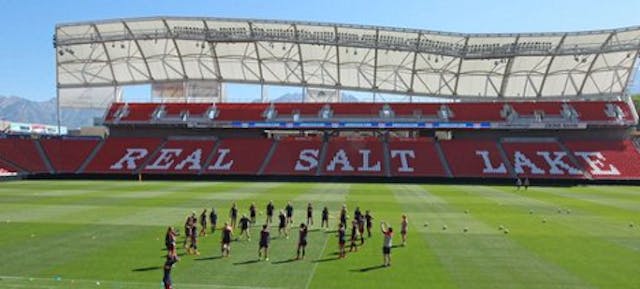 RICK BOWMER/AP
The GIST: Before any of the men's pro leagues will see sports action, the women will get to show them how it's done. Classic. The NWSL is planning a month-long tournament to kick-start the regular season and we can hardly wait.
Yes! When? Where? How?: They'll start with an Olympic-style group stage format on June 27th with each of the league's nine teams playing four games. Then the top eight teams will move on to a knockout round to determine the NWSL Challenge Cup champions.
All 25 games will be played between two spectator-less stadiums right outside Salt Lake City, Utah, (home to Utah Royals FC) where lockdown restrictions have eased. The players will be flown in on chartered planes, housed in two nearby hotels, tested regularly and have to follow a slew of safety rules.
And this is for sure happening?: Well…the plan is somewhat ambitious and completely dependent on a couple of things. For one, Salt Lake City will need to stay safe and open. If the city or state sees any major outbreaks, they could limit large gatherings (and with 22 players on the field at once, we'd say that's a large gathering).
Most importantly, the players will have to want to play. This could be hard because, on top of COVID-19, many players are concerned with playing most games on artificial turf, an injury-prone surface that women's national teams everywhere have been fighting against for years. The players have the ability to opt out, and TBH, we wouldn't fault anyone who chooses to.
⚽

You're simply the best

May 25, 2020
ANDY JACOBSOHN/AP
The GIST: This weekend, TSN Soccer's Twitter account made a little whoopsie when they asked in a poll if 19-year-old Alphonso Davies is already Canada's greatest soccer player. Obviously we think they meant male soccer player, but before they could correct themselves, Canadian Twitter made sure to let them know who the real MVP is: the legend herself, Christine Sinclair. This is why we love social media.
The GOAT: As soon as the now-deleted tweet went live, replies featuring Sinclair's greatest hits started streaming in. Sinclair has been a soccer star since her debut for the Canadian women's national team in 2000 at the age of 16 (!!!), and in January she solidified her GOAT status after scoring her 185th international goal to become the world's leading international goalscorer of all time (we're talking men and women).
She's up to 186 goals now and has won two NWSL Championships with Portland Thorns FC and, of course, two Olympic medals for Canada (and hopefully a third next summer). She's also been nominated as the FIFA Player of the Year seven times and named Canadian Player of the Year 14 times. Now that's a resume.
The kid: Davies is a GOAT in the making. After making his MLS debut with the Vancouver Whitecaps in 2016 at the age of 15, Davies joined Bayern Munich (one of the most legendary soccer teams of all time) of Bundesliga in January 2019, and has turned into one of the best midfielders in the world.
On Saturday, Davies led Bayern to a 5–2 win, and rumour has it that Real Madrid (pronounced RAY-AL) is looking to poach him. He's a Canadian superstar, an international phenom and a TikTok legend. We're pumped to see what his super bright future has in store — but, c'mon, he's no Christine.
🏒

⚾

🎾

⚽

So tell me what you want, what you really, really want

May 21, 2020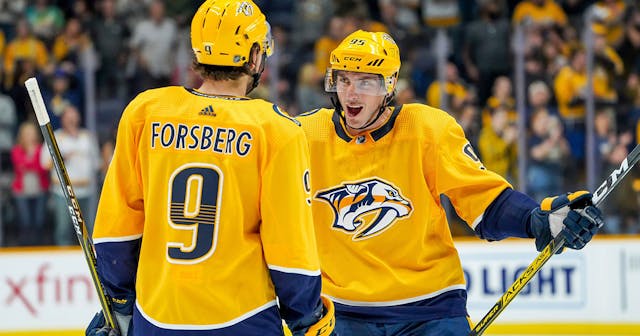 ASSOCIATED PRESS
The GIST: There has been a lot of talk over the past few months about the leagues and teams working hard to get their players back in action, which makes us think: what do the players (really, really) want?
NHL: According to Nashville Predator Matt Duchene, most NHLers just want to stay healthy. In an interview this week, Duchene was adamant that the business side of the game isn't more important than the health and safety of its players, a sentiment that seems to be felt across the board. Preach, baby.
Duchene is also hopeful for a traditional playoff format, saying, "You don't want to have a COVID Cup," alluding to the idea that the team who wins this season's Stanley Cup — if the season can't be played out in full — will forever have an asterisk beside it. He's totally right: nobody likes an asterisk.
MLB: The league has come out with a 67-page health and safety "return to play" rulebook, and according to Colorado Rockies outfielder and four-time All-Star Charlie Blackmon, he and his fellow players want to get back on the diamond and are ready to follow those rules. He argues that America needs baseball in the summer (not, not true) and he's confident that the MLB will do the right thing.
Blackmon's exact words were: "I think I can trust our guys...I think we can be trusted not to go to the mall and lick other people's faces." We guess they're lucky Brad Marchand doesn't play baseball.
WTA: Doing her best Kevin McCallister impression, Canadian tennis doubles phenom Gabriela Dabrowski said in an interview this week that she's not afraid of contracting the virus, saying, "I don't live my life in fear," but doesn't want to put her fellow tennis players at risk. She's happy to wait until the WTA gives the all-clear to get back in the game. Respect.
EPL: The English Premier League's (EPL) "Project Restart" has at least one vocal opponent: Watford FC captain Troy Deeney. He decided that he wouldn't be practicing with his team, saying, "I don't want to put my son in danger," referencing his five-month-old who has breathing problems. Very, very fair.
And Deeney's a trendsetter. This week, the EPL conducted 750 COVID-19 tests and six tests came back positive, including three from Watford. Now some of Deeney's teammates are skipping practice too, and if Watford can't field enough players, it could halt the EPL's entire plan.
🏀

🏒

🏈

⚽

Not so fast

May 07, 2020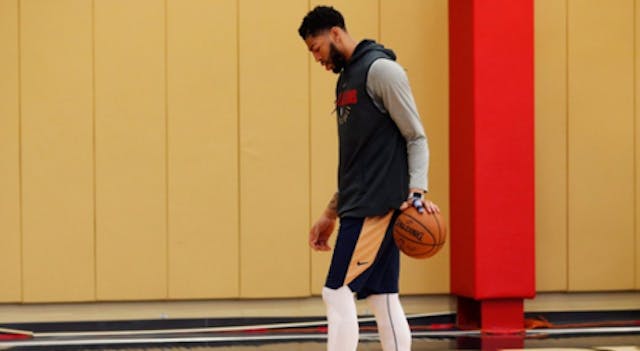 GERALD HERBERT/AP
The GIST: It's a good thing the NWSL is leading the charge, because other major leagues in North America still have a lot of work to do before they can get back on the court/ice/field/our screens.
NBA: Earlier this week, the NBA gave the all-clear for teams to reopen their practice facilities to allow for individual workouts starting tomorrow...which sounded great in theory. But when the rules of the workouts were announced yesterday, it seems very unlikely league-wide practices will begin anytime soon.
Only teams in cities with laxed restrictions can take part, and even then, teams will need to adhere to safety and distancing rules. Based on state guidelines and individual team decisions, as few as three teams plan to open their facilities tomorrow. Like we've mentioned before, this could lead to a v. unfair advantage for some teams once the season eventually restarts.
NHL: The NHL has been pretty tight-lipped lately, but this "bubble city" idea might actually work to restart the season. The plan has four North American cities acting as host cities for (maybe) the rest of the regular season and the playoffs (of which the format has yet to be announced) which would take place over the summer.
Up to 14 cities submitted a bid to host before last Friday's deadline, and each had to show that they had enough empty hotels to safely house between 600 and 1,000 people (you know, to avoid popping the bubble), and a nearby practice facility.
NFL: Although there's still a ton of time before the NFL regular season starts in September, they're not exempt from impacts of the COVID-19 pandemic. The league is currently estimating a possible loss of $3.2 billion if the season has to be played without spectators. And the international series has been canceled, which would have seen one game take place in Mexico City and four games in London. Bloody hell.
Speaking of football in Europe, at least fútbol is on its way back. The German pro league Bundesliga got the official okay from Chancellor Angela Merkel to resume the season on May 15th, and Spain's La Liga has opened training camps, so between these leagues and the NWSL, it looks like we're all going to be big soccer fans this spring.
⚽

Now back to the good part

May 07, 2020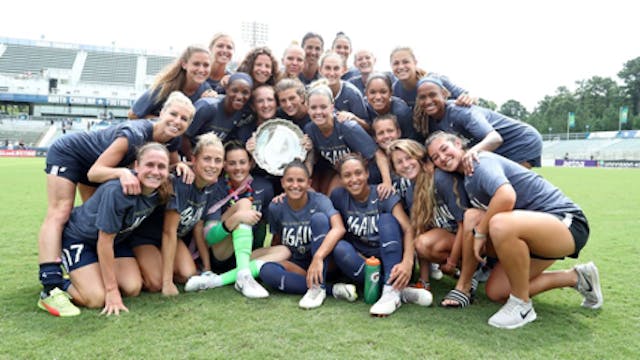 ANDY MEAD/ISIPHOTOS.COM
The GIST: The COVID-19 pandemic has proven what we've already known for a long time: women are damn good world leaders. Now the National Women's Soccer League (NWSL) is looking to prove that point in the sports world, too.
Awesome! How?: By making the NWSL the first North American league to safely start up again since the whole world basically stopped back in March. The 2020 NWSL season was supposed to start on April 18th before being pushed back indefinitely. But yesterday, the league began the first phase of its "Return to Play Phased Protocol," allowing players to take part in voluntary, individual workouts in team practice facilities.
The league is still holding off on team practices, but plans to start training camps on May 16th. If all goes well, we could see games start back up (without fans in the stands, of course) by the last week of June. Thank goodness.
So great. Why aren't all the leagues doing this?: While other major leagues are mostly made up of 20-plus teams, field international players and hold games across the US-Canada border, the NWSL has only nine teams with mostly American rosters, all located in the US, making it a good starting point to get the sports world turning again.
And because we're all about silver linings, we can't help but think of what a great opportunity this could be for women's sports. With other pro leagues in North America still working on contingency plans, the NWSL has the chance to fill the gaping hole in sports networks' broadcast schedules and sports fans' hearts. We're so here for this.