🏆

A celebration to last throughout the years

May 18, 2020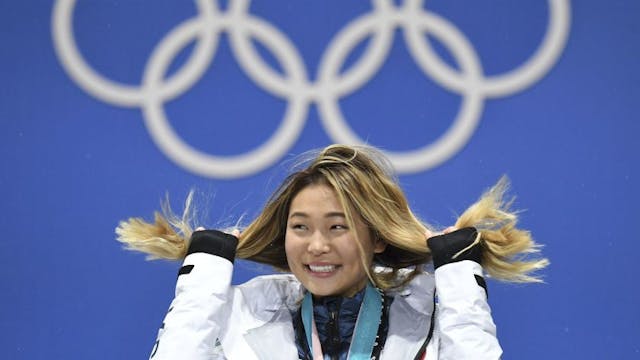 SEAN M. HAFFEY/GETTY IMAGES
The GIST: It's mid-May, which means we're smack-dab in the middle of Asian and Pacific Islander American Heritage Month in the US and Asian Heritage Month in Canada. So today we're celebrating the successes of five North American female athletes of Asian descent who've proven their power on a global scale.
Michelle Kwan: This beloved retired American figure skater is hands down one of the greatest figure skaters of all time. Known for her consistency and creative expression (including her beautiful spiral), Kwan is the most decorated figure skater in US history, with nine US championships, five World championships and two Olympic medals under her belt, er, dress.
Julie Chu: Sticking with the ice theme, retired hockey player Julie Chu became the first Asian American to play for the US Olympic hockey team, in 2002. The former captain is a four-time Olympic medalist, five-time World champion and Harvard graduate. What, like it's hard?
Chu and her wife, former Canadian hockey captain Caroline Ouellette (talk about keeping your enemy close…), now coach university hockey together and just welcomed baby number two to the family. S'cute!
Carol Huynh: You don't want to mess with Carol Huynh. The now retired wrestler is a two-time Olympic medalist (winning gold in Beijing in 2008 before earning a bronze in London four years later) and 11-time national champion. Huynh was her family's first Canadian-born child after they immigrated as refugees from Vietnam.
Mohini Bhardwaj: Who doesn't love a comeback kid? Born in Philadelphia to an Indian father and Russian mother, Mohini Bhardwaj was an All-American gymnast at UCLA and a star on the national team before an injury forced her to retire in 2002.
Eager to get back competing but low on funds, Bhardwaj found unlikely financial support from actress Pamela Anderson and was able to return to glory and become the first Indian-American gymnast to medal at the Olympics, winning a silver in Athens in 2004. Amazing.
Chloe Kim: At the ripe age of 17, American Chloe Kim became the youngest woman to win an Olympic snowboarding medal when she won gold in the women's snowboard halfpipe in 2018, taking both the snowboarding world and Twitter world by storm (thanks to her relatable AF tweets).
According to her, she is, "so proud to get to represent the Asian American community every time I go out and compete. We're badass, and I hope that the world sees that. It's an honor I wear proudly."
🏆

Let's get it started

May 14, 2020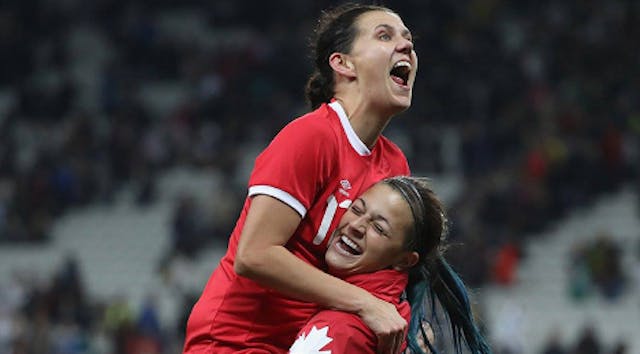 ROBERT CIANFLONE/FIFA
The GIST: Okay, don't look now, but we're pretty sure we see live sports on the horizon. Like, real, professional, honest-to-goodness sports.
Sports? Here? Now?!: Yes! Let's start with soccer. Germany's Bundesliga starts on Saturday, and even if you don't sprechen Deutsch, you can still be super pumped. Meanwhile, England's Premier League is looking at a June 1st return, while Italy's Serie A has a start date set for June 13th.
Here in North America, the MLS is looking at running a tournament in Florida, while the NWSL is ramping up to next month's season start date (knock on wood), allowing individual, on-field practice for players (in states that have relaxed lockdowns, of course). There are still a ton of safeguards in place to ensure safety though, including wearing face masks everywhere but on the field, temperature checks and goal post sanitization.
Cool! Any other sports?: Golf is back too. And it's a pretty safe sport to play right now considering it's played outdoors, has individualized gameplay and most players wear gloves anyway. The South Korean women's golf tour starts today (!!!) with the KLPGA Championship in Seoul. Although no North Americans are playing, three of the top 10 women's players in the world are, so we're v. much here for it.
The PGA has had a June 11th start date set for a while, and now they have a pretty comprehensive safety plan to ensure everything goes well. They've chartered planes for all players, caddies and tour officials to travel to the first four tournaments and will house everyone in a "bubble" environment with regular health checks and testing.
Well, that's exciting: Tell us about it! The MLB has a tenative plan to return, too. The proposal, which has the 2020 season starting during the Fourth of July long weekend (fun, right?), was approved by team owners on Monday, and now they just need the players' union to agree (which might not be so easy).
The NHL still hasn't made any decisions, but league commissioner Gary Bettman has high hopes the season will be salvaged. And this week, NBA commissioner Adam Silver announced that he'll make a decision on the season in the next two to four weeks. So, an announcement announcing another announcement. Cool.
Weird. But you're telling me I get to watch sports this weekend, right?: We sure are. In addition to soccer and KLPGA, four of the best male golfers in the world are facing off in a charity skins match called TaylorMade Driving Relief. Rory McIlroy and Dustin Johnson will play against Rickie Fowler and Matthew Wolff for $3 million (all of which will go to charity). Practice your golf claps tonight.
🏆

Here we go again

May 11, 2020
AARON M. SPRECHER/AP
The GIST: Last week, we told you about the NCAA's progressive step forward in preventing sexual violence and protecting students. This week, we're telling you about how the US government is basically doing the opposite. Ugh.
Wait, remind me what happened: Sure thing. Following the incredibly unnerving "Predator Pipeline" exposé and a recent lawsuit, the NCAA made changes to their sexual violence policy, announcing that student-athletes must annually disclose acts of violence that resulted in an investigation or discipline through a Title IX proceeding or criminal conviction. The idea is that this rule would make it harder for offenders to transfer to a different school after a transgression (a common practice).
Quick reminder that Title IX is part of the Education Amendment Act of 1972, which prevents discrimination on the basis of sex in educational programs. Collegiate sports are considered educational programs, so they're federally regulated by the Department of Education.
Got it. So what happened now?: On Wednesday, controversial US Secretary of Education Betsy DeVos announced new Title IX regulations. While most of the new changes are problematic, the most horrific revision no longer requires coaches or university staff to report allegations of sexual misconduct or assault to the Title IX office.
This basically means that someone within an athletic organization (including student-athletes) could commit a sexual offense, and the staff would have no obligation to report it to Title IX officials, allowing offenders to slip through the cracks and possibly re-offend. SMDH.
Why would they do this?: Honestly, we have no idea. Other changes include a narrower definition of sexual harassment, as well as additional protection of the rights of the accused. It all, sadly, seems pretty regressive to us.
Luckily, this doesn't need to affect the NCAA's sexual violence policy. It can continue with its progressive momentum from the new annual disclosure policy and still ask coaches and athletics staff to report misconducts (it just won't be federally mandated to do so). Let's hope the NCAA does the right thing.
🏆

Do the two step, then cowboy boogie

May 11, 2020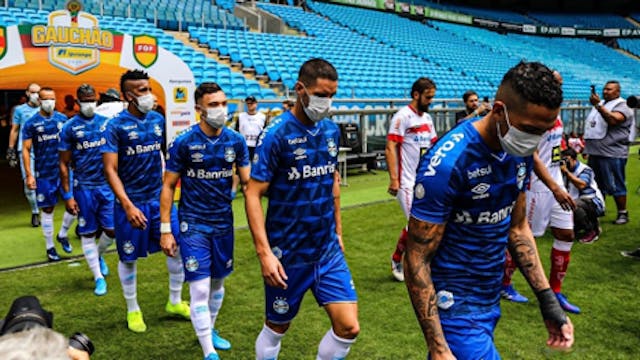 LUCAS UEBEL/GETTY IMAGES
The GIST: We're making progress, people! Well...sort of. While the COVID-19 pandemic is still raging, sports leagues around the world are slowly restarting. But, unfortunately, it seems to be a bit of a "two steps forward, one step back" situation.
How so?: Take the Ultimate Fighting Championship (UFC), for example. After a nearly two month hiatus, the mixed martial arts league hosted their first fight night on Saturday in a spectator-less arena in Florida, and the event went off almost without a hitch.
The only complication? One of the fighters, Ronaldo Souza, tested positive for COVID-19 just a day before his fight, but not before participating in the weigh-in with his opponent, Uriah Hall, and UFC president, Dana White, and hanging out with other fighters. So not okay.
That's not great: It's really not. Meanwhile, over in Europe, Germany's pro soccer league Bundesliga is set to restart on Saturday (yay!), but Dynamo Dresden, a team in the second-tier league, is now in isolation after two players tested positive for COVID-19 (not yay). Still, the Bundesliga CEO was adamant that they will proceed with the restart, even without an entire team.
On a similar note, another five players in Spain's La Liga (which recently began individual training) have tested positive, and the English Premier League's "Project Restart" has hit a roadblock, as three players on Brighton have also tested positive. Maybe, just maybe, we're getting ahead of ourselves?
Yeah, seems like it. Are any other leagues restarting?: The MLB is talking with team owners today to discuss a potential July start featuring a modified 80-game season with a regionalized schedule (and, TBH, we're totally okay with it — we've always found the 162-game regular season too long).
And the NBA has started letting players train again, though they may not have a decision on how the regular season will proceed until June. It's been reported that once the season starts, players will be tested for COVID-19 daily, and should a player test positive and need to be quarantined, there would be no stoppage in play. Not sure how we feel about that.
🏆

A little louder for the people in the back

May 07, 2020
MATT SLOCUM/AP
The GIST: On Monday, we said we were so sick of the holier-than-thou student athlete culture, after seven women sued the NCAA for failing to protect them from alleged sexual assaults by male athletes. Turns out the NCAA is finally sick of it, too. That, or they're also GISTers.
Good! Okay, start from the beginning: About five months ago — thanks to some excellent investigative journalism — a report known as the "Predator Pipeline" was released. The exposé revealed that college athletes are implicated in an outsized share of campus sexual assaults. And that at the time, nothing in the NCAA's 440-page rulebook stopped those found responsible for sexual or violent misconduct from competing. SMDH.
But it gets worse. The piece also revealed that even when an athlete was expelled or criminally convicted of sexual offenses, athletes easily transferred to other NCAA schools, often recruited by other coaches, and returned to their sport within a year or less.
Got it — hence the "Predator Pipeline": Exactly. These athletes could go from school to school to school and repeatedly offend along the way, as the NCAA had no personal conduct policy and no specific penalties for those who committed sexual assault. And apparently, despite being well aware of the issue for years, the NCAA Board of Governors even resisted pressure from US senators to fix it.
So what is the NCAA going to do about this?: Now, the NCAA is saying that athletes must annually disclose acts of violence that resulted in an investigation, discipline through a Title IX proceeding or criminal conviction. And if you're thinking, "How wasn't this a rule before?" we had the same response.
Jeez. So it's all fixed now?: Well, not quite. To us, this new policy is missing one glaring thing: there are still no rules that restrict the eligibility of athletes who have committed these acts. So, technically, even if a student does disclose an act, a school, in theory, could turn a blind eye and allow them to play.
The new policy puts a big onus on the schools and the athletes themselves, and the NCAA, as the all-seeing regulator, needs to figure out how they'll deal with the rulebreakers. Regardless, this is definitely a step in the right direction.