The GIST: As if you needed an excuse to blast Olivia Rodrigo's album for the 100th time, the 76ers lost the first game of their series against the Atlanta Hawks last night. Siri, play "brutal."
June 08, 2021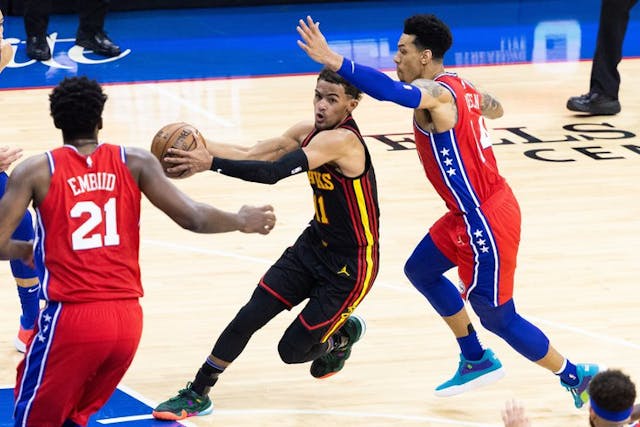 Source: Bill Streicher/USA Today Sports
🏀Sixers: Our hearts are still pounding from the final three minutes of yesterday's Game 1. The squad came back from a 16-point deficit to nearly take the game, but the Hawks made some key shots to end it, winning .
Even though it was a thrilling ending, the Sixers played terribly: they missed 11 free throws, gave up 19 turnovers, and made only 10 of 29 three-point attempts. The good news? It was so bad that the Sixers are unlikely to play again. It's science.
⚾️Phillies: The Phils' 12–6 win yesterday was a wild one: J.T. Realmuto hit his , Andrew McCutchen recorded his , pitcher made his MLB debut, and the netting at CBP . Sheesh.
The victory marked the Phils' third in four games and gave them the 2-1 series win. They'll look to keep it going when they take on the Atlanta Braves tomorrow at 7 p.m. ET.