Los Angeles: Clippers Hope to Shine in Round 2 of NBA Playoffs
June 08, 2021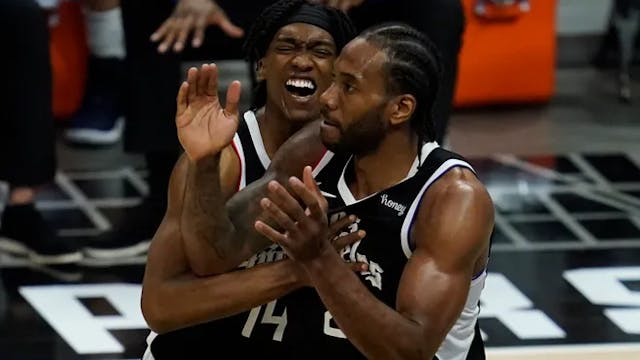 Source: Ashley Landis/AP
🏀NBA: While the Lakers (still crying), the Clippers are keeping the City of Champions' title hopes alive, defeating the Dallas Mavericks in Game 7 yesterday to advance to the second round.
Kawhi Leonard almost collected a , while Reggie Jackson and Marcus Morris late in the fourth quarter. We .
The Clips face the Jazz in Utah for Game 1 tomorrow at 10 p.m. ET/7 p.m. PT. No rest for the wicked.
🏀Sparks: Although both Ogwumike (pronounced oh-gwoo-MIH-kay) sisters are , Erica Wheeler stepped up with a season-high 22 points in the Sparks' 68–63 victory over the Chicago Sky on Saturday. LA's defense was stellar as well, with Amanda Zahui B.'s (pronounced ZAH-wee BEE) four blocks and Nia Coffey's down the stretch. Bam.
🎓🥎UCLA: Despite an early, from pitcher Rachel Garcia, the defending champs UCLA were eliminated from the WCWS by No. 1 Oklahoma on Saturday. Not how we wanted to see one of the end her collegiate career.
⚾️MLB: Both the Dodgers and Angels lost yesterday, with the Dodgers dropping a to the Atlanta Braves and the Halos splitting a with the Seattle Mariners. You win some, you lose some.