⚽

You're simply the best

May 25, 2020
ANDY JACOBSOHN/AP
The GIST: This weekend, TSN Soccer's Twitter account made a little whoopsie when they asked in a poll if 19-year-old Alphonso Davies is already Canada's greatest soccer player. Obviously we think they meant male soccer player, but before they could correct themselves, Canadian Twitter made sure to let them know who the real MVP is: the legend herself, Christine Sinclair. This is why we love social media.
The GOAT: As soon as the now-deleted tweet went live, replies featuring Sinclair's greatest hits started streaming in. Sinclair has been a soccer star since her debut for the Canadian women's national team in 2000 at the age of 16 (!!!), and in January she solidified her GOAT status after scoring her 185th international goal to become the world's leading international goalscorer of all time (we're talking men and women).
She's up to 186 goals now and has won two NWSL Championships with Portland Thorns FC and, of course, two Olympic medals for Canada (and hopefully a third next summer). She's also been nominated as the FIFA Player of the Year seven times and named Canadian Player of the Year 14 times. Now that's a resume.
The kid: Davies is a GOAT in the making. After making his MLS debut with the Vancouver Whitecaps in 2016 at the age of 15, Davies joined Bayern Munich (one of the most legendary soccer teams of all time) of Bundesliga in January 2019, and has turned into one of the best midfielders in the world.
On Saturday, Davies led Bayern to a 5–2 win, and rumour has it that Real Madrid (pronounced RAY-AL) is looking to poach him. He's a Canadian superstar, an international phenom and a TikTok legend. We're pumped to see what his super bright future has in store — but, c'mon, he's no Christine.
🏆

Back to business

May 21, 2020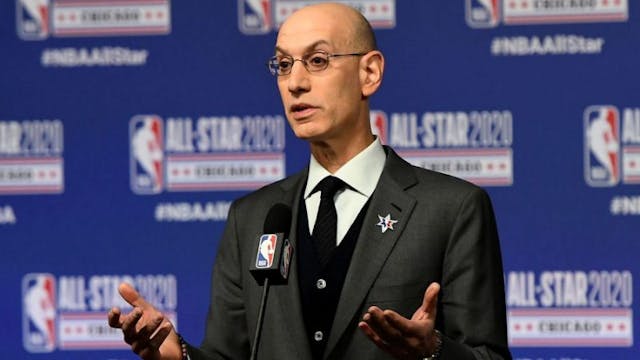 YAHOO! SPORTS
The GIST: Despite the World Health Organization (WHO) reporting that yesterday saw the biggest single-day increase in global COVID-19 cases (seriously, this thing isn't over), sports leagues are still making significant progress in their back to work plans.
Tell me more: The NBA is reportedly close to allowing teams to ask players who were riding out the pandemic away from their team's city to move back. The "recall," which is expected on June 1st, would likely take up to three weeks as players will need to travel and then complete a 14-day quarantine before beginning training.
The league (which, BTW, is also participating in a COVID antibody study with the Mayo Clinic — so cool) is apparently hoping to give the green light to resume games by the end of July. And, in an attempt to limit travel, the league is also looking at completing the season in a hub city, likely Orlando. Disney World, here we come!
Sweet! What else?: The NHL continues to prove they are diehard Seinfeld fans as they work on their bubble plan. League commissioner Gary Bettman said they're currently assessing proposals from up to nine cities — each chosen location would act as a hub for about 12 teams to either play out the regular season or participate in a playoff tournament.
Among the cities in contention are Las Vegas, Toronto, Edmonton, Vancouver, Columbus and somewhere in Minnesota. The league is confident that border issues won't affect the "return to work" plan.
Nice! Keep going!: NCAA student-athletes will be allowed to start training again soon, too. Yesterday, the NCAA Division I Council voted to allow football and basketball players to resume training on June 1st. While many colleges are going completely online for the summer and some for the fall semesters, we're v. interested to see what being the only kids on campus will mean for these student-athletes.
Interesting. Anyone else?: Negotiations over the potential 2020 season continue between the MLB and the players union. The league is expected to submit an official proposal by Friday, which will suggest an 82-game regionalized schedule, an expanded 14-team postseason starting in October and a 50/50 revenue split between players and team owners.
Meanwhile in Canada, the CFL, which was due to start next month, has postponed their season until September at the earliest, with the Grey Cup championship game, normally held in November, likely being pushed to December. Outdoor football during the Canadian winter? We'll be happy to watch this one from home.
🏒
⚾
🎾
⚽
So tell me what you want, what you really, really want
May 21, 2020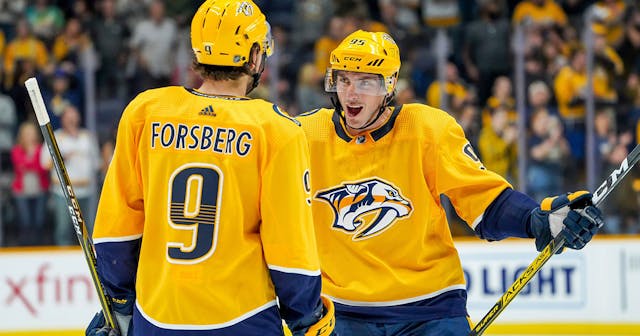 ASSOCIATED PRESS
The GIST: There has been a lot of talk over the past few months about the leagues and teams working hard to get their players back in action, which makes us think: what do the players (really, really) want?
NHL: According to Nashville Predator Matt Duchene, most NHLers just want to stay healthy. In an interview this week, Duchene was adamant that the business side of the game isn't more important than the health and safety of its players, a sentiment that seems to be felt across the board. Preach, baby.
Duchene is also hopeful for a traditional playoff format, saying, "You don't want to have a COVID Cup," alluding to the idea that the team who wins this season's Stanley Cup — if the season can't be played out in full — will forever have an asterisk beside it. He's totally right: nobody likes an asterisk.
MLB: The league has come out with a 67-page health and safety "return to play" rulebook, and according to Colorado Rockies outfielder and four-time All-Star Charlie Blackmon, he and his fellow players want to get back on the diamond and are ready to follow those rules. He argues that America needs baseball in the summer (not, not true) and he's confident that the MLB will do the right thing.
Blackmon's exact words were: "I think I can trust our guys...I think we can be trusted not to go to the mall and lick other people's faces." We guess they're lucky Brad Marchand doesn't play baseball.
WTA: Doing her best Kevin McCallister impression, Canadian tennis doubles phenom Gabriela Dabrowski said in an interview this week that she's not afraid of contracting the virus, saying, "I don't live my life in fear," but doesn't want to put her fellow tennis players at risk. She's happy to wait until the WTA gives the all-clear to get back in the game. Respect.
EPL: The English Premier League's (EPL) "Project Restart" has at least one vocal opponent: Watford FC captain Troy Deeney. He decided that he wouldn't be practicing with his team, saying, "I don't want to put my son in danger," referencing his five-month-old who has breathing problems. Very, very fair.
And Deeney's a trendsetter. This week, the EPL conducted 750 COVID-19 tests and six tests came back positive, including three from Watford. Now some of Deeney's teammates are skipping practice too, and if Watford can't field enough players, it could halt the EPL's entire plan.
🏆

Let's talk about it

May 21, 2020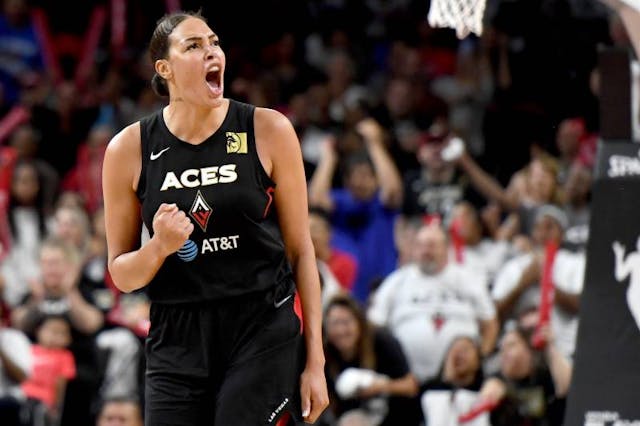 ETHAN MILLER/GETTY IMAGES
The GIST: May is Mental Health Awareness month. And during unprecedented times like these, taking care of your mental health can be a bit of a struggle. So we wanted to highlight some stories of athletes managing their mental health and well-being, because even though they may seem like superheroes to us, at the end of the day, they're human too.
Earlier this week, American swimmer Michael Phelps, the most decorated Olympian of all time (with a total of 28 medals), shared that the COVID-19 quarantine and pandemic has caused him to feel the most overwhelmed he's ever felt — yes, even more overwhelmed than competing in the Olympics.
To help manage things, Phelps has been hitting the gym for at least 90 minutes every morning (audacious task for us non-Olympians, but you get the point), writing motivational quotes on his mirror, using Talkspace (which he is on the board of, so there might be a wee bit of bias there) and journaling.
In February, two-time Olympic gold medalist and dear friend of The GIST, Canadian trampolinist Rosie MacLennan, opened up about her experience with anxiety and how it took away the fun of trampolining.
Some things that help Rosie manage her anxiety are practicing gratitude, doing deep breathing exercises and taking the time to stretch. And, lucky for us, at 12:30 p.m. ET tomorrow, we're hosting an Instagram Live with Rosie on our Canadian Instagram for The GIST's 20 in 20 (where we ask 20 questions in 20 minutes — clever, we know). Grab a sandwich and tune in!
Last year, our favorite Aussie, WNBA superstar Liz Cambage, shared her lifelong battle with anxiety and depression, including how it would impact her game.
Cambage explained how she treated her mental health like any other injury — taking time to rehab, talking to professionals and recognizing that her feelings were, and are, okay.
We're living in some pretty strange times, and the increased stress, changes to routine and lack of physical connection can seriously affect mental health. It's comforting to know that we're not alone. You, these athletes, and us, your friends here at The GIST, are all in this together. If you ever feel the need to talk to someone, you can find some great resources here.
🏒

Jayna Hefford Pt 2

May 19, 2020
After our first interview with Hockey Hall of Famer and five-time Olympian Jayna Hefford (NBD) in August 2019, we recently re-connected with the current Operations Consultant for the Professional Women's Hockey Players' Association (PWHPA) to follow up on how things are going during this "gap year" and what's next for women's hockey.
Lexie, at The GIST (TG): So! A lot has happened between the CWHL folding in May, and where the PWHPA is now. What has surprised or excited you the most this year?
Jayna Hefford (JH): First, taking a look at our partner profile and seeing the support we've received from companies who haven't traditionally been in women's hockey and have stepped up in really big ways is exciting (Editor's note: adidas, Budweiser Canada, Secret, the NHLPA and others recently stepped up as of the PWHPA this year). That's big, and has happened in such a short amount of time.
The second thing that excites me is looking back at the . We went from four of our players being invited to participate in the skills competition (Editor's note: I mean, can you really forget Kendall Coyne-Schofield or #PayDecker?) last year, to 20 PWHPA players this year playing in a dedicated 3v3 game. That alone is progress, but seeing the women skate out with an NHL crest on their jersey was significant. The NHL could have put a Maple Leaf or stars and stripes on the players' jerseys, but the choice to put their NHL logo on these women means they really stand behind us.
TG: That is a great point about the message of support sent by the NHL with putting the PWHPA players in their jersey.

TG: Looking forward, two of the next big stops for the PWHPA are in and . What has that support looked like from the NHL teams there, and how much of a difference does that make?

JH: These are really big ones for us. In Philadelphia (February 29th - March 1st), we're working with Flyers Charities, and in Arizona (March 6th - March 8th) we're working entirely with Coyotes organization.
This is really important for us, because we believe this is what the women's game needs. For our sport to be successful, we need infrastructure, we need marketing, and we need access to these resources to effectively market the women's game in a way we'll see results from.
Philadelphia from the beginning has been incredibly engaged and is very ingrained in women's hockey and wants to see the growth, and it shows. With Arizona, the Coyotes came to us, and they've been really excited to bring the women's game there. Southern markets in hockey in general have had to work really hard to drive their fanbases, so they know the work that growing the game takes.

We saw that similar understanding in Anaheim earlier this month where a record was set for the largest attendance for a women's hockey game in the U.S. So the Coyotes are very engaged and they have been from the beginning. They have a great minor girls' organization and they know the importance of bringing the women's game, and its players, to their young girls and the next generation of female hockey players.
So moving towards more of these styles of events where we partner with the NHL clubs is big for us. We've always known we need infrastructure and proper resources to be successful.
Image c/o @PWHPA
TG: Speaking of the attendance record set in Anaheim for the biggest crowd EVER to watch women's hockey on American soil (yes!), what does that say for the PWHPA and opportunities moving forward?
JH: Our goal is always to try to grow the game globally (Editor's note: On Monday, the PWHPA their recently announced first trip outside of North America to Japan), but with most of our players in North America, we're really focused on these markets.
But the thing is, the work that Anaheim put in to market that event is a direct correlation to the results. Women's sports are underrepresented in media and under resourced in administration, marketing, and beyond. So when you have those resources in place, that's when you see direct results with attendance and revenue.
Hats off to Anaheim and their efforts from the beginning. They upped their marketing efforts, ran in-game promotions, leveraged their players alongside the national players, and it all paid off. They had a goal to set the record for the biggest attendance, and they did, but that was not by chance.
So, that's the key point. They were committed to growing the game. And when the appetite is there and you have the necessary resources and put the work into it, that's how you see success. That's what we need.
TG: Very, very true. Now that it's almost been a full traditional hockey season of operating the PWHPA, what have been the biggest learnings for you?
JH: It's really around how the conversation has changed. When the CWHL folded we unfortunately had to go through a difficult time of sorting out what was the best way forward with women's hockey. We learned that a lot of people do care and really want to see the sport grow. So we want to continue to grow it.
Through women's hockey, we can develop more female leaders, and keep girls in sport longer. So what we're doing is bigger than just hockey. We can influence society in a positive way, and we've had partners jump on who recognize that. For us, we aren't saying women should make the same money as men right now, that's not where our fight is...but we believe in equal opportunity and investment in sport and that all comes back to resources and infrastructure. In women's hockey, we've never been given that opportunity. The quality of our product and performance has been there, but we haven't had the infrastructure and resources to get it where it needs to be.
TG: Absolutely. That's such an important distinction, and a conversation that's been coming up a lot lately across women's sports, where equality in sports doesn't just mean equal pay.

JH: Yes. And every sport is in a different place, and having different conversations. Right now, women's soccer is at a point in their sport where their fight is around pay equity. That's where they are and what they deserve.
Women's basketball is still growing. The WNBA commissioner was asked, "how do you invest when you're not making money?" She responded, that question can just as easily be asked with men's sports. Because the fact is, many men's sports don't make money, or didn't make money. But when you put money and resources towards it, that's when you see growth, success and profits. Now, the WNBA is at a point where they're going to see an increase in revenue and performance which will all continue to grow the game.
Right now, we are behind those sports with our challenges and where we are in the process, but we want to get there. It all just starts with investment.
TG: So true. Now, looking forward, any idea what is next after this year? Any updates for the future of the PWHPA?
JH: We're in the middle of those conversations. Right now, we're just looking to continue to provide opportunities for players to play, and we'll go from there. This year we set the stage, so looking forward, the question is, "How do we get better? How do we do more events? How do we make our events better? How do we provide more opportunities for all of our athletes?"
That's a big thing for us because providing enough opportunities for all of our athletes in the PWHPA has been a big challenge. So, we want to do more of that (Editor's note: the PWHPA has over 200 players in its' association to account for). We want to try to build within the NHL and its organizations, and continue to see what kind of events we can run.
We can still do a lot better. But right now, we're trying to focus on short-term and continuing to improve. We don't know how long that short term is, but we're just going to keep working hard for the sport and players.
TG: When you look back a few months ago when you started with the PWHPA, are you more or less where you thought you would be at this point?
JH: The idealistic part of me thought maybe we'd be further along and talking more about a pro league with an established league, but realistically that's not happening overnight. That's where having a resource like Billie Jean King with us has been crucial, to help remind us that it's not going to happen overnight.
She shared a quote with us,
"When you leave history it feels long, when you read it it feels short."
It's a great reminder, and to think we could do this in less than a year and get to an established place, was unrealistic...but we are overall optimistic for the sport.
We all believe in hockey and the impact it can have on our current and future generations. So right now, we just continue to push, amplify the women's game and work to grow it.
That's #thegistof it.
Don't get The GIST's free twice-weekly newsletter yet? Let's .