🏈

Nacho average football game

January 30, 2020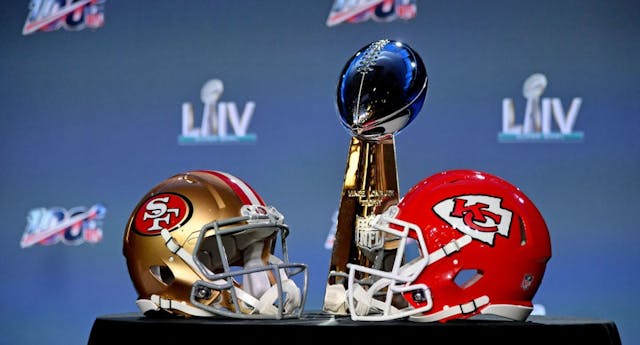 The GIST: The Big Game is right around the corner! Here's #thegist of Super Bowl LIV (that's fancy-speak for 54).
First, tell me when the game is: Action kicks off on Sunday, February 2nd, at 6:30 p.m. ET. And if you're not lucky enough to be at the Hard Rock Stadium in Miami, Florida, you can find out where to watch here.
Great! Now who's playing?: The high-flying Kansas City Chiefs (who won the American Football Conference, aka AFC, and are heading to their first SB in 50 years) will play against the top-ranked defense of the San Francisco 49ers (who ran away with the National Football Conference, aka NFC).
Even though San Fran is basking in their reclaimed dominance, KC really wants this one for their head coach's legacy. KC's Andy Reid is one of the most accomplished head coaches in NFL history, but he's missing a Super Bowl win. It's also been 15 years since his last chance at a title, so we're guessing the boys will be pretty motivated to get Reid his celebratory cheeseburger.
So, who will win?: These two teams can't be a closer match, with San Fran finishing the season at 13-3 and KC at 12-4. KC is just a one-point favorite to win, which basically means even the oddsmakers have no clue who TF is going to take this one. The one thing we can guarantee? Quarterbacks Patrick Mahomes (KC) and Jimmy Garoppolo (San Fran) will both have to bring their A-games if either one wants to pull out a victory.
What about the halftime show?: Who would be more perfect headliners in the American capital of Latin music than Jennifer Lopez and Shakira? Nobody. And our hips words don't lie when we say their performance might be what we're anticipating most.
Anything else?: Don't forget that herstory will also be made when 49ers offensive assistant coach Katie Sowers becomes the first openly LGBTQ+ and female full-time coach to get to the NFL's biggest stage. Cheers to shattering not one, but two glass ceilings!
Want more?: We thought you would. Our special edition launch podcast is all about the Super Bowl. Click here to get The GIST of It.
🏀

RIP to to two legends

January 27, 2020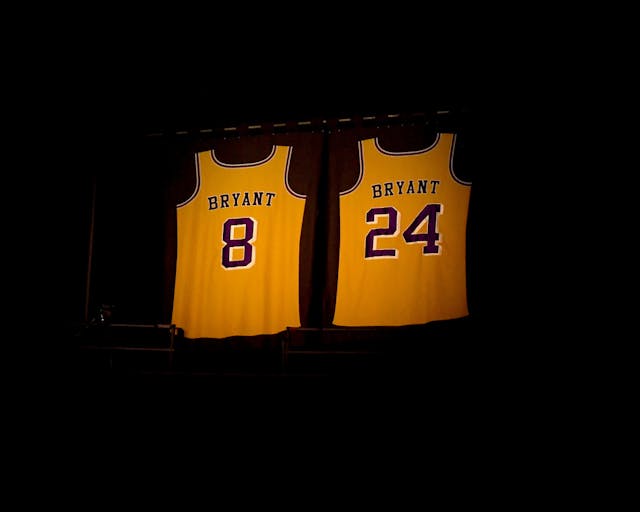 The world has lost a legend. Former NBA superstar Kobe Bryant was killed in a helicopter accident yesterday, along with his 13-year-old daughter Gianna and seven others: Orange County College baseball coach John Altobelli, his wife, Keri, and daughter Alyssa, Harbor Day School girls' basketball coach Christina Mauser and three others that, as of writing, have yet to be confirmed.
The group was said to be on their way to Mamba Sports Academy, Kobe's multisport youth training facility in Thousand Oaks, California, for Gianna and Alyssa's basketball tournament, when the helicopter suffered mechanical failure and crashed in Calabasas, California.
Kobe, 41, and Vanessa, his wife of almost 19 years, had four daughters together: Natalia, Gianna, Bianka and newborn Capri. He is best known for his iconic 20-season career with the Los Angeles Lakers, where he won five NBA championships and two Olympic gold medals while racking up an NBA MVP award, two Finals MVPs and 18 All-Star nominations before retiring in 2016.
Kobe Bean Bryant was a Philadelphia native and top-ranked talent at Lower Merion High School before he was picked 13th by the Charlotte Hornets in 1996, making him the youngest NBA player in history (at the time) and first guard drafted right out of high school. Bryant was traded to the LA Lakers on draft night, and he made sure the Hornets regretted it.
Even his 60-point final game was legendary, perfectly summing up his widely respected "Mamba Mentality" in one classic moment. Both his jersey numbers, 8 and 24, have been retired by the Lakers and hang in the Staples Center rafters.
And Kobe's NBA involvement was still ongoing. On Saturday, LeBron James surpassed Bryant to become the NBA's third-highest scorer of all time. The night before the tragic and shocking crash, Kobe took to Twitter to congratulate his friend for "moving the game forward."
After his retirement, the "Black Mamba" was often seen sitting courtside at NBA and WNBA games with his daughter Gianna, whose middle school team he coached. But his impact has also been felt away from the game — he started a company called Granity Studios, which develops books, podcasts, TV shows and movies, and won an Oscar for Best Animated Short in 2018.
Kobe's second-oldest daughter, Gianna Maria-Onore (or GiGi, as she was affectionately called), was a rising star in her own right. The thirteen-year-old, nicknamed "Mambacita," had goals to follow in her dad's hardwood footsteps and continue his legacy. And she definitely had the talent to do it, thanks in part to the bond she shared with her father over the game of basketball.
What makes this tragedy hurt even more is the loss of such a bright future. GiGi was an elite baller with aspirations to play college hoops at UConn and she had the full support of her legendary dad behind her.
Kobe and GiGi used their large platform to speak highly of women's sports — especially basketball — and helped grow the game by simply giving women the positive attention they deserve. GiGi, a promising young life who could've led the next generation, was taken way too soon.
Kobe was a player and a fan. His impact on the game was immeasurable, and his support of women's sports was remarkable. He was a steadfast figure at WNBA games and women's soccer matches, mentoring players like Oregon superstar Sabrina Ionescu and supporting girls' youth programs across the country.
We would be remiss if we didn't say that Kobe wasn't perfect, and some may have difficulties mourning this loss. We know that he was a complicated character, but we also know that it's okay to mourn complicated characters. Today, we choose to focus on the good that Kobe brought to the NBA, WNBA and sports world in general.
His loss has already been felt globally, with former teammates, rivals, politicians, celebrities and athletes from every sport publicly expressing their reaction to the news. NBA teams in action yesterday honored Kobe with 8 and 24 second shot-clock violations to start the games, and a shrine has been set up outside the Staples Center, where he played as an LA Laker.
Many current NBA and WNBA players cite Kobe as their idol and the reason they began playing the game, and all were saddened and shocked by the loss of such an impactful and legendary figure in the sport and by the loss of his legacy in Gianna. While the world grieves, our thoughts are with Kobe's wife and GiGi's sisters.
Life is short. Tell people you love them. Give someone a big hug. Be kind to yourself. And, as Kobe said, "Have a good time."
🎾

Tale as old as time

November 13, 2019

The GIST: Stop us if you've heard this one already: a male athlete and a female athlete win the same tournament, and he gets paid twice as much as she does. Sound familiar? This is the story of , where Rafael Nadal took home $1.049 million, while Bianca Andreescu won a cool $519,480.
Andreescu actually took home less than the men's runner-up, Daniil Medvedev, who left with $531,010. So, essentially, it's more lucrative to be a losing man than a winning woman?
It's 2019. What gives?:In this case, there are some arguably "valid" reasons for this particular wage gap. One of them has to do with tennis' governing bodies.
Got it. But why does this matter?:The Rogers Cup is one of those shared events. However, the weight of the tournament is different for each side. For the men, it's a Masters 1000 tournament, worth 1000 points in. For the women, it's a Premier 5 event, worth 900 points.
In other words, if a Grand Slam tournament (the US Open, for example) is a tier I event, then the men's Rogers Cup would be a tier II and the women's Rogers Cup would be a tier III. The lower the tier, the less prize money.
Seems strange:You're not wrong. And given that the Rogers Cup attracts high-calibre men and women (heck, queen Serena Williams was playing!), Tennis Canada, which operates Rogers Cup,mandate an equal prize pool.
Rogers Communications as the sponsor could also use the revenue from our ridiculously high phone bills to match the prize money. But neither Tennis Canada nor Rogers has stepped up. Yet.
Sounds complicated:Equal pay always is. Look no further than what the US Women's National soccer team is going through in their. The good news? Tennis is one of the most progressive sports out there in terms of equal pay.