Your guide to the matchups from Round 2 of the MLB playoffs.
October 05, 2020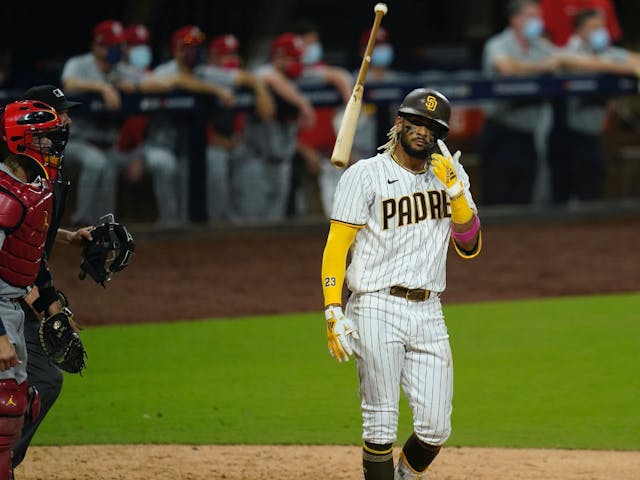 SOURCE: GREGORY BULL/AP PHOTO
The GIST: The next round of the MLB playoffs begins today! Eight teams will compete in four divisional best-of-five series based at neutral sites — California for the American League Divisional Series (ALDS) and Texas for the National League Divisional Series (NLDS). From bat flips to bad blood, here's a preview of each matchup.
Houston Astros vs. Oakland Athletics: Ready for some drama? Get this: A's pitcher Mike Fiers used to play for the Astros and was the whistleblower on the Astros' infamous cheating scandal. *gasp* Drama aside, the A's are clear favorites in this one, having won their regular season bouts 7-3. Behind the hot bat of catcher Sean Murphy, expect the Athletics to make quick work of the Astros, who (in our humble opinion) shouldn't have even made the playoffs in the first place.
New York Yankees vs. Tampa Bay Rays: The Yankees and Rays both swept their AL Wild Card series, which will make for a feisty matchup of these AL East foes. The top-seeded Rays won eight of their 10 regular-season games against the Bronx Bombers and will rely on a trio of top-notch starting pitchers to quiet a surging Yankees offense, who scored 22 (!!!) runs in their two wild card games.
Miami Marlins vs. Atlanta Braves: After opening the season with 18 COVID-19 cases, the underdog Marlins defied all odds, sweeping their Wild Card series and earning their first NLDS appearance since 2003. The Braves also swept their Wild Card series, thanks to clutch performances from NL MVP candidate Freddie Freeman and emerging star pitcher Ian Anderson. The Marlins have a hot-handed pitcher of their own in Sixto Sánchez, but they'll need some more magic to continue their 2020 Cinderella story postseason run. Too bad Sam's a Dodgers fan.
San Diego Padres vs. Los Angeles Dodgers: In true California fashion, this series is all about the starpower. The league-leading Dodgers boast MVP candidate Mookie Betts, dominant pitcher Clayton Kershaw and the best earned run average (ERA) in baseball. But don't expect underdog Slam San Diego to go down without a fight. The Padres' high-powered offense, complete with young superstar Fernando Tatís Jr. and the most epic bat flips in the game, will put the Dodgers' pitching staff to the test.