Dodgers opened NLDS against San Diego Padres, Lakers won Game 4, Kings selected highest-drafted Black player in NHL history.
October 08, 2020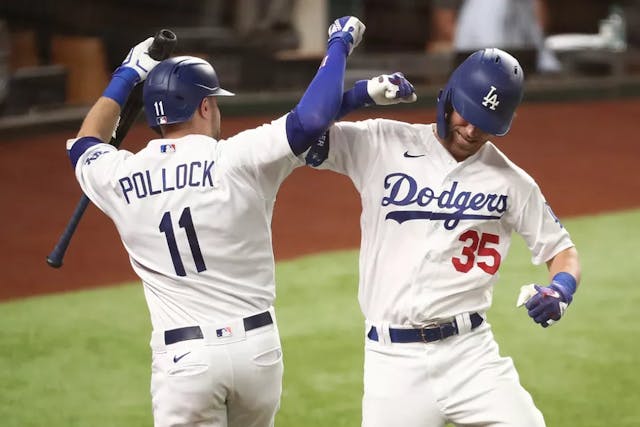 SOURCE: KEVIN JAIRAJ/USA TODAY SPORTS
The GIST: Overwhelmed by your ballot? Same. Take a break from researching propositions and catch up on the LA sports scene.
Finish it off: The Dodgers opened the National League Division Series (NLDS) with two tense wins over the San Diego Padres, including last night's 6–5 victory. We thought 2019 NL MVP Cody Bellinger's spectacular leaping catch would turn the tide, but the Dodgers just had to keep things interesting. Closers Kenley Jansen and Joe Kelly kept us on the edge of our seats in the ninth inning, almost giving the game away to the Padres. No shortage of fireworks in this one.
Watch to see if the Dodgers can sweep Slam Diego tonight at 9:08 p.m. ET/6:08 p.m. PT. Bring out the brooms!
So close we can almost taste it: The Lakers shut down the Miami Heat in Game 4, putting the Purple and Gold one win away from another ring. Kentavious Caldwell-Pope stepped up in key moments, bringing the secondary scoring behind LeBron James and Anthony Davis that the team is always looking for.
We're hoping so hard that the Lake Show brings championship number 17 home in Game 5 tomorrow night at 9 p.m. ET/6 p.m. PT. Tune in!
Making history: On Tuesday, the Kings selected Quinton Byfield with the No. 2 pick, making him the highest-drafted Black player in NHL history. LA scout Blake Bolden is just as excited as we are. Welcome to LA, Quinton!