Washington Football Team and D.C. United took losses, Spirit wrapped up NWSL Fall Series
October 05, 2020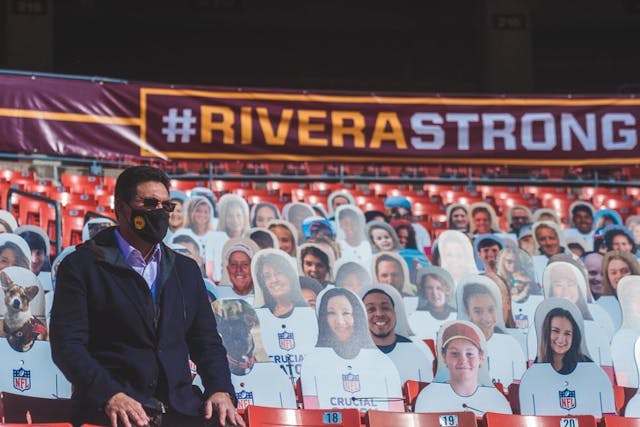 SOURCE: WASHINGTON NFL/TWITTER
The GIST: The Spirit's win was the highlight of the District, as the Washington Football Team (WFT) and D.C. United were both outmatched this weekend. Cue spirit fingers.
Growing pains: Another week, another loss for WFT. Second-year QB Dwayne Haskins had a better showing, but there's still room for improvement as the WFT unsurprisingly fell to Lamar Jackson's Baltimore Ravens 31–17. A bright spot? WFT rookie running back Antonio Gibson delivered his best game yet. We'll take it!
The WFT surprised head coach Ron Rivera — who is undergoing cancer treatment and was visibly struggling on the sideline during yesterday's game — with over 400 cardboard cutouts of his family, friends and colleagues in the stands at FedEx Field. We're not crying, you're crying.
Jumping for joy: There's not a lot to say about D.C. United's dreadful 4–0 loss to Atlanta United, so we're choosing to bask in the glory of the Spirit finishing their NWSL Fall Series on a high note. Thanks to a fun goal (and the cutest celebration) from forward Kumi Yokoyama, the Spirit defeated Sky Blue FC (FC stands for football club) 1–0. Until next year.