After a dull performance from the Giants and a loss from Sky Blue, here's hoping the Yankees can top Tampa Bay.
October 05, 2020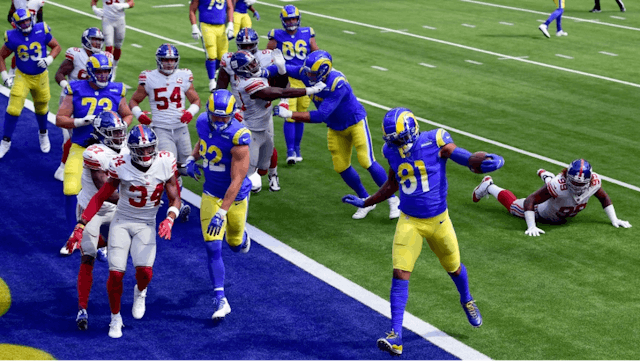 SOURCE: HARRY HOW/GETTY IMAGES
The GIST: It's about as dramatic as an episode of KUWTK this week in New York sports. The Giants ended their game in a brawl, and the Yankees are set to face rival Tampa Bay Rays in the American League Division Series.
It's drama: While the touchdown-less G-men were mostly a dull watch in their loss to the Rams yesterday, things heated up at the end of the game when Giants receiver Golden Tate and Rams cornerback Jalen Ramsey threw punches and had to be separated by teammates and coaches. Yikes.
Between aggressive plays earlier in the game and these players' personal history, the tension bubbled over. While it remains to be seen if either player will face any repercussions, this is not what you want to see from either side.
The tension is rising: After a high-scoring sweep of Cleveland in the Wild Card Series, the Yankees will take on the Rays in the ALDS starting tonight at 8 p.m. ET. These teams have some history on and off the field, so expect a great matchup. The Rays have struggled with striking out but have solid pitchers, while the Yanks have hot-hitters but issues with their relievers. Will the pinstripes take down Los Rayos for good? Here's hoping.
Nothing in the net: Sky Blue FC fell to the Washington Spirit 1–0 on Saturday, dropping to 1-2 in the NWSL Fall Series. Despite a scoreless outing, midfielder Jennifer Cudjoe kept the pressure on the Spirit, forcing a shot on goal in an attempt at an equalizer. The squad returns Saturday against the Chicago Red Stars at 12:30 p.m. ET.