New coach, a win, and pending new GM in Philadelphia
October 05, 2020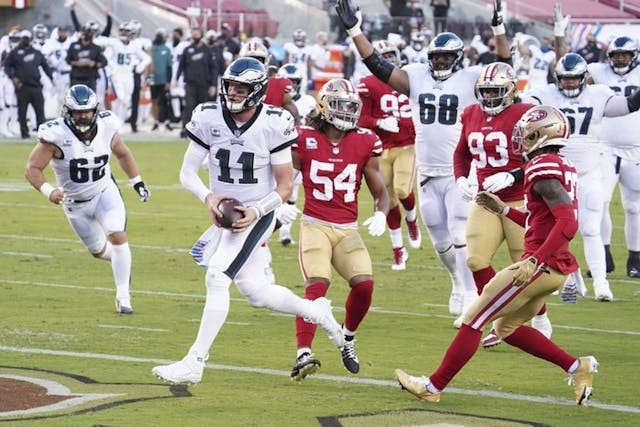 SOURCE: KYLE TERADA/USA TODAY SPORTS
The GIST: There's change in the air, and it's not just the autumn crisp. The 76ers have a new coach, the Phillies' GM stepped down, and the Eagles finally...won?
The Birds are back: We were bracing ourselves for an Eagles loss against the San Francisco 49ers last night, but then QB Carson Wentz finally found his groove. A 49ers fourth-quarter turnover sparked a Philly march down the field, which ended with this touchdown bomb from Wentz to receiver Travis Fulgham (who, BTW, just came off the practice squad last week).
Plays later, linebacker Alex Singleton grabbed his first career pick-six to widen the Eagles' lead. We're thankful for that extra TD, because even with the 49ers' late comeback attempt, the Birds won the four-quarter thriller 25–20.
Bring in a champ: The Sixers made their relationship with Doc Rivers official on Thursday when they announced him as the team's next head coach. Rivers, a former NBA All-Star player and championship-winning coach, led the LA Clippers for the last seven seasons.
While Rivers' coaching career has been highly successful and he's well-respected by players, our biggest concern is how his teams (including the Clippers this year) perform in the playoffs. Three of his teams in three different decades have blown a 3-1 lead in a playoff series, something no other coach has suffered. Here's the thing: disappointing finishes are not something the Sixers need help with.
Rebuilding...again: On Saturday, the Phillies announced that Matt Klentak will no longer be serving as their general manager. After five years in the position and with one of the highest payrolls in the MLB, Klentak's squad still couldn't break the Phillies' nine-year playoff drought. In essentially the same spot they were in five years ago, it's time to figure out the front office and get to winning ASAP.