Lakers let the Heat take Game 3. Can the Dodger lift our spirits?
October 05, 2020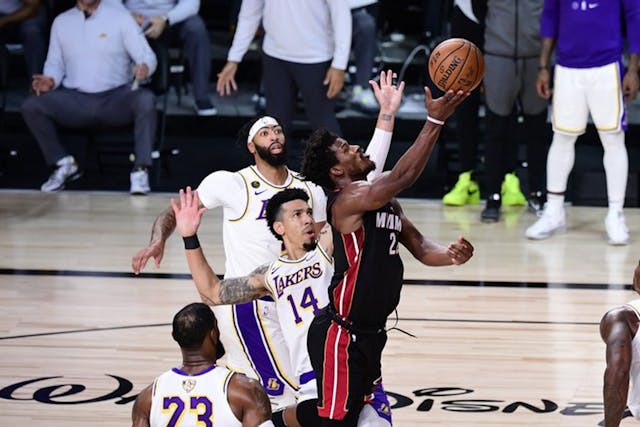 Source: ESPN Stats & Info/Twitter
The GIST: With the Lakers letting the Miami Heat back into the NBA Finals and our football teams giving subpar efforts, we're relying on the Dodgers to lift our spirits.
Eyes on the prize: Yesterday in Game 3's loss to Miami, the Lakers couldn't overcome 10 first-quarter turnovers. Jimmy Butler's short-handed Miami squad kept the Lakers on their toes. Kyle Kuzma and Markieff Morris came up big off the bench, but overall, the Lakers left us hanging.
Anthony Davis must stay out of foul trouble and help the Lakers grab a v. important Game 4 win tomorrow at 9 p.m. ET/6 p.m. PT.
Came in like a wrecking ball: After a dazzling start, the Chargers lost to the Tompa Tampa Bay Buccaneers. Worse than the Charger defense's second-half breakdown was seeing running back Austin Ekeler suffer a serious hamstring injury. And despite brilliant moments, rookie QB Justin Herbert's three starts have corresponded to three-straight losses for the Bolts. Sigh.
The Rams beat the New York Giants yesterday, but the still-winless Giants hung around way too long before wide receiver Cooper Kupp's touchdown and Darious Williams' interception put the game away for good. And that messy post-game brawl...Rams, WYD.
SoCal showdown in Texas: After dispatching the Milwaukee Brewers in the Wild Card series, the Dodgers face the San Diego Padres in the NLDS. The Padres aren't the Dads of the past — but they could be without their top two pitchers, so we think (knock on wood) the Dodgers are in a good place.
Even with blister concerns, Dodger pitcher Walker Buehler will be the Game 1 starter. First pitch is tomorrow at 9:38 p.m. ET/6:38 p.m. PT. Rise up, LA.