🏈

Big Ten, Chicago College Sports Are Back

October 22, 2020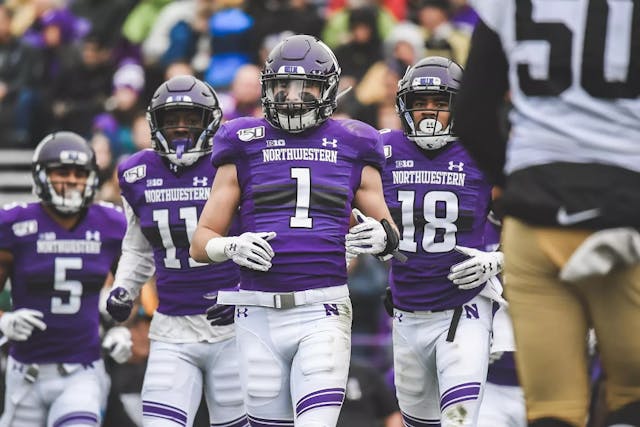 SOURCE: NUSPORTS.COM
The GIST: The Big Ten is so back, and so are the Illinois Fighting Illini and the Northwestern Wildcats, who begin their delayed season this weekend.
I-L-L-I-N-I: The Fighting Illini will kick off the return of the Big Ten against the Wisconsin Badgers tomorrow night — just over a year after Illinois' one-point upset victory over Big Red.
Go 'Cats Go!: Northwestern is ready for a better season than their 3-9 record last year, starting with a win against the Maryland Terrapins on Saturday. The 'Cats have a strong defensive core returning to the field, and should improve offensively with new QB Peyton Ramsey, a veteran transfer from Indiana.
Look for Ramsey to connect with his more experienced options, including senior WR Riley Lees and TE grad transfer from FAU John Raine. If Ramsey and the offense can execute, Saturday's game against the Terps will be a great first matchup for the Purple and White.
One last thing: GISTers, we're so grateful for your support of our regional content and would love your help to make it even better by completing this v. short survey. Thanks so much!
⛳
⚽
🏆
This Week in Golf, Soccer, Lacrosse
October 22, 2020
SOURCE: LPGA/TWITTER
⛳️Golf: The LPGA should have teed off today in South Korea, but COVID-19 nixed those plans. Instead, the Drive On Championship at Reynolds Lake Oconee — a brand new stateside tournament — will fill our golf-loving hearts.
Danielle Kang won the OG Drive On Championship back in August, and she's back this weekend to try to win a matching trophy. Major winner and ultimate underdog Sophia Popov, American Lexi Thompson and World No. 2 Nelly Korda's sister Jessica (sorry, Nelly's sitting this one out) will try to make sure that doesn't happen. Follow the leaderboard here.
⚽️Soccer: We have a name! The NWSL's highly anticipated new team, based in Los Angeles, will be called Angel City FC (FC stands for Football Club). The league's 11th team, which will start competing in 2022, also named additional investors to the already star-studded ownership group: WNBA star Candace Parker (and her daughter Lailaa, so cute), Olympic skier Lindsey Vonn (and her fiancé P.K. Subban) and tennis legend Billie Jean King (and her partner Ilana Kloss). Sounds like heaven.
🥍Lacrosse: Athletes Unlimited, a collection of new pro sports leagues that highlights women's sports and works to put the athletes first, is introducing lacrosse as its newest undertaking. Joining the already successful softball and volleyball leagues, the lax league will feature some of the top American lacrosse stars.
Superstar Kayla Treanor and her U.S. national team teammates Megan Douty, Michelle Tumolo and Emily Parros have all committed to the month-long series, which starts July 19th, 2021. Mark your calendar!
🏈

No New Name For Washington Football Team

October 22, 2020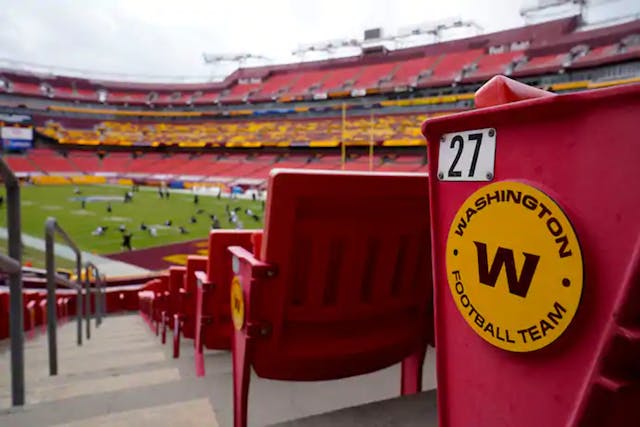 SOURCE: SUSAN WALSH/AP
The GIST: The Washington Football Team (WFT) will stay the WFT while they look to snap a five-game losing streak against the Dallas Cowboys this weekend. Six isn't a charm.
What's in a name?: Sounds like the WFT name is sticking around for at least another year. On Tuesday, WFT president Jason Wright said, "We want to grow this fan base as part of our new identity."
Our question: How can a "new identity" be built over two years, just to have another one built after that? After finally removing an 87-year-old racial slur moniker and racist mascot in July, we understand the desire to do things right this time. But is it just us, or does this seem like a money grab? Speed it up!
A glimmer of hope: On the field, the WFT face their longtime rival Dallas Cowboys on Sunday at 1 p.m. ET. The Cowboys look shaky without star QB Dak Prescott and having backup QB Andy Dalton at the helm instead. This means WFT cornerback Kendall Fuller, who is tied for the league lead in interceptions, could make a serious impact. Thanks to the dumpster fire that is the NFC East, the WFT are somehow, improbably in the playoff race.
One more thing: GISTers, we're so grateful for your support of our regional content and would love your help to make it even better by completing this v. short survey. Thanks so much!
🏈

Eagles vs. Giants on Thursday Night Football

October 22, 2020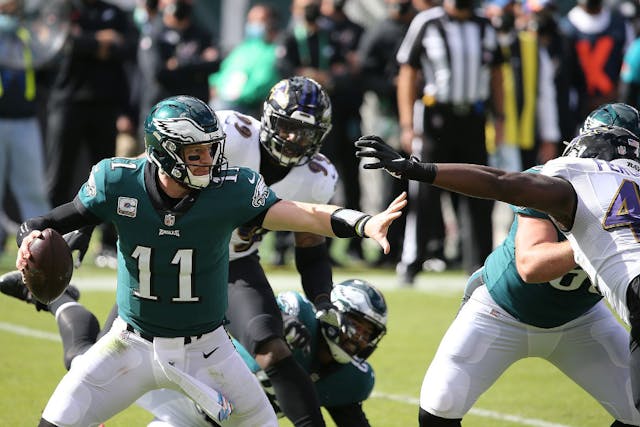 SOURCE: DAVID MAIALETTI/THE PHILADELPHIA INQUIRER
The GIST: The Eagles play the NY Giants tonight on Thursday Night Football (TNF). Even with a combined nine losses, this matchup is a battle for the top National Football Conference (NFC) East spot. 2020, you wild.
Bruised and beaten: The Birds are coming off a physically taxing game against the Baltimore Ravens on Sunday and have had little time for that much needed R&R. QB Carson Wentz took six sacks on Sunday (a lot for one game) but has to be ready to face the Giants' defense, which is very capable of powering through the Eagles' weak offensive line.
Don't expect a lot from the Eagles' offense tonight, with key players like tight end (TE) Zach Ertz and running back (RB) Miles Sanders out with injuries. While this doesn't not make us nervous, we're hopeful wide receiver (WR) DeSean Jackson, who is returning from injury after three games, will make up some of the difference.
Showing some depth: Let's not sugar coat it: the Eagles' running game has struggled this season, but RB Boston Scott and QB Jalen Hurts hope to turn that around despite a tough NY defense. Hurts has been featured sparingly to fake handoffs and move the ball down the field himself while Scott, who is filling in for Sanders, earned a career-high 59 rushing yards against the Giants last year. Let's hope he still has the G-men's number.
If the Eagles win, they'll overtake the Dallas Cowboys for the top seed in the NFC East (mind-blowing, we know). Head coach Doug Pederson is 5-0 on Thursdays in his Eagles career, so here's hoping there's more where those came from.
One last thing: GISTers, we're so grateful for your support of our regional content and would love your help to make it even better by completing this v. short survey. Thanks so much!
⚾

Tampa Bay and Los Angeles Are For 2020 Champions

October 22, 2020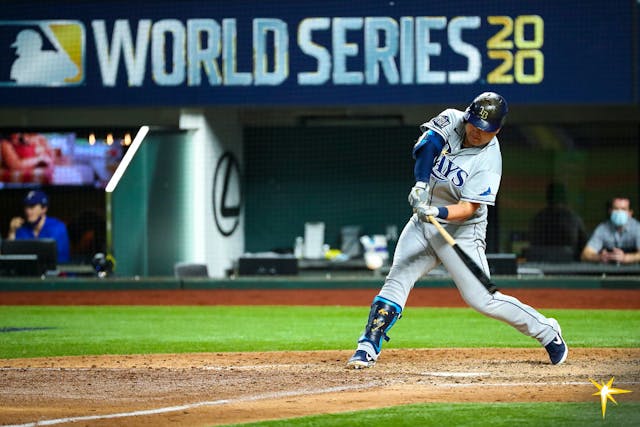 SOURCE: TAMPA BAY RAYS/TWITTER
The GIST: Tampa Bay has the Stanley Cup. LA has the NBA Championship. Now it's up to the Tampa Bay Rays and LA Dodgers to decide once and for all (for 2020, at least), which sports city reigns supreme.
Tell me about it: The World Series kicked off on Tuesday, and it's already proving to be a battle of the best. The Dodgers took Game 1 in a spectacular 8–3 win, with eight-time All Star pitcher Clayton Kershaw giving us a masterclass from the mound and fielder Mookie Betts stealing a base and winning tacos for the nation.
The Rays were having none of that last night, though. They started the game with an early home run from Brandon "Bamm-Bamm" Lowe and never looked back, taking Game 2 with a 6–4 win.
Still, history could be on the Dodgers' side here: 20 of the last 25 World Series winners won Game 1, including 14 of the last 17. But the Rays love to disprove their perennial underdog status, and after last night's dominating performance, we wouldn't be surprised if they disprove this stat.
Awesome. Any other news?: Oh, just a little herstory. With her Game 1 call on ESPN Radio, Jessica Mendoza became the first woman ever to serve as an analyst in a World Series national broadcast. Tune in tomorrow night at 8 p.m. ET to hear the softball Hall of Famer and Olympic gold medalist call Game 3. We love to hear it.