⚾
🏈
⚽
The boys are back
November 10, 2020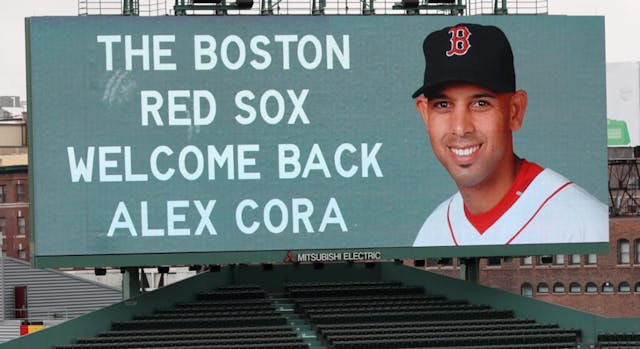 SOURCE: DAVID L. RYAN/THE BOSTON GLOBE VIA GETTY IMAGES
The GIST: An earthquake and Alex Cora returning to town. We're still shook.
⚾️The final rose: It's Facebook official: the Red Sox and manager Alex Cora are back together. The players are already pumped, and we're hopeful Cora's return revitalizes a Mookie Betts and David Price-less squad that finished last season at the bottom of the American League East. And, hey Alex, no cheating this time, 'kay?
🏈Gut check time: Despite missing reigning NFL Defensive Player of the Year Stephon Gilmore for a second-straight game, the Patriots should snap a four-game losing streak tonight against the winless NY Jets. The Jets are betting on veteran backup QB Joe Flacco tonight, clearly wanting to protect Sam Darnold from seeing ghosts again (and from his shoulder injury).
Speaking of ghosts, we wouldn't mind if the ghost of Cam Newton's MVP-winning past would join us in 2020. With the Pats looking, well, not very Patriot-like, Newton has to be on his game or this matchup might be a little too close for comfort.
⚽️Footy flop: In yesterday's MLS regular season finale, the Revolution were shut out 2–0 by the Philadelphia Union. The Revs' loss means they can't avoid the play-in round of the postseason: they'll need to sharpen up before they face the Montreal Impact on November 20th.
🏈
⚽
We could have had it all
November 10, 2020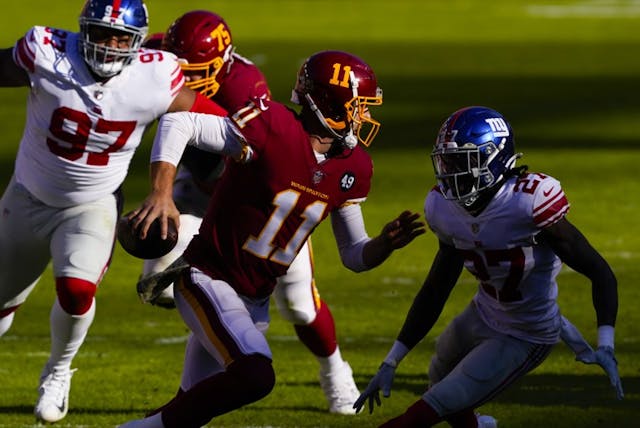 SOURCE: SUSAN WALSH/AP PHOTO
The GIST: The District's teams welcomed Joe Biden (a big fan of Mystic Elena Delle Donne) and Howard alumna Kamala Harris with...tragic losses. The Washington Football Team's (WFT) playoff hopes took a hit yesterday and the United ended their season in disappointing fashion.
🏈A giant missed opportunity: The WFT's NFC East title chances are very slim after yesterday's 23–20 loss to the NY Giants. Although wide receiver and new captain Terry McLaurin's 68-yard touchdown helped WFT get within three points, it wasn't enough to overcome a butterfingers start.
And the QB questions keep popping up like Whack-a-Mole. After QB Kyle Allen was carted off with an ankle injury, Alex Smith's relief performance included two costly interceptions in crunch time. Former starter Dwayne Haskins is expected to be the backup to Smith against the Detroit Lions on Sunday, but is it time to give him another chance to start?
⚽️Had a good run: The United fell just short of a postseason spot after yesterday's tough loss to the Montreal Impact. While interim head coach Chad Ashton did an impressive job of turning around United's season, the offseason means all our focus is on who the next head coach will be. The idea of two Jills in D.C. seems pretty great to us.
🏀
🏒
Road to Upcoming NHL, NBA Seasons
November 05, 2020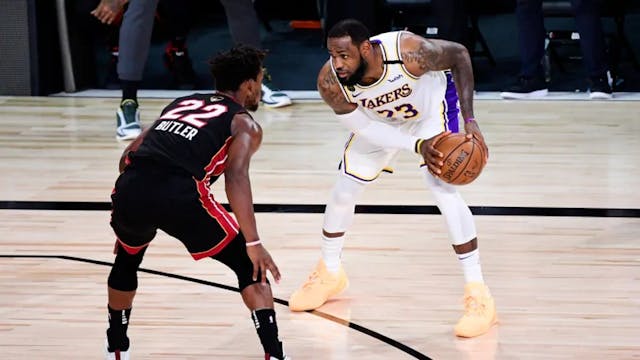 SOURCE: DOUGLAS P. DEFELICE/GETTY IMAGES
The GIST: Much like the road to 270 electoral votes, the journey to the new NBA and NHL seasons is all over the place.
How so?: Let's start with the NBA. Originally, they wanted to wait to begin the season until fans could attend games (imagine!), then they teased us with a Christmas Day tipoff, and last week they floated an MLK Day start date. Now it looks like they're back to December. Just as Taylor predicted.
The NBA's players association will formally vote on the December 22nd start date as soon as today, and if the date is approved (which it's expected to be), then the league will target a 72-game season. If it's not approved and no games are played in December, the league could lose up to $1 billion.
And the NHL?: They've flip-flopped, too. Initially aiming for December 1st, it looks like a January 1st start date is the new goal — though the annual New Year's Day Winter Classic game has already been canceled. The season will have 48 games at a minimum, but it could go the full 82.
The issue for the NHL's return to play is spectators. In comparison to the NBA, the NHL relies more on ticket revenue, so playing in empty arenas would be financially infeasible for most teams. Some team owners have even suggested calling off the season to save money, but NHL commissioner Gary Bettman has shut that down. Phewf.
Bettman has said, though, that the season doesn't have to end the same way it started. That's to say, if the season starts without fans, it could move to a bubble or have full capacity crowds by the end of it — it all depends on the state of COVID-19 in North America. Just like literally everything else.
🏈

Coronavirus Still Messing With NFL Schedule

November 05, 2020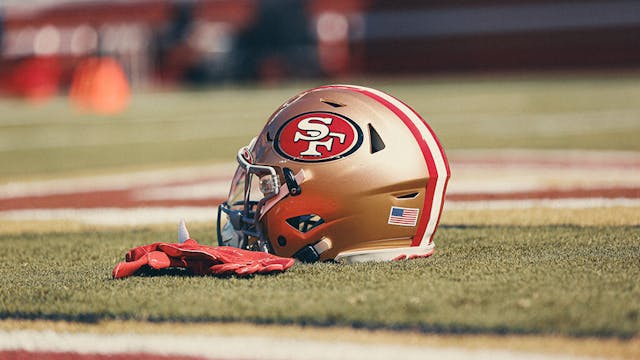 SOURCE: SAN FRANCISCO 49ERS/TWITTER
The GIST: Get ready for Thursday Night Football as the San Francisco 49ers play host to the Green Bay Packers...or not?
Why not?: Because COVID-19, of course. Niners wide receiver Kendrick Bourne tested positive for the virus yesterday morning, leading to a shutdown of the team's facilities. Talk about bad timing. Packers running back AJ Dillon also tested positive earlier this week, and three other Niners were added to the COVID-19 reserve list last night.
There's still a solid chance they'll play tonight (kickoff is set for 8:20 p.m. ET), in which case we highly recommend you make your GIST NFL pick 'em pool picks ASAP as possible. But if any other tests come back positive today, this game could be in jeopardy.
Is anyone else affected?: There were some other cases this week, including Denver Broncos legend and current president John Elway. Baltimore Ravens cornerback Marlon Humphrey "got the Rona," leading to seven "high-risk close contact" teammates also being placed on the COVID-19 reserve list. And Detroit Lions quarterback (QB) Matthew Stafford is on the list, too.
The rising case count (in the NFL, and well, everywhere) doesn't seem to be stopping teams from practicing, playing or letting fans into stadiums for games, though. The Dallas Cowboys could have around 25,000 fans cheering them on in an old-school rivalry matchup against the Pittsburgh Steelers on Sunday (guess we're just ignoring that Texas is a hotspot?).
That said, letting fans in isn't all bad. Many stadiums were used as polling locations in the presidential election, and Kansas City Chiefs QB Patrick Mahomes even split the six-figure cost with his team to ensure Arrowhead Stadium would double as a voting site. The real MVP.
🏈
⚽
Hope For DC Sports
November 05, 2020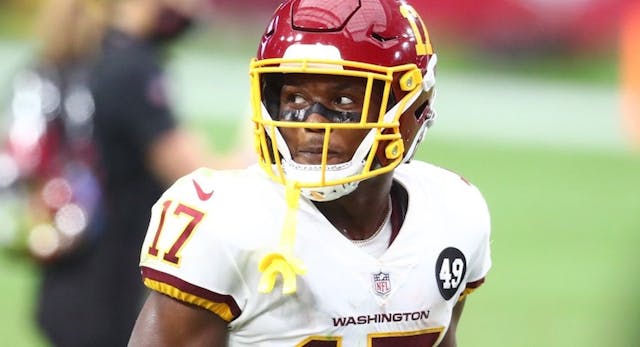 SOURCE: MARK J. REBILAS/USA TODAY SPORTS
The GIST: The Washington Football Team (WFT) is looking to come out of bye week swinging and the United are trying to squeak into playoffs. It's not how you start, but how you finish, right?
🏈Refreshed and rejuvenated: The WFT returns from bye week on Sunday at 1 p.m. ET in a rematch against their NFC East counterpart: the NY Giants. Despite an action-less Tuesday trade deadline, the team did shake things up a bit by naming wide receiver Terry McLaurin a team captain yesterday (who wouldn't, with a speech like that).
The Giants squeaked out a 20–19 win over the WFT in October, so you better believe QB Kyle Allen is looking to avoid turnovers like this one this time around. Meanwhile, the defense hopes to slow down Giants' QB Daniel Jones after his team gave the Tampa Bay Buccaneers a surprising run for their money on Monday. The Burgundy and Gold allowed the Giants their only win this season...let's not make it two.
⚽️Waiting 'til the last minute: After languishing at the bottom of the table for much of the season, the United amazingly rattled off three straight (!!!) wins before dropping a high-scoring affair to the New England Revolution last Sunday. With their late-season push, they could make the playoffs with a bit (okay a lot) of help. Wild.
Sunday's 3:30 p.m. ET match against the Montreal Impact is a must-win. The rest is up to the soccer goddesses.