🏒

What could have been

April 09, 2020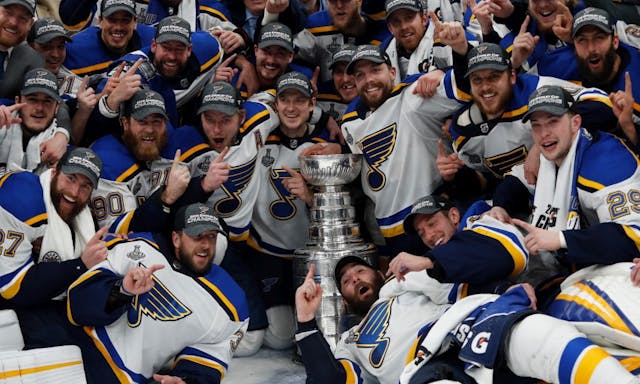 SOURCE: FORTHEW!N
The GIST: Yesterday would have been the first day of the NHL playoffs. *insert sad face with a single tear emoji* So, in the absence of a hockey postseason, here's what we think would've happened — based on how we left things — if the season hadn't been put on hold.
Eastern Conference: After inevitably netting enough goals to move him up to 6th place on the all-time career goals list, Alexander Ovechkin and his Washington Capitals would've faced the Carolina Hurricanes in the first round. The Caps would've taken the series 4-1, with the only loss coming when the 'Canes were forced to use their unstoppable emergency back-up goalie David Ayres again.
The Philadelphia Flyers and Pittsburgh Penguins would renew their Battle of Pennsylvania rivalry, and this series would've gone to seven excruciating games, with Sidney Crosby scoring the Game 7 series-winning goal in overtime to complete a Gordie Howe hat trick after fighting Gritty in the second period.
Western Conference: The Battle of Alberta would have taken center stage. The Edmonton Oilers and the Calgary Flames had a few tumultuous meetings in the regular season, and the first round of the playoffs wouldn't have been any different. The Flames would win the series in five games, but not before both teams lost at least seven players to suspensions.
And, of course, the St. Louis Blues would pump their victory song "Gloria" through the loudspeakers of their home arena with such annoying persistence that their opponents, the Nashville Predators, would elect to forfeit the entire series after Game 2 and head back home to the real Music City.
The Stanley Cup: Oh, you're wondering who would win the Cup, eh? The spirit of Laura Branigan is just too powerful. The St. Louis Blues are your back-to-back Stanley Cup champions.
What's actually happening in the NHL...: A third Colorado Avalanche player tested positive for COVID-19, though he's said to be doing well in self-isolation. And in some scary non-COVID-19 health news, Oilers' prospect Colby Cave is in a medically induced coma as he recovers from emergency surgery after a cyst caused a brain bleed. Wishing our very best to these guys.
Meanwhile, the league is still monitoring the pandemic situation and is considering North Dakota as a potential location to finish out the season. Interesting.
🏆

Tell me something good

April 09, 2020
SOURCE: HAYLEY WICKENHEISER/TWITTER
The GIST: The COVID-19 pandemic is kind of bumming us out, so let's just talk about the good news stories today, cool?
Cool! What's good?: Earlier this week, hockey legend Hayley Wickenheiser (keep scrolling for more on her) put out a call on Twitter for personal protective equipment (PPE) donations for Toronto hospitals, offering "a signed jersey, a smile and guaranteed good karma" in return. Then Blake Lively's husband, Ryan Reynolds, upped the ante.
Reynolds said that in exchange for PPE donations, he'd give autographs, signed memorabilia and even "raise your children as if they were my own." Sign us up! Wick, who's currently in medical school (is there anything she can't do?), and Reynolds have now teamed up with Conquer COVID-19 to run weekly PPE donation drives in Toronto.
Love that! What else d'you got?: Well, speaking of PPE, snowboarding company Burton and hockey equipment manufacturer CCM are each making and donating 500,000 masks to frontline workers in Canada and the US. Donna Burton Carpenter, owner of Burton, is using her own money to fund the manufacturing of the masks, while CCM's sponsored players, like superstar Sidney Crosby, are donating to the cause.
Tampa Bay's newest celebrity couple, Buccaneers quarterback Tom Brady (doesn't that sound so weird?!) and supermodel Gisele Bündchen have donated 750,000 meals to their new hometown's food banks. Way to make good with the new fans!
So amazing! Anymore?: On Monday, we told you about a potential televised game of H-O-R-S-E that would have NBA stars playing the classic playground game with a physical-distancing twist. Well, it looks like it's actually in the works and is set to feature Oklahoma City Thunder Chris Paul, Chicago Bull Zach LaVine, Atlanta Hawk and TikTok king Trae Young, and some as-of-yet unnamed WNBA stars. So freaking fun!
🏒

Mad world, mad world

April 06, 2020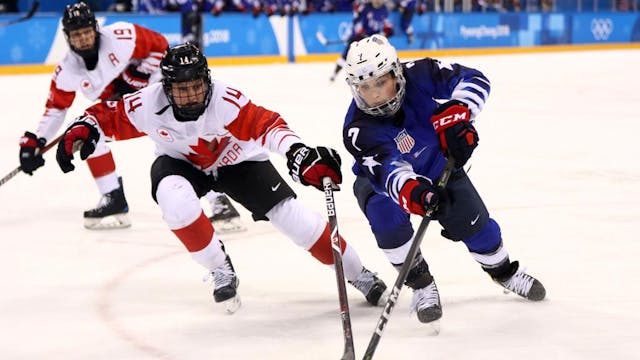 SOURCE: NHL.COM
The GIST: If it weren't for the COVID-19 pandemic, we'd be busy enjoying the IIHF Women's World Hockey Championship (WWHC) that was set to take place in Halifax and Truro, Nova Scotia, from March 31st to April 10th. And because we miss the good ol' hockey game so freaking much, we're highlighting our top three women's international hockey moments.
3. Team Canada and Team USA are far and away the two powerhouses in women's hockey — they've placed first or second at the WWHC every year since the tournament started in 1990...until last year. The 2019 WWHC saw the Finnish take home the silver after upsetting Canada 4–2 in the semifinals and just losing to the US in overtime (OT) in a v. controversial final.
And as much as we live for the classic Canada-USA rivalry, we loved seeing a fresh face in the finals. It demonstrated just how much the women's game is improving and how much it's growing globally, and it reminded us that in sports, you can't take anything for granted.
2. There's nothing like the rivalry between Team Canada and Team USA at the Olympics, and the 2018 PyeongChang Olympic gold medal game was no exception. After Canada had owned the podium four Olympics in a row (from 2002 to 2014), the US was out for revenge.
Midway through the third period, Canada was up 2–1 and the gold medal was within reach...until the Lamoureux twins (you know, the sister act we talked about last week) kicked it into high gear: Monique scored to force the game into overtime (which settled nothing) and Jocelyne netted the winner in the shootout to give the US their first Olympic gold medal in 20 years (much to the chagrin of Canadian ice dancing star, Scott Moir).
1. If the 2018 Olympic gold medal game was drama, the 2014 Olympic gold medal game in Sochi was DAH-RA-MA. Early in the third period, the US was up 2–0 over the Canadians and seemed to have a stranglehold on the game — that is, until Canada's Brianne Jenner scored to make it 2–1 with three minutes left.
With just over a minute left in the game, Canada pulled their goalie in order to have an extra attacker on the ice to try to tie it up. And that decision was almost a costly one for Canada, as the Americans had a shot on the empty net but the puck just hit the post. Talk about anxiety-inducing.
Canada then sped back up the ice, and you guessed it, SCORED with moments to spare thanks to Marie-Philip Poulin (pronounced POO-LEHN). The game then went into overtime, where, on a power play (that, TBH could have been a penalty shot), Poulin scored again, ending what is arguably the greatest women's hockey game ever played.
🏀

You're the best around

April 06, 2020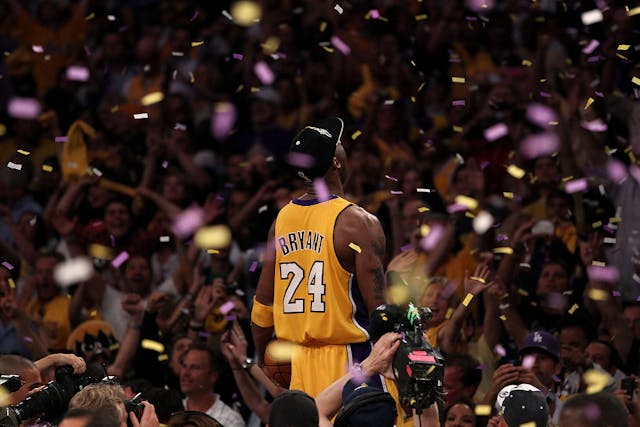 SOURCE: THE ROOT/TWITTER
The GIST: It's award season! And no, we're not talking about the Oscars. We're talking about basketball.
The Naismith Awards: The Naismith Awards, named after the inventor of basketball James Naismith, are given out to the year's best high school and NCAA players, and this year's women's player of the year is no surprise. Oregon Ducks superstar Sabrina Ionescu (pronounced YOH-NESS-COO) took home the Naismith after breaking basically every record and setting a bunch of new ones. She deserves every award.
University of South Carolina head coach Dawn Staley was named Coach of the Year. Staley won the Naismith Player of the Year award in 1991 and 1992, so this year's win makes her the first-ever recipient, male or female, of both awards. Yas queen. And on the men's side, Obi Toppin and Anthony Grant won the player and coach awards, respectively.
Basketball Hall of Fame: The Naismith Memorial Basketball Hall of Fame (not to be confused with the Naismith Awards...but yes, same guy) announced the 2020 inductees and...there are no surprises here either. The legendary Kobe Bryant will be enshrined during the August ceremony, along with fellow NBA players Kevin Garnett and Tim Duncan and WNBA legend Tamika Catchings.
Coaches Kim Mulkey and Barbara Stevens will also be inducted into the Hall of Fame. Mulkey has coached Baylor's women's team in 18 NCAA tournaments, winning three times, and, fun fact, is the first person, male or female, to win a national championship as a player, assistant coach and head coach. Stevens, who has coached Bentley University since 1986, is the fourth-winningest coach in NCAA history. Talk about badass!
And the beat keeps running running
April 06, 2020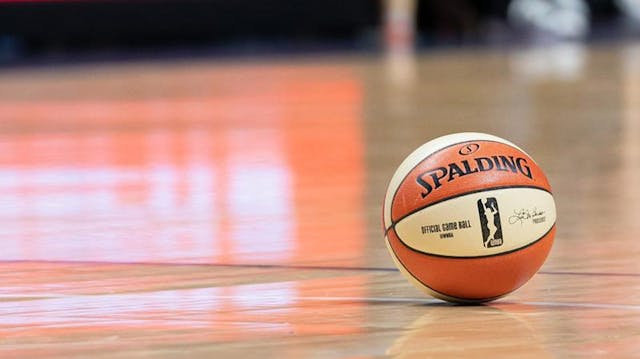 SOURCE: NESN/TWITTER
The GIST: And so it continues. With no real end in sight to the COVID-19 pandemic (sorry to be downers about it!), the sports world is faced with ongoing postponements and more cancelations. On the bright side, it's also brought on a new opportunity for creativity.
What's postponed now?: A few things. WNBA training camps were set to start on April 26th, but with new social distancing guidelines imposed until at least April 30th, they've suspended those and delayed the original May 15th season tip-off indefinitely.
The NWSL has also put a hold on team training until at least May 5th, with no word on when the season will begin (it was originally slated for April 18th), and the LPGA's US Open has been moved from June to December. Honestly, worth the wait.
And cancelations?: The Belgian Pro League will become the first European soccer league to completely cancel the remainder of their season. The board of directors made the decision to skip all remaining regular season games and the playoffs, and will name Club Bruges the champion based on their regular season performance.
With most European soccer leagues and the NBA and NHL approaching what would have been the postseason, we're thinking we'll probably see more of this. Bummer.
And what's this about creativity?: With almost all leagues (we're side-eyeing you, Belarus) around the world respecting social distancing rules, the sports world is getting creative with fan engagement. The NBA is currently working with ESPN on a televised game of HORSE (you know, the classic playground game) that would include some of the top players from the league. No word on who's in, but we're pretty pumped for this...if it actually happens.
But, how?!: Through technology. And a lot of other leagues are relying heavily on it right now, too. The NFL is preparing for a completely virtual 2020 Draft, from April 23rd to 25th. Meanwhile, the NBA 2K Player Tournament, which features the NBA's top talent playing the video game NBA 2K20 against each other, is underway, and NASCAR and Formula 1 are regularly broadcasting virtual races featuring current and past drivers. Kids and their technology.
So fun! Any more good news?: Sure thing! In an Instagram post with his wife, model Kate Upton, Houston Astros star pitcher Justin Verlander announced they'll be donating his weekly paycheck to COVID-19 relief.
And with the 2020 Summer Olympics pushed back a year, the governor of Tokyo, Yuriko Koike, is looking to repurpose the Athletes Village. The 24-building complex is still under construction, but the Japanese government is considering using the hotel-style rooms as self-isolation rooms and hospital wards for COVID-19 patients. You love to see it.