Nationals pitcher undergoes "foreign substances" check, Mystics use Olympic talent to defeat Seattle Storm, and upcoming Washington Spirit and UVA baseball games.
June 24, 2021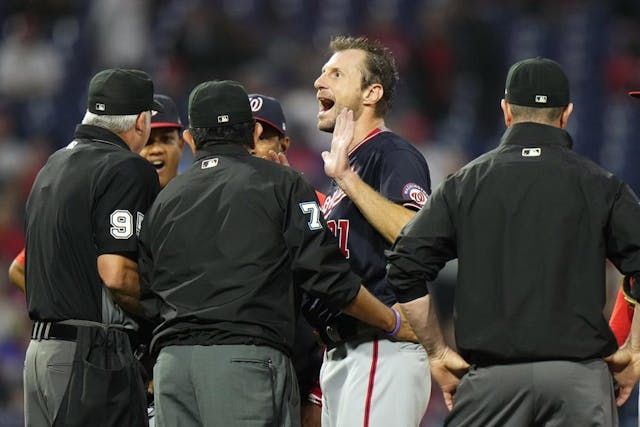 Source: Matt Slocum/AP Photo
⚾️Nationals: The Nats swept the Philadelphia Phillies in a series that wasn't short on drama. Due to MLB's to check for "foreign substances" on baseballs, pitcher Max Scherzer's hat, glove and belt were inspected three times (!!!) on Tuesday. By the third time, Scherzer was so irate he . He's not nicknamed "Mad Max" for nothing.
Yesterday's back-and-forth battle between the Nats and Phillies was also wild, including the Nats overcoming three deficits to win 13–12. It was also the where both teams hit a and a . Boom.
The Nats are now second in the National League (NL) East. Can you say glow up?
🏀Mystics: The Mystics upset the Seattle Storm 87–83 on Tuesday. Three Olympians — Tina Charles and Ariel Atkins, as well as Team Australia's Leilani Mitchell — led the way, combining for 12 three-pointers to take down the defending champs. Swish. Let's do it again tonight at 10:30 p.m. ET against the LA Sparks.
📺What to watch:
🎓⚾️UVA baseball must beat Texas at 7 p.m. ET tonight to keep stayin' alive in the College World Series. .