Islanders come back to win in Game 6, Liberty have a chance to redeem themselves against Chicago Sky tonight, both the Yankees and the Mets add wins to their stats, and Gotham FC sends two players to Team USA.
June 24, 2021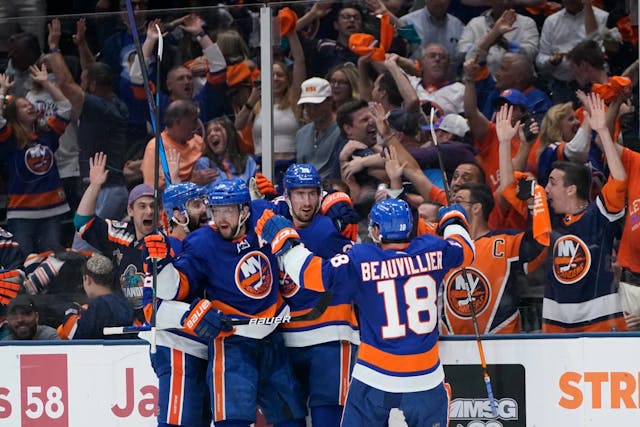 Source: Frank Franklin Ii/AP
🏒Islanders: Last night's Game 6 against the Lightning was intense, physical and nerve-wracking, especially since the Bolts had a 2–0 lead late in the second period. But once Jordan Eberle got us , things started rolling: Scott Mayfield scored the , and Anthony Beauvillier in overtime. Game 7, here we come.
🏀Liberty: Even though the Liberty lost to the Chicago Sky on Tuesday, the game saw Sabrina Ionescu return to the court after missing two games, Betnijah (buh-NAW-juh) Laney continue her dominance with a team-leading 18 points, and the All-Rookie Jazmine Jones follow with 11. We'll take it.
See if they can shift the momentum in the teams' rematch tonight at 7 p.m. ET. Lets go, Libs!
⚾️MLB: The Yanks beat the Kansas City Royals yesterday due to Luke Voit's game-winning double, and the Mets' win against the Atlanta Braves saw a strong major league debut by pitcher Tylor Megill. Love to see it.
⚽️Gotham FC: Two of our own, Carli Lloyld and goalkeeper Kailen Sheridan, are headed to the Olympics. Lloyd will make her , while Sheridan will for the first time after being selected as an alternate in 2016. Hard work .