🏀

And that's the tea

May 14, 2020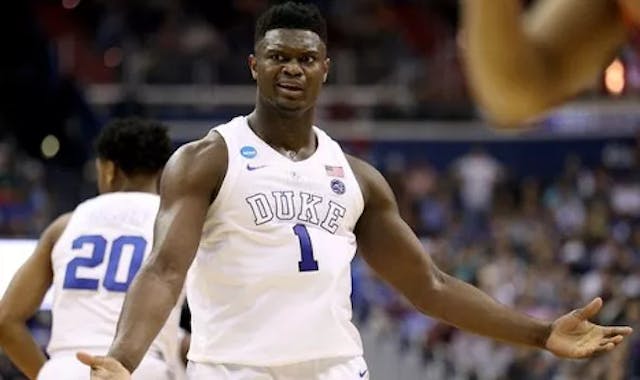 PATRICK SMITH/GETTY IMAGES
The GIST: New Orleans Pelicans star rookie Zion Williamson is in some hot water. And he's taking the NCAA down with him.
Sounds drama. What happened?: Last April, first-overall NBA draft pick Zion signed a five-year contract with sports marketing agent Gina Ford of Prime Sports Marketing. A month later, he was allegedly poached by rival agency CAA (aka the biggest talent agency in the world), and in an effort to void his Prime contract, he sued them.
Ford didn't want anything to do with it, so she countersued Williamson and CAA for $100 million, citing breach of contract, among other things. Ford's team knew they lost a golden goose in Zion, so they planned to do whatever they could to make that money back.
So how is the NCAA involved?: Well, Ford and Prime Sports just submitted a new filing in the lawsuit, and they want all the tea spilled. They're asking Williamson to admit that his parents accepted money and benefits from Duke University (where he played for one year before being drafted), Nike and Adidas. All of which was, at the time, very illegal.
To make matters worse, Ford's legal team is now looking to depose legendary Duke head coach Mike Krzyzewski (the winningest coach in men's NCAA Division I basketball history). With Coach K under oath, a lot of secret info on the dirty money dealings of an NCAA dynasty could be dished. Sounds like a case for Jessica Pearson.
🏀

I like the pick-and-roll

May 14, 2020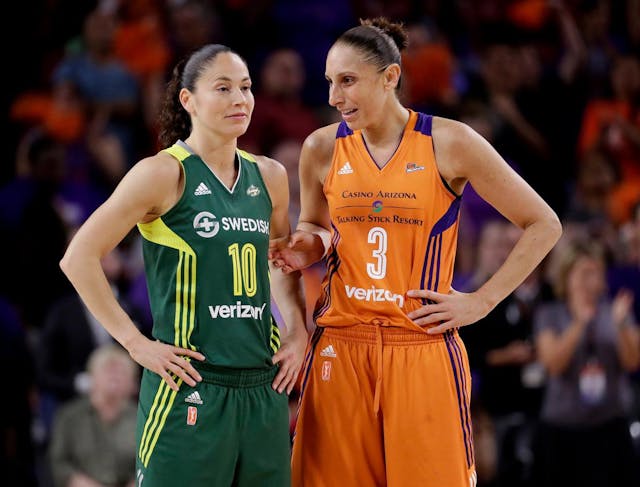 MATT YORK/ASSOCIATED PRESS
The GIST: The 2020 WNBA season was originally slated to start tomorrow. Now, it's anyone's guess as to when the season will actually begin. Sad. So, in honor of the postponed WNBA season, we're counting down the top five WNBA players of all time. Buckle up.
5. Sue Bird: One half of our favorite power couple, Bird's 18-year career with the Seattle Storm has been nothing short of spectacular. The point guard is an 11-time All-Star, three-time WNBA champion and is the WNBA's all-time assist leader. She knows sharing is caring. Bird was sidelined last season with a knee injury but is ready to go for 2020. Look out.
4. Lisa Leslie: You can't have any top players list and not include Hall of Famer Leslie. Widely considered WNBA royalty, Leslie became the first woman to dunk in a WNBA game in July 2002. You could say she's a literal ceiling smasher. Leslie spent her 12-year career with the Los Angeles Sparks, winning two championships and earning three MVP titles. Talk about a stacked resume.
3. Maya Moore: Before taking the 2019 and 2020 season off to fight for (and succeed at) reforming the criminal justice system, Minnesota Lynx Moore won four WNBA titles and was named the Finals MVP in 2013 and league MVP in 2014. We're all for the work Moore is doing off the court, but, selfishly, we'd love to see her hit the hardwood again, like, ASAP.
2. Tamika Catchings: In some circles, Catchings is considered the best WNBA player of all time. Catchings spent her entire 15-year career with the Indiana Fever, winning the championship in 2012 (she won the Finals MVP that year, too). She's the WNBA record holder for steals (sneaky sneaky) and is a 10-time All-Star and five-time Defensive Player of the Year. A true legend.
1. Diana Taurasi: Our top spot goes to the one, the only, Diana Taurasi. Taurasi is the league's all-time leading scorer, a nine-time All-Star and a three-time WNBA champ. After being drafted first overall in 2004, she's had a killer career with the Phoenix Mercury. And though retirement rumors have been swirling recently, Taurasi will play this season. The good news we need!
Okay. It was really, really hard to make that list. We have to give special shout-outs to Sheryl Swoopes, Tina Thompson, Candace Parker, Elena Delle Donne and Breanna Stewart, who would have rounded out our top 10.
🏒

Boy bye

May 11, 2020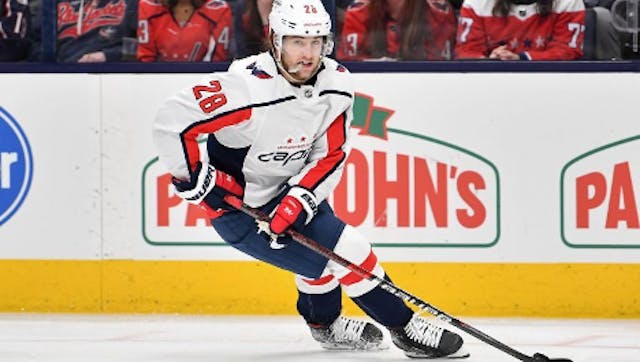 JAMIE SABAU/NHLI
The GIST: After some incredibly horrible private messages from Washington Capital Brendan Leipsic (pronounced LIPE-SIC) and other hockey players were publicly leaked last week, the NHL has found itself in a familiar position: fighting against toxic hockey culture.
What happened?: Screenshots of the private messages between Leipsic, Florida Panthers prospect Jack Rodewald and other friends showed a pattern of derogatory comments about women, including misogynistic statements about women they had dated and other NHLers' wives. Leipsic even badmouthed his own Capitals linemates.
The Capitals terminated Leipsic's contract on Friday, and the likelihood of him getting another job in the NHL is slim. His brother Jeremy was kicked off of the University of Manitoba hockey team, and the University of North Dakota began an internal investigation into another friend, Jackson Keane.
That's good, right?: Yes. We're happy the NHL took quick action in denouncing the comments, and the Capitals made the right decision by essentially firing Leipsic. In a league that has dealt with multiple accounts of racism, sexism and abuse over the past few years, decisive action is a necessary first step in fixing the problem.
I feel like there's a "but" coming…: You're right. Hockey needs a culture change. It's a big ask, and, to be fair, it will need more than just a few statements and policies from the NHL. It needs a promise to do better and be better, which includes full buy-in from players (current and former — we're looking at you, Brett Hull), fans, media and team officials, from the big leagues down to youth hockey. We have to be all in.
Here's some food for thought to leave you with: Leipsic was an expendable player. And we can't help but wonder how Leipsic's lack of star power played a factor in the Capitals' decision. If, say, captain Alexander Ovechkin — one of the greatest hockey players of our generation — had been involved, would we have seen the same reaction?
🏆

Here we go again

May 11, 2020
AARON M. SPRECHER/AP
The GIST: Last week, we told you about the NCAA's progressive step forward in preventing sexual violence and protecting students. This week, we're telling you about how the US government is basically doing the opposite. Ugh.
Wait, remind me what happened: Sure thing. Following the incredibly unnerving "Predator Pipeline" exposé and a recent lawsuit, the NCAA made changes to their sexual violence policy, announcing that student-athletes must annually disclose acts of violence that resulted in an investigation or discipline through a Title IX proceeding or criminal conviction. The idea is that this rule would make it harder for offenders to transfer to a different school after a transgression (a common practice).
Quick reminder that Title IX is part of the Education Amendment Act of 1972, which prevents discrimination on the basis of sex in educational programs. Collegiate sports are considered educational programs, so they're federally regulated by the Department of Education.
Got it. So what happened now?: On Wednesday, controversial US Secretary of Education Betsy DeVos announced new Title IX regulations. While most of the new changes are problematic, the most horrific revision no longer requires coaches or university staff to report allegations of sexual misconduct or assault to the Title IX office.
This basically means that someone within an athletic organization (including student-athletes) could commit a sexual offense, and the staff would have no obligation to report it to Title IX officials, allowing offenders to slip through the cracks and possibly re-offend. SMDH.
Why would they do this?: Honestly, we have no idea. Other changes include a narrower definition of sexual harassment, as well as additional protection of the rights of the accused. It all, sadly, seems pretty regressive to us.
Luckily, this doesn't need to affect the NCAA's sexual violence policy. It can continue with its progressive momentum from the new annual disclosure policy and still ask coaches and athletics staff to report misconducts (it just won't be federally mandated to do so). Let's hope the NCAA does the right thing.
🏆

Do the two step, then cowboy boogie

May 11, 2020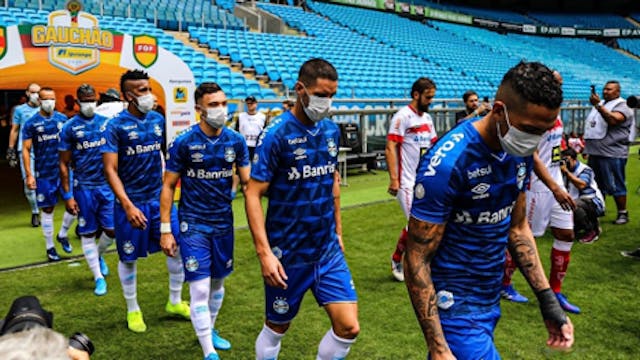 LUCAS UEBEL/GETTY IMAGES
The GIST: We're making progress, people! Well...sort of. While the COVID-19 pandemic is still raging, sports leagues around the world are slowly restarting. But, unfortunately, it seems to be a bit of a "two steps forward, one step back" situation.
How so?: Take the Ultimate Fighting Championship (UFC), for example. After a nearly two month hiatus, the mixed martial arts league hosted their first fight night on Saturday in a spectator-less arena in Florida, and the event went off almost without a hitch.
The only complication? One of the fighters, Ronaldo Souza, tested positive for COVID-19 just a day before his fight, but not before participating in the weigh-in with his opponent, Uriah Hall, and UFC president, Dana White, and hanging out with other fighters. So not okay.
That's not great: It's really not. Meanwhile, over in Europe, Germany's pro soccer league Bundesliga is set to restart on Saturday (yay!), but Dynamo Dresden, a team in the second-tier league, is now in isolation after two players tested positive for COVID-19 (not yay). Still, the Bundesliga CEO was adamant that they will proceed with the restart, even without an entire team.
On a similar note, another five players in Spain's La Liga (which recently began individual training) have tested positive, and the English Premier League's "Project Restart" has hit a roadblock, as three players on Brighton have also tested positive. Maybe, just maybe, we're getting ahead of ourselves?
Yeah, seems like it. Are any other leagues restarting?: The MLB is talking with team owners today to discuss a potential July start featuring a modified 80-game season with a regionalized schedule (and, TBH, we're totally okay with it — we've always found the 162-game regular season too long).
And the NBA has started letting players train again, though they may not have a decision on how the regular season will proceed until June. It's been reported that once the season starts, players will be tested for COVID-19 daily, and should a player test positive and need to be quarantined, there would be no stoppage in play. Not sure how we feel about that.