🏀
🏒
Get'cha head in the game
May 25, 2020
BRUCE BENNETT/GETTY IMAGES
The GIST: The NBA's and the NHL's plans to return to play are well underway, and with the players' associations now giving the go-ahead, we could be in for a summer of intense action. So much for summertime sadness.
What's the NBA's plan?: On March 11th, the NBA was the first professional league in North America to suspend play, after Utah Jazz Rudy Gobert tested positive for COVID-19. Now the league is looking to resume with a single-site scenario in Orlando, Florida.
The NBA and the National Basketball Players Association are in talks with Disney to host a tournament at the ESPN Wide World of Sports Complex. The huge complex (we're talking 220 acres of sports) has enough facilities for teams to practice and play and plenty of space to house all players and necessary staff. Oh, Mickey, you are so fine.
Would they finish the regular season or jump to playoffs?: No one knows just yet. Most teams had played about 65 regular season games when they suspended play, but many TV broadcasting contracts require teams to play a minimum of 70 games. If the NBA chooses to skip right to the playoffs, teams could be out a lot of money.
And the NHL?: The NHL followed the NBA's lead, suspending their regular season on March 12th, and are now organizing their 24-team back-to-play plan. The proposed format will have the league jump right into the Stanley Cup Playoffs (though they'll be a bit different than the normal playoffs) and teams will be seeded based on their points percentage as of March 12th, excluding the bottom seven teams in the league (sorry, Ottawa fans!).
The top four teams from each conference (eight in total) will get a bye to the second round, leaving the remaining eight teams in each conference to compete in a best-of-five series in the first round of playoffs. The league has discussed the idea of using hub cities to host each conference, so they'll need to decide how and where the final round, which will feature the best team from each conference, will play out.
So how likely are we to see these tournaments?: It's looking pretty good. On Friday, the US government announced a travel ban exemption that would allow any foreign athlete to enter the US for the purpose of competing. And (for better or worse) many American states are relaxing their pandemic restrictions, meaning all foreign players can return to their market cities and most can start practising again.
The Canadian government has yet to issue any similar exemptions, so the likely scenario has all competition playing in safe "bubble" cities south of the border. But since these games will be spectator-less anyway, we're totally fine watching from home with some microwave popcorn.
⛳

A match made in heaven

May 25, 2020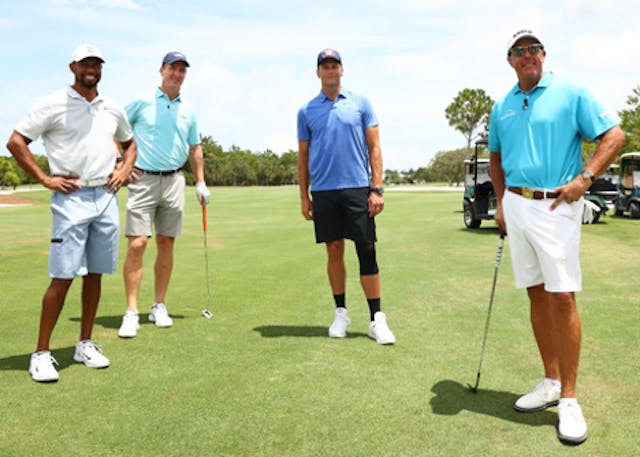 MIKE EHRMANN/GETTY IMAGES
The GIST: It was a crossover for the ages. Two of the best NFL quarterbacks, Tampa Bay Buccaneer Tom Brady and retired Denver Bronco and Indianapolis Colt Peyton Manning, and two of the best golfers, Tiger Woods and Phil Mickelson, faced off in a charity golf game yesterday, and sports fans everywhere rejoiced.
Tell me everything!: On American Thanksgiving in 2018, Tiger and Phil faced off in The Match, an exhibition golf match to determine once and for all who the better golfer is (spoiler: Phil won) — and to make a boatload of money.
So fun!: Isn't it though? The foursome teed off after a slight rain delay and treated us to some mediocre golf and hilarious trash talk, pant-splitting and betting with the guest commentators Charles Barkley and Justin Thomas. In the end, Tiger and Peyton got the W, but really, we all won, with the tournament raising $20 million.
And when do we get to watch the real stuff?: The PGA is still holding strong to their June 11th restart, though a few of the top players will sit it out. Meanwhile, the LPGA is looking to make their comeback on July 15th. Still, many non-American LPGA and PGA players are waiting to see what testing protocols will look like before committing to any events.
They're also not stoked about quarantining for two weeks after entering the US, followed by a two week quarantine once back at home, saying it would be too much time away from their families. Good news for the Brits though: the European Tour (Europe's pro golf tour, which usually runs concurrently to the PGA Tour) is looking to restart the season with a month-long UK tour — the hottest news to hit the UK since the Spice Girls reunion tour.
⚽

You're simply the best

May 25, 2020
ANDY JACOBSOHN/AP
The GIST: This weekend, TSN Soccer's Twitter account made a little whoopsie when they asked in a poll if 19-year-old Alphonso Davies is already Canada's greatest soccer player. Obviously we think they meant male soccer player, but before they could correct themselves, Canadian Twitter made sure to let them know who the real MVP is: the legend herself, Christine Sinclair. This is why we love social media.
The GOAT: As soon as the now-deleted tweet went live, replies featuring Sinclair's greatest hits started streaming in. Sinclair has been a soccer star since her debut for the Canadian women's national team in 2000 at the age of 16 (!!!), and in January she solidified her GOAT status after scoring her 185th international goal to become the world's leading international goalscorer of all time (we're talking men and women).
She's up to 186 goals now and has won two NWSL Championships with Portland Thorns FC and, of course, two Olympic medals for Canada (and hopefully a third next summer). She's also been nominated as the FIFA Player of the Year seven times and named Canadian Player of the Year 14 times. Now that's a resume.
The kid: Davies is a GOAT in the making. After making his MLS debut with the Vancouver Whitecaps in 2016 at the age of 15, Davies joined Bayern Munich (one of the most legendary soccer teams of all time) of Bundesliga in January 2019, and has turned into one of the best midfielders in the world.
On Saturday, Davies led Bayern to a 5–2 win, and rumour has it that Real Madrid (pronounced RAY-AL) is looking to poach him. He's a Canadian superstar, an international phenom and a TikTok legend. We're pumped to see what his super bright future has in store — but, c'mon, he's no Christine.
🏆

Back to business

May 21, 2020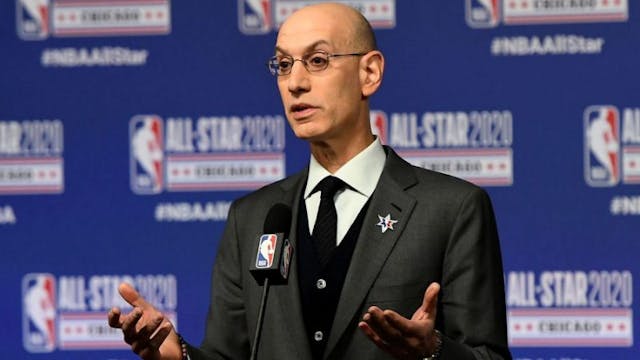 YAHOO! SPORTS
The GIST: Despite the World Health Organization (WHO) reporting that yesterday saw the biggest single-day increase in global COVID-19 cases (seriously, this thing isn't over), sports leagues are still making significant progress in their back to work plans.
Tell me more: The NBA is reportedly close to allowing teams to ask players who were riding out the pandemic away from their team's city to move back. The "recall," which is expected on June 1st, would likely take up to three weeks as players will need to travel and then complete a 14-day quarantine before beginning training.
The league (which, BTW, is also participating in a COVID antibody study with the Mayo Clinic — so cool) is apparently hoping to give the green light to resume games by the end of July. And, in an attempt to limit travel, the league is also looking at completing the season in a hub city, likely Orlando. Disney World, here we come!
Sweet! What else?: The NHL continues to prove they are diehard Seinfeld fans as they work on their bubble plan. League commissioner Gary Bettman said they're currently assessing proposals from up to nine cities — each chosen location would act as a hub for about 12 teams to either play out the regular season or participate in a playoff tournament.
Among the cities in contention are Las Vegas, Toronto, Edmonton, Vancouver, Columbus and somewhere in Minnesota. The league is confident that border issues won't affect the "return to work" plan.
Nice! Keep going!: NCAA student-athletes will be allowed to start training again soon, too. Yesterday, the NCAA Division I Council voted to allow football and basketball players to resume training on June 1st. While many colleges are going completely online for the summer and some for the fall semesters, we're v. interested to see what being the only kids on campus will mean for these student-athletes.
Interesting. Anyone else?: Negotiations over the potential 2020 season continue between the MLB and the players union. The league is expected to submit an official proposal by Friday, which will suggest an 82-game regionalized schedule, an expanded 14-team postseason starting in October and a 50/50 revenue split between players and team owners.
Meanwhile in Canada, the CFL, which was due to start next month, has postponed their season until September at the earliest, with the Grey Cup championship game, normally held in November, likely being pushed to December. Outdoor football during the Canadian winter? We'll be happy to watch this one from home.
🏒
⚾
🎾
⚽
So tell me what you want, what you really, really want
May 21, 2020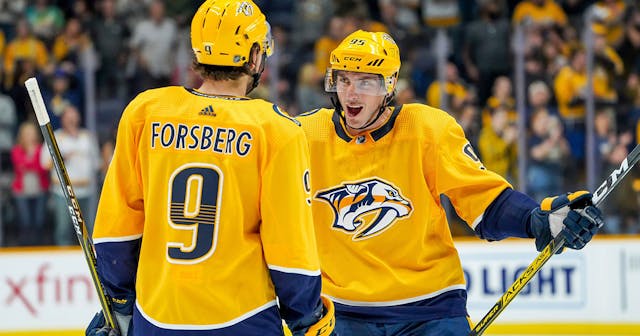 ASSOCIATED PRESS
The GIST: There has been a lot of talk over the past few months about the leagues and teams working hard to get their players back in action, which makes us think: what do the players (really, really) want?
NHL: According to Nashville Predator Matt Duchene, most NHLers just want to stay healthy. In an interview this week, Duchene was adamant that the business side of the game isn't more important than the health and safety of its players, a sentiment that seems to be felt across the board. Preach, baby.
Duchene is also hopeful for a traditional playoff format, saying, "You don't want to have a COVID Cup," alluding to the idea that the team who wins this season's Stanley Cup — if the season can't be played out in full — will forever have an asterisk beside it. He's totally right: nobody likes an asterisk.
MLB: The league has come out with a 67-page health and safety "return to play" rulebook, and according to Colorado Rockies outfielder and four-time All-Star Charlie Blackmon, he and his fellow players want to get back on the diamond and are ready to follow those rules. He argues that America needs baseball in the summer (not, not true) and he's confident that the MLB will do the right thing.
Blackmon's exact words were: "I think I can trust our guys...I think we can be trusted not to go to the mall and lick other people's faces." We guess they're lucky Brad Marchand doesn't play baseball.
WTA: Doing her best Kevin McCallister impression, Canadian tennis doubles phenom Gabriela Dabrowski said in an interview this week that she's not afraid of contracting the virus, saying, "I don't live my life in fear," but doesn't want to put her fellow tennis players at risk. She's happy to wait until the WTA gives the all-clear to get back in the game. Respect.
EPL: The English Premier League's (EPL) "Project Restart" has at least one vocal opponent: Watford FC captain Troy Deeney. He decided that he wouldn't be practicing with his team, saying, "I don't want to put my son in danger," referencing his five-month-old who has breathing problems. Very, very fair.
And Deeney's a trendsetter. This week, the EPL conducted 750 COVID-19 tests and six tests came back positive, including three from Watford. Now some of Deeney's teammates are skipping practice too, and if Watford can't field enough players, it could halt the EPL's entire plan.