⚽
🏈
Futbol and Football: Spirit, United, Washington Football Team Take the Field This Weekend
October 01, 2020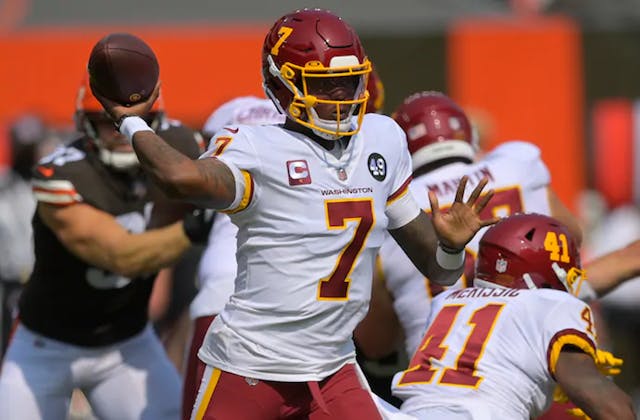 SOURCE: JOHN MCDONNELL/THE WASHINGTON POST
The GIST: Wow, it's October already. You know what else is mind-boggling? The Washington Football Team (WFT) having a 1-2 record and somehow tying for first in the NFC (National Football Conference) East.
Say what?: Even though the NFC East is pretty weak, our first place tie is a bit of a surprise. Unfortunately, that's it for the WFT's good news. Defensive tackle Matt Ioannidis (pronounced EYE-UHN-NYE-DIS) is out for the season with a torn bicep after leaving last Sunday's game, and rookie defensive end Chase Young isn't expected to play this week due to a groin injury. Ouch.
So, is a win in the cards this weekend?: Yeeeah, not likely. The WFT play the Baltimore Ravens in the Battle of the Beltway on Sunday at 1 p.m. ET. While the Ravens are coming off a hard loss to the defending Super Bowl champion Kansas City Chiefs, we expect Ravens quarterback (QB) and reigning MVP Lamar Jackson to probably bounce back from his career-worst 97 passing yards. Look out.
Is there any good news?: Well...depends. WFT head coach Ron Rivera acknowledged that there's a "cutoff point" for how long he'll keep starting second-year QB Dwayne Haskins, who struggled last week. Maybe comeback kid Alex Smith will get a look? Only time will tell.
Anything else?: Yes, actually. Prep for Sunday football with Saturday football (of the soccer variety). The Spirit conclude their NWSL Fall Series against Sky Blue FC at 12:30 p.m. ET, while D.C. United take on Atlanta United at 7 p.m. ET. Get your footy fix!
⚾

Cubs, White Sox Could Advance With Win Today

October 01, 2020
SOURCE: ERIC RISBERG/AP PHOTO
The GIST: The MLB saw eight playoff games with every wild-card matchup in action yesterday, and the Cubs and the White Sox both ended up on the losing side of the scoreboard. Welp.
One game at a time: Game 1 didn't go as planned for the Cubs, who lost 5–1 to the Miami Marlins yesterday. Ian Happ's first postseason home run was the only one the Cubs scored all day. While fans were thrilled for Happ, they certainly weren't glad to see the rest of the squad go ice cold behind the plate.
The Marlins' bats struck gold, with two homers making up their five runs. In a best-of-three series, we're not not nervous. The Cubs have one more shot for Wrigley's winds to shift and keep their season alive this afternoon at 2 p.m. ET/1 p.m. CT.
It all comes down to this: The playoffs have already been a whirlwind of emotions for the White Sox. On Tuesday, Sox pitcher Lucas Giolito threw six perfect innings in the South Siders' Game 1 win over the Oakland A's. ICYMI, he's pretty good. Then, in Game 2 yesterday, the A's came out swinging. They were up 5–3 when Sox MVP candidate José Abreu stepped up to the plate with a chance to win it in the ninth inning. Unfortunately, he grounded out to end the game. So close.
Whichever team wins today will move on to face the Houston Astros in the American League Division Series starting on Monday. The battle begins at 3 p.m. ET/2 p.m. CT.
🏈
⚽
⚾
Jets Set for Thursday Night Football, Yankees to Begin MLB Playoff Run
October 01, 2020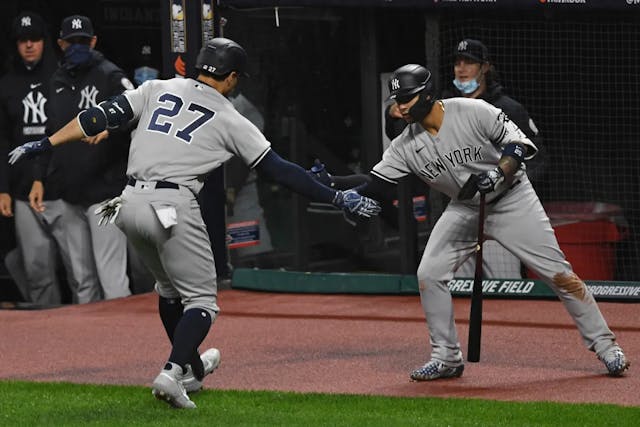 SOURCE: DAVID DERMER/AP PHOTO
The GIST: After sweeping Cleveland in their Wild Card series, the Yankees are waiting to start the next round of the MLB playoffs, while the Jets are prepping for Thursday Night Football.
Get it out, Gio: It's a good week to be a Yankees fan. On Tuesday, the boys of the Bronx lit up Cleveland's star pitcher, Shane Bieber (no relation to Justin), for a 12–3 win. Then, in Game 2 yesterday, the Yanks were down three runs in the fourth when third baseman Gio Urshela hit a grand slam to take the lead. The next five innings were an absolutely wild back-and-forth that had us biting our nails until the very last play, when Yankees closer Aroldis Chapman struck out Austin Hedges to end this insanely long, insanely exciting game.
The Yanks won 10–9, sweeping the series and moving on to the American League Division Series against the Tampa Bay Rays starting on Monday.
It's drama: After an abysmal first three games, all eyes are on Jets head coach Adam Gase heading into tonight's game against the Denver Broncos. Some are saying it's his last chance to prove that he deserves to coach more than four games this season. Also on watch is quarterback Sam Darnold, who has started off worse (like, ahem, his two pick-sixes on Sunday) this year than his not-so-great 2019 rookie season.
No matter Darnold's or Gase's fate, this game is a must-win for the Jets as the 0-3 Broncos will start their third-string quarterback, Brett Rypien. This battle of the losers is not one Gase can afford to win. Kickoff's at 8:20 p.m. ET.
On the other football pitch: On Saturday, Sky Blue FC will play the Washington Spirit in their next NWSL Fall Series match at 12:30 p.m. ET. Over in the MLS, the Red Bulls face Orlando City at 4:30 p.m. ET and NYC FC take on Inter Miami at 8 p.m. ET.
🏆

Playoff Picture Fuzzy for Philadelphia Teams

October 01, 2020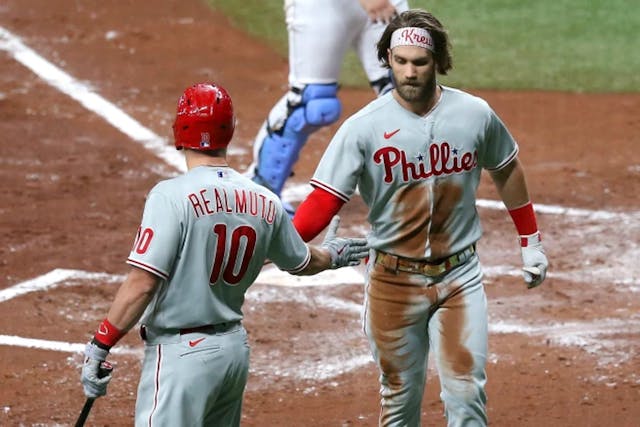 SOURCE: GETTY IMAGES
The GIST: Due to disappointing finishes from the Phillies, 76ers and the Flyers this year, the off-season is going to get spicy in Philly. Meanwhile, the Union are mid-fight for an MLS Cup berth.
Fix-it-Philly: Not much has changed for the Sixers since the firing of long-time head coach Brett Brown. Without a replacement or any front office changes, we're starting to wonder if the Sixers themselves even know how they're going to move forward. Might have to call in a Doc.
Now that the Phillies have officially entered the off-season, the organization announced internal layoffs due to this year's economic toll. You hate to see it. They're also facing big question marks around re-signing their free agents. Talk about tough decisions.
Making moves: Flyers general manager Chuck Fletcher has been prepping his roster for the NHL Draft next week. Along with extending a few major contracts, the team re-signed defenseman Robert Hagg for two more years — signaling that Shayne Gostisbehere could be up for grabs. Look for more moves to be made this week before the draft.
On the pitch: Halfway through the fall regular season, the Union are looking strong after their fourth win in five games on Sunday. They will take on Toronto FC (FC stands for Football Club), who are just one spot behind Philly in the Eastern Conference, on Saturday at 7 p.m. ET. We're ready for some pan-DOOP-monium!
🏈
⚽
Patriots Take On Chiefs
October 01, 2020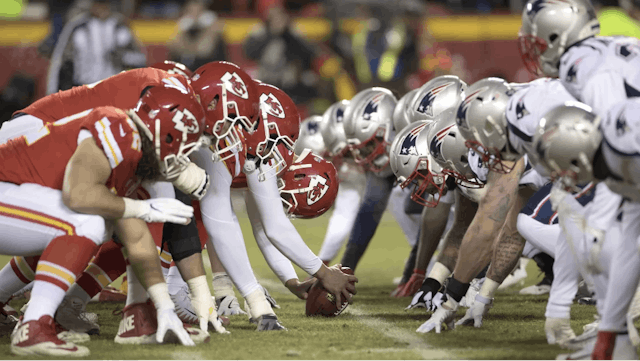 SOURCE: SCOTT BOEHM/AP PHOTO
The GIST: We can't believe it's October already. Soak in our Patriots preview before you admire the Harvest Moon tonight.
Who's playing?: Our Pats face a big test against defending Super Bowl champions, Kansas City Chiefs, on Sunday at 4:25 p.m. ET. Kansas City is undefeated so far, most recently taking a decisive win over the Baltimore Ravens earlier this week. Look out.
So you're saying there's not much of a chance?: No, not quite! The Pats go into Sunday's game as the underdog (so weird), but could still rain on Kansas City's parade. But to have a chance, Pats quarterback (QB) Cam Newton needs to bounce back from last week's so-so game, while cornerback Stephon Gilmore and the Pats' defense have to lock down Kansas City's speedy offensive threats.
And of course, pressure must be laid on none other than reigning Super Bowl MVP and soon-to-be dad, QB Patrick Mahomes. Even Pats' head coach Bill Belichick is impressed by Mahomes. Alright, Dolla Dolla Bill.
Anything else?: Yes, actually. Prep for Sunday football with Saturday football of the soccer variety: the Revolution take on Nashville SC (SC stands for Soccer Club) at 7:30 p.m. ET. Get your footy fix!