🏀

Houston Rockets Trade Harden to Brooklyn Nets

January 14, 2021
SOURCE: MARK MULLIGAN/HOUSTON CHRONICLE VIA AP
The Harden saga: James Harden's antics finally paid off. After he was asked to not attend yesterday morning's practice, news broke around 4 p.m. ET that the Houston Rockets wild child got his wish and was traded to the Brooklyn Nets.
No one's going to miss him much in Houston. Ex-teammate John Wall admitted earlier in the day that things in the locker room had "been a little rocky," while DeMarcus Cousins called out Harden's "disrespect" and said he "doesn't care" if Harden leaves.
The Nets saga: It's fine if Harden forgets to bring the drama to Brooklyn, because the Nets already have plenty. Exhibit A: Kyrie Irving. While away for personal reasons last week, the flat-earther allegedly attended a birthday party (people are still having birthday parties?!) and was recorded dancing without a mask.
While the NBA investigates, All-Star Kevin Durant will be there to welcome Harden to the team, though we're not sure how coach Steve Nash plans to deal with all three giant egos. Good luck!

Keep an eye out for some spicy action on Saturday night in what could be Harden's first game, when the Nets play the Orlando Magic at 6 p.m. ET.
The COVID-19 saga: In other news, the NBA, like the rest of the world, has a serious COVID-19 problem. The NBA was forced to postpone three games last night, bringing their total to nine rescheduled games this season.
⚽
🏀
⛷️
Bits & Bites: This Week in Sports (US)
January 14, 2021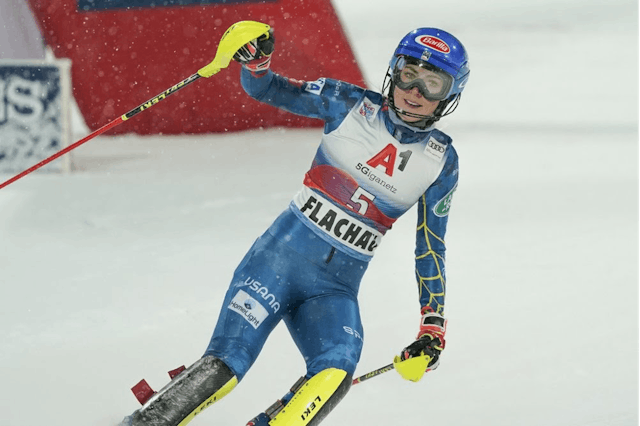 SOURCE: GIOVANNI AULETTA/AP PHOTO
🏒NHL: Regardless of how desperately we missed hockey, it still feels like the new NHL season snuck up on us last night...especially with that 5:30 p.m. ET puck drop between the Pittsburgh Penguins and the Philadelphia Flyers. Sidney Crosby was back to his classic goal-scoring ways, but so were the Flyers, who won 6–3.
The prime matchup of the night was, of course, the Toronto Maple Leafs and the Montreal Canadiens. Renewing their age-old rivalry, the Leafs took the W in overtime. Check out all the scores from night one here.
🎾Tennis: Thanks to three straight qualifying wins, 30-year-old Vancouverite Rebecca Marino qualified for the upcoming Australian Open yesterday, securing her first major appearance since 2013. Age is but a number.
On the flipside, former World No. 4 Eugenie Bouchard was dealt a second qualifying round loss (and a classic sister snapback from her twin), so she'll miss the major, due to start February 8th. Ouch.
⚽️Soccer: Everyone, including Megan Rapinoe, knows that Canadian soccer is the best soccer. And the North Carolina Courage showed they agree, drafting Deanne Rose, Canada's youngest goal scorer in Olympic soccer history, as their 10th overall pick in last night's NWSL Draft. Represent!
🏀
🏒
⚾
Boston: On the up and up again
January 14, 2021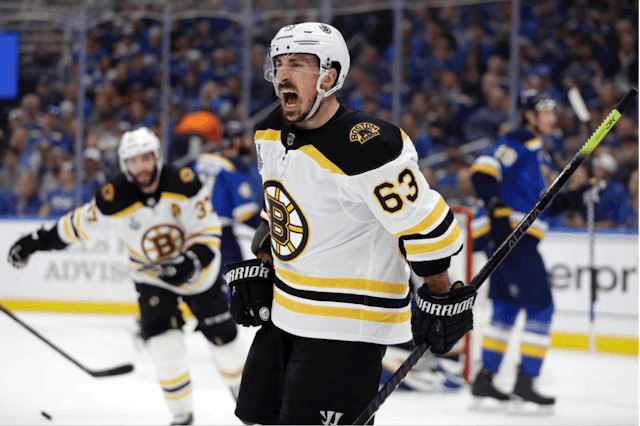 SOURCE: JEFF ROBERSON/AP PHOTO
🏒Bruins: After an early exit from the NHL postseason bubble, we'll finally see the black and gold back in action for their season opener tonight against the New Jersey Devils. Puck drop is slated for 7 p.m. ET.
The Devils missed the postseason, so tonight will be their first competitive action in 10 months. And the B's (namely Brad Marchand) have plenty of history with Devils defender (and Lindsey Vonn's ex) P.K. Subban. Expect things to get heated during the first of eight regular season matchups.
🏀Celtics: The C's traded their four-game win streak for a three-game postponed streak, seeing their last few contests fall victim to COVID-19 delays. While they're slated to play against the Orlando Magic tomorrow (for now), they'll still be without a handful of key players, including Jayson Tatum and Jaylen Brown.
Tatum, who tested positive for COVID-19 last Friday, will be out through at least next Wednesday. And Brown, who is out as a result of contact tracing, could return to action by Saturday. Cross all your fingers and toes.
⚾️Red Sox: Don't look now, but there's some good news coming out of the Red Sox camp. Not only is ace pitcher Chris Sale — currently recovering from Tommy John surgery — scheduled to throw from a mound at the end of the month, but reports indicate that the Sox front office is preparing for a "series of moves" to upgrade the roster before spring training starts next month. Fire up that hot stove!
🏀
🏒
⚽
Chicago: It's called rebuilding, look it up
January 14, 2021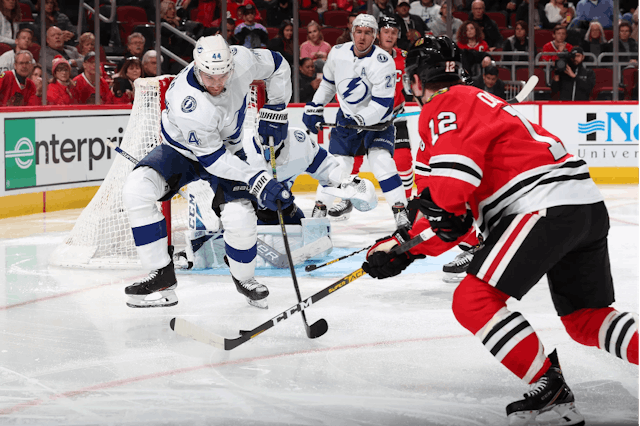 SOURCE: CHASE AGNELLO-DEAN/GETTY IMAGES
🏒NHL: Last night's opener against the Tampa Bay Lightning was kind of tough to watch. Tampa scored early and often; Chicago responded only once, when center Dylan Strome scored on a power play towards the end of the third period.
The Lightning won 5–1, but lucky for us, Chi-town will get another crack at the defending Stanley Cup champs when they face off again on Friday at 7 p.m. ET/6 p.m. CT.
🏀NBA: The Bulls are on an unplanned break after Tuesday's game against the Boston Celtics was postponed due to COVID-19-related issues. Chicago hasn't played since their tight 130–127 loss to the LA Clippers on Sunday, in which guard Zach LaVine scored a whopping 45 points. Dammit, Kawhi.
The Bulls' 4-7 record may not show it, but the team is gaining momentum behind LaVine and rookie Patrick Williams. Assuming no more postponements, Chicago will be back on the court against the Oklahoma City Thunder on Friday at 8 p.m. ET/7 p.m. CT.
⚽️NWSL: The Red Stars drafted Stanford stand-out Madison Haley with the seventh overall pick in last night's NWSL draft. The two-time National Champion and All-American grew up in Dallas, where her dad, Pro Football Hall of Famer Charles Haley, played for the Cowboys. We're pumped for her to bring her athleticism and heart to our city.
🏀
🏒
Dallas: But tonight I bounce back
January 14, 2021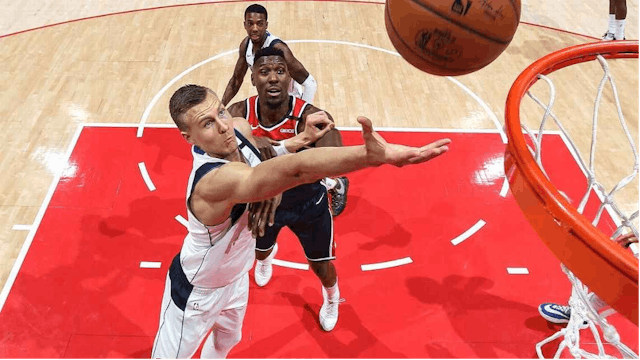 SOURCE: STEPHEN GOSLING/NBAE VIA GETTY IMAGES
🏀Mavericks: In his first game back since a season-ending knee injury, Porziņģis showed no signs of rust, dropping 16 points in limited minutes during his season debut. Don't call it a comeback. Luka Doncic was happily reunited with his best buddy, dropping 34 points of his own as the Mavs sailed to an 104–93 win over the Charlotte Hornets.
Porziņģis' return could not come at a better time, as the Mavs got off to a slow 5-4 start without The Unicorn. And they'll need his help for tomorrow night's 7:30 p.m. ET/6:30 p.m. CT matchup with reigning league MVP Giannis Antetokounmpo (pronounced YONNIS ANDEDO-KOONPO) and the Milwaukee Bucks.
🏒Stars: Feeling that FOMO? Same. While the rest of the NHL enjoys their season openers, we'll have to wait until at least next Tuesday for the puck to drop due to the Stars' ongoing COVID-19 issues. The NHL reported their training camp testing numbers on Tuesday and 17 of the 27 players who tested positive were from Dallas. Not good.
Luckily, most players are asymptomatic and on their way to recovery. But handling a COVID-19 outbreak is just the first test for Dallas. In a rematch of last year's Stanley Cup final, the Stars will face the defending champion Tampa Bay Lightning in next Tuesday's season opener. No pressure, no diamonds, right?