🏒
🏈
Dallas: Good things come to those who wait
January 21, 2021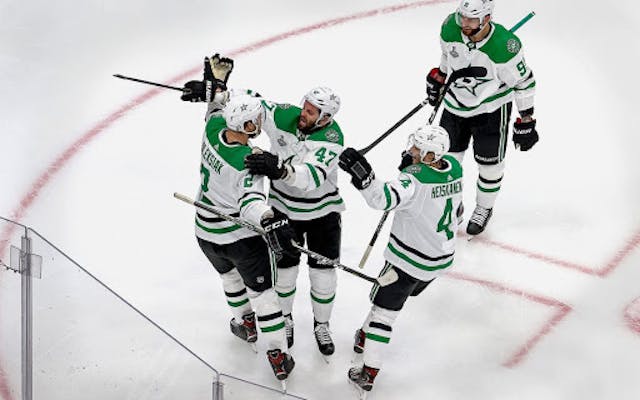 Source: Bruce Bennett/Getty Images
🏈Cowboys: Earlier this month, offensive coordinator Kellen Moore decided not to pursue the head coaching job at his alma mater Boise State and instead signed a with the 'Boys. But, plot twist, Moore reportedly interviewed for the vacant Philadelphia Eagles head coaching position on Tuesday.
Nothing's set in stone just yet, as the Eagles have interviewed at least 10 candidates for the job nobody wants their head coaching spot. But if Moore does wind up with the Eagles, it'll saddle the Cowboys with problem to handle this offseason.
🏒Stars: Due to COVID-19 delays, the Stars couldn't drop the puck on the season with the rest of the NHL over a week ago. Thankfully, the time has finally arrived and our Stars will debut against the Nashville Predators tomorrow night.
The Preds will be coming off a brief hiatus of their own, after their Tuesday game against Carolina was postponed due to with the Hurricanes.
Keep your fingers crossed and knock on lots of wood before Friday's long-awaited puck drop, set for 8:30 p.m. ET/7:30 p.m. CT. We're hoping that good things do in fact come to those who wait.
🏈

NFL Conference Championships Preview

January 21, 2021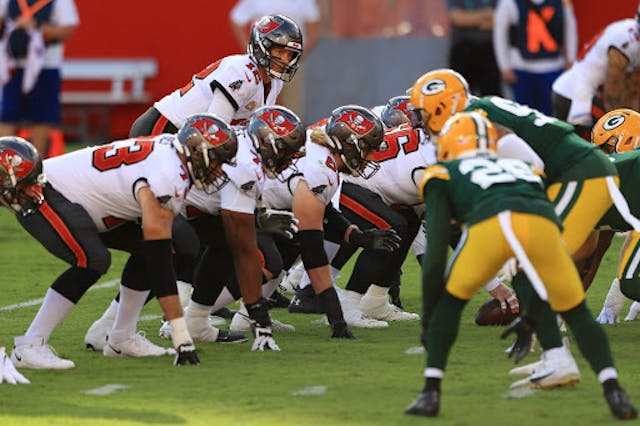 Source: Mike Ehrmann/Getty Images
Tampa Bay Buccaneers vs. Green Bay Packers: The Bucs have two big things going for them this weekend: history — the last time they made it to the conference championship in 2003, they won the Super Bowl — and six-time Super Bowl champ QB Tom Brady (who's competing in his record 14th conference championship, BTW) at the helm.
Buffalo Bills vs. Kansas City Chiefs: Considering their last AFC Championship appearance was in 1994, the Bills think the Bucs' 18-year drought is cute. But they're focusing on bigger things right now: namely, which QB will their face on Sunday?
KC QB and reigning Super Bowl MVP Patrick Mahomes left last Sunday's game with a concussion, leaving back-up Chad Henne to take over. Mahomes practiced yesterday, but given the nature of the injury, we're not betting on him playing just yet.
GISTer vs. GISTer: Want in on the football action, too? We thought you'd say yes. That's why we've partnered with for a super-easy, GISTer-exclusive NFL fantasy contest. Here's the deal:
Step 2: You have $60,000 to set your eight-player, one-defense roster. Each player has a price (the higher the price, the better the player) so budget wisely!
Step 3: That's it. Sit back and enjoy the games.
What's in it for you? Bragging rights and cash prizes. You pay $2 to play and $500 is up for grabs. The weekly winner takes home $100, and the top 20% of GISTers earn cash. .*
🏀
⚾
🏒
⚽
Boston: Love that dirty water
January 21, 2021
Source: Adam Glanzman/Getty Images
🏀Celtics: Despite Kemba Walker's 19 points in his second game back from a knee injury, the C's fell 117–109 to former Celtics head coach Doc Rivers and the Philadelphia 76ers last night.
⚾️Red Sox: The Sox might not be "" on the 2021 season (cue eye roll), but at least we can be all in on this news: beginning in February, Fenway Park will serve as the Commonwealth's , along with the Patriots' Gillette Stadium. Inject this story straight into our veins.
🏒⚽️What to watch: The Bruins look to snap a two-game losing streak against their rival Philadelphia Flyers tonight at 7 p.m. ET, but we're honestly more excited to watch our hometown heroes, , in the USWNT's tilt with Colombia tomorrow at 7 p.m. ET on ESPN2.
The Mewis sisters accounted for all four goals during Monday's game, with Sam notching her . Must be all that !
🏈

NFL Conference Championships Preview

January 18, 2021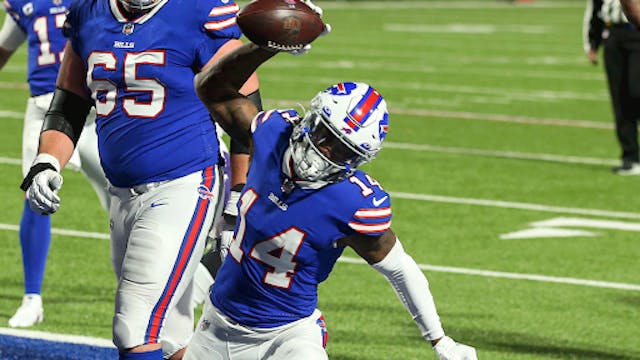 Source: NFL/Twitter
Buffalo Bills: Here's something we haven't heard since : the Buffalo Bills are Super Bowl contenders. It took them a while to warm up against the Baltimore Ravens in Saturday night's game, going into halftime with a 3–3 tie, but once they got going, they never looked back.
Kansas City Chiefs: Win the game, lose the QB. KC won their matchup 22–17 against the Cleveland Browns yesterday, but lost reigning Super Bowl MVP Patrick Mahomes to a concussion in the process. Vet QB Chad Henne subbed in to solidify the win, but it's still too soon to know who will start next weekend.
Green Bay Packers: The LA Rams never really stood a chance. Over 8,000 showed up to watch QB Aaron Rodgers lead the Packers to a 32–18 win on Saturday afternoon. That home-field advantage helped send the Pack to their fourth conference final in seven years and a chance at another Super Bowl a decade after their last.
Bucs: At 43, QB Tom Brady proved that age is but a number in last night's primetime game against the New Orleans Saints, who were led by young gun QB Drew Brees (who turned 42 on Friday). The Bucs won 30–20 (with a big helping hand from the defense) and Brady is now on his way to his , but record 14th career conference championship.
🏈

NFL Division Playoffs

January 14, 2021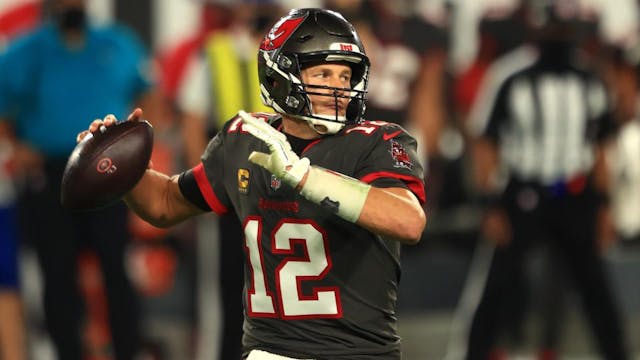 SOURCE: FORBES
LA Rams vs. Green Bay Packers, 4:35 p.m. ET: What happens to the old adage "defense wins championships" when both teams have stacked Ds? That's where the offense comes in, and considering LA's injury woes, Packers quarterback (QB) Aaron Rodgers should be the difference maker in this game.
Baltimore Ravens vs. Buffalo Bills, 8:15 p.m. ET: Here's the deal: it's supposed to snow in Buffalo on Saturday. The issue? Ravens QB Lamar Jackson has never played football in the snow. So while the cold never bothered the Bills anyway, the Ravens will likely have to rely on running back (RB) J.K. Dobbins.
Cleveland Browns vs. Kansas City Chiefs, 3:05 p.m. ET: The Browns are still flying high after embarrassing the Pittsburgh Steelers last week, but they better get focused. Kansas City is coming off a bye, and a well-rested duo of tight end (TE) Travis Kelce and wide receiver (WR) Tyreek Hill is terrifying for any team.
Tampa Bay Buccaneers vs. New Orleans Saints, 6:40 p.m. ET: It's the battle of the boomers (okay, not quite!), with 43-year-old QB Tom Brady's Bucs visiting 41-year-old QB Drew Brees' Saints. The Bucs are 0-2 against the Saints this season...but something tells us the Saints won't earn the sweep.
You vs. other GISTers: As the Wild Card winners prep for the Divisional Round of the playoffs, you can prep for the second week of FanDuel's GISTer-exclusive weekly fantasy contest.
Fortunately, it's pretty easy (and so fun!). All you have to do is select nine players to be part of your ideal NFL playoff team, and info about each player is accessible through FanDuel's platform.