🏈

Slumping Patriots Travel to Buffalo

October 29, 2020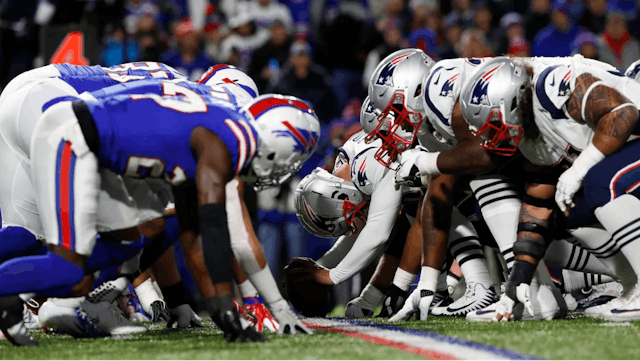 SOURCE: AP PHOTO
The GIST: The slumping Patriots will travel to Buffalo for Sunday's big divisional matchup against the AFC East-leading Bills. One thing that's for sure? A fourth-straight loss cannot happen.
So, the Bills?: Yup. The Bills' quarterback (QB) Josh Allen is impressive this season and his go-to target, wide receiver Stefon Diggs, is even more so. However in recent years, the Pats have dominated this storied rivalry by winning 35 of the last 40 meetings, including 32 wins in the Tom Brady Era. But 2020 is a whole new ball game.
What do the Pats have to work on?: A lot. QB Cam Newton knows he has to play better, especially after two consecutive weeks of lackluster performances. Trying to stay patient...but it's hard not to wistfully look at the success in Tompa Bay.
In more unfortunate news, linebacker (LB) Brandon Copeland was placed on injured reserve yesterday with a potential season-ending pec injury. With the Pats already thin at LB, this is worrisome to say the least.
Anything else?: Rumors started flying yesterday that cornerback and reigning Defensive Player of the Year Stephon Gilmore put his house up for sale. Will the Pats make a move ahead of the November 3rd trade deadline? Please no.
⚾
🏈
⚽
Los Angeles is the City of Champions
October 29, 2020
SOURCE: THE PLAYERS' TRIBUNE/TWITTER
The GIST: They finally did it! The Dodgers slayed their postseason demons to lift their first World Series trophy in 32 years. We're still cheersing to that!
⚾️Mission complete: Eight straight National League West division titles. Two World Series heartbreaks. Now, the Boys in Blue are champions at last! On Tuesday night, with a little help from Tampa Bay's curious pitching change, right fielder Mookie Betts sealed the deal with an insurance run. Imagine trading Mookie Betts. We literally can't.
After years of playoff woes, future Hall of Fame pitcher Clayton Kershaw finally earned his ring. And oft-maligned manager Dave Roberts became the second Black manager and first Asian-American to win the World Series. Representation matters.

We're antsy for the future parades to safely celebrate the Dodgers and Lakers together. Mask up, LA!
🏈⚽️Step right up: So...who's next to bring home a championship? For our football and fútbol teams, it's probably not the Chargers or Galaxy. Sorry fellas.
But the Rams are still potential contenders, especially after beating the Chicago Bears on Monday Night Football to move to a 5-2 record. See if the Rams can maintain their stingy defense against the Miami Dolphins on Sunday at 1 p.m. ET/10 a.m. PT.

In soccer, LAFC are in the thick of the MLS playoff mix. Catch them next on Sunday at 10:30 p.m. ET/7:30 p.m. PT against the San Jose Earthquakes.
🏈

This Week in College Football

October 29, 2020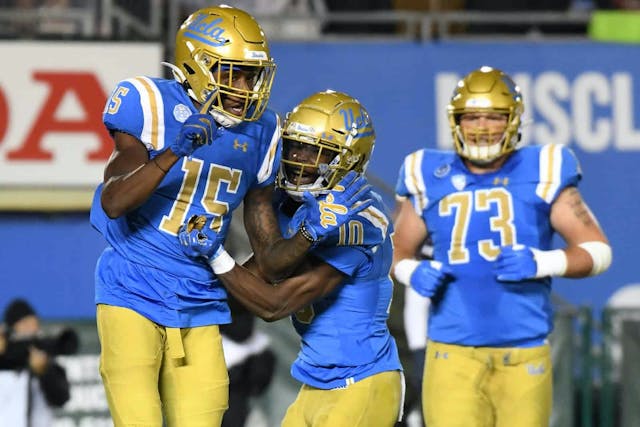 SOURCE: RICHARD MACKSON/USA TODAY SPORTS
The GIST: A top-ranked football team was forced to cancel its upcoming game due to COVID-19, and the first known Division 1 school has opted out of sports entirely for the 2020–21 academic year. When it rains, it pours.
Which game was canceled?: No. 9 Wisconsin vs. Nebraska, originally scheduled for this Saturday. Twelve members of the Wisconsin football program (six student-athletes, six staff members) tested positive within the last five days, leading the Badgers to pause all team activities for (at least) the next seven days.
The cancellation cuts even deeper, coming just one week after Big Ten football finally kicked off. The Big Ten is now operating on a condensed schedule because of their late return, leaving no wiggle room to reschedule canceled games.
Even worse, the Badgers were one of the Big Ten's national title contenders, and playing one fewer game will undoubtedly impact their playoff chances. Thankfully (unlike the NFL) the Big Ten outlined comprehensive COVID-19 protocols, giving Wisconsin the time and guidance necessary to get their sh!t together.
Sure hope so! And which school is opting out?: Bethune-Cookman, a historically Black college (HBCU), canceled all sports for the 2020–21 academic year, citing surging COVID-19 rates in Florida. Bethune-Cookman is the first known Division 1 school to make such an impactful move — sadly, more schools might soon face a similar decision.
Oh no. Is there any good news?: Hmmm...well there's some strange news. Amidst a growing budget deficit, new reporting revealed that the UCLA football team spent a whopping $5.4 million on non-travel meals last year. We'll give you a second to pick your jaw up off the floor.
To put the Bruins' exorbitant spending into context, defending national champions LSU spent $381,000 on their non-travel meals in 2019. LSU went undefeated (15-0) while UCLA went a dismal 4-8. Eat good, play...terribly?
⚾

Reliving Nationals' 2019 World Series Win

October 29, 2020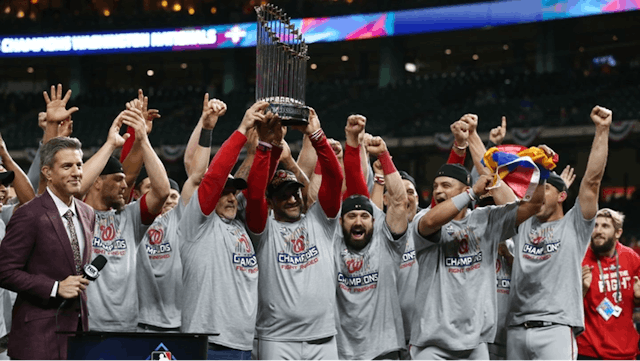 SOURCE: TROY TAORMINA/USA TODAY SPORTS
The GIST: With the Washington Football Team on a bye this week, take a walk down memory lane and reminisce about the Nationals' thrilling 2019 World Series run. Oh, happier days.
Reliving the moment: The Nats started last season poorly with the now-famous 19-31 record, before turning it around to grab a National League wild card spot. The comeback kids kept us on the edge of our seats when they staved off elimination not once, not twice, but five times in the postseason. Our nail beds are just starting to recover.
It culminated in the Nats' first World Series title, with all four wins (including an epic Game 7) happening on the road against the Houston Cheaters, er, we mean Astros. Bring back those joyous champagne-soaked times.

Unfortunately, the District was deprived of a proper World Series celebration this year at Nationals Park. Sigh.
Back to the present: After a lackluster, injury-filled, playoff-less 2020 season, the Nats are hurting. Key players from last year's title run have already departed. Others are now hitting free agency. And some players, unsurprisingly, had their option declined (where the team chose not to sign the optional years at the end of their contracts) by the Nats yesterday.
All this doom and gloom aside, with budding star left fielder Juan Soto, 2019 World Series MVP pitcher Stephen Strasburg on the mend from surgery and shortstop Trea Turner hopefully receiving an extension, fingers crossed the future is brighter.
If you're missing Nats Park, good news: it's serving as a voting center through Election Day. Head over to cast your vote!
⚽
🏈
🏀
Bits & Bites: This Week in the MLS, NFL, NBA
October 29, 2020
SOURCE: MLS/TWITTER
⚽️Soccer: Already missing major league playoffs? Same. Luckily, the MLS is coming to our rescue. With four match days remaining in the regular season, 12 teams have clinched playoff spots out of the available 18. What's more surprising is that no team has been officially eliminated from contention yet, meaning every game counts. Follow all the excitement here.
🏈Football: Imagine how odd a Super Bowl without fans would be? The NFL can't imagine it, so they're hoping to allow spectators into football's biggest event. Super Bowl LV (Roman numeral speak for 55) is set for February 7th, and the league is aiming for 20% capacity at Raymond James Stadium in Tampa, Florida (though who knows if that will actually work out, because...well, it's Florida).
🏀Basketball: After a successful season in the bubble, we wouldn't be surprised if the NBA tries a limited capacity audience, too, if only to recoup some lost revenue. The league reported a 10% revenue drop during the 2019–20 season, including $800 million from ticket sales. They still made around $8.3 billion, though, so we can't feel too bad for them.
And speaking of next season, turns out the previously proposed mid-December start was poorly received by teams, so a new collective of players is pushing for a January 18th start date. Not only would this allow for a more feasible preseason, but it would also have the season tip off on Martin Luther King Jr. Day. Love that for you, NBA.