🏈

Recap: Week 8 in the NFL

November 02, 2020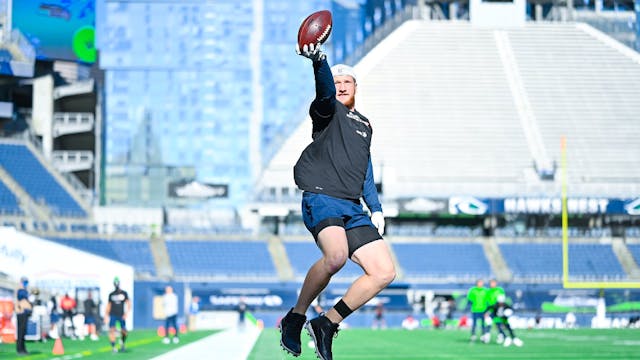 SOURCE: SEATTLE SEAHAWKS/TWITTER
The GIST: The NFL's Week 8 wraps up today, and in a 17-week, 16-game season, that puts us right around the midpoint. Guess it's time for a midterm report card.
Who's passing?: As the top American Football Conference (AFC) team and the only undefeated team in the league, the Pittsburgh Steelers get a big A+ from us. If the postseason started today, the Steelers would have a first round bye, which is extra surprising seeing as they haven't made the playoffs in two years.
Outside of signing Antonio Brown, the National Football Conference's (NFC) Tampa Bay Buccaneers deserve straight As. They haven't made the postseason since 2007, but are now one of the best teams in the league, largely thanks to new quarterback (QB) Tom Brady. We'll bet all of our Halloween candy they'll dominate the one-win New York Giants tonight at 8:15 p.m. ET.
Meanwhile, the NFC West is heading for the honor roll. The division that includes the 6-1 Seattle Seahawks and last year's Super Bowl runners-up, the San Francisco 49ers, is the only one in the league that doesn't have a team with a losing record, making it extra competitive. B+ for the division.
And who's failing?: Don't let head coach Bill Belichick hear, but the New England Patriots are...bad. With a tight 24–21 loss to the Buffalo Bills yesterday, the former dynasty is on a four-game losing skid for the first time since 2002 (the same year The Bachelor debuted!). No letter grade, just...needs improvement.
The NFC East continues their reign as the worst division in football. None of the division's four teams have a winning record, with most of their wins coming against each other. We're giving the teams and the division an F.
What happened yesterday?: So many great plays. Here are a few of our favorites:
The Steelers may be doing so well because of their new secret weapon: Canadian rookie wide receiver Chase Claypool, who scored this game-winning touchdown (TD) to beat the Ravens 28–24. Who knew Canadians could run that fast?
Miami Dolphins rookie QB Tua Tagovailoa (pronounced TWO-A TUNG-O-VAI-LOA) made his first NFL start, threw his first NFL TD pass, won his first NFL game and showed up looking like this. Into it.
The Chicago Bears lost to the New Orleans Saints (probably karma for this BS), but they won the TD highlight reel with this helmet catch from Allen Robinson. Now that's using your head!
🏈

Clemson QB to Miss at Least Two Games

November 02, 2020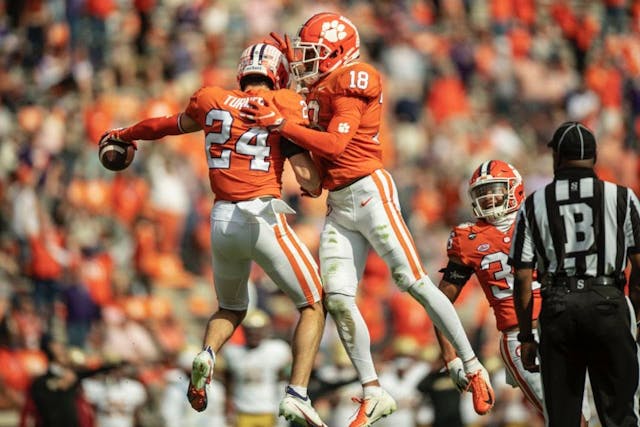 SOURCE: JOSH MORGAN/AP PHOTO
The GIST: College football's biggest star will miss at least two games after testing positive for COVID-19, and an ugly fight broke out at the lopsided Florida vs. Missouri game. Just another week in an already wild year college football season.
Which player tested positive?: Top-ranked Clemson's starting QB and Heisman trophy favorite Trevor Lawrence. Lawrence received his positive test result on Thursday, immediately ruling him out for Saturday's game against unranked Boston College, which the Tigers won 34–28. A little too close for comfort.
Under the ACC's vague COVID-19 guidelines, there was still a chance Lawrence would return in time for the Tigers' marquee matchup against No. 4 Notre Dame on November 7th. But Clemson head coach Dabo Swinney announced on Saturday that Lawrence would be unavailable against the Fighting Irish. Sad but fair.
Who will be QB instead?: On Saturday, Clemson turned to freshman D.J. Uiagalelei (pronounced OOH-EE-AHN-GUH-LAY-LAY). Despite his limited play, Uiagalelei looked like a veteran, completing 30 of his 41 passes and earning 342 yards and two TDs. Not bad for a debut!
The Tigers will need Uiagalelei to keep it up vs. Notre Dame this weekend. This game was already expected to be a close one, so without their star QB, undefeated Clemson could suffer their first loss of the season and a blow to their playoff chances.
Womp womp. And you mentioned a fight?: Yes, and it was a doozy. Following a late hit to Florida QB Kyle Trask, a handful of Gators came to his defense, resulting in a bench-clearing brawl. Even the coaches were involved, having a v. heated exchange before being separated by the referees. What a hot mess.
In the chaos, the refs somehow chose three players to eject and issued unsportsmanlike conduct penalties to all players. Yesterday, both schools issued a joint statement condemning the fight. Clean it up, boys!
🏈

Eagles Win Over Cowboys

November 02, 2020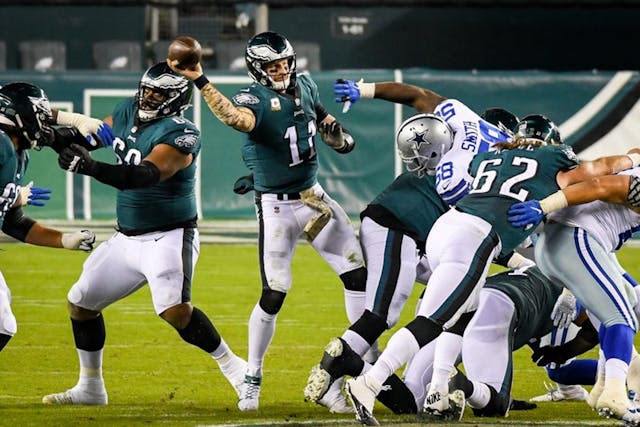 SOURCE: KATE FRESE/PHILLYVOICE
The GIST: After an underwhelming first half, the Eagles turned it around to secure the 23–9 win over the Dallas Cowboys last night. Let's fly.
Slow but steady: After nearly three quarters of turnovers leading to field goals, the Eagles finally broke through when QB Carson Wentz's favorite wide receiver (WR) Travis Fulgham snagged a TD pass to give the Birds the lead. That touchdown shifted the game's momentum; thanks to the Eagles' defensive pressure, a Dallas fumble turned into another Philly touchdown, and the Birds were able to hold the Cowboys from there.
The Eagles' third win secured their spot on top of the NFC East for at least another week and gave fans hope that the Birds will be able to execute in critical games. Finally.
Hold it down: Although this game was less than thrilling, the Eagles' defense consistently showed up to control the Cowboys' offense. Defensive end Brandon Graham played lights-out, adding another stand-out game in his 11th season with Philadelphia. With an unstable offense, it's a relief to see the defense improving and holding steady.
What comes next: The Eagles should *knock on wood* keep this momentum rolling as they head into a bye week and then a game against the very beatable New York Giants. Playoffs, is that you?
🏈
⚾
Bears Lose in OT, White Sox Re-hire Tony La Russa
November 02, 2020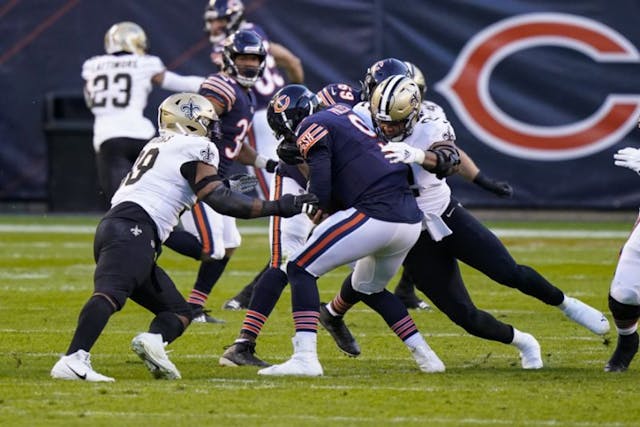 SOURCE: NAM Y. HUH/AP PHOTO
The GIST: The Bears lost 26–23 in overtime to the New Orleans Saints yesterday, finally collapsing under the mounting pressure of their many mistakes. Meanwhile, the White Sox might have made a big offseason mistake of their own.
🏈Third quarter isn't the charm: Heading into the locker room at the half, da Bears were looking pretty good, leading the game 13–10. But it was the back half of the game, namely the third quarter (classic) which featured a reckless fistfight instigated by wide receiver Javon Wims, that proved to be the problem. Despite an ugly second half, the Bears miraculously tied it up to force an overtime...before the Saints took the W with a field goal. Sigh.
While the Bears' defense struggled at times, it stepped up when it really needed to. QB Nick Foles and his offense, however, never seemed to find their groove. We didn't think we'd ever say it, but, we might miss Mitch Trubisky.
⚾️From nursing home to dugout: The White Sox announced on Thursday that Hall of Famer Tony La Russa will become the South Siders' new manager...again. La Russa is 76 years old and previously managed the Sox way back from 1979-1986. Although he's a tenured manager, he hasn't managed a team since the St. Louis Cardinals in 2011, which leaves Sox fans wondering...why tho?
The White Sox are a young, brash team who finally seem to have a personality of their own, and this decision feels like an attempt to bring back the ghost-of-White-Sox-past. That said, there is speculation that Sox owner Jerry Reinsdorf made the executive decision on this one because of his long-time friendship with La Russa, but you didn't hear it from us.
🏀
⚽
Women Athletes Take Action to Get Out the Vote
November 02, 2020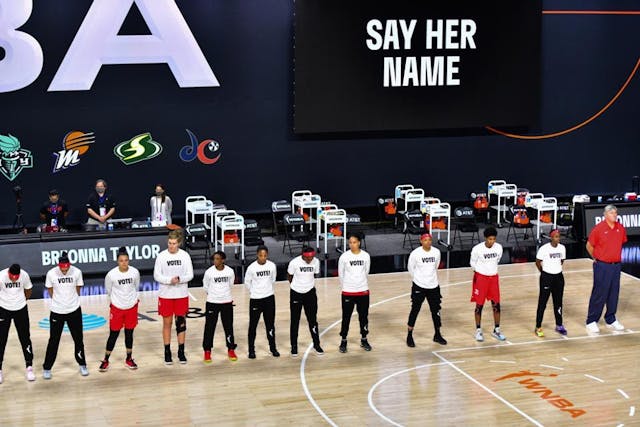 The GIST: As if you needed a reminder, Election Day is just hours away. So stop doomscrolling and instead take inspo from some female athletes who are leading the get-out-the-vote (GOTV) efforts ahead of one of the most important elections of our lifetimes. *bites nails*
Chiney Ogwumike (pronounced OH-GWOO-MIH-KAY): In addition to the WNBA star's partnership with More Than A Vote, a coalition of Black athletes and artists committed to energizing and supporting voters, the LA Sparks forward recently discussed her decision to serve as a poll worker on November 3rd.
The proud Texan will be working at the Toyota Center on Election Day, home of the NBA's Houston Rockets. "Don't wait on the sidelines during the most important game of our lives," she urges. You heard her!
Megan Rapinoe: The newly engaged (still squealing) soccer star has a long history of activism, and this election season has been no exception. This summer, Rapinoe released Seeing America with Megan Rapinoe, a documentary conversation with political guests, including U.S. Representative Alexandria Ocasio-Cortez.
WNBA: Yes, we already highlighted Ogwumike, but the entire league deserves a huge shoutout for their GOTV efforts. From their creative endorsement of Georgia U.S. Senate candidate Raphael Warnock to advocating for the use of their arenas as polling places, WNBA players have led the way in the fight for progressive change.