🏈

Are We Getting Big 10 College Football?

September 14, 2020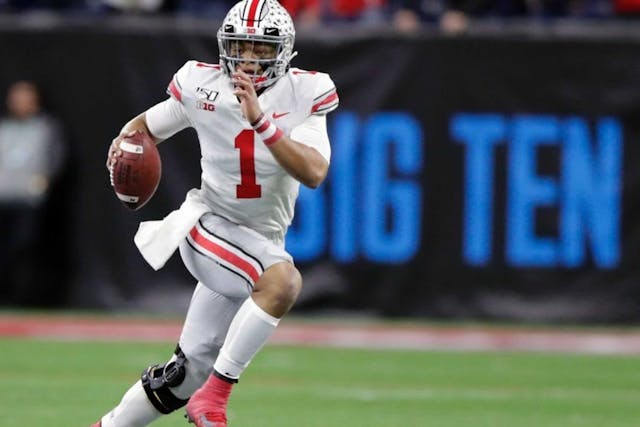 SOURCE: MICHAEL CONROY/AP
The GIST: The first weekend featuring Power Five college football action gave us some major upsets and even bigger news off the field. A team also used the mercy rule in a major blowout loss. Wild stuff.
What's the off-field news?: Chancellors and presidents from the Big Ten, which was the first Power Five conference to postpone fall sports back in August, met yesterday to discuss overturning their original decision. They'll hold a college football (yes, just football. Womp.) return-to-competition vote in the next few days. Whew, whiplash.
Will they vote for or against it?: Despite tweets from President Donald Trump pushing for a restart, we doubted the Big Ten would actually reverse their initial decision. But thanks to increased access to rapid response COVID-19 testing, it's now expected that the commissioners will likely change their minds and aim for a mid-October start date. Good luck to those schedulers!
And what about that mercy rule?: According to NCAA rules, teams are allowed to shorten the length of quarters during the game if both head coaches and the referees agree. This weekend, Pittsburgh led Austin Peay 42–0 at the half (yikes), so both teams agreed to play 10-minute quarters in the second half instead of the standard 15. Even with the shortened time, Pitt went on to win by a whopping score of 55–0 (double yikes).
And get this: this isn't the first time the mercy rule was invoked by Austin Peay. They also used it during a lopsided loss to the University of Georgia back in 2018. Can we use the mercy rule on 2020? Asking for a friend.
🎾
⛳
Lee Wins ANA Inspiration; Osaka, Thiem win U.S. Open
September 14, 2020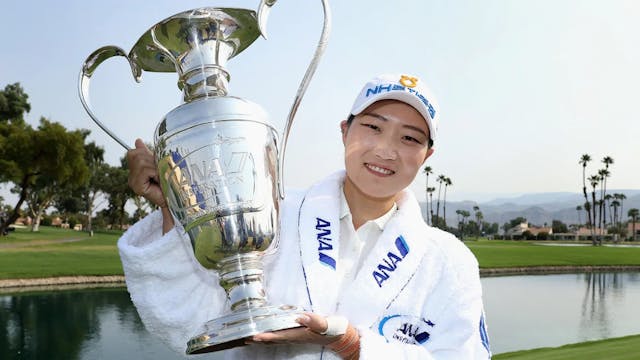 SOURCE: GOLF CHANNEL VIA GETTY IMAGES
The GIST: On top of all of the big league fun, two major tournaments in golf and tennis also finished up this weekend, giving us three new major winner winner chicken dinners.
Golf: The ANA Inspiration is our favorite major on the LPGA schedule, based solely on the fact that the winner has to jump into a pond after their round. This year, South Korea's Mirim Lee continued the tradition, along with her belly-flopping caddie.
Lee came from behind to force a three-way playoff between her, American Nelly Korda and Canadian Brooke Henderson before ultimately winning with a 15 under par score.
Not only did Lee win a cool $465,000 (which is nowhere close to the men's $15 million check from last week...ugh), she also took home the brand-new champions' robe. Let's be real, bathrobes are better than green jackets anyway.
Tennis: After two glorious weeks, the U.S. Open ended with two finals for the ages. On Saturday, Naomi Osaka earned her second U.S. Open and third career Grand Slam with a win over Victoria Azarenka. We loved watching Osaka win, but we loved watching her rally call for social justice even more.
On the men's side, on-court rivals and off-court besties Dominic Thiem (pronounced TEEM) and Alexander Zverev (pronounced SVAIR-EV) took it to a full five sets in yesterday's final. Thiem rallied from two sets down and intense muscle cramping to win the championship in a fifth set tiebreaker, marking his first-ever Grand Slam.
🏈

Kansas City Chiefs to Kick off 2020 NFL Season - Here's Everything You Need to Know

September 10, 2020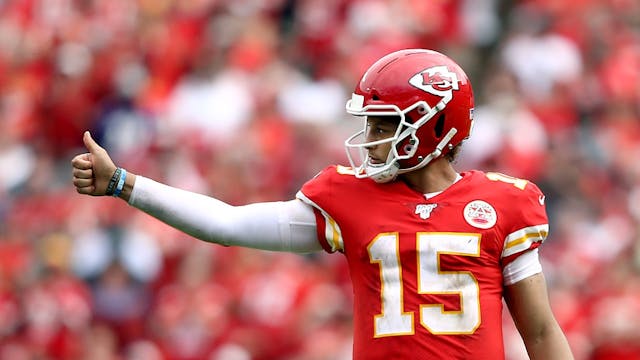 SOURCE: JAMIE SQUIRE/GETTY IMAGES
The GIST: How time flies! One day you're watching Shakira and JLo rock the Super Bowl halftime show, and the next, a whole new NFL season is starting.
Okay, that snuck up on me: Honestly, same. Despite canceling the preseason due to the pandemic, the NFL was steadfast about not delaying its regular-season start. As it does every year on the first Thursday after Labor Day, the season kicks off today, with the defending champs Kansas City Chiefs hosting the Houston Texans.
Refresh me on how the league's organized: There are 32 teams split into two conferences, the National Football Conference (NFC) and the American Football Conference (AFC). Those conferences are further divided into four divisions: North, South, East and West.
After 16 regular season games, 14 teams (extended from last year's 12) will head into the playoffs to vie for a chance to lift the Vince Lombardi trophy. For more, check out The GIST's Guide to Football.
And how is COVID-19 affecting the NFL?: The NFL had the unique opportunity to see how other major leagues adapted to the pandemic, and based on that, they made...very few significant changes.
Sure, they canceled preseason, but they kept the regular-season schedule as is. No regionalized pods like the NWSL and MLS, no bubbles like the NBA, WNBA or NHL. The NFL is just going for it. And six teams have announced they'll allow at least some spectators at their first home games. Yikes.
That said, the league is introducing some new protocols to help keep COVID-19 at bay: players and personnel will be tested daily, a new injured reserve list has been designated for any player who tests positive or is exposed to the virus and the league has released a list of forbidden activities (i.e., no sneaking Tinder hook-ups into hotel rooms).
What are the big stories this season?: Besides COVID-19, quarterback (QB) Tom Brady is stealing headlines, as usual. In March, Brady broke the hearts of true fans and bandwagoners alike by leaving the New England Patriots (where he won an NFL record six Super Bowls) for the Tampa Bay Buccaneers. Paging Tompa Tom.
Elsewhere in the league, Kansas City has retained most of their Super Bowl–winning team, including QB and Super Bowl MVP Patrick Mahomes, making them the heavy favorites to win another championship. And the battle of the rookie QBs — featuring Miami Dolphin Tua Tagovailoa and Cincinnati Bengal Joe Burrow — is already heating up.
Tell me more about your pick'em pool: Gladly! We're biased, but we think it's the best way to stay in the know on the latest NFL news, learn about each matchup and enjoy the game. All you have to do is pick a winner for each matchup for a chance to win a sweet weekly prize. Click here for a good time.
🏀
🏈
COVID-19 Brings More Madness to College Football, Basketball
September 10, 2020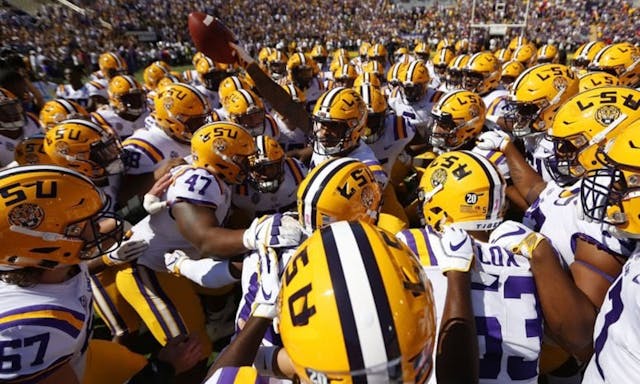 SOURCE: JONATHAN BACHMAN/GETTY IMAGES
The GIST: This week finally brings the first games featuring teams from the still-competing Power Five conferences, but COVID-19 continues to impact college football (unsurprisingly) and is already stirring up drama ahead of the upcoming college basketball season.
What's the latest?: A handful of upcoming games have been postponed due to COVID-19 outbreaks. Tulsa and Oklahoma State pushed their game back a week because Tulsa felt unprepared to play due to practices being canceled...as a result of COVID-19 cases. We're sensing a theme here.
In additional concerning news, Oklahoma head coach Lincoln Riley announced that the Sooners will no longer be releasing COVID-19 case numbers, citing a potential "competitive disadvantage." Sketchy.
Any more news on fans?: Defending national champion LSU announced on Wednesday that they'll allow the stands to be filled to 25% capacity for home games this season. LSU thankfully ruled out tailgating for this year, but 25% capacity still means nearly 26,000 (!!!) fans will be permitted at Tiger Stadium. TBH, we freak out when we see a crowd while rewatching New Girl, so this will be interesting to watch live.
What's the basketball update?: In a move that hopes to "celebrate basketball" and avoid non-conference games amid COVID-19 uncertainty, all 15 ACC men's basketball coaches unanimously voted to admit all eligible Division 1 teams to the 2021 NCAA tournament. If their proposal is accepted, 346 teams would compete in what would need to be a totally restructured tournament. Taking March Madness to a whole new level.
We can expect more college basketball news soon. The NCAA Division 1 Council is scheduled to meet next week to discuss start dates for the men's and women's seasons. Mark your calendars!
🎾

2020 U.S. Open Belongs to Women

September 10, 2020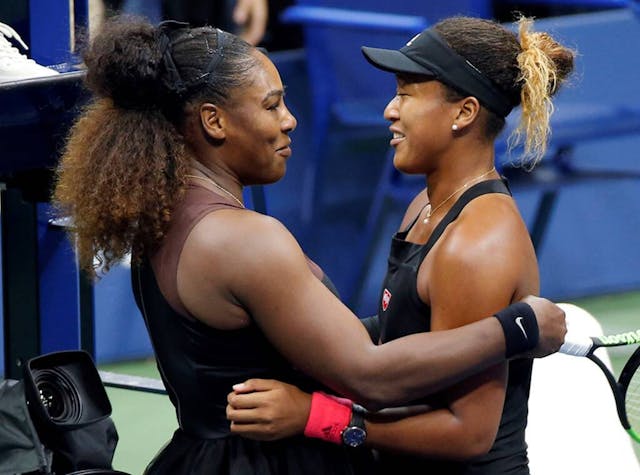 SOURCE: MOHAMMED ELSHAMY/ANADOLU AGENCY/GETTY IMAGES
The GIST: The U.S. Open has long been at the forefront of equality in tennis, and this year's tournament definitely belongs to the women.
Why's that?: Two of the biggest names in the game, Japan's Naomi Osaka and America's Serena Williams, are once again on opposite sides of the draw heading into the semifinals. They've given us some wildly entertaining matches so far, and if both win today, they'll meet in Saturday's final, in a rematch of one of the most infamous showdowns in tennis history.
Osaka, who will face American Jennifer Brady at 7 p.m. ET, is looking for her first Grand Slam final appearance since winning the Australian Open in 2019. Williams, who's set to play two-time Aussie Open winner Victoria Azarenka, has her sights on a record-breaking 24th major and a third straight U.S. Open finals appearance. Truly amazing.
Osaka and Williams met at the 2018 U.S. Open final, when Williams had a memorable dust-up with the chair umpire and was (unfairly, in our humble opinion) penalized. Osaka ended up winning, and her tearful trophy acceptance speech was more of an apology to an angry crowd.
What's the likelihood of this rematch?: No. 4 seed Osaka has dropped just two sets in five matches and made it to the final of the 2020 Cincinnati Open, but this is the farthest she's come in a Grand Slam since her 2019 Aussie win.
No. 3 seed Williams has seen her last three matches go to a deciding third set and had to fight back from a set down in her quarterfinal match yesterday against Tsvetana Pironkova. But Williams has had her sights set on her elusive 24th major win for too long now, so we'd say the odds are ever in our favor to see this rematch.
And what about the men's side?: Okay, fine, the guys are playing, too. And thanks to the last remaining Grand Slam winner in the field, Novak Djokovic (pronounced JOKE-OH-VITCH), defaulting out of the tournament after hitting a line judge with a ball (he is so drama), we're guaranteed to see a new winner this year, with each of the four semifinalists looking for their first major win. Fun!