🏉

Guide to Rugby

March 18, 2020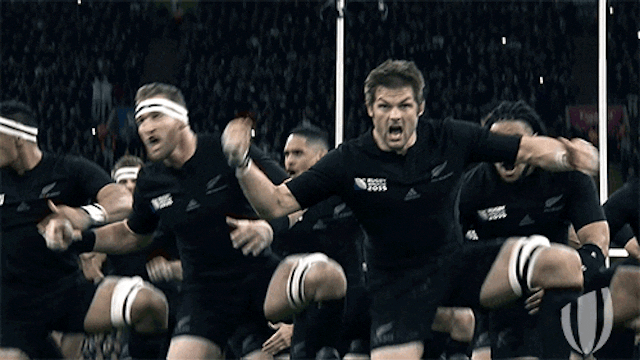 The GIST
Rugby is played on a grassy field (known as a pitch) with 15 players per team. It can, however, also be played with just seven players per team in a version that's called sevens rugby or often just 'sevens' (which made its Olympic debut in 2016). There are also other variations of rugby, including rugby football and Aussie rules, which are most commonly played in Australia.
The scoring system in a rugby match is similar (but not exactly) to good ol' American . Scoring a try is worth five points and occurs when a player touches the ball down in the end zone (similar to football). After every try is scored, the scoring team has the opportunity to kick a conversion (like a field goal) for two extra points. Games are divided into two 40-minute halves and time expires when the ball is "dead" (kicked out of bounds) after the 80-minute mark. In sevens rugby, the games are only seven minute halves because there's a lot fewer players covering the same size of field, and that's just tiring AF!
How is rugby organized?
Rugby has had some trouble gaining a foothold in the American sports market, but MLR (Major League Rugby) is trying to change that. The league formed in 2016 when five amateur teams signed on to start a professional league. Two years later, in 2018, MLR had a multi-year television broadcast deal with CBS Sports Network and hosted its first regular season game on April 21.
This league is the highest level of professional rugby in North America and the league is set to expand in 2020 with three additional teams (Atlanta, Boston and Washington, D.C.) to bring the total to 12. Because of this, MLR will switch to a conference format for the first time in 2020 with a Western and Eastern Conference each consisting of six teams with a scheduling running from February through to the end of June. More on the format . The Seattle Seawolves were the MLR champions in both the 2018 and 2019 seasons.
The best of the best
Rugby is extremely popular in England, Scotland, Ireland, South Africa, New Zealand and Australia. Now, if we had to narrow it down to the two best teams in the world, it would be the New Zealand All Blacks and the South African Springbok. Both teams have won the Webb Ellis Cup (the trophy for the Rugby World Cup title) three times, the most of any team. New Zealand's came in 1987, 2011 and 2015 while South Africa took the Cup in 1995, 2007 and most recently in 2019.
All Blacks stud retired from international play in 2015 but remains the highest point-scorer in test match rugby (a fancy way to say an international match between two senior national teams). Carter still plays club rugby for the Kobelco Steelers in Japan and plays the of center or fly-half. plays for the English national team, as well as the Saracens in London, England. He is one of the best (looking) converters in rugby, with more than 100 successful conversions in international play. Not too shabby!
Didn't your mama tell you not to ruck with a girl?
The US fields both a regular (15 person) and sevens rugby team at the national level. But because sevens is currently the only Olympic sport, it tends to get the most attention outside of big rugby countries like New Zealand and South Africa.
The US women's sevens team has participated in the World Rugby Sevens Series (a series of tournaments where national teams play for points and eventually the World Rugby Sevens title) since its inaugural season in 2012. They're lowest ranking was seventh in 2013-14 and have been as high as second in the world in the 2018-19 season. In that season, scored the most tries (18) and scored the most points (141), so keep your eye on these two rucking awesome ladies.
The US did not medal when rugby sevens made its Olympic debut at Rio 2016, but they'll definitely be looking to capture some hardware at the Tokyo 2020 Games.
And you know we have some trivia…
This is more of a FYI but, you cannot "forward pass" the ball in rugby — it must be thrown backwards to a teammate. However, you can kick the ball forward along the ground and then run to grab it!
The Rugby World Cup (RWC) is hosted every four years. The most recent RWC was hosted in Japan in 2019 (won by South Africa) and the women's is set for 2021. FYI, in a landmark decision in 2019, the Rugby World Cup decided to from its tournament names meaning the 2021 women's edition will be known simply as the Rugby World Cup 2021. #EqualityAF
You don't get to pick your jersey number in rugby because jersey numbers are assigned to specific positions. Example: 9 = scrumhalf, 15 = fullback.
Rugby was invented when William Webb Ellis was playing soccer, caught the ball and ran to the goal while carrying it. Rules are made to broken we guess?

That's #thegist of it!
Written by Guest Writer & Rugby Guru: Victoria Spanton
Don't get The GIST's twice-weekly newsletter yet? Let's make it email official.
🤼

Guide to MMA

March 18, 2020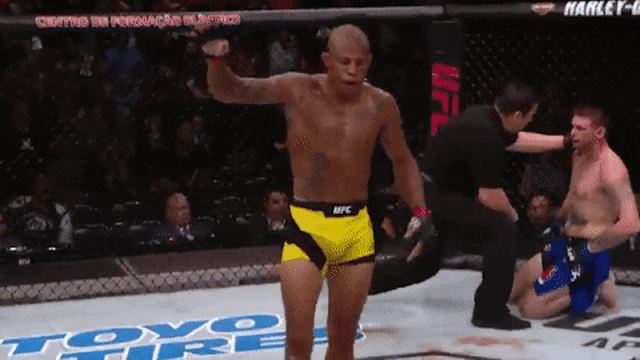 The GIST
MMA stands for Mixed Martial Arts. As the name suggests, an MMA fight can involve many different fighting styles including judo, Muay Thai, Brazilian jiu jitsu, boxing, wrestling, karate and more. Each of these fighting styles has several different forms of striking and grappling — so you're actually watching many different sports in one. More bang for your buck, what's not to love?!
WTF is striking and grappling, you ask? Well, striking is where you use your limbs to hit your opponent.
While grappling involves different techniques like throws, clinches, takedowns, joint locks and chokes in order to control your opponent at close range.
How do you win an MMA fight?
You can win an MMA fight in several different ways. Usually, the goal is to win by either knockout or submission. A knockout is when you render your opponent unconscious by punching or kicking them hard enough. Yeesh. A submission is when your opponent either physically taps your body to let you know that they give up or a verbal tap to the opponent or referee. If there is no knockout or submission, the fight will be decided by the judges who score each round. There are only a few things that aren't allowed during a fight like strikes to the back of the head, eye gouging, hair pulling, etc.
How do they score?
MMA fights are scored based on a few criteria. The most important criteria in a fight is effective striking and grappling. Second, effective aggression, and third, cage or ring control. Rounds are scored out of 10 points, with the winner of a round scoring 10, and their opponent usually scoring eight or nine, depending on how well they performed. While it's theoretically possible for both fighters to score 10 in the same round, it's very rare as they would have had to perform with the exact same effectiveness and impact.
How is it organized?
Leagues
Like other professional sports (football having the NFL and CFL, for example), there are a number of different MMA leagues. We're guessing the first league that comes to mind for you in the UFC (Ultimate Fighting Championship). However, the UFC is not the only company that runs MMA fights, they're just the biggest and richest (like the NFL). There are several other companies like Invicta (which runs exclusively women's fights…love it), Bellator and One Championship that also host MMA leagues. That said, UFC is considered the 'top' league, so it's basically every professional fighter's dream to be signed by them (because there are no teams —players get signed directly with the leagues).
Weight Classes
MMA fights are organized into , so you'll hear a lot about fighters needing to "make weight" for a fight. Often, fighters will fight in a lower weight class than their average day-to-day weight. Why? Because they can manipulate their water weight just prior to the fight to lose a lot of weight quickly (like Channing Tatum in ). Then, as soon as the athlete weighs in just before the fight at their lower weight (each athlete has to weigh in the day before the fight to make sure they meet the rules), they can immediately rehydrate and fight the next day at their usual higher weight. This gives them a potential size advantage. And as they say, the bigger, the better.
Fights
Fights are typically three or five rounds in length, depending on the event or title. Rounds are typically five-minutes long with a one-minute rest period between rounds. We know it doesn't sound like a lot BUT these fights are tiring AF.
The best of the best
The 'best of the best' is whoever is the of their division (aka weight class) at any given time. The winner of a weight class can change any time there's a title fight, which generally happens every few months. A title fight determines who is considered 'champion' of that division. For example, you've probably heard of someone being 'heavyweight champion.'
Some of the best fighters of all time include: Anderson Silva, Fedor Emilianenko, Georges St. Pierre, Conor McGregor and some badass women that we mention below (keep reading). Some people would argue also deserves to be on this "best of the best list", but he's basically failed every drug test he's ever been handed so — v debatable.
The women
The women's division of the UFC is only about ten years old (check trivia below for why that is!). One of the most recognizable names in MMA is because she was the first woman signed in the UFC (back in 2012) and consistently won her fights in spectacular fashion. Rousey was the first American woman to medal in judo at the Olympics, so it's not surprising that she dominated fights with her grappling. Rousey has since moved on from the UFC (she's now performing in the ), so there's a new Queen in town. At the end of 2018, became the first female double champion.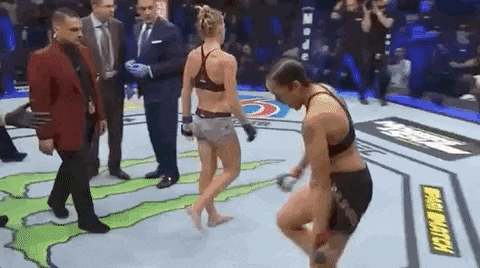 While that's all amazing to see, there's unfortunately still tons of sexism in the fighting world. When asked what advice he would have for women trying to make it in the fighting industry, lightweight champ Khabib Nurmagomedov responded with: "For females, I have very good advice, be fighters at home. And one more advice, all the time, finish your husband." LIKE, ARE YOU KIDDING ME?! Georges St. Pierre (GSP) was once quoted saying that while he can watch a men's fight and admire the technique, he does not watch female fights because he just feels bad for them. We don't want your empathy, dude.
Trivia
The next time you're at a bar and the fights are on, throw one of these facts out and let people bask in the glory of your MMA wisdom...
The oldest UFC fighter to win a title is Randy Couture, who did it at age 45. There is a pretty good chance this record will never be broken.
In 2011, when asked when women would fight in the promotion (the main fight that the league is promoting), Dana White, owner of the UFC (who is a man, don't be confused by the name) responded, "Never." Ronda Rousey was then signed to the UFC in 2012 after Dana took notice of her skills and athletic accomplishments. Get it, girl!
That's #thegist of it!
Written by Guest Writer: Kaeli Sweigard
Don't get The GIST's twice-weekly newsletter yet? Let's make it email official.
⚾

Guide to Baseball

March 17, 2020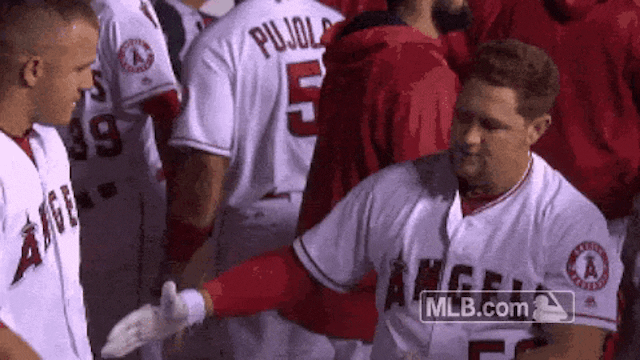 The GIST
Baseball is America's national pastime. Why? Well, it quite literally passes time. The average length of a baseball game is just over three hours of continuous fun.
Baseball is played on a field shaped like a diamond (its other name) with a base on each corner. A team scores a point (referred to as runs) when one of their players is able to make it all the way around the diamond and back to home plate. The team with the most runs at the end of the game, wins!
Rather than periods or quarters, baseball is divided into nine innings, each with a top and a bottom half. At the beginning of an inning, the visiting team goes up to bat while the home team sends nine players into the field to play defense. Then the teams switch to play the bottom of that inning. It's an advantage to be the last team up to bat because you have the last chance for a comeback win!
An inning is over after three outs (e.g., when a player strikes out on pitches, is thrown out at a base or their ball is caught in the air). And if the game is tied after nine innings, the game goes into extra innings until a winner can be decided.
But our fave part of baseball? It's got to be the .
How is baseball organized?
Baseball is played all over the world; however, the most popular league in the world is Major League Baseball (MLB) located in North America. There are 30 teams in the MLB and the league is divided into the National (NL) League and the American League (AL) which are further divided into three divisions: Central, East and West.
Here's where things get a little confusing (but that's what you've got us for!). The AL and NL each have a slightly different set of rules they follow. For instance, in the NL, pitchers also come up to the plate to bat, but they don't in the AL. Instead, the AL has a "designated hitter", or DH, that comes up to bat in that place.
There are 162 regular season games (that's not a typo… the MLB by far has the longest season in major league sports), followed by the playoffs. Ten teams, five from the NL and five from the AL, make it into the postseason where all of the players' blood, sweat, tears and go into winning the World Series (the MLB championship). More on the playoff structure .
Who's the current champ?
The Washington Nationals won the World Series in 2019, defeating the Houston Astros in a wild seven-game series where the home team didn't win a single game! That's right, the Nats took the championship by winning all four of their games in Houston. This was Washington's first World Series win in franchise history and they were big underdogs going into the final. Talk about a Cinderella story.
Looking at 2019…
This season, keep your eye on Bryce Harper (Philadelphia Phillies right field), Mike Trout (LA Angels centrefield and ), Mookie Betts (Boston Red Sox batting superstar) and Jacob deGrom (New York Mets pitcher and back-to-back Cy Young winner for best pitcher in the AL).
And expect big things from the defending champion Washington Nationals, the 'continues to be great' Houston Astros, the New York Yankees and the LA Dodgers.
Women who bat
For whatever reason, women do not have a pro league for "hardball" (another name for baseball). Instead, women play softball professionally — a similar game but with a bigger ball where pitchers throw underhand.
Women DO play baseball at the amateur level. It's an Olympic sport (including at Tokyo 2020!) and is played at the Pan Am Games (for North, South and Central America).
Channel your inner fan!
Here's some fun stats to break out at your next office ball game outing:
The lifespan of a MLB baseball is only five-to-seven pitches, meaning about 70 baseballs are used during a game. Just wild.
The New York Yankees have the most World Series titles, winning 27 in their 116 (!!!) year history. And they're not even the .
Unfortunately, no woman has ever played in an MLB game. BUT sports executive Effa Louise Manley (1897–1981) is the first and only woman inducted into the Baseball Hall of Fame. 'Atta be, Effa!
Don't get The GIST's free twice-weekly newsletter yet? Let's make it email official.
⚽

Stephanie Labbé

March 17, 2020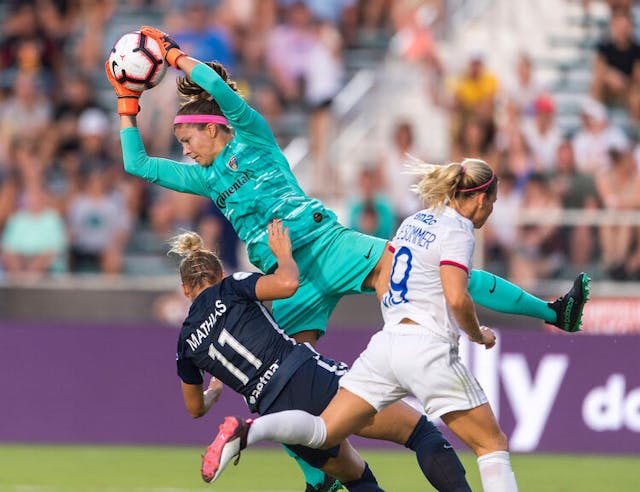 Stephanie Labbé is the goalkeeper for Canada's national women's soccer team, a 2019 National Women's Soccer League (NWSL) champion, a 2016 Olympic bronze medalist, and an all-around incredibly driven and talented human. While Stephanie's sights are set on bringing Canada home a medal at the Tokyo 2020 Olympics, she's also keeping busy as a co-creator of Project Athlete along with her partner (another friend of The GIST) Georgia Simmerling. Let's get to our interview with Stephanie:
Lexie, at The GIST (TG): Okay, you're a goalkeeper! You could not pay us enough money to have shots fired at our heads. How did you get into that position?
Stephanie Labbé (SL): Growing up, I played lots of sports. My older brother played hockey, so I was always tagging along. I played hockey in the winter and soccer in the summer. But hockey is very time consuming. Then, by the time I was 12 years old, I was the only girl on my team, and had to start changing in my own locker room, so that was isolating.

Around the same time my friends from school said I should play indoor soccer. I couldn't do both hockey and soccer though. But I totally loved indoor soccer, and had so much fun. So, in the summer I tried out for the rep team, and at the tryouts the coach asked if anyone would go in goal. There were about eight of us 12 year olds putting up our hands so we all rotated. Then, at the end of tryout, the coach asked how badly I wanted to be on the team, and if I was willing to be goalkeeper. I guess I was the least fearful of the ball.
c/o Stephanie Labbé
TG: And the rest is history. What did your parents think about that?
SL: Well, luckily growing up I played for a very good team. So, really just the extent of my mom's nerves would be her leg kicking a lot as I played. The older I get, the better she is with her nerves. Now, she's way more calm when I'm in net, and ironically she's actually more nervous when our strikers are shooting during the game.
TG: That's funny. Well, she definitely has a million reasons to feel calm about you in goal after seeing all the success you've had over the years…Do your own nerves ever affect you, or translate into weird soccer dreams?
SL: So, I actually never get to play soccer in my dreams. I do have recurring nightmares where I'm about to start a game and I don't have a cleat or can't find a glove, and something's gone wrong. It's probably why I am soooooo particular about checking my bag. *Steph chuckles*
TG: Reading your Player's Tribune article, you talked about playing men's soccer being a really mentally and physically challenging part of your career. Do you ever find it difficult to speak candidly about the differences in men's versus women's games without feeling like you're giving fuel to the haters to hold against women?
SL: I have never had a hard time comparing the women's game versus men's game. People can say what they want to say. I've heard a lot of negative things, but to be honest I wouldn't be where I am if I put a lot of thought into what people care about what I say. I don't give a sh!t to be frank (Editor's note: preach sister!). I know that not all men have a genetic, biological advantage, but on average, most do. I'm aware and recognize that. There are anomalies out there and women who can come overcome those. And what should stop you from pursuing any challenge? The risk is yours. I understand that every time I go out and play with men, or women, who are bigger, faster, stronger than me that I'm putting myself at risk. You can say that about anything in life.
If you're going to live your life being scared of the negative things that can happen, then you aren't going to go anywhere.
I always try to live optimistically.
TG: Amazing! So, a huge story with women's soccer has been what's going on with the U.S. women's team and the fight for equity. What is the relationship like pay equity-wise with the women's program in Canada and with Canada Soccer?

SL: Unfortunately in Canada, it's a bit untalked about in a sense. We, as a national team, have a fairly good relationship with Canada Soccer. Year over year, our talks and contracts get better and better, so it's moving in a positive direction. But it's still nowhere near where it should be.
The words "equal pay" and "equality" get thrown around interchangeably, but equality is a very complex issue, and it's not just about getting paid equally — it's marketing, support and investment.
You can see the direction it's moving, but you also see Canada Soccer investing in a brand new , while we're the only national women's program ranked in the top 10 in the world that doesn't have our own domestic professional league (Editor's note: As Canada is hosting the FIFA World Cup in 2026, they are required to have a domestic professional league). That is still so heartbreaking. We have proven time and time again, since 2012 when the team won Olympic bronze, that we are performing and getting results (Editor's note: The Canadian women's national team is currently ranked eighth in the world, while the men's team is 73rd).
I think the successful future of this program is based on developing players in Canada. And, as of right now, we have to go abroad and get contracts to play soccer in other countries. It hurts our depth. We don't have a league to give players the chance to grow and shine and prove they can play on the national team. Women stop playing after university because they can't get a contract abroad, but if we had our own domestic league those players wouldn't fall through the cracks because they'd have a place to play to develop.
So, it's moving in a positive direction, but there is still a long way to go. It's amazing the U.S. team is using their platform to talk about it and bring this subject to light. They're talking, they're acting, and they're paving the way.
TG: That is so important and so candid. Wow. Thank you for that. Looking ahead, what is your vision for 2020?
SL: Post-Olympics is a blur and unknown. The immediate thing that comes to mind is that January is Olympic qualifying. And, for the Olympics, we want to bring back a better colour than bronze. And, secondly, because I don't just play for Canada full-time, I'm also looking forward to playing with my pro team (North Carolina Courage) and trying to win a back-to-back national championship with them.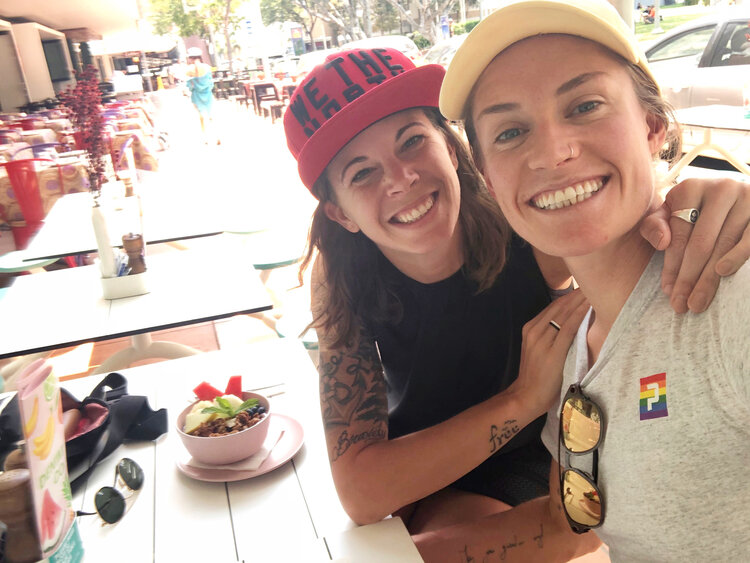 Stephanie & Georgia Simmerling
TG: That's great! Okay, let's end on some rapid-fire questions!
TG: If soccer had walk-out songs (like baseball), what would your song be?

SL: Oh my gosh. This is awesome. I want to say Cindy Lauper "." Everyone would love it!
TG: Would you rather sing or act?

SL: I would love to have a great singing voice, but I'm terrible. AIso, I don't know if the lifestyle of a singer would be what I want. So, actress.
TG: What is your favourite winter Olympic sport to watch?

SL: My gut is going to hockey. It's such a passion of mine and part of mine and my family's life. But I'll be honest, after meeting Georgia, I really enjoy watching skiing and ski cross. It's way more exciting for me when she is not racing, because then I am way less nervous. I got the chance to watch it live two years ago in the Alps. It was so fun and so much adrenaline. I have a short attention span so it caters to that.
TG: What is your favourite sports movie?

SL: Classic Mighty Ducks.
TG: What movie can you quote the best?
SL: Probably Billy Madison. "I got this shirt from Frank"... and Frank is written on the inside of it. I say it all the time. *Stephanie chuckles*
That's #thegistofit
Don't get The GIST's free twice-weekly newsletter yet? Let's .
⛷️

Dara Howell

March 17, 2020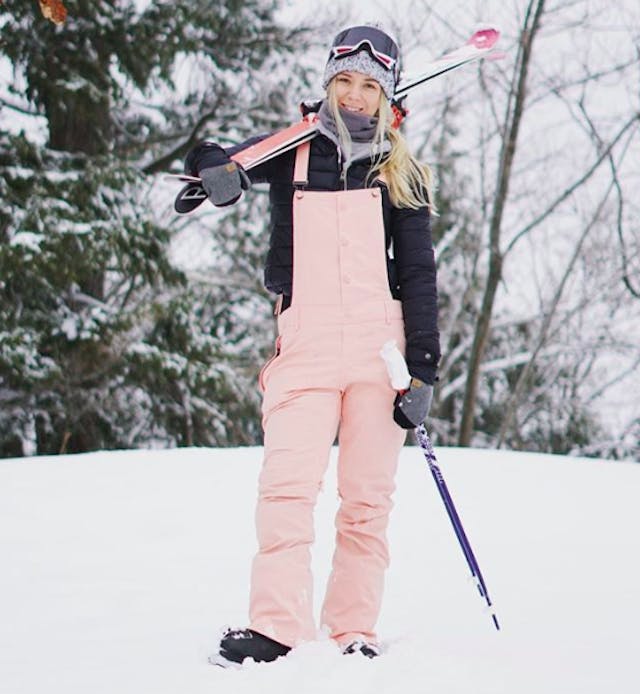 Two-time Olympian Dara Howell is truly amazing. At the ripe age of 19, Dara won a gold medal at the debut of at the Sochi 2014 Winter Olympics. No big deal! Dara competed in the PyeongChang 2018 Winter Olympics before being sidelined in late 2018 with a . Now she's back with a fresh perspective, a fresh podium finish at the most recent World Cup and...Dara wants to become the best freestyle skier in the world.
Lexie at The GIST (TG): Okay slopestyle skiing. You're essentially tossing yourself off of cliffs and doing jumps while on sticks. How did you get into it? Were you a daredevil as a kid?
DH: I was always a daredevil! *Dara chuckles* My mom always thought I would go to the Olympics in something, but she never knew which sport because I was always doing different things.
Growing up, my family owned a small family resort in Huntsville, ON (Pow Wow Point Lodge). My parents had it for 27 years, and my grandparents owned it for 25 years, so skiing was very much a part of my family. My granddad is actually still a skier, and he just turned 96. He still skis at 96!
It was always in my nature to be adventurous. My older brother and I were always outside and active, plus we basically grew up on the water living in Huntsville.

I think my parents just kind of threw me on skis around 18 months old because my brother was already into it *Dara chuckles*.
c/o Dara Howell
LH: That's so amazing. How did you get into slopestyle, especially given it was a new Olympic sport for Sochi 2014?
DH: I grew up ski racing and figure skating from an early age, those were my two biggest sports. I eventually quit those. I thought ski racing was too disciplined. And, it was cold! *Dara laughs* And figure skating I enjoyed, but I really just loved the jumps, and I wasn't as good at the dance component. So when I decided to stop around the age of 15, my dad told me I had to get a job, so I became a Level 1 ski instructor at Hidden Valley in Huntsville and taught little kids. Then, on my off time I would hang out with my ski friends in the park (Editor's note: the "park" is where all the jumps, half-pipes, etc. are), and got connected to doing tricks there.
Slopestyle skiing is basically downhill racing combined with the jumping aspect of figure skating, so it's weird how it's all come full circle and led me to this wild path.
TG: It was meant to be! In 2014, you won Gold at the inaugural Olympic slopestyle skiing event in Sochi, Russia, which is just unreal — what were your feelings going in?
DH: Going into Sochi 2014, I was hungry. I was fighting so hard because I believed in myself so much and just wanted to do the best that I could do...and I knew anything was possible. I was definitely the underdog. I wasn't really on the radar as someone who would win and it wasn't supposed to be my time.
So there was no real pressure, no one really knew who I was, and I was just set on what I was doing.
I wasn't going to let anything stop me from achieving what I knew I was capable of.
And, my family just bought in 100%. They have always supported me and told me I can achieve whatever I put my mind to. So I came in with no expectations, other than just wanting to do my best.
I look back on it now as a blessing. At the time, it was frustrating and hard. Luckily my family was amazing and supported me.
TG: That's unreal, but I know it wasn't easy for you and your feelings towards winning have been complicated. Can you talk about , and where you're at now?
DH: It's definitely better. I've really put in the work in myself, and my skiing. And I have a bit more perspective as I get older. I now appreciate my medal more, and what my family and community did to help me get that medal. I definitely was not bitter towards it, but I had some feelings after the Olympics. I think as you get older, you learn more about yourself, and to appreciate things more. I would never take my medal for granted, it's taught me so much about myself, both good and bad, and it's given me so many opportunities.
TG: How important is working on, and prioritizing, the mental aspect of being an athlete? What does your physical and mental workout regime look like?
DH: The mental side is huge! I think for any athlete it is. For me personally, I'm throwing myself off of massive jumps. So, the mental side is massive because of what you're putting your body through. And I think that's what really makes a good athlete ⁠— having that strong mental game. I really work at allowing myself to process and properly think things through. I try to be a very smart athlete. I listen to my gut a lot and learning to trust yourself is a really important thing. The stronger you are mentally, the better athlete you are. And the more prepared you are for success.
I work with a sports psychologist and I love it. She helps me become more aware of my thought process and what I need to do to bring the tension down. Just being more aware of what's going through your brain and making changes as you go so that you are in a healthy mindset, that will really help you be successful.
TG: So, you're coming off of a at your first World Cup appearance since your season-ending knee injury in October 2018. What was that like?
DH: Honestly it was pretty wild! I tore my ACL last year in my first contest of the year, and that kind of put things on a different path for me. So coming back a couple of weeks ago with a podium finish was pretty special to me.
I think before I left for it, my dad was telling me, "expectations, not too high!" Obviously my expectations were still going to be high, but it actually went better than even I was planning. I surprised myself a little bit. Now it's go time, and I have to find a way to keep building off of that.
TG: That's awesome. Now, what's next for you? What are you working toward?
DH: I'm just focused on coming back strong. I want to be the best athlete that I can be. I don't want to let the injury take over. Going through last year, I had to think about whether or not I was going to come back, and why I was going to come back.
I love skiing, love pushing myself, and now...I want to be the best. And I know that's a pretty bold statement, but I really feel if I continue to work hard and be smart, that's a real possibility for me.
So going into this season I want to be smart with my expectations, but push myself to get on the podium. I really want to push myself in Big Air, that's really where I see a lot of potential for me (Editor's note: Big Air is generally one large jump versus slopestyle which is a series of jumps and tricks on a short course). I love to jump, and it's a new discipline. It's got this fun, intense vibe about it. Do those words even go together? *Dara laughs* But that's where I'm at. I want to go to . I'm going to China for a competition soon. I just want to have fun, and set myself up for success. And it's really important to have fun, because good things happen when you do.
TG: Absolutely. That's what sports are really all about! You've also launched . Can you tell us more about it and why it's important to you?
DH: Yes! My family and I started "Dara's Fund" a few years ago. I grew up in a small community where I had a lot of support. But in a small community, it's especially hard to find the right facilities to excel in sports. You often have to travel for the sport, and there are a lot of extra costs versus in a larger city where the resources are more accessible. So, it was important for us to give back to the Muskoka community and encourage more girls to get into sport, and help them know they can succeed and excel. Coming from a small community shouldn't hinder young athletes, especially young girls, in any way and actually with the right support, you should be even more setup for success.
It's really cool to see the amount of girls that apply to the fund, and all of the different sports they play ⁠— it's really inspiring. There is a fencer that has the potential to go to the 2020 Tokyo Olympics, and it's so amazing to see. If we can help support them in any way possible, even in the smallest way, that's amazing.
It's important for me to give back when so many people have helped, and continue to help, me along my journey. So this fund really stems from that, and now I want to be able to pay it forward and help other female athletes.
TG: That is incredible, Dara! So awesome you're doing that.

TG: Okay, let's end on some rapid-fire questions.
TG: If you could be an athlete at Summer Olympics, what sport would you want to compete in?
DH: Trampoline!
TG: So on brand for you! What are you binge watching right now?
DH: Oh my gosh I watch everything on Netflix. I just watched Supergirl — it was good!
TG: Who is your favourite athlete?
TG: Do you believe in aliens?
DH: No!
TG: Ooh controversial! What stereotypical millennial item do you splurge on the most?
DH: Almond milk cappuccino
TG: What's your all-time favourite concert?
TG: Looking at your , when can we expect your pro career in golf to start?
DH: Hopefully tomorrow! *Dara laughs* I'm going for the longest drive after I'm done skiing. I'm going to get my ski coach to be my golf coach, he actually does both!
That's #thegistofit
Don't get The GIST's free twice-weekly newsletter yet? Let's .