🏀
⚾
🏒
Boston: Celtics end season 2021 NBA season
June 03, 2021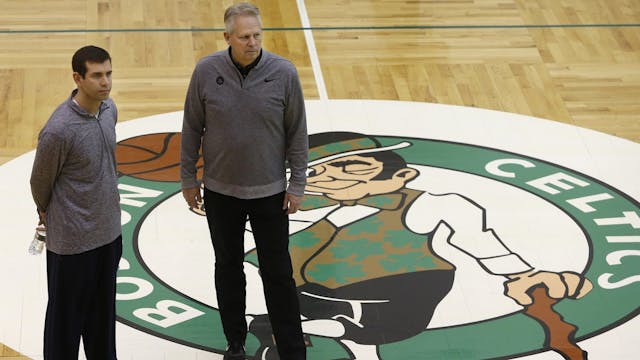 Source: Sports Illustrated
🏀Celtics: Well, that escalated quickly. After Tuesday's 123–109 loss to the Brooklyn Nets eliminated the C's from the playoffs, the front office wasted no time making offseason moves. Yesterday morning, team president Danny Ainge announced his retirement and his replacement: now former Celtics head coach Brad Stevens.
🏒Bruins: With the C's eliminated, Boston's spring title hopes (professional that is, !) are riding on the B's. They'll take on the NY Islanders tonight at 7:30 p.m. ET in Game 3 of their tied second round series. One positive sign: forward Craig Smith — who missed the Game 2 loss with a lower-body injury — is expected to return. Can't wait.
⚾️Red Sox: The Sox continue to struggle, suffering their third straight loss at the hands of the Houston Astros last night. They'll look to avoid the series sweep in today's 2:10 p.m. ET matchup, before heading to the Bronx to face the NY Yankees in a three-game weekend series. Yankees, and we cannot stress this enough, .
🏀
🥎
🎾
🏆
⚾
Washington D.C.: Wizards end newsworthy 2021 season
June 03, 2021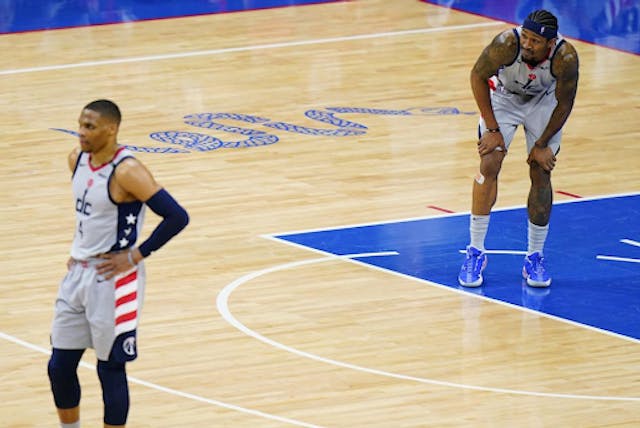 Source: Matt Slocum/AP Photo
🏀Wizards: The Wiz were eliminated last night with a Game 5 loss to the Philadelphia 76ers. From enduring a to at the end of the regular season, the Wizards' season had it all. Can't wait for more of the Bradley Beal-Russell Westbrook tandem next year (along with better defense and 3-point shooting, please).
🎓🥍🎾🥎College: Congrats to UVA for winning national championships in and over the long weekend. Now it's JMU softball's turn to fight for a natty in the WCWS.
⚾️Nationals: While the Nats beat the Atlanta Braves on Tuesday to end a five-game losing streak, they lost star pitcher Stephen Strasburg in the process. He exited the second inning and was subsequently placed back on the injured list with a neck strain, just after he left it. Sigh.
🏀
⚾
Dallas: Mavericks look to claim series at home during Game 6
June 03, 2021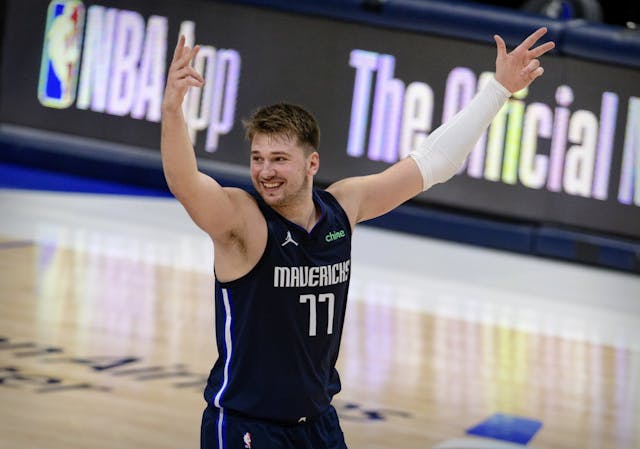 Source: Hoop Central/Twitter
🏀Mavericks: Luka Doncic's neck looked just fine yesterday as he scored 19 points in the first quarter alone, lifting the Mavs to a 105-100 win over the LA Clippers and a 3-2 series lead. Dallas can claim their first playoff series win since 2011 and punch their ticket to the Western Conference semis with a home court victory in tomorrow's Game 6. Let's get loud, Mavs nation.
⚾️Rangers: The Rangers are taking L's left and right. Not only did they fall 6–3 to the Colorado Rockies yesterday, they were also after the Internet noticed Texas is the only MLB team that isn't hosting a Pride Night this June. Never too late to add it to the calendar…
🏀Wings: After dropping a few down-to-the-wire battles, the Wings picked up win number two on Tuesday with a convincing 79–69 victory over the LA Sparks. Next up, they'll face the Seattle Storm tomorrow at 10 p.m. ET/9 p.m. CT, the first of two straight games vs. the defending champs.
And they'll be without 2021 No. 13 draft pick Dana Evans, who was traded to the Chicago Sky yesterday. Wishing Evans the best of luck in ChiTown.
🏀
⚾
Seattle: Mariners look to end losing streak tonight against LA Angels
June 03, 2021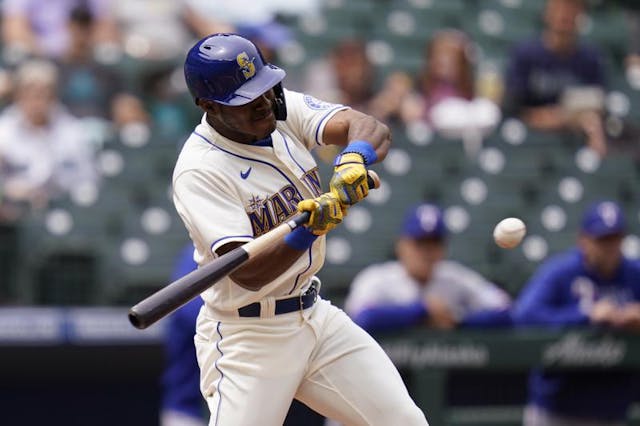 Source: Elaine Thompson/AP Photo
🏀Storm: The Storm won on Tuesday, and more importantly, it was Noelle Quinn's first win (!) as head coach. Quinn — a former Storm player and one of only two active Black female head coaches in the WNBA — was after Dan Hughes announced his immediate retirement on Sunday. Congrats, Noelle. is immeasurable.
The Storm seek to extend their five-game winning streak tomorrow night at 10 p.m. ET/7 p.m. PT for a two-game slate against the Dallas Wings.
⚾️Mariners: The Mariners lost to the Oakland A's last night, dropping the three-game series. To make matters worse, center fielder and 2020 American League Rookie of the Year Kyle Lewis is with a torn meniscus in his right knee. And yes, it's the same knee (different injury) that forced him to miss the start of the season. Eek.
🏀
🥎
Los Angeles: Lakers and Clippers both look to stay alive in Game 6
June 03, 2021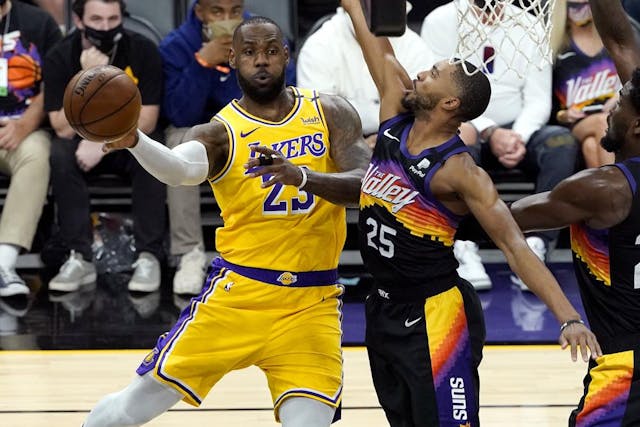 Source: Matt York/AP Photo
🏀Clippers: Our NBA teams need to stage comebacks as epic as . After losing the first two games of the series to the Dallas Mavericks, the Clippers won the next two on the road before losing Game 5 at Staples Center last night. East, West, home is not best.
🏀Lakers: What a series of unfortunate events. With Anthony Davis on Tuesday, the Purple and Gold lost Game 5 by 30 points to the Phoenix Suns. Straight up embarrassing.
🎓🥎UCLA: Hopefully reigning champs UCLA softball fare much better in the WCWS against No. 10 Florida State tonight at 9:30 p.m. ET/6:30 p.m. PT. Not only do the Bruins have soon-to-be Tokyo Olympians Rachel Garcia and Bubba Nickles (who returned from a wrist injury last week), they also have Maya Brady. Can you say stacked?
🏀Sparks: Outside of Kristi Toliver, who shot an efficient 5-of-6 from the field, the Sparks' offense was mostly MIA in Tuesday's loss to the Dallas Wings. See if our 2-3 LA squad can heat up against the 1-8 Indiana Fever tonight at 10:30 p.m. ET/7:30 p.m. PT.